5 Minutes With ... Ryan Villopoto
Maybe there were just a lot of riders that wanted to ride the West Coast Lites series this year, or maybe they were dodging this guy. Either way, we are pretty sure RV2 is going to win his share of races on the East Coast this season. With his former teammate and main competition Ben Townley out for the series, it is Ryan's title to win, even if it was an injury that put him on the right side of the U.S. We caught up with the Monster Energy/Pro Circuit/Kawasaki rider while he was busy getting ready for the Atlanta Supercross, which will mark the start of his 2008 Monster Energy Supercross season on February 23.
Racer X: Ryan, how are your wrist and collarbone healing up?
Ryan Villopoto: Well, the collarbone was easy. That thing healed up right away. The wrist is taking a little longer to get back to normal. But things are going fine. I've been riding and training and getting ready.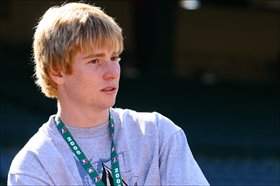 photo: Matt Ware

The wrist was an old injury, wasn't it?
Yeah, I broke my navicular a long time ago and had a screw put in it. The screw kind of came loose and wallowed out the hole that it was in. So while I was healing my collarbone I just had them fix my navicular.
How is your riding and training going?
It's going pretty good. I've been riding and road biking. Well, the little bit of road biking I do is more behind the pack just cruising along.
You aren't one to push to the front of the group and lead, are you?
Not on a road bike—a motorcycle is a different story! But Randy [Lawrence] and Nick [Wey] are pros on those things and I'm a beginner. I don't want to get up there and blow up before the ride is over so I hang in the back.
You're like a mid-pack NASCAR driver, tucking into the draft.
Yeah, yeah, so I can save gas.
You've got almost a month until your opener. You think you'll be ready?
Yeah, I should be ready. From what Randy tells me we'll be ready to go.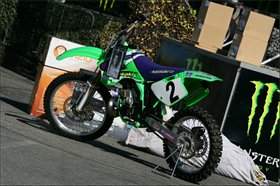 RV is the new #2.

photo: Simon Cudby

What do you think about the East Coast?
The West Coast seems a little deeper with the talent. [Ryan] Dungey has maybe a little more speed than those guys but it's still pretty close between the next five or six guys. On the East I think it will be me and Josh Grant and then a pretty big gap to the next guys.
Are you looking forward to riding the East Coast tracks?
Yeah, I think it will be good. The dirt will be softer, kind of like my practice track. I like that.
What about moving up to the 450 class next year? You think you'll be able to race with Reed and Stewart?
I don't know. We'll see. I think Ben Townley will be up there too. It should be good.
How much have you ridden the 450?
I had one last summer that I practiced outdoors on a little. We just didn't spend a lot of time setting it up for me so it wasn't perfect. It will be fun to have one dialed in for me. I like riding them.
What have you been thinking of the west coast guys now that you are watching from the stands?
Dungey looks solid. I don't know where I would stand with those guys. It's pretty hard to tell when you are just up there watching. I think I would be as fast or faster but I don't know. It's been some good racing. Phoenix was a fun race to watch.
Have you been hunting lately?
Well, I shot two coyotes in my yard last week. They come down looking for our dogs. They would kill my dog in a second if they got ahold of him.
Who are you going to vote for? Do you vote?
I've never voted. It doesn't matter who runs the country, it's still going to be jacked up.
So much for MTV's Rock the Vote campaign. Well, keep up the good work Ryan.
Alright. Thanks Ping.