5 Minutes With ... James Stewart
Remember James Stewart? He's the Monster Energy Kawasaki rider that was tied for the points lead in Monster Energy AMA Supercross before Anaheim 2. It was after practice that day that Stewart, the defending series champion, made a shocking announcement: He suffered a knee injury on December 20 that was getting worse, so he was going to undergo surgery.
Yesterday afternoon I was on the telephone with Fox Racing's Chris "Beeker" Onstott when I asked how James was doing. Beeker said, "Why don't we just call him?" Let's do it!
Racer X: James, how are you? I haven't seen you or talked to you since you had to make that announcement in the Kawasaki rig, so how are things going?
James Stewart: Uh, things are going good. I had surgery last Wednesday to get my knee fixed up, and I'm just kind of going through the motions, trying to get everything flexible again. I'm just laying low. I can't do anything, so I sit on the couch and use my leg machine.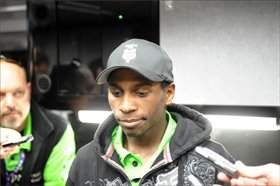 James Stewart told the media about his knee injury after practice at Anaheim 2.

Are you in California or Florida?
I'm still out here in California, just because it hasn't been a week since I had surgery, and I have to go back to get the stitches pulled out and everything. After that me and Aldon will be headed back to Florida to get back to work.
Now, did you get it scoped, or was this a full cut?
No, this was a full cut so I'm going to be 100 percent. I've been fighting with this injury for awhile now, so I just went ahead and got it done. I'm just trying to recover and be 100 percent when I get back to racing.
Do you have an outlook at this point of when that might be?
Well, I know for sure I'm not racing anymore Supercrosses, so hopefully Glen Helen will be my next race. And, when you have injuries like this, the longer you have off the better it is. For me, missing Anaheim 2, I saw the championship was going down. The thing was that there was nothing else I could do about it. I've been fighting this injury ever since I got hurt at home, and racing every weekend, it was starting to get worse and worse—to the point I couldn't even ride anymore. It was to that point, and I had to make the right call and just sit out and get it fixed.
I know that last year you were the points leader outdoors and had to make a difficult decision to pull out, and again you're the defending champion of the series, so I know this decision had to be difficult.
Yeah, it was really tough because I put so much effort into this supercross season. Getting Aldon on my team and getting ready for the season, it was definitely tough. When I pulled out of the outdoor series, I was looking out for the supercross season. It was like,"Well, I can't go no more in the outdoors, so I have to get it fixed so hopefully I'll be ready for supercross." Well, we went in there and everything seemed okay, and it was actually a lot better than we thought, so we just got what we needed fixed. And then we hired Aldon and put a lot of work in, and to get injured two weeks before the season, it was tough. For me, I'm not the guy who's going to just sit around and say "I hurt my knee before the season" and make an excuse before I get there—that's just not my deal. I just tried sucking it up as long as I could, and it was too much to bare.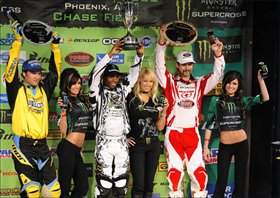 The announcement came a week after James won the Phoenix Supercross.

Beeker, what was that like for you guys in James' camp, hearing people say, "Oh, he's not as aggressive." You had to bite your tongue a couple times…
Beeker: Well, it's really difficult because we know the full potential of James Stewart—when he's 100 percent he's unbeatable. And when you know he's injured and every time he goes out on the bike, me personally, I get an upset stomach because I'm worried something's going to happen when he's out there. I'm worried more about him rather than what people are saying about him. I'm worried about his health and him being safe. Once I knew he was injured, I kind of wish I didn't know. I couldn't even watch the race in Phoenix; I went and stood in the tunnel when the main event was going on because I was so worried about him. It's really difficult. He's grown so much since I started working with him three and a half years ago. And I see the growth in him as a person and a rider, and to see him have to pull out of the series is heartbreaking for me, because I know how hard he works and how hard it is for him to be the supercross champion.
People might wonder how can a guy win a supercross one week and have to pull out the next, but the Phoenix track went clockwise, didn't it? There weren't a lot of left-handers.
That's funny that you say that, because I actually pulled out every track map and seen which track I would be better on, and it was the ones that were turning right. I guess if you didn't really know what was going on or know how bad I was hurt, every left-handed corner I went in I wouldn't put my foot down. Going into the Phoenix main event, my knee was popping in and out—that's how bad it got. When I went to Anaheim 1, it was really sore but I made it through the weekend pretty good. I hit it a few times but made it through. And then Phoenix I got through practice and ended up hurting my knee in the heat race a little bit, and by the time the main came it was popping in and out of place. But, I can see every week it was gradually getting worse and worse, so when I showed up at Anaheim 2; it was going in and out of place. A knee is not supposed to move, we all know that, so the more it moved the more it was tearing up everything else in there. Then you have to go back and look and say, "Can I get through this?" Probably this weekend, but what happens when I get down the road? Every weekend it was getting worse, and I knew that me putting my foot down wrong one time, that would be it, so I knew I had to get it fixed.
Anybody who has had a knee injury, and I think Pingree touched on this in Racerhead, you know that you just cringe at the feeling of that. I'm sure anybody reading this that had a knee injury could totally empathize. When you went into the first turn at Anaheim 1, were you a little tentative, or was that just a muddy washout?
No, it was just a washout, but those little things like that, normally I would put my foot out, but I wasn't putting it out. If I would've washed my front tire out going into a left-handed corner, I would've just fell over because I wasn't putting it out. That's how much pain I was in the whole time. I pulled a really good start in the main at Phoenix, and I don't know if you guys remember me saying on the podium, but I said I was really tentative going into the first corner because I was so afraid of washing the front tire and having to put my leg out, so I just backed it down and [Mike] Alessi ended up getting the holeshot. But it was really tough for me because I was trying to keep it under wraps, but everybody that knew around my camp could see every time I walked I limped, and throughout the day it would get worse and worse. After the Phoenix main event I could barely walk. And going home during the week and not riding or doing anything got really tough.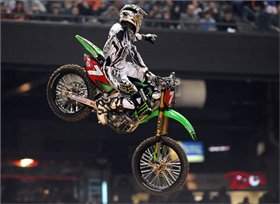 James led all 20 laps in Phoenix and tied the series up with Chad Reed.

I got to see you real briefly in practice at Anaheim 2—and I was actually just checking out your gear, you have to wear that from here on out—but I didn't see you, but someone said you mistimed a jump, and then immediately slowed down and pulled off. Did you re-aggravate it at that point?
You know what happened, I actually tried jumping onto a table-top but came up a little short. But, it was before, actually the finish line, that I re-hurt it again. What happened was I was so afraid when I was going into the face, I wasn't putting any pressure on my left knee, so I was putting it all on my other leg. Fortunately enough I got lucky with it, but right then and there I knew the way I was riding the motorcycle that I was leaning all on the right side, and I would end up somehow, someway, injuring my other knee. I just took that lap to ride around and think about it, and I pulled off from there.
That obviously changed the whole series for a lot of people. You have to give Chad credit because he looked like he really had gone to work during the off-season and showed up ready to go faster than he did last year. It had to be tough not to bring what you've been working on.
That was the toughest thing. I remember doing a little press conference call the day I got hurt, and they were asking me how I feel, and it was funny that I was telling them I feel good, but on the other side of the phone I had my knee propped up with ice packs on it, and I just came back from having an MRI done on it. And going to Anaheim and doing the press conference and telling everyone what I believe, but not believing myself, saying I was ready and stuff like that. I was hurt, and that was the hardest part for me, telling everyone how hard I worked, but knowing deep in my mind that I was injured and couldn't show everyone how much I've been working. That was really tough for me. And then going out knowing that every left-handed corner I would go through that I couldn't put my foot down.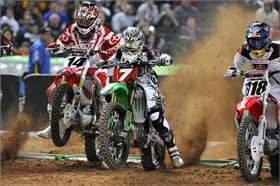 Now that's a good holeshot technique.

We saw with #4 a few years ago that he had to sit out with a knee injury, then he came back. He and Aldon always said to make a four-month injury take four months. But do me a favor, don't get on the internet!
[Laughs] Yeah, I haven't been getting on. I hear some stuff and I just want to say to a few people out there that when they would question my heart and determination as far as if I was really hurt, Davey, you know and anybody around me knows that I don't complain. I hurt my knee at my house and I wouldn't say a word. Beeker would ask me what's going on, and I wouldn't say anything. That's not me; I don't sit there and complain. And then riding hurt, from when I got hurt at High Point that time, and then when I rode in Colorado last year, and people were still questioning my heart, and that bummed me out a little bit, because I felt winning the supercross championship, coming to the races hurt and riding through the pain would get me a little bit of respect. And then there was another rumor about the whole Monster deal, and that I pulled out because Monster sponsored the series. I have nothing but respect for Red Bull, they were always a good sponsor when I had them around, but I have nothing but respect for Monster, and I don't have a problem with Monster. Yeah, the team is sponsored by Monster. I'm not sponsored by Monster, the team is, so I don't have to hold up a can for Monster on the podium.
You're not getting chug points.
Yeah, it doesn't matter if I hold up a water bottle or a Monster can. So, for people to say that I pulled out of the supercross season because of Monster, that's just ridiculous, because you don't know how much work I put in to get ready for the season. Being the defending champ, you don't know how good it feels to hear Erv [Braun] come out and say, "the defending supercross champion." So for me to pull out because I have bitterness against a sponsor, that's just ridiculous!
Yeah, and it's not like you pulled out after you got beat, and I think there's something to be said for that. And you put it on the line at Phoenix, and there just comes a point where you know you got to get it fixed, and if you do it now you can still get an outdoor championship for Monster Kawasaki and yourself.
Exactly. And the realistic thing for me was that at some point I'm going to hit my knee. There's no way that I could go through 17 supercrosses and 12 outdoor nationals without somehow hitting this thing. And if I'm afraid to even put it down in a corner, just imagine catching it on a Tuff Blox or falling over and hitting it. And I had to realize that there was no way to make it through the entire season like this. Aldon always tells me that if we train at 100 percent, there's now reason why I have to go and race at 70. Everything we do is always at 100 percent, so I had to look at it like that.
I'm sure the fans will understand, and I'm sure some people will still be disappointed. But that one guy with a keyboard and a bad attitude, don't let him ruin your day.
It's not. I wanted to talk because first of all I wanted to let everyone know how I was doing and how I miss being out there, and how I was really sad for my fans and for Kawasaki. I just wanted to let everyone know what's going on and where my head is at. I couldn't believe I was even in the same category as somebody quitting and faking an injury. That's ridiculous and I can't believe my name would come up with something like that.
By the way, when you mentioned Aldon Baker and slipped into the Aldon Baker accent, I picked up on that!
If I start saying "cheers," you'll know I was fully hooked.
Did I hear you say that you were playing the Nintendo Wii?
No, I just said that I have to quit saying "we," as in "We had surgery." I had surgery!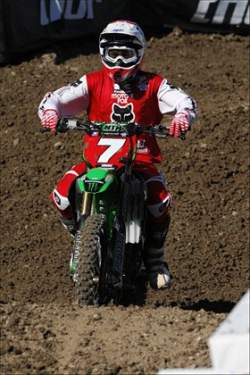 James came out in practice at Anaheim 2 wearing this very cool Ricky Johnson-retro Fox gear. Unfortunately, it was the last time James will be on a SX track in '08.


Well, I was going to say that MX vs. ATV Untamed is coming out for the Wii, so if you're sitting around….
Beeker: I don't think Aldon will let him play video games. If there's time for games, there's some sort of cardio and weights he could be lifting.
James: Aldon doesn't let me sit around. If it'll make me better, I'm all with it. Bringing him around, I knew I had to be committed and 100 percent focused, so he's still around. Aldon doesn't work with somebody who doesn't give 100 percent, so we've been working really hard and it's kind of sad to see all of that hard work we put in go away, but the only way we could go is up from here.
Well, I know you have it in you, James. It's a tough break, but just keep working and a lot of people will be looking forward to seeing you this summer.
I'm looking forward to it, too. I think going back to Washougal last year, I raced like two races in a year by the time I race again. If that's not motivating enough…I'm well-rested and ready to get back. It feels like I'm starting my career over again.
Beeker: Davey, we're bringing the fun back to motocross this summer!
Bring the two-stroke back!
James: [Laughs] I don't know about all that! I still want to win!
Right on. Good luck with the rehab, James!
Thanks, Davey!