5 Minutes With ... Charles (Josh) Summey
Last January at Angel Stadium in Anaheim, David Evans quickly introduced me to Coy Gibbs. Evans, who had worked with James Stewart in recent years prior, was in California showing Gibbs around. Word was already swirling that Joe Gibbs Racing — the same outfit that had won two Nextel Cup Championships with Tony Stewart — was keen to own and operate a supercross team. In the ensuing months, more and more information found its way out of the team's shop in North Carolina and back to the motocross industry in Southern California. One of the major questions floating about was just who would be riding for the Yamaha-backed team and rumors flew every which way. As spring turned into summer, it was announced that Josh Hansen would be joining the operation, as would unheralded Moto XXX rider Josh Summey. Something of a surprise hire in the eyes of some, team CEO Coy Gibbs and his comrades knew exactly what they were getting in Summey: A rock solid rider who made 12 mains in the 2007 Supercross Series, placing in the top 10 in six of them. A season-ending ninth in Las Vegas put an exclamation mark on a strong, if a bit under noticed, season. Josh Summey, who grew up in North Carolina, has been back in his home state all winter long lending his hand in building the promising Gibbs supercross organization. Today we caught up with Summey who was down in Georgia shaking down what will be his Yamaha 450F come Anaheim I.
Racer X: Charles, what are you up to today?
Josh Summey: Well, I'm just getting to ride here in a little bit. We're down at Michael Byrne's supercross track because with all the rain and all in North Carolina everything is wet and difficult to ride in. Using this track definitely gives us an option to be able to ride.
Are you guys down in Florida?
Actually, Michael's track is in Georgia — just south of Atlanta.
How's the weather there?
Good. It's about in the mid-to-upper 50s and the sun is out. It's not too bad. Once we get out there and warmed up, it should be real good.
Before I got a hold of you I was forewarned that you had changed your first name from Josh to Charles. Can I ask you why you made the switch?
[Laughs] Me and J-Bone [Jeremy Albrecht] talked about it and since me and [Josh] Hansen have the same first name we thought that having different names might cause a little less confusion. I don't know… We just wanted to mix it up a little bit.
When did the Gibbs Racing organization actually approach you?
Actually, the first time they contacted me was right before the Mount Morris National. I had been practicing in the Carolinas and they knew about me. Coy Gibbs and David Evans contacted me and we met up at their NASCAR facility. From there we went to my track and they watched me ride and hung out. We eventually finished up my deal with them at the Colorado National.
What did you think of the Gibbs NASCAR operation when you walked inside the building and into the race shop?
It was definitely impressive to me. Living in North Carolina, while growing up, I had been into a few of the other shops. But I'd have to say the Gibbs and Hendrick teams are in a class of their own.
Was the Gibbs offer a solid opportunity throughout your negotiations with them and did you entertain offers from any other teams?
It was a pretty solid deal. Moto XXX was interested in keeping me for next year and I talked to KTM about riding a 450F for them, but the Gibbs team appeared to be a better program. The bikes and the equipment and everything else looked really good.
Could you tell immediately that there was a good atmosphere within the team?
Yeah, I sure did. I was surprised with how friendly everyone was. The Moto XXX team I rode for was a nice, laid back team, but I felt good about the Gibbs team right off. Even though I didn't know them at all before hand, I felt at home right away there.
When did you and your teammate Josh Hansen begin riding together?
He was already living out here [North Carolina] and the week after I finished up the Nationals, we met up at our shop. I first got on the bike and started riding it the Wednesday after the Glen Helen National. That's when Josh and I met up started riding together.
Do you guys get along well?
Yeah, we do. We know a lot of the same people. We get along good.
How is the equipment you're using? Is it competitive, A+ stuff?
Yeah, I definitely feel we have super equipment. It's the best equipment I have ever been on. The suspension and the motors are definitely impressive. I was blown away with some of the stuff compared to what I had been racing on before. Man, what a difference. And we have factory Yamaha suspension. We have the identical stuff that Chad Reed and Grant Langston have — factory forks and shocks.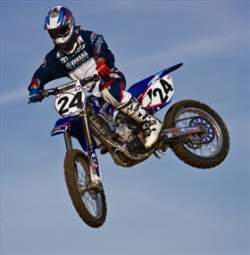 Summey feels comfortable on his new Yamaha.

Do you work closely with Coy Gibbs?
Yeah, I do work with Coy. In fact, Coy found the trainer that Josh and I are working with now. I started working with him before the last three Nationals and have worked with him ever since. He's really worked with me on my cardio and in the gym. I can definitely tell there is a big difference. I also have more confidence on the track.
What's you masterplan come Anaheim I?
Just to be in the top 10. I want to be in the mix. A couple of new guys are moving up to the class, but I rode against all of them in the outdoors. Come Anaheim, I'll know exactly where I am at. I definitely feel faster going into this season. I really want to start the series well and come away with some points that'll set me up well for the start of the series. I don't want to crash in a heat race or the main and not accomplish anything.
What's your goal come the Las Vegas Supercross in May?
I think to be in the top five several times during the season. I'm going to say I'll be between fifth and seventh. I'll be right around there. That's what I'm going for.
Okay, come Anaheim, everyone will have their new semi-trucks, new bikes, new gear, new everything. There's been a lot of interest and hype surrounding this new Gibbs racing effort. How do you think the team will be perceived?
I think the team will be received really well. The equipment is really good and everybody involved has been around the sport a long time. It's not like we're a bunch of new people that nobody knows. Also, I think being based here in North Carolina has helped us out. It's allowed us to focus on everything and not get sidetracked. I'm excited about everything. I can't wait for Anaheim.
Thanks for your time Josh — I mean Charles! Have a good day of riding and we'll see you in about a week.
Thanks, Eric. Yeah, we'll see you real soon.