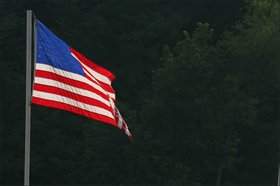 Happy Memorial Day
photo: Matt Ware
This is Memorial Day Weekend, which means a great deal to race fans, as
Andy Bowyer
pointed out in
yesterday's Rev-Up
, but Monday is a much bigger and more important day in the whole big scheme of things. Take a moment to think about all of the soldiers, men and women, then and now, who have given their lives for our freedom.
Something happened at Hangtown that has never happened in the history of professional motocross. No, not the first AMA Motocross win ever for a New Zealander (well done, BT101), and not the first time someone raced with a red number plate with a black #1 (let's switch that number to white on RV1's bike and it will rock). And it wasn't the fight either—there have been all kinds of great bouts, from Rex Staten and Vic Allen at the Carlsbad USGP in the '70s to DV12 and Roncada at the Atlanta SX to that WMA bra (get it?) at Washougal last year….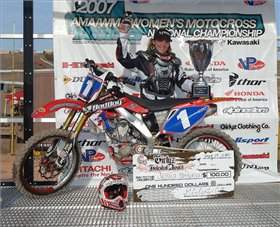 Jessica Patterson put Florida atop the WMA podium at Hangtown
photo: Carl Stone
What happened that's never happened before is that all three winners—AMA Motocross, Motocross Lites, and the WMA Women's class—reside in the same town: Tallahassee, Florida.
RC
,
Townley
and
Jessica Patterson
could practically be their own country at the Motocross des Nations in Europe. Belgium wouldn't have a chance, let alone Puerto Rico!
Furthermore, the top four riders in the 450 class were born Floridians: 1. RC (Havana); 2. Stewart (Haines City); 3. Ferry (West Palm Beach); 4. Millsaps (St. Cloud). Team Florida would be the absolute favorite in the Motocross des Nations!
And finally, get this: fifth-place Grant Langston lives in Clermont, FL, now.
So, how will team Florida do this weekend? Make sure you tune into the Racer X Motocross Show on www.motocross.com on Saturday for our pre-race report, listen to the Racer X Webcast on Motocross.com on Sunday, and then tune into our post-race show on Sunday night. We worked out some kinks last weekend at Hangtown, and things will only get better from here on out.
But thanks to everyone for their patience during last weekend's second Lites' moto meltdown on the Racer X Webcast on Motocross.com. A sudden loss of the signal, followed by overload of the server -- some 11,000 new hits in a single minute -- crashed our server like Evel Knievel on ice. I would especially like to apologize to Ben Townley's family, as they were all gathered around the computer down in New Zealand and couldn't him win his first AMA National. And special thanks to all of the people who joined us on the webcast: Denny Stephenson, Roger DeCoster, Jeff Emig, Bevo, Ricky Carmichael, and America's first two "Bad" Brad Lackey and Danny "the door" LaPorte, plus the new AMA President Rob Dingman.

Also, if you're looking for a short cut to this weekend Racer X Motocross Shows on Motocross.com, just try this come Saturday night:

http://live.motocross.com

We plan on having the preview show up somewhere around 10 p.m. EST as well as Sunday's post-race wrap-up featuring exclusive race coverage, interviews and more.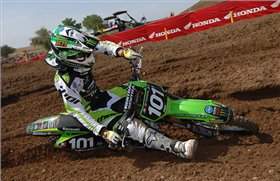 BT101 now resides in the Sunshine State
photo: Carl Stone
And after that, tune into SPEED on Sunday at 6:00 p.m. EST to catch the Motocross class from
Hangtown
. The MX Lites class airs Tuesday, May 29, at 3:00 p.m. on SPEED.
The 2007 AMA Toyota Motocross Championships got off to an amazing start, and by now you've likely heard, seen and read all kinds of stuff about what happened between Villopoto and Lawrence—likely right here on Racer X or on the Racer X Motocross Show on Motocross.com.
If you're over it, skip what follows. I had a good seat for pretty much all the debacle, so what I offer is my own take.
It started in the first Lites seeded practice, but I missed that. However, I was in the AMA trailer trying to get a copy of the practice times when first Villopoto and then Townley came in, followed by Lawrence. They all went to sit and talk to Steve Whitelock about what had happened out there in the first session.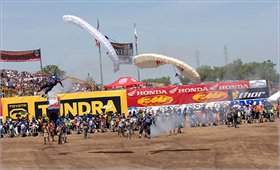 Those crazy Red Bull guys came out of the sky at Hangtown
photo: Carl Stone
Apparently, after setting the fastest time, Lawrence decided to use the rest of the session doing a little fooling around with #1 Villopoto, admittedly trying to get in his head. He may have had another reason: with the AMA's new timed practice deal, the fastest time gets the #1 pick to the gate in both motos. That makes a good time important, and a bad time for your competition is to your advantage.
Lawrence was the instigator, and he was told firmly to "stay away from Villopoto!" So in the second practice, that was exactly what was happening until J-Law realized about a lap in that he wanted his chest protector. He pulled into the mechanics' area, got it on, then went over and practiced a start. As fate would have it (or maybe by design), he hit the first turn a blink after Villopoto came around. He immediately tucked in with him, and off they went.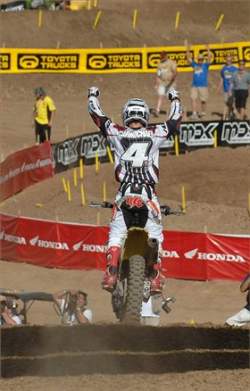 The GOAT strikes again
photo: Carl Stone
Lawrence made another block pass in the Grand Prix section, which must have infuriated Ryan, because he went right back after him.
For the next two laps he chased after #338, and when he finally caught him, he took him up high in the far corner (as you likely saw on the film). Then they started pointing at one another and raising their hands like a pair of World Cup soccer players calling fouls.
At that point, I really thought Jason was taking it too far, and Ryan was losing his cool. By the time they got to the infamous corner, it was on.
The first impulse of the AMA was to DQ Lawrence because he had been warned. But like a personal foul in football, it's usually the second guy—the guy who retaliates—who gets the penalty. In this case, Villopoto was the second man, and when he tried to wheelie his bike through Lawrence after #338 literally stopped him dead in his tracks in the corner, he went too far.
When the AMA realized this, they were left with a tough decision: thrown them both out, or let them both race with fines and probation. They chose the latter.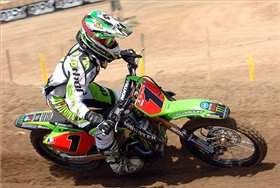 RV ran the red plate
photo: Carl Stone
I wasn't at the Seattle SX, so I didn't see what happened between
Martin Davalos
and
Kyle Partridge
. Maybe they shouldn't have been DQ'd either. The treatment was different because it's a new series, a new qualifying system, and a new headache—Villopoto had finally had enough, but up to that point, Lawrence had not taken a swing or anything beyond messing with him in practice, which may or may not be in the rulebook.
Tyler Evans should have been DQ'd at Vancouver, but he wasn't—that also messed things up. But Vancouver wasn't an AMA race, it was FIM, so the decision wasn't in Whitelock's hands, though many went ahead and blamed him anyway.
As for Tyler Bowers in arenacross, some of the things that happened in Nashville, both on the track, in the pits, and even the show office, seemed to merit the heavy penalty on Bowers for his actions and the actions of his pit crew. But I wasn't there, so I don't have an eyewitness opinion.
The thing is, Whitelock could not please anyone. After seeing the video of the end-game, there's no way he could have DQ'd Lawrence without doing likewise to Villopoto—it's always the second guy who gets caught. Some fans really don't like Jason Lawrence, and others really think the Pro Circuit team is given too many advantages. They are the New York Yankees of the Lites class now, and fans love 'em or hate 'em. And J-Law is "that punk" to many fans who either don't get or don't care for his antics. No matter what Whitelock did—DQ both, neither, one or the other—someone was going to be mad.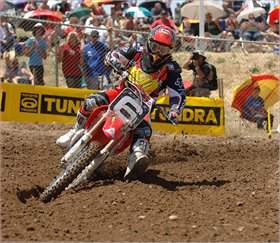 Lammy didn't make too much noise on the two-stroke at HT
photo: Carl Stone
But I do know that I'm glad Villopoto did not get DQ'd, I'm glad that Lawrence did not get DQ'd, and I think it added some extra energy to what could turn out to be an amazing summer of Lites action. I hope they don't fight again, but I know when they get close to each other on the track again, I hope I'm there to see it and enjoy it.
Personally, I think he did the right thing once he gathered up all of the evidence, listened to Lawrence's apology, and came up with a suitable solution that penalized Jason more than Ryan. The real losers here? Martin Davalos and Kyle Partridge.
As for the 450 class, Ricky Carmichael never ceases to amaze me. James Stewart rode an incredible race in the first moto, but then it was his turn to make the mistake second time around. He made it, and RC got away and picked up his fourth win in ten races this part-time season (Vancouver SX, San Fran, St. Louis and now Hangtown). Never bet against #4.
And finally, props to Ben Townley. That guy was visiting Hangtown for the first time, and after Saturday's fireworks, he came in pretty much under the radar Sunday. I think he surprised everyone with his staying power in that second moto, as Villopoto slowly lost contact and then did the smart thing and settled for even points. Once Dungey and Metcalfe get up to the speed and Lawrence gets himself a better start, it's going to be an incredible class.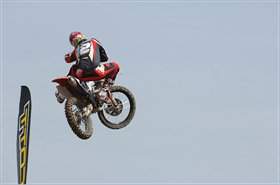 David Vuillemin is all business in the new timed practice
photo: Carl Stone
Finally, before I turn this all over to
"Bad" Billy Ursic
(we've got a busy weekend here at
High Point
with the race, the shows, and the Racer X Webcast on Motocross.com this Sunday), I want to give props to
Broc Tickle
and
Jeff Alessi
. With all that was going on at the front in either class, each of these guys did really well, and the summer looks good—Tickle could be top-five before you know it! And while the Alessis move to the 450 class did not pay immediate dividends for Mike, it seems like a great move for
Jeff
.
Cool, first, let's get to The Weege:
You have to give credit to the AMA and the Hangtown/Dirt Diggers staff for building a track that truly had multiple lines. You can point to the come-from-behind charges of Lawrence and Metcalfe as examples finding ways to pass on this track, or you can look at the first-moto battle at the front of the Lites pack. After Villopoto washed out and fell from first to fourth, he picked up the battle with Townley, Dungey, and Grant. Nearing the 25-minute mark in the race, all four riders were circulating in close formation, and all four were finding different spots to go fast on the track. It was as good as it gets, and obviously, having a track with three or four good lines in every corner helped.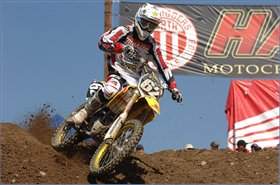 Dungey was impressive
photo: Carl Stone
The second Lites moto looked like a repeat of the first when Villopoto led, then fell, then started charging. But all of a sudden Townley picked up his game just as the track started to get rougher. By then everyone was starting to pick up on BT's outdoor style: he stands up quite a bit. Up in the announcer's tower,
Denny Stephenson
and I remarked how Townley looked fluid like
Kevin Windham
, but as we saw him stand through the corners, it was clear that his style more closely mimics that of
Stefan Everts
. That makes sense since BT spent the 2005 season battling with Europe's "King of Motocross," but when I asked Townley if he learned that from Everts, he said he's been riding that way since he was a kid. However he got there, you can't argue with Townley's (or Everts') results. Villopoto spent a lot more of the moto sitting down, and the track looked twice as rough for him.
Sean Collier retired. He was replaced by Daniel Sani (56) on the Star Racing Yamaha team. According to Mr. Observative Steve Matthes: "He told the guys he was just doing it for his dad, because his dad had dumped so much money into it. He was going to be an actor or something."
Here's one man's take on the J-Law/RV deal, MDK Motorsports' David Vuillemin:
"The MX season started with a BANG! It was Villopoto and Lawrence doing their own version of Celebrity Death Match! After messing around on the track for a few laps, they came to a stop and RV ghost rode his bike on J-Law, they started fighting and people jumped in to separate them. A bunch of people caught the action on photos or videos. After the Seattle episode with Partridge and Davalos, who both got disqualified after fighting post heat race, the AMA had only one option for Ryan and Jason but the AMA found another penalty… I don't think DQing Partridge and Davalos was the right decision but making a different decision for Ryan and Jason didn't show a lot of credibility on the AMA part.…"
What a hit the PPG/Motoworldracing.com Yamaha team has taken over the past 10 days. First
Mike LaPaglia
goes down with a broken collarbone, then
Justin Brayton
gets injured, and now
Sean Hackley
gets a season-ending concussion at
Hangtown
. It's kind of weird that
Branden Jesseman
, who is notorious for getting injured, is the only healthy rider on that team. They also are helping out a local kid named
Ryan Beat
for a few races.
Josh Hill, on the other hand, had a terrible day at Hangtown on his Yamaha, going 10-DNF. But if you take a look at our Scott USA Sign of the (Lap) Times feature that ran on Tuesday, his lap times weren't that far off the pace.
Here's a letter we got from former District 5 racer Matt Kazar:
"Man, I grew up racing D5 and
High Point
has always been a staple in all the series races. With recent track design changes, I noticed that the white
High Point
wall is no longer in use! What's the deal man? You could put a pick in any magazine of any rider blasting off the white wall and know where the pic was taken, but now the track doesn't come back across the start line! I figured this could be part of an online blurb on racerxill.com or something – if not – just for my own peace of mind!!! Thanks guys!"
Unfortunately, Matt, they had to open more space for spectators and staging, plus the team managers weren't found of seeing their expensive bikes and even more expensive riders bouncing off a wooden backstop every lap. But it did look cool!
So the Puerto Rican team's get-together in Budds Creek this week didn't quite work out according to plan, as Travis Pastrana ended up in Ireland instead—he's doing the Red Bull X-Fighters. But according to his sponsor Jeff Cernic, "Travis has a house full of Puerto Ricans and Brazilians and all of these other folks he's met along the way. He's letting them all stay there to ride some at Budds Creek and get ready for September."
Speaking of Pastrana, in the new issue of Maxim (June 2007), there's a full-page Subaru advertisement on page 105 featuring Travis. It advertises a Maxim contest in which you could win a chance to walk the red carpet into the 2007 Maxim VIP after party presented by Subaru and meet SRT driver Travis Pastrana. You can enter it by going to www.subaru.com/legend.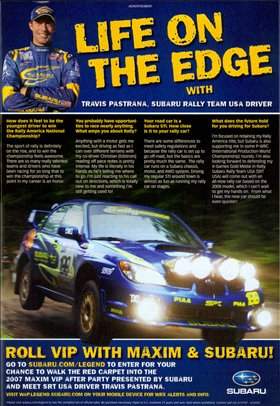 Enter this contest! Subaru.com/legend

Jason Lawrence was also said to headed to Budds Creek for a little practice, but then he ended up just going to Englishtown to race instead. According to a report we saw on Mototalk, he was apparently going really, really fast!
Remember how the Alessi family used to follow the AMA Toyota Motocross circuit as amateurs, learning the tracks and the lifestyle along the way? It looks Trey Canard is doing likewise. He rode Hangtown's amateur day, then booked a flight for High Point to ride amateur day here. Trust me: Canard will hit the ground running in August when he joins the SoBe No Fear/Samsung Honda team for his professional debut.
The first moto folks in Morgantown for this weekend's race were Makita Suzuki's Mike Gosselaar and Tony Berluti. We were working late Wednesday at the Racer X offices when a rental car pulled in. They were slightly lost, looking for their big rig so they could start working on bikes, and they happened upon the office.
Gosselaar was still beaming over RC's win, not to mention the speed his son Drew showed in the Lites class. "Littler Goose" has got top-ten speed, but he made some mistakes out there.
Here's something from The Ping:
Chad Reed spent his second week of vacation racing a national in his native Australia. Everyone Down Under was anxious to see how their new local hero Dan Reardon would fare against Reedy. He didn't disappoint. Reardon holeshot both motos and led for a majority of the race before being passed by Chad. Still, it bodes well for the young Aussie, who is on his way to the States next week to test with Factory Connection, Suzuki, and Kawasaki. Reardon will race in the US in 2008.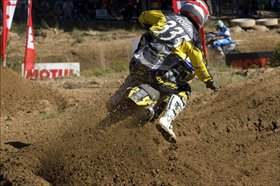 Kyle Tobin down under
photo: Johnny McLean
Also,
Johnny McLean
let us know American
Kyle Tobin
showed some speed at the same race where Reed showed up. Aboard the Cool Air Racing RMZ250, Kyle fought hard for 7-2 for third overall on the day.
I got this letter from my friend Tom Jones, who was there:
Ping,
I just thought I'd let you know we had our 4th round of the nationals on the weekend and reedy was over for it. I was caught in a first turn pile up and hurt my shoulder so I had to sit the day out, but I got to watch the duel between Reedy and Dan Reardon. It was some of the best racing that I've ever seen. Reardon got two holeshots and he and Chad cleared out from the rest and went at it for like 20 minutes, passing each other back and forth until Reed finally got around him. He then only pulled like five or so seconds on Reardon at the end of both motos. Reedy had his full race bike over here too. Should be good to see what Dan can do in the states with some factory equipment. I also heard that Reardon punted Chad off the track in the second moto and Reedy was less than pleased.
We also spotted this link online earlier this week about Chad Reed partnering with an Australian SX series.
The AMA Supermoto series kicked off in St Louis at the Verizon Wireless Amphitheatre. Jeff Ward picked up right where he left off last year: winning. The multi-time motocross champion and reigning Supermoto champ started third while French import Adrien Chareyre was checking out up front. By the time Wardy got into the lead, Chareyre had a seven-second lead that looked insurmountable. But the Frenchman started to fade (shocker) and Wardy reeled him in and took over the lead. Cassidy Anderson followed his teammate through the pack and to Chareyre's rear fender but had to settle for third on the day. Mark Burkhart finished fourth and Chris Fillmore rounded out the top five.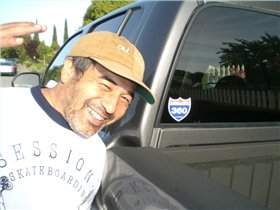 Steve Caballero was at Hangtown
photo: Pat Schutte
Team Solitaire's
Jiri Dostal
, who had just recovered from a broken leg at the start of the supercross season, was injured again in Sacramento. Dostal got thrown over the bars and landed headfirst on the ground. He was having some pain in his neck, so the practice was red-flagged and he was transported to the hospital. Fortunately, the injury to his neck was just a sprain, though he did break a bone in his hand. Four to six more weeks of couch time for Jiri.
Jiri's crash came on the second lap of the first practice. And this whole timed practice thing has me worried a little bit. By putting so much emphasis on quick lap times early on in the sessions, you are forcing riders to go wide open right out of the gate (these two Saturday sessions determine whether or not you race on Sunday). The track is always going to be smoother and faster in the first practice, so most riders will have their best times in the first session. So on a track that none of the riders have ridden yet, we are forcing them to go as fast as they can go as soon as they get on the course. That's not safe. Why not make the first session a little longer and only time laps during the second half of the practice? If the riders knew that they had time to figure the track out it would take some pressure off them and allow them to warm up a little before they drop the hammer. Just my opinion. Let's see how many riders get hurt in the first practice sessions this summer.
(Apparently, RC agrees with Ping: "I'm over that timed practice BS," RC told TFS in our Monday Conversation. "It seems all it is is bragging rights. I'm glad that I could do it in the race…")
You feel like a little silly season update? Well, according to the rumor mill, Ivan Tedesco and Ben Townley have signed up to ride for Honda for 2008 and beyond. "They" say it's already a done deal, but our sources say otherwise. We even heard that BT101 is getting further apart in talks.…
Also circulating is that Joe Gibbs Racing is trying their best to get Kevin Windham for next year. I thought Nick Wey would be a good candidate for that job, but he has another year on his current contract with MDK, and that's a solid team anyway. With RC and (likely) Tedesco gone, what will Suzuki do? They have an all-new 450 in the works for 2008, and it doesn't sound like they have anyone to ride it. Maybe Aussie import Reardon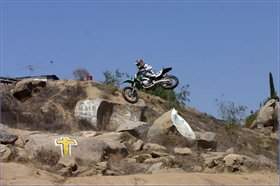 Villy on a 450

photo: Ping

Ryan Villopoto was not happy after the weekend. I talked to him a bit this week and he felt like he rode terribly. He was also worried that he let the team down by riding so "crappy." Gee, I wish I could ride that crappy. He is also a little bent at Ricky Carmichael: In an interview earlier this week, RC said that Ryan should have taken the high road in the Jason Lawrence debacle. What Ricky doesn't know is that Ryan has been putting up with Jason's antics all year….
Ryan has been spending some time on his 450 during his weekly practice routine. His mechanic and Randy Lawrence both agreed that it would help him smooth out and get used to the weight of the bigger bike. Believe me, RV looks like he will make the transition to big bikes just fine.
Finally, I noticed that J-Law had the helmet cam on when he got into it with RV. Paleeeeease tell me we are going to see that tape somewhere!
That's it from Ping, who is at High Point this weekend and will be the color analyst for the Racer X Webcast on Motocross.com.

And a note from Racer X reader Stacey Maxwell.
Hey, as I was driving home yesterday, one of our local radio stations, the BIG 98 in Nashville (also broadcasting on XM) was doing a listener poll about what web sites they go to on a daily basis. One called in and said that he never goes a day without Racer X online. The DJs weren't really aware of what Racer X is about, so you guys got a two minute plug of this die hard fan promoting the site. Just thought I'd let you know."
Earlier this week we ran a Toyota Trivia question asking how Branden Jesseman finished in his first-ever national at High Point in 1998. Jesseman ended up going 11-5 for fifth overall.

DC added this: Want to see the coolest MX basement in the world? It might just belong to one of the sport's all-time bad-asses, Jeff Stanton. Stephan LeGrand recently stopped by and did this short film for Motoverte.com.
From personal observations, I would rate this garage just below that of Harry Everts (who has all of his championship bikes and almost all of Stefan's!) but slightly ahead of Matt "MegaWatt" Watson, who still has every motocross doll ever made in the original packing, a la The 40-Year-Old Virgin. Oh, and Chet Burks has an amazing basement full of motorcycles toys (seriously).

TFS just checked in to tell us that he heard that Makita Suzuki's Ivan Tedesco is out for this weekend, the Ben Townley/Honda deal is falling apart, and Alison Turner is now handling contracts for David Vuillemin. Thanks, Teef!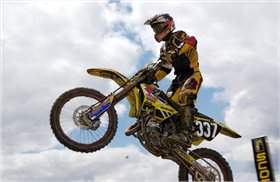 Get well soon, Gene!
photo: Steve Bruhn
Finally, sadly, The Weege just talked to The
BeeJ
, and he said the helmet cam only works when the helicopter is there to get the signal, and the helicopter wasn't there on Saturday. A wheel to the face and a fight? That would have been the greatest shot ever.
And before we head off for the weekend festivities at High Point, we want to give some "get well" wishes to District 5's Gene Stull, who suffered a broken femur and a few other injuries practicing at his home in Gibsonia, PA. Get well soon, Gene.
Okay, thanks for reading Racerhead. See you at the races!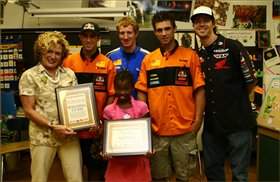 The High Point Reading Contest Winner
photo: Matt Ware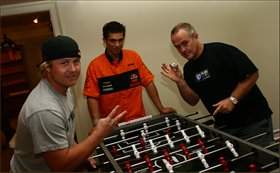 Ping, Jeff and Simon
photo: Matt Ware