Monday Conversation: Ricky Carmichael
"Never bet against Ricky Carmichael" is one of the most reliable pieces of wisdom in the sport, and it's going to follow him into his part-time summer until his last race at the Motocross of Nations in September at Budds Creek.
RC is starting the summer with the five first nationals and he is already on top of the box. Both RC and Stewart had troubles with bike setup at Hangtown, but Stewart's changes between motos cost him and RC was able to lay down some serious wood early and get away.
RC's head must be spinning with all that is going on. He's got the new twins and he's trying to do cars and motocross 100 percent at the same time. He knows his schedule and wants to leave with 150 wins under his GOAT belt. Can he do it?
We spent a few minutes with RC in press to see how he feels about Sunday's win and the summer ahead.

Racer X: Ricky, our clock is ticking - we won't get too many more of these conversations. How was it?
Ricky Carmichael: It was awesome. Hey, that's a good thing when I see you coming. Man, I struggled today with the bike setup. I feel awesome, but the bike hasn't been working. The team is working really hard. We've just been missing some settings. We're going to test this week. I had to ride my ass off today. I will have to every time, but this wasn't easy.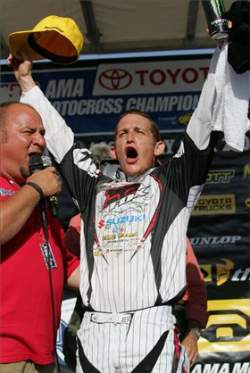 RC expresses his joy to Rob Buydos and the Hangtown crowd

Are you maybe a bit rusty still?
I don't feel rusty. I've been riding so much at home. I feel good. I'm just disappointed my bike doesn't feel good. [Ben Townley walks up to RC and hands him a Reese's Peanut Butter Cup.] I don't like the Light ones! You know I don't. If it was a Blizzard or something, I'd be all over it…. I'm feeling good, but I feel like crap on the bike and it's not working for me. We're going to make some improvements.
Is that why you just tipped over in that tight right-hander in the first moto?
We're going so fast, it's easy to just tip over. We're pinning it. The bummer is, I felt like I had a little bit of breathing room. I didn't have to be totally perfect. Then I slid down. I fell in that corner in practice too.
Your speed versus James in moto one, where would you place yourself?
Dead nuts the same. He would get a good lap, I would get a good lap. I think I had the fastest lap of the race. I'm over that timed practice BS. It seems all it is is bragging rights. I'm glad that I could do it in the race. It was a pleasure racing James in these first two motos. I know he wanted 24 and 0. I'm glad I was able to stop it. I'm looking forward to racing him more. I have a lot of respect for him. It's going to be fun, and the fans are really going to like it.
Was moto two a rerun of last year here, when you totally ran away with it? Did you have something to prove?
No. Nothing to prove anymore. That's 147 now, so I'm a little bit closer to something. Besides the goal of just going out and having fun, that is the one goal I have left, to get to 150, but it's a tall order.
Okay, just one time, let's run through your schedule, and we won't ask you every week after this, hopefully!
I'm doing the first five [Nationals], X Games, then Millville, the Motocross of Nations, and that will be my last race. That's it. You heard it from the horse's mouth.
How's the car thing going?
The car thing is great. Sometimes I feel like I bit off more than I can chew. But I know that this part of my career is almost over. The hardest thing for me is, I really want to focus on moto, but at the same time, I want to focus on car racing. That's what I struggle with the most, is trying to do both at 100 percent. Trying to do both is very, very hard.
Being a new dad, does that change how you look at risk?
The biggest thing is I don't think I hang it out as much as I used to. Even at home, if there's a big obstacle on the track, I do take a step back. It's not worth it. I can tell you one thing, sometimes I take the pictures out on my phone or the pictures in my wallet, and I have to look at them. It's amazing something can do that to you. It's a very special feeling. It's a lot of work. They're a little bit temperamental with their stomachs after they eat, both of them! It's been a grind. I have a new respect for mothers. I wouldn't trade my wife, that's for sure.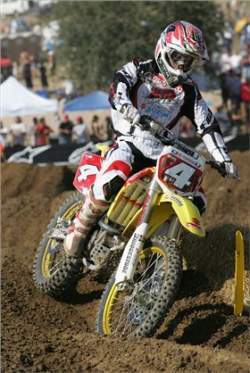 Although he had some issues with his bike setup, RC still got the win.

The races that you missed, how do you watch them?
I like watching them. I'm a huge fan. That's why I was down watching Lites and stuff. I just enjoy watching a race. That Lites class is kick-ass, and the Motocross class is too.
What do you think of the RV/J-Law fuss?
I don't think it's good for our sport. I didn't see it, so I can't pick sides, but you know Ryan is a bigger person than that. I'm a little disappointed that he let someone like Jason Lawrence, who has a reputation for crap like that, mess with him. No matter who can beat up who, Ryan is a better person than that. I would like to see him take the high road. I don't care even if he did it five times. But at the same time, I would like to see the AMA do something to Jason, for sure. It is not what our sport needs.
This was victorious sweep of the Carmichael Farm this weekend, yourself and Ben Townley.
I think it gives credibility to Aldon Baker. I really, really do. I think James is faster sometimes, and I thought Ryan was faster sometimes than Townley. It just seems like our fitness kicks in when we need it