Hello, everyone, and welcome to the Rev Up. I believe it's safe to say that we have never been able to enjoy such a period of incredible drama and high adventure. We have a triple-header of motorsports grabbing gears towards us with the Indianapolis 500, The Coca Cola 600, and the High Point National all throwing down this holiday weekend.


In addition to that, the Monster Energy/Kawasaki Triple Crown of Motocross will kick off when the starting gate drops Sunday afternoon. The Rev Up is here to get you fired up. I want you to feel it like I feel it right now. I only have about 1,000 words here and trying to touch on every piece of drama with one hit would be like swinging a Louisville Slugger into a swarm of gnats. But I'm going to dig in, get choked up on the bat, and give it my best shot!
I've always said that there is something out there. I don't really have a name for it but I could feel it the instant the morning air floated up my nose as I left the house this morning. It's out there man, and something is coming with it. If you put your ear to the tracks you can hear the mellow but persistent vibration of the train of competition steaming toward historic Morgantown. Like Hangtown, many incredible races have taken place at Mt. Morris. But on this piece of property that lies just past the Mason Dixon Line, it's different. The track is different. The fans are different. Even the smell is different. It's the unmistakable East Coast vibe that makes the scene at the High Point National so special. With the 2007 version almost in our sites, this vibe has some astonishing momentum behind it. It's debatable as to what is pushing harder to allow this weekend to have so much potential: Is it the memories of James Stewart and Ricky Carmichael's duel in moto one last year or all of the drama we saw last week? Well, actually, it's both of those but it goes much deeper than that.
I believe we have arrived at the ultimate pinnacle of progress in our sport, like the sponsorship contributions of folks like the Monster Energy. Those guys are throwing up $100,000 to the two men that can sweep High Point, Red Bud, and Steel City. You can bet Stewart has his eye on that, because he needs a rebound win over Carmichael this weekend, and then it's on. It's also something he can take from RC—Ricky has won the Triple Crown two years in a row!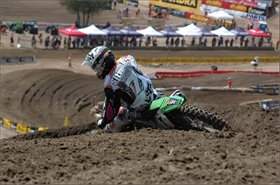 He'll be looking to take round 1 of the Monster Energy Triple Crown of Motocross this weekend
photo: Robert "Oly" Davis
Also, look at the level of parity we are enjoying with the 2007 AMA Toyota Motocross Championship. There was a four-rider freight train in the first Lites moto last weekend consisting of the east and west coast supercross champions, a man that had just gotten his fourth consecutive season opening holeshot, and the winner of the East/West Shootout. BT101, RV Park, J-Grant, and Dungey straight threw down for 30+2 and had the crowd testing the limits of the trackside fences.
The next drop of the gate saw another version of the ongoing "Clash of the Titans" between James and Ricky. The last few laps of that chapter had the fans whipped up into a state of hysteria. It is the beautiful culmination of these elements that has the madness heading our way with the accompany of a double-bass drum trot and power cord riff of an electric guitar.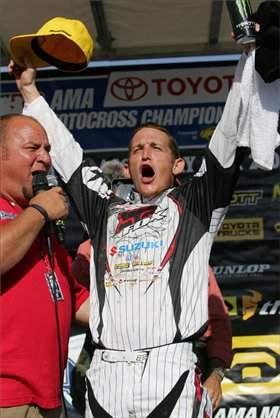 Nobody likes winning more than RC
On a personal level I was lucky to gain a pretty neat perspective as a motocross fan when I went riding with the boys from the office last night. Today we all have blisters, bloody elbows, and sore bodies but are wearing gigantic smiles. We went and rode at Logan Martin's house. While we out there just riding around, Logan was pounding out laps doing his best to prepare to qualify for the biggest race of his life.
On the way home it just kind of hit me: This is the biggest race of a lot of people's lives. For the fans within driving distance of
High Point
, they have the chance to see the biggest race they've ever seen. And for
Ricky Carmichael
, he has the chance to win on this last visit to
High Point
.
Before we go let's talk about him a bit. What makes that guy do it? How is he able to do it? He's done it all and has earned everything a man could ever hope for. He is the greatest of all-time and could walk away right now living out the rest of his days with his family as a millionaire. How was a man that has nothing to gain able to beat the incredible
James Stewart
last weekend? It's simple: He loves to win. He loves to win so much that he will do whatever it takes to make winning possible and he will accept nothing less. You think he is going there this weekend to wave goodbye, pose for pictures and kiss babies? Bullshit. He's going out there to win. And those who will be able to make the race this weekend are some of the luckiest fans of all because they are going to get to watch him try.
They'll also get to see what happens in the mega competitive Lites division. They'll get to see the ultimate racing spectacle that will be
High Point
2007.
It's coming.
Thanks for reading, see you next week.