Fingers crossed, it looks like hometown favorite Branden Jesseman will finally be competing at High Point Raceway this weekend. Due to injuries, it's been awhile since we've seen Jesseman race here, and it's a track he knows very well. In fact, Jesseman made his AMA professional debut here, and it's the focus of today's Toyota Flash Trivia question.
The first five entrants who submit the correct answers to the following questions will win a very cool Toyota prize pack, which includes a Toyota t-shirt, TMX water bottle, TMX socks and a key chain. So here it is:
Name the year, moto scores and overall finish of Branden Jesseman in his first-ever pro national at High Point. Email your answers (along with your name and address) here.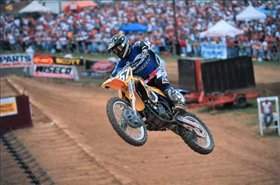 Branden Jesseman wore #757 in his first pro national
photo: Chris Hultner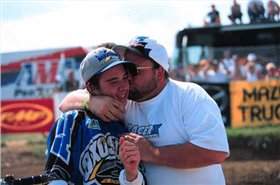 Jeff Cernic was proud of his young rider
photo: Chris Hultner