Racerhead is on the road. Not in a TFS sort of "Transamerica" road trip where we get to drive around our big mobile unit around in our underwear, but more like a father-and-son road trip. Phoenix will be a big test for me and the little guy as our Third Wheel Simon Cudby called in sick this morning—really, really sick—so we go it alone in a rental car from National. From Anaheim to Phoenix legs out to about six hours of Pink Panther DVDs in the back seat. At least I will get to hear some good music.
I was thinking about riding over with Jeff Emig, but Fro has to take a little detour to visit the police in Lake Havasu. No, no, no, this has nothing to do with his run-in with the law there some years ago; it's more of a credit-card-fraud issue. He's going to see if he can get the $8,000 back that someone ripped him off for. Good luck with that, Jeff.
But back to Phoenix. I want to be there to see one last time what's become a big part of any motocross fan's life: watching Ricky Carmichael compete. This will be his last ride of 2007 before his steps away from the starting gate and onto the tarmac for some car racing. It's sad in some ways, good in others. We're losing the best champion a sport could hope for, but we will also glimpse the future once again. Like watching Jeremy McGrath ride off (and back and then off again) into the sunset, the sport will certainly survive, though no one who's watched the last few years will probably see a #4 the same way again. Thanks for coming, Ricky. Enjoy the ride.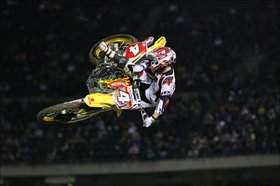 RC will run the red plate throughout his part-time departure
photo: Simon Cudby
Speaking of that #4, the AMA is the reason for RC's new red number plate, not the FIM, as a lot of people (myself included) previously thought. According to the release they put out this week, reigning champs will wear the red plate to designate them as just that, since so many riders (RC and
James Stewart
and
Chad Reed
included) have elected to hold on to their permanent numbers when they've had the opportunity to wear #1. Here's more on the AMA's thinking
here
.
Of course, RC looks a little like Rodney Smith at a GNCC now, but I understand the point—the FIM does the same for #72 Stefan Everts in Europe, and they may have to do the same for #377 Chris Pourcel when (and when is now a big question) he returns—more on that later.
Looking back at Anaheim, a lot of people out here in Orange County are still pretty blown away by the display of "next-level" racing that James Stewart put on last Saturday night. He was absolutely amazing—even after crashing on the fifth lap of the main—and when he jumped past RC in the main, it felt just like the time here back in 2001 that RC did that to Jeremy toward the end of Anaheim 3.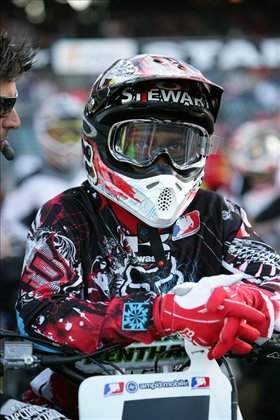 This guy was absolutely amazing
photo: Simon Cudby
Now Stewart goes into Phoenix—a town that's been tough on him in supercross the last two years—with a shot at taking something else away from Carmichael: the chance to leave as the points leader. RC is still the leader in the WSXGP Series based on his 2-1-2 scores to James' 3-2-1 (including Canada); James leads by three in the present AMA rankings.
James sounded very enthusiastic about the win when TFS spoke with him right after the race. If you missed out Monday Conversation with the now-21 Stewart, have a look here.
Make sure you listen to this weekend's Phoenix Supercross on Saturday night, beginning at 6:00 p.m. West Coast time (9:00 p.m. back east) on www.supercrossonline.com. The laps will be counting down all day long at www.amaproracing.com, and you can watch the race on Sunday on CBS at 12:30 p.m. EST. As always, check your local listings. Oh, and the Supercross Lites class from A1 will be on SPEED tomorrow (Saturday, January 13) at 6:00 p.m. EST.
And full props to Chad Reed for coming through with a solid performance while no doubt hurting. I spoke to Chad before practice and he was still unsure as to whether he was going to make it. But to go out and bust a main-event holeshot like that? The guy is tough!
In the Lites class,
Ryan Villopoto
showed that he hasn't missed a beat since last year's win at the season-ending
Glen Helen
National, plus his top MX2 finish at the Motocross des Nations. It wasn't a big surprise, though it came easier than many expected after
Josh Grant
pulled out with his nearly collapsed lung. Villopoto rode with a quiet confidence that saw him streak past early (and impressive) leader
Chris Pourcel
and then pull away for the relatively easy win.
Pourcel put #377 on the podium for the first time ever in AMA supercross, and that gave our own Andy Bowyer a new number to crunch. Pourcel was supposed to go back to France after the series headed east in February, and then stay there testing for his defense of his MX2 world title. Now that he's here, and learning SX the American way, it might be hard to get him to return on schedule. If he continues to ride this well, it may make for a tough decision as to whether he should come back for the remaining West Region races or not (sort of like the question that hounded David Vuillemin back when he was still riding with a boot on either continent). Stay tuned.
Grant Langston's year is off to a bad start. Like Reed, he piled it up while practicing, and now he has a broken collarbone. Grant struggled on Saturday night after landing on a Tuff Block after the finish line—not the kind of start he or Team Yamaha wanted (and Josh Hill struggled in the Lites class). Look for a press release sometime soon.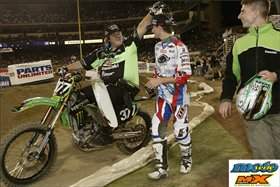 The Frenchman gets a friendly roost from his mechanic
photo: Stephan LeGrand
Red Bull KTM's
Josh Hansen
put in a very good ride at A1, considering that he's still recovering from a thumb injury and was barely able to ride at all throughout the past month. Even though he slowed down a bit in the Lites main event, it wasn't like he was fading, and he even re-passed SoBe/Samsung Mobile Honda's
Jake Weimer
toward the end of the main event for fourth place.
And think about this: How far have Honda's fortunes fallen when the only Honda-supported rider who gets to talk to the announcer is Weimer, who won the first heat race? Good for Jake for winning that heat race and showing what he can do! At the other end of the spectrum is Reed's teammate, Nathan Ramsey, who has to be pulling his hair out at this point. Ramsey received the Racer X Gas Card in Anaheim, meaning he was the first rider not to make the Supercross main event. Nevertheless, you can count on Ramsey coming back with a vengeance.
I'm going to temporarily turn it over to David Pingree for a minute so I can get some packing done.
Remember when Ricky Carmichael was on a Kawasaki and during the parade lap at Anaheim he did a huge whip right in Jeremy McGrath's face? Later that night, he beat Jeremy straight-up, and it seemed as though the torch had been passed (or grabbed) from one champion to the soon-to-be-champion. Well, I think I saw that exact same moment last weekend at the season opener. James Stewart scrubbed a section so hard leading up to the first triple that he actually defied the laws of physics. He flew underneath RC and, once again, the torch was passed. I'm not saying RC isn't going to win some races this year, but he's going to have to want it a lot more than he did at Anaheim to beat James right now.
I was most impressed with Jason Lawrence. I know this kid gets a butt-load of grief about his "youthful" antics (I'm often on the giving end of it), but I think he turned a corner last weekend. At one point during the Lites final he was catching Villopoto and Pourcel. And, even more impressive, his lap times only dropped about a second off of his best in the last laps of the main event. Whatever he's doing differently than he did last year is working. I'm stoked for him.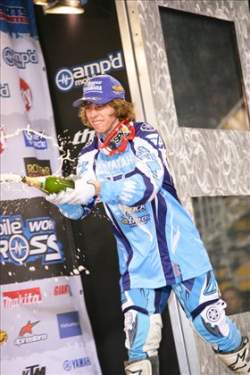 J-Law looked comfortable on that podium
photo: Simon Cudby
In fact, I thought he played it a little too corporate on the podium. I was hoping for some of the magic that only
J-Law
can throw down. Instead, he was gracious, professional, and even thanked his former team manager
Dave Osterman
for his help and support. It was a refreshing change from the "Dude, #*ck, dude" podium speech at San Francisco last year, but I found myself slightly disappointed. Either way, Lawrence showed some serious speed last Saturday night.
Speaking of Osterman, the former Yamaha of Troy team manager has a new job in the works. He couldn't let the cat out of the bag just yet but did say that it is in the industry and we would probably be confused when we hear about it. I don't have the slightest idea what he's talking about—Wonder Warthog, maybe? I just want to see him grow his hair out again. He used to have the most radical afro when he worked as a factory Yamaha mechanic in the early 1980s. What do you say, Dave?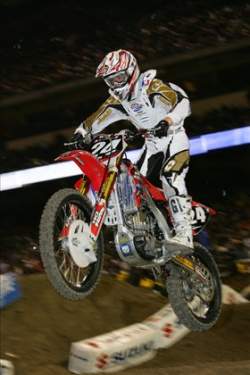 Josh was hurting on Saturday night after his big practice crash
photo: Simon Cudby
I ran into
Josh Grant
in the stadium concourse just before the Lites main event last weekend. He was visibly upset, and understandably so. It's difficult to watch your championship hopes disappear after you've worked so hard to get ready. Josh definitely would have been in the mix on Saturday. I spoke with one of his team members, and while he isn't confirmed to be racing in Phoenix this weekend, they did say it was likely. His injury was called a "slightly punctured lung" by doctors and he was advised not to compete.
That isn't the only drama coming out of the Honda pits: rumor has it that Honda is considering dropping either Andrew Short or Davi Millsaps back down to the Lites class for the Eastern Region series since neither rider was ready for the Supercross class in Anaheim. Millsaps is the obvious choice for Honda because he can run the #1 plate. On the other hand, Shorty never got the Lites title he wanted out West, so maybe they could give him another chance.
Either way, that coast is stacking up fast with riders like Broc Hepler, Brett Metcalfe, Ryan Dungey, Mike Alessi, Ben Townley, Billy Laninovich (and likely Tommy Hahn) and others already on the entry list.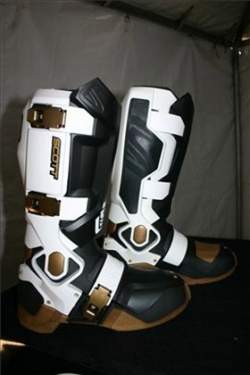 The new Scott Genius boot looks a lot different than the last Scott boot
photo: Ping
This week, Scott USA introduced their newest product, the Genius motocross boot. It's a modern version of their 1977 Scott boot that was made entirely of plastic. Many of us joked that this new boot was going to be plastic as well ... hahaha. Well, it actually is plastic. Or a thermoplastic, to be exact, whatever the heck that is. It is a unique-looking product, but it is totally innovative and cutting-edge. Check out our report on the Genius boot
right here
.
I also spoke with Grant Langston this week to see how he was doing after his get-off in the Anaheim whoop section. Grant says that he is fine, just a little sore and bruised. He says he will be 100 percent for this weekend's race in Phoenix.
Tim Clark called this week to give me an update on the 2007 Maxxis MiniMoto SX inside the Orleans arena in Las Vegas on May 3-4. This year the promoters have added three new youth classes and a 12" rear wheel stock class. Practice and qualifying takes place on Thursday and Friday. The show on Friday night will consist of 11 main events with the top twenty riders from each class. At this time there are already over 400 riders signed up. If you are serious about racing, you will want to get your entry in soon. For all the details go to www.minimotosx.com.
Tickets for the Maxxis MiniMoto SX are available on line at www.orleansarena.com.

That's all from Ping, who's also headed to Phoenix in order to do some work with Red Bull and DMXS' own David Izer.
Have you check out Progressive Insurance's new website, www.holeshotheaven.com yet? Progressive is 100 percent behind the sport of supercross, and this new website is definitely worth bookmarking! The site features photos, contests and 3-D track maps, as well as videos. Dubbed "See How They Roll," which you find under the "Fandemonium" tab at the top of the page, these videos go behind the scenes with Ryan Hughes, Josh Hansen and Nathan Ramsey (and they are really, really funny too). Check out Holeshot Heaven this weekend—you will like what you see!
Make sure you check out Simon Cudby's new film on Competition Park over at RacerXFilms.com. The featured band is Beretta76, our friends from Philly, and they rock. Check them out at www.myspace.com/beretta76, and if you're a MySpacer, tell them Racer X sent you.
A little more mainstream love for RC.
It's never too early to start thinking about the Motocross des Nations.
Jeff Emig
(who did very well on the excellent live SPEED TV coverage of last week with
Ralph Sheheen
) was working on a piece with
Michael Byrne
when he asked him about riding for Australia this time around when the MXdN comes to
Budds Creek
:
Emig: Let's talk about the Motocross des Nations. You got to ride for Australia once, but I'd have to think that with the MXdN coming to Budds Creek for 2007, that event is something you'd have to be thinking about. In the past I don't think some of the U.S. teams wanted to support Australian riders, as they go elsewhere. Would that be correct?
Byrne: A little bit. Obviously Kawasaki supported it last year (when James Stewart went for the first time), but unfortunately for me I was leaving after the last round, so that really wasn't going to work out. So this year, hopefully Chad and myself and Andrew McFarlane or Brett Metcalfe can all be fit and healthy and actually have our best team go. Hopefully we can set a new record for Australia and get our highest finish, yet. I think we have a good shot of being on the podium, for sure.
Too early to start thinking Team USA? Right now, it looks like Stewart/Carmichael/Villopoto would be tough to beat.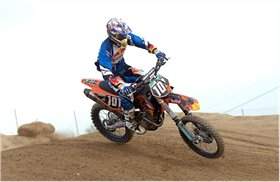 England's next big thing Tommy Searle is in California right now
photo: Carl Stone
Carl Stone is another East Coaster out here doing the West Coast SX swing. Not only did he make it out to the Marty Moates Ride Day, he also made it out to Perris Raceway to see what was going on. "Cstone" couldn't believe the talent out there on a Wednesday afternoon: Tommy Searle, Jeff Northrop, Hunter Hewitt, Joaquim Rodrigues, the Wharton boys again ("They are riding everywhere!" wrote Carl). We will scatter some of his pics from here on down and at the bottom.

TFS' Weekend Window is rolled down and showing all things Phoenix. Here's something interesting he spotted at the stadium yesterday: Suzuki pulled out of press today at Phoenix, which left Denny Hartwig (back after a family emergency had him leaving Anaheim before the race started) with backups (Ryan Clark and privateers), then someone stole a Hummer at gunpoint off the Air Force base and started a car chase! The media bailed to cover that. Helicopters were all over the place. TFS goes picks it up from there: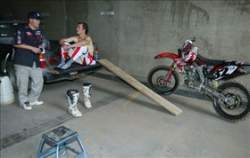 Clark goes old-school
photo: Steve Bruhn
"
Ryan Clark
, 'the other RC' got up early with his mechanic Jesse Black to meet with media at Phoenix's press day. They went old school with Ryan's beater pickup and wooden ramp! Clark went home and took a break, then came back for the afternoon to talk to press some more. He said that with the new timed qualifying practice, days have changed a little and he has been practicing sprint laps to get better lap times-and better gate picks. Clark owns Team Solitaire, which is completely funded by industry sponsors like Fly/Dragon/Honda/Western Powersports. His mechanic ened up here after moving to town to attend MMI. His other rider Jiri Dostal is out this weekend with a broken fib. Bummer, get well fast dude.
"Here is what Clark had to say about the Anaheim 1 whoops: 'The whoop sections were not built difficult. What made them difficult was the soil there at Anaheim. It gets so slippery and choppy. The dirt here (Phoenix) has more sand and when the whoops break down, they get smaller. There in Anaheim they cup and get a steep face on them. When you continue to hit them they get blued grooved out. The lines change so often you have to be open to finding a new line. I kind of got stuck in one line and had some problems in the main.'"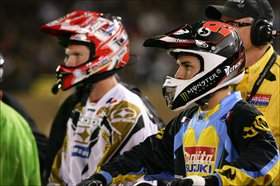 Ivan has been attracting a lot of green lately

photo: Simon Cudby

Ivan Tedesco was back in the saddle at Anaheim after his collision with Stewart in Toronto left him off the bike for nearly a month. But this time it was the Kawasaki of Tim Ferry that caused him some problems, as Ping found out when he interviewed "Hot Sauce" this weekend:
"Tim Ferry took me out on the third lap or around there," said Tedesco. "He tripled into this section behind me and cleaned me out pretty bad. I did my best to catch up after that, but I really had to just try to be smooth and not hurt my wrist even more."
Ivan also said that he's been working on his injured hand with the help of modern science: "I've been sitting in a CVAC chamber every day for about an hour per session. I've also been doing some therapy with Dr. G and trying to get it feeling better. I think things will be a little better this weekend."
To read the entire interview with Ivan Tedesco, check it out here.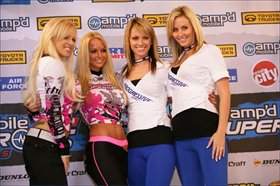 Will they be in Tempe?
photo: Paul Buckley
Here's a note from
RX
reader
Clint West
with more Things To Do in Phoenix:
"Mill AVE in Tempe. The place is great! It is a little bit of a drive from the stadium but worth it. I visit Phoenix on business. It has every kind of food and tons of clubs. The Library is a must. Check it out here.
We'd like to send out special thanks to our friend Christian Robinson at www.Camp4Coffee.com in Crested Butte, CO. Christian, a motohead and hard-core snowboarder, hooked us up with some of their hand-roasted coffee beans, and Managing Editor Bryan Stealey has been twice as productive ever since. Seriously, this is awesome stuff, so if you're a coffee connoisseur, be sure to check them out.
This weekend's Racer X Gas Card is co-sponsored by Mototalkers Robert Carrico ("RCarrico") and Jay Perkins ("500guy"). Thanks for helping out, guys.
While there's a lot of focus on this weekend's Phoenix Supercross, there is another major supercross going on across the pond in Dortmund. Our man Slavo sent us a link to the starting list.
This will be one great race weekend. With guys like John Dowd, Craig Anderson, Eric Nye, Crockard, Damien Plotts, Daniel Blair and Josh Demuth mixing it up, things should be interesting.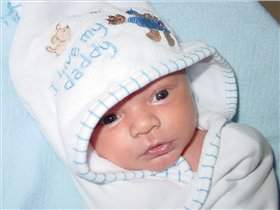 Tristan Plotts
photo: Courtesy of Plotts
Speaking of
Damien Plotts
, he finally sent us over a picture of his Christmas present.
Tristan Jasper Plotts was born on December 23 at 3:15 P.M. He weighed in at 7 pounds, 3 ounces, and was 19 1/2 inches long. Congratulations, Damien and family!
After you're done reading this, go check out Racer X Canada's Frid'Eh Update from the North.
And don't forget to check out Chris Jonnum's Road Racerhead every Friday over at www.roadracerx.com.
The dates for the 2007 Racer X Vet Series have been announced:
May 11-12 Motosports Park Byron, IL
June 1-2 Spring Creek MX Park Millville, MN
August 17-18 Red Bud T'N'T Buchanan, MI
September 7-8 Aztalan Cycle Park, Lake Mills, WI
A Plus 55 class has been added for this year! This is one of the coolest Vet races you will ever want to attend. The tracks are always mint and the prizes are always outstanding. Practice day on Friday races on Saturday. For more information go to: http://www.mxvets.com.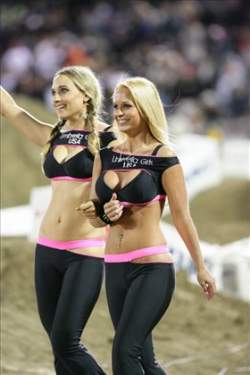 Now there's an interesting concept
photo: Paul Buckley
The second round of the Honda of Houston/FMF Texas Winter Series at Village Creek MX Park has been rescheduled to January 20-21, 2007. The weather forecast in the central United States is not giving a real chance to get this weekend's event in. With riders from 16 different states attending round one at
Freestone
County Raceway in December, promoter Tony Miller wants to give participants every opportunity to have everyone their shot at over $450,000 in contingency and prizes. For more information, go to
www.FreestoneMX.com
.
Did you check out the feature we ran earlier this week on the 2007 Supercross Souvenir Yearbook? This year's book is packed with over 250 pages of cool content, brought to you by us. You can pick yours up for only $5.00 at any supercross, or if you want, you can purchase it online right here.
Earlier the week the racing world was saddened again over a fatality in the Dakar rally. South Africa's Elmer Symons perished in a crash near Moracco, adding to a list of over 50 who have died in the race, which started in the 1970s. Elmer had been living in the US and racing the GNCC series, but everything he did was with an eye on Dakar, which was his dream.
"The reason he did everything was for Dakar," says Bart Hayes, who owns Powersports GrafX, one of Elmer's main supporters. "He rode GNCCs so he could get faster at Dakar. He ate PowerBars because he thought he could help him at Dakar. Everything he did all year was to prepare for that race. That was his primary goal. And he was probably as prepared as any individual could be, and he was aware of the dangers. And Elmer, he was just such a great guy to work with. Everyone wanted to help him, and he would always ask 'What can I do to repay you guys?' And we'd always say, 'You're being yourself. That's all you have to do'"
Hayes is now working actively with the RiderDown foundation to raise some money for Elmer's family. Look for updates as soon as they're available, or check www.riderdown.org.

Finally, earlier this week we posted a Breaking News about the possibility of Team 199/Red Bull/ Cernic's rider Travis Pastrana racing the Toyota AMA National Arenacross in Baltimore, Maryland, this weekend. We didn't want to create a stir with false information, so we took it down. Well, we got some confirmation today from amateur competitor Tom Miley, who was behind Travis in the sign-up line earlier today. "I chatted with Travis for a bit, and he's racing an RM250 two-stroke tonight only." said Tom. "He has some Rally thing he has to do tomorrow." Thanks for the update, Tom, and good luck Travis!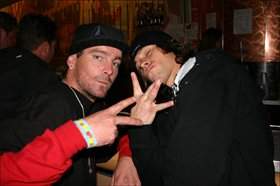 Brian Deegan and a K-Fed imposter say "Get well soon, Simon!"
photo: Ping
Finally, get well soon, Simon. You got your Nyquil, you've got your soft, blue blanket, and you've got one of those electronic thermometers that are not so invasive, and a weekend on your couch. You have to be happy right now, Simon Cudby!
Okay, time to hit the road with Vance. If you see a black Toyota truck with Racer X stickers in the window parked somewhere along the way between Anaheim and Phoenix, we're just looking for dinosaur bones. Thanks for reading Racerhead. See you at the races.
Now here are some random photos from A1. Enjoy!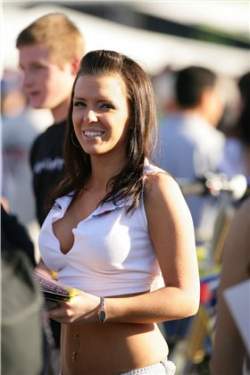 You got to love supercross!
photo: Paul Buckley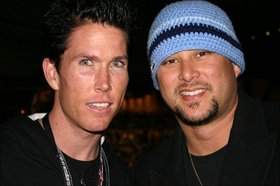 Malcolm McCassey and J-Lo's ex-husband, Cris Judd.
photo: Ping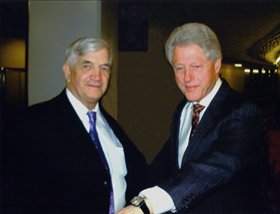 Jeff Cernic's Dad hanging with Mr. Clinton
photo: Courtesy of Cernic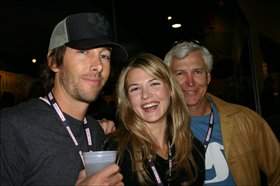 Dave, Dove and Jim Castillo
photo: Ping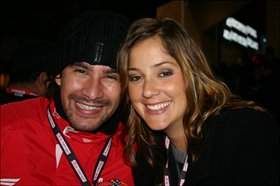 Ernie and Carolina
photo: Ping
FMXer Ronnie Renner and son
photo: Ping