2007 Supercross Souvenir Yearbook
If you're attending a round of the 2007 Amp'd Mobile Supercross Series, you definitely want to pick up a copy of the 2007 souvenir yearbook. The book was published by the crew here at
Racer X Illustrated
, and we'd like to thank Live Nation for again providing us this opportunity to help out with the biggest motorcycle series of all. We try hard to make everything better next time around, and we feel that we definitely succeeded with this, even though the bar was pretty high from last year!
This year's book is 260 pages, packed full of rider bios, feature stories, pictures and statistics. Did you know that the '97 AMA SX Series had seven winners in 15 races but no back-to-back winners? Or did you know that Jeremy McGrath suffered two DNFs in his entire supercross career? You can find a ton more of these interesting SX facts inside!
If you're looking for information about a future event, then you'll definitely enjoy the "Events" section, which features some fun facts about each host city. This weekend's race is in Phoenix, and did you know that it is the sixth-largest city in the U.S.?
Once you pick this book up, you might not want to set it down. And if you like Racer X, you'll love this book! So make sure you pick up a copy at the next supercross. Or if you'd like, you can purchase a copy online right now. Click here to order yours. For $5.00, you won't be disappointed!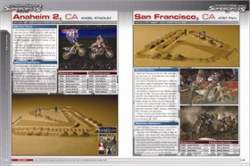 The Souvenir Yearbook provides detailed event information for each race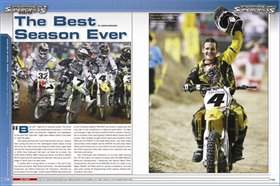 Read the 2006 season recap...