Welcome to the Shift Number Cruncher. This week is dedicated to a rider who has an odd number with a cool story behind it. In addition, he is another champion who will likely forego his ability to wear his earned #1 plate in 2007. But his most recent and somewhat surprising accomplishment was his second-place finish in the Supercross Lites class last Saturday night at Anaheim. Without further ado, here comes Christophe Pourcel and his unique #377!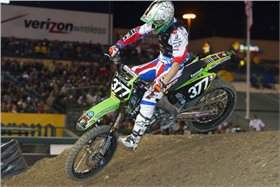 Pourcel is the 2006 MX2 World Champion
photo: Steve Bruhn
Everyone knew
Ryan Villopoto
was going to be the man last weekend, but very few expected new French import
Christophe Pourcel
to give him fits in the opening stages of the Lites main event. The 2006 MX2 World Champion and reigning King of Bercy grabbed a killer start and held strong throughout the 15-lap main event. The Frenchman took the #377 to the podium in his first attempt at American supercross. And while his podium speech was a little tough to understand, his enthusiasm was clear. Apparently, Christophe likes to let his riding do the talking, not much unlike his teammate Villopoto.
His number became his when he joined the same team as his brother, who wore #277. Since then, he has made the number his own and plans to keep it.
MXi
's Max Martin recently did an interview with the Frenchman and talked a little about his number and his view on it:
"I like this number," he said. "It's my number. When you see this number, you think of me and it's the same thing you think of when you see the 72 you think of Stefan Everts. I think that it's important to have the same number to be identified."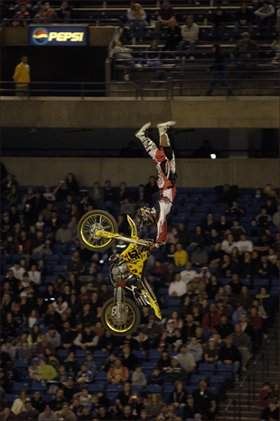 Jake "The Jailer" Windham
photo: Steve Densmore
California's
Jake Windham
actually held the number from 1996 till 1998 as he competed in the AMA outdoor nationals. The number didn't bring him much luck, but a move over to FMX did. He would go on to become a three-time champion and is one of the winningest FMX riders in the history of the IFMA.
I have to admit, #377 is the hardest number I have ever tried to Crunch. I dug through our archives quite a bit and couldn't find anybody else to break down. I did find some interesting associations, though!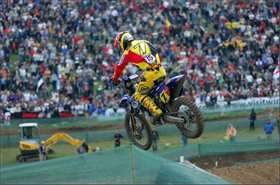 The 2006 MXdN was TFS' 377th event! Cool!
photo: Steve Bruhn
Racer X
's
Steve "TFS" Bruhn
has always kept a log of the races he attends. He numbers each article as time goes by. And lo and behold, the 2006 Motocross des Nations was the 377th race he covered. Pretty cool!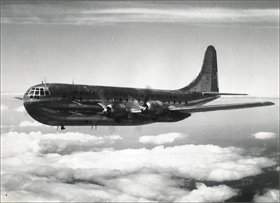 377 Stratocruiser
Boeing made an airplane called the 377 Stratocruiser that took to the skies shortly after WWII. Based on the infamous B-29 bomber, this giant propeller-driven airship was one of the first luxury planes. While Pourcel likes to take his #377 high into the sky, this bad boy could climb to 30,000 feet and used four 3,500-horsepower P&W R-4360 Wasp Major engines to attain a top speed of 375 mph. Not bad for 1947!
Most of the wristwatches you guys have on have 377-size batteries in them
Okay, now it's up to you guys. If you have any pictures or additional information on #377, send it to me at andy@mxsports. I'll send you some stickers and we'll get it in the Redux.