5 Minutes With ... Ivan Tedesco
Makita Suzuki's Ivan Tedesco is not having the start to the season he hoped for. On the second lap of practice in Toronto, a crash with James Stewart left him with three broken bones in his left hand. His doctor stuck him in a cast for four weeks, and it was just removed last Thursday. The doctor cleared him to ride, and Ivan put in one day of practice before Anaheim 1. Tedesco nursed his sore wrist to a 14th-place finish in the main event. We called to check on Ivan as the series heads into Arizona this weekend for round two.
Racer X: Hey, Ivan, how's the wrist?
Ivan Tedesco: It's feeling better. It was really sore after the weekend. I knew it was going to hurt a little bit, but I wanted to get out there and get some points.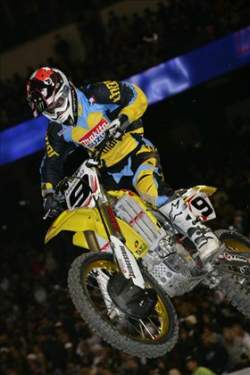 Hot Sauce gutted out a 14th-place finish in Anaheim

photo: Simon Cudby

How did the night go for you?
Well, I actually felt pretty good for about the first half of my heat race. Then my wrist really started to ache and I had to back off a bit. I actually felt decent on the bike, considering I hadn't ridden in a month. My timing was pretty good and I felt comfortable. I just couldn't push very hard because it would start hurting and feeling weak. Then, in the main event, Tim Ferry took me out on the third lap or around there. He tripled into this section behind me and cleaned me out pretty bad. I did my best to catch up after that, but I really had to just try to be smooth and not hurt my wrist even more.
Did you say anything to Ferry?
Yeah, I talked to him after the race about it. He said that the dirt was slippery and he just couldn't stop. I don't know. He ran it in pretty good.
How is the wrist feeling now? Will you be ready for the weekend?
It is feeling better. I've been sitting in a CVAC chamber every day for about an hour per session. I've also been doing some therapy with Dr. G and trying to get it feeling better. I think things will be a little better this weekend.
Have you been riding?
No, I haven't ridden all week. I think the best thing is for me to let my wrist heal as much as it can. I've been running and cycling and just doing what I can to keep my fitness up. It's hard to tell exactly how good my conditioning is because I can't push hard for long enough to tell. It seems like it's okay, though.