Racer X Tested: Scott Genius Boot
The evolution of motocross boots
Scott USA is known mostly on a global scale for their bicycles. They are also big into ski goggles and motocross goggles, but for the last twenty-odd years they haven't tried making a motocross boot. Remember when Bob Hannah used to run those tall, plastic Scott boots in the late 1970s? Well, they are back in a big way. This time, they've got years of development behind them and heaps of technology.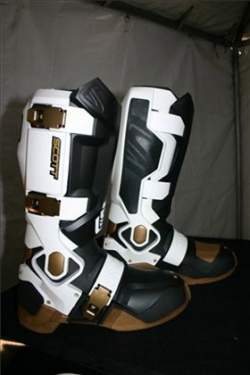 Pure Genius
photo: Ping
The entire Scott crew invited the media out to Competitive Edge Motocross Park this week to try their new boot, called the Genius. They spoke about their three main goals when creating the boot; protection, performance and comfort. In the past, they opined, that one of these three things was always sacrificed in the making of a modern motocross boot. They set out to create a boot that was all three of these things completely. They started by conducting a study on the shape of the average males leg between the ages of 16 and 25. They considered information on lower leg trauma and created the patented Scott pivot system which only allows certain degrees of movement in each direction. They created a material called Hytrel, a polyurethane thermoplastic that has the characteristics of both rubber and engineered plastics. The advantages of this material over leather are its excellent fatigue resistance, damping properties, chemical resistance, high-impact strength and stability. So, it doesn't get wet like leather does, it doesn't lose support over time like a traditional boot does, it absorbs energy and keeps it from transferring to the rider, it isn't affected by chemical cleaners, and it is very protective against impacts. There is also no break-in required with this boot. The first time you ride in it will feel the exact same as the hundredth time you ride in it.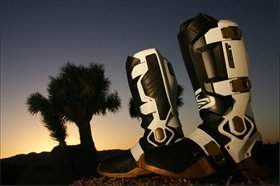 photo: Courtesy of Scott USA/Joe Bonnello
Other innovative and patented features include a Sure Feel shifter pad on the left toe and a Brake Transfer Pad on the right bottom toe that allow you to feel the brake and shifter easier. There is also an internal bootie for comfort and a three-strap system that is unique to the Genius boot. The strap that is typically right across the top of the foot is removed to eliminate pinching.
Scott has hired amateur star Ben Lamay to be their first team rider. Ben will use the Scott Genius boot and Scott goggles during his run at all the amateur nationals in 2007 on the White Brothers/Yamaha team. Ben loved the boot from the first day he rode in them.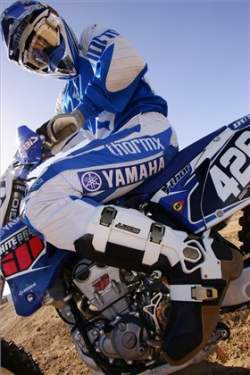 Ben Lamay is excited about the boots!
photo: Courtesy of Scott USA/Joe Bonnello
"I wasn't sure what to think when I first saw them," said Lamay. Adding, "They are so much different from anything I've ever seen before. They felt really comfortable when I first put them on and walked around in them. They are more comfortable than any other other boot I've used before." He continued, saying, "When I first started riding with the Genius boot it felt a little different. It's so unlike any other motocross boot and it has a different feel; but I liked it. After just a few laps I was totally used to them. They have way better support than traditional boots, especially when you land off of jumps. It completely absorbs the impact that you would normally feel on your feet! It made it very easy for me to stand on the pegs more. I'm really excited about this boot."
There is no doubt that the Scott Genius boot is a step towards the future of motocross foot and ankle protection. From the materials to the science behind the development, the Genius is truly the next step for motocross boots.