Note: The girl in the photo on the main page's rotating banner was incredibly tired and fell asleep by the track - the beer cans are not hers. No need to send letters!
Here we go again—the circus has come back to town for the 30th Annual High Point National. As you can imagine, I am absolutely swamped. Between magazine deadlines, visiting guests, and just trying to help my family pull off the whole race out there, it's been one long, hectic week. But this is the best job in the world, and when the Toyota AMA Motocross Series comes to town for its once-a-year visit, we all try to pack as much into the week as we can.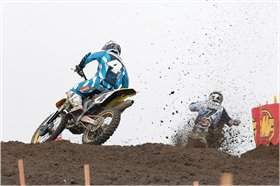 What a battle you will see tomorrow on OLN, beginning at 6 p.m. EST
photo: Carl Stone
Before we get too much into what's coming up, here's a reminder to watch some can't-miss motocross action from
Hangtown
last weekend. The opening moto of the season between
RC
and
Chad Reed
and
James Stewart
was absolutely amazing, and it will air tomorrow afternoon on OLN at 6 p.m. (EST). The show marks the debut of the new TV team of
Brian Drebber
and
David Pingree
(not to mention the return of pit reporter
Erin Bates
), and the word out of the booth from director
B.J. Smith
is that it's a great team. Well, they definitely got a great race to watch, so make sure you check it out tomorrow, as well as the 250F class when when the AMA Toyota Motocross Championship presented by FMF features the Lites from
Hangtown
on Monday, May 29, at 5 p.m., also on OLN.
As for the first round of the Monster Energy/Kawasaki Triple Crown of Motocross, make sure you check out www.racerxfilms.com tomorrow night for our exclusive practice report, plus a short piece we did today in Morgantown with one of last weekend's podium finishers. Hint: He has an Australian accent.
And then you can listen to the Racer X Webcast, presented by Cycle News, on Sunday afternoon, beginning at 1 p.m. (EST) on www.mxnationals.com (and yes, the Weege is coming back!). Also don't forget to check out the laps and results and times on www.amamotocross.com - it's a super-informative way to keep track of everyone.
We had a diverse path of visitors come through the Racer X office today, from 1980 AMA 500cc National Champion Chuck Sun to last weekend's rookie upstart Zach Osbourne. There was Team Solitaire's Ryan Clark and Justin Buckelew, plus last weekend's 1-1 sweeper in the 250F class, Red Bull KTM's Mike Alessi.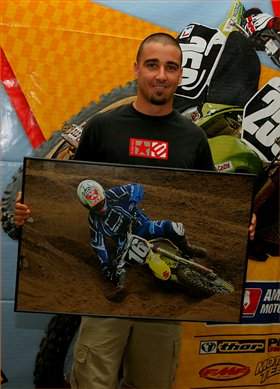 Justin Buckelew holds up a sign of one of his boyhood heroes
photo: Matt Ware
Sun is just one of the past heroes from
High Point
coming in to enjoy the races and also do a parade lap as part of the opening ceremonies: 1970s hero
Denny Swartz
is coming, plus '80s icons
Broc Glover
and
Rick Johnson
and 1990s great
Jeff Stanton
. Stanton and his dad used to drive down here for amateur day every year from their home in Michigan, usually parking near another Yamaha amateur-support rider of that era—
Damon Bradshaw
. We tried to get Damon to come back from Idaho, but he already had plans and sent his regrets.
And speaking of regrets, I haven't had much time to gather information for Racerhead this week.… Good thing Jason Weigandt is right next door. Let me turn this over to him for more, and also share some Hangtown photos with you from Carl Stone:
Everyone around our office is pumped that High Point is coming. For one weekend a year, all of the stories that we tell on the road get a little background, because now our friends from around the country get to see all of the places we're usually telling them about!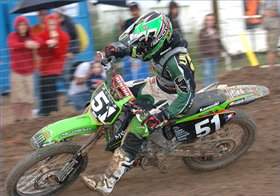 After a tough second moto last week, Ryan Villopoto will be looking for his first outdoor moto wins this weekend.
photo: Carl Stone
And there's a lot of history here, since the race has been raging for 30 years now. I bet almost every moto fan from the East Coast has a
High Point
story, whether they raced amateur day or watched the national or ended up breaking down on the way out there. For me,
High Point
was always an oasis somewhere out there that I had to get to. I always wanted to go to one of
Big Dave
's races because of all of those Blackwater videos. Also, I had some relatives move to West Virginia about 45 minutes from the track, so I started feeling a little bit of a connection to the race. But
High Point
really ratcheted up the scale for me in 1995. That's the year my all-time favorite,
Damon Bradshaw
, decided to make his comeback. And he was going to do it at
High Point
!
Best yet, my Bradshaw fixation was a true "don't know what you've got till it's gone" story, because I didn't really start worshiping at his altar until he was missing. Because he was missed!
Lucky for me, I turned 17 a month before High Point '95. In New Jersey, you have to be 17 to get your driver's license. My birthday came just in time, so I trucked my shiny red Isuzu Trooper out there (I cheated on the road trip, because my mom came with me – she wasn't too keen on a 400-mile drive one month after I got that license). But I went to High Point all by myself, and oh man, was it awesome. It was all muddy, of course, but I was loving it. And when Damon came back and led the first 250 moto, that was about the greatest thing I had ever witnessed. That was Woodstock for me!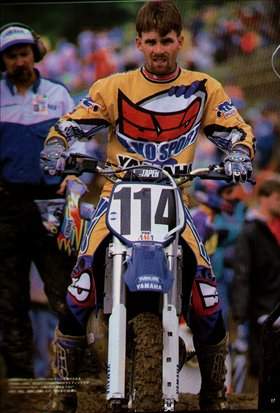 Damon was all business in his 1995 comeback ride at High Point
Or maybe my Woodstock came two years later, when I started doing math in my head during an even muddier second
High Point
250 moto. If Bradshaw could pass
Larry Ward
and win the moto, he would win the overall. The Bradshaw comeback had not gone well at all, but now there was a chance he could win a race! It felt like a sunny day at that point.
By the way, back then I didn't know a single person who knew anything about motocross. I was there totally by myself, and I was running from hillside to hillside, slipping and sliding through the mud, cheering Bradshaw on. I must have looked like the biggest idiot. When Damon made the pass behind the starting gate, I could have been struck by lightning right there and died happy.
They didn't even have a podium presentation since it was so messy out there. It was just Bradshaw and the fans at the old announcer's tower – we all basically gang-rushed the track past the billboard turn.
As soon as I got home, I wrote a letter to the editor (DC) of the old Racer X newspaper about how awesome that race was. And they PRINTED IT. I think that pretty much sealed my fate right there.
Now Morgantown isn't a place to visit for me, it's where I live. And High Point? When I graduated college and got a job here – making money for the first time ever - I immediately started saving so I could buy a bike. And of course, I got hurt on the thing almost immediately. But when finally I healed up and got ready to race, there was no doubt where I would have to do it: at High Point. Which by then was my local track.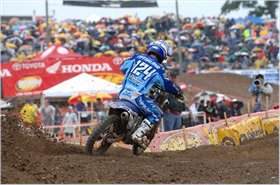 Last year's MX2 Grand Prix runner-up McFarlane was third in the first AMA National of 2006.
photo: Carl Stone
Fast-forward to
High Point
Raceway and this morning. The Team Green Spring National is what is basically referred to as "amateur day." The track is mint – lots of sawdust, big berms and bumps, and ... oh wait, it just started to rain. Oh well, we've been dodging bullets on the rain all day, so this was kind of expected. Regardless, we've had great weather around here all week, so the track is primo, and a little moisture today won't mess with things on Sunday – when the forecast is clear. You know rain is always a major threat at
High Point
, so we watch those forecasts very carefully (and cautiously).
As for the racing today, there was a HUGE upset right in the very first moto of the day – 125 A – when Racer X's own "Bad" Billy Ursic pulled the holeshot on his Cernic's/Pro Action/Leo Vince KX250F. He pulled the start against Mike Alessi!
Yup, Mikey Boy was out on Am day again, just like he was at Hangtown—he did practice and one moto, which is okay by the AMA, so why not (the kid just loves to ride anyway). Fellow KTM rider Zach Osbourne was out there, too, but while Mike was able to put the #800 into the lead and the win (sorry, Billy), Osbourne went down and finished way back. Osbourne, by the way, rode his butt off last week for sixth in a very muddy first moto at Hangtown. Not bad for a kid from Virginia!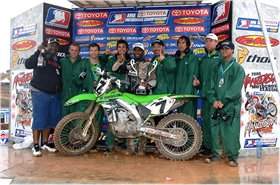 The green team celebrates breaking RC's winning streak at just less than three years
photo: Carl Stone
Of course, the real hype is for Sunday. Last year's
High Point
National was the race everyone had been waiting for, because
Ricky Carmichael
and
James Stewart
battled outdoors for the first time in their lives. And it was awesome – the fans at
High Point
realized that history was in the making, especially when Stewart executed a pass on Carmichael in the first moto. For a moment, it looked like the torch may be getting passed. If Stewart could make the pass stick, pull away and win, and then do it again in moto two, it would end Carmichael's ridiculous outdoor win streak. The race would have gone down in
High Point
lore. (See Andy Bowyer's
Rev-Up
from yesterday.)
But instead, Ricky stuck with James and then got him back later in the moto. Stewart tried to block the inside line in a right-hand corner, the two collided, and Stewart went down. And it was on in moto two, as well. There Ricky executed one of the all-time wildest moves, the move known simply as The Pass. RC gunned his 450 over the finish-line jump, just chucking the bike into the air, no thoughts at to where he would actually land. He practically leaped over James' head and took the lead! Stewart tried to retaliate in the next corner, but Ricky had the line and held it. He kept a firm grip on the torch last year at High Point. But sadly, that race ended up being Stewart's best of the season. All of the battles that High Point seemed to foreshadow never materialized.
It took 51 weeks for Stewart to finally get back on the level of RC, but this time, at Hangtown, he finally did get that win and finally did end Carmichael's (by now even more) ridiculous win streak.
What I liked most about the Hangtown battle is that it really didn't answer anything. In the first moto, RC and JS hooked up in about tenth and tore through the pack, they battled, and Stewart was eventually able to get away. In the second moto, Carmichael just checked out on everyone – his fastest lap time was three seconds faster than Stewart. So they each get a notch in the holster and they're reloaded for High Point. Let's hope it's a good one again.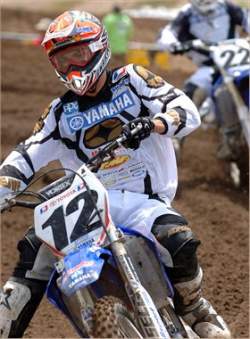 The Cobra is coiled on blue again
photo: Carl Stone
And speaking of good again, how about Le Cobra? Two weeks ago we heard
Mike Alessi
angling to have
David Vuillemin
take over team management duties at Red Bull KTM. But DV was out there riding on his Motoworldracing.com Yamaha YZ450F just in case he still had to ride, and apparently, that paid off with a solid fourth overall. And DV was fighting for it, from what I've heard. You know, some guys just have the talent to do stuff like that. And how strange is it that
Paul Lindsey
, who has been struggling to get results all year long for his team, gets saved by the guy who flamed his team online so bad last year?
As for the Lites, I'm getting kind of worried about Alessi's performance. With or without Vuillemin managing the team, he looked awesome at Hangtown (and Mr. Nice Guy Casey Lytle should be a good fit over there). Everyone has been predicting a wide-open battle in the 250F class, like last year, but when you look at the field, several key players are missing: Langston is now 50 points down, Hepler and Townley are hurt, Tedesco and Millsaps have graduated, and so on.
And Mike, he's just going to be even stronger than he was last year, when he won High Point and threatened to take the series by the throat when he won a moto at Southwick. Had he not have popped his shoulder out in the next moto there, he might have been able to walk away with it. He's in position again this year, and Mike rarely lets an opportunity slip through his hands twice (except for when he couldn't find Tedesco's kill button at Glen Helen … sorry, had to throw that in). We'll see if anyone can get to him this weekend – sounds like Ryan Villopoto was darned close in moto one. How cool would it be to see the two old amateur rivals slugging it out every weekend?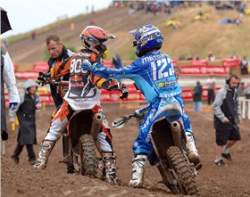 One and two in the 250F class, Alessi and Metty are also friends
photo: Carl Stone
But the man that had the truly fastest lap last weekend at
Hangtown
in the second moto was not Alessi or early crasher Villopoto, nor the Australians Metcalfe and McFarlane. Heck, it wasn't even RC or Stewart or Reed! Looking at the lap times on
amamotocross.com
, it was actually SoBe/Samsung Factory Connection Honda rider
Josh Grant
on his CRF250R!
Ricky Carmichael's best lap time on his way to a runaway win in the second 450F moto was 2:42.912. Grant's, on the other hand, was 2:41.332, but four falls limited him to seventh as the rain started falling harder and harder. With the weather calling for a dry weekend, and Ryan Hughes pushing this kid hard as his strength and riding coach, he could be the one to watch.
One other piece of Alessi news before I move on here: He just told us in the office that he signed a two-year contract extension with Team Red Bull KTM, with an optional third year, and he's hoping to ride 450 outdoors next year if he wins the title this time around. Sure, there are 22 motos to go, and that's looking way, way down the road, but that's the way #800 and his family have always done it.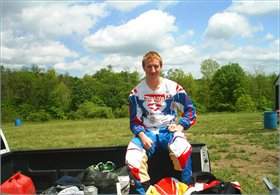 PIC Broc hasn't raced since last September…. And he's still running Alloy.
Photo courtesy of Denise Powell
Oh wait, one more thing:
Jeff Alessi
flew to Washington today to get with a foot specialist. Like
Broc Hepler
, he's been having trouble getting fit enough to race again. But unlike Hepler, it may take him longer.
And speaking of Hepler, this just in from The Racing Paper editor Bill Ursic: While the rest of the motocross industry was focused on or were attending the opener last weekend at Hangtown, I decided to get some practice in at a local track in Pennsylvania - R&D Raceway. While there I ran into Broc, who was out riding for only the fifth time after being cleared to race by his doctors for his foot injury he sustained over two months ago.
"I'm not sure when I'm coming back," Broc told me, while suiting up in his Alloy gear. It just seemed ironic that I was out practicing on a Sunday afternoon with the rider who won the first moto at Hangtown exactly one year ago. Our guess? Budds Creek.
And here's a belated happy birthday wish to AMA Scoring and Timing part-timer Mark Andredas, who was celebrating a birthday yesterday. Mark is out checking things out right now.
That's it from the Weege. By the way, if you're coming to High Point, please make sure you stop by the Racer X booth and pick up one or two or many of the Ernesto Fonseca "power bands" that we will be offering for $5 each. All of the money goes right to Fonseca's rehabilitation. We sold them for $2 last week, but almost everyone who came up said, "Two dollars? That's not enough!" It's for a fallen rider, so please grab one of the red power bands.
Back to Hangtown. I was standing on the infield watching RC's amazing ride through the pack after he basically washed out in the second turn after holeshotting (and winning the $500 Racer X Holeshot Award). For two laps he was cutting through the pack like everyone was sitting still, but then he found himself staring at the back of Number 7 – James had crashed too!
From there, they looked like exactly what they are: the two fastest riders in the world, cutting through a talented field of motocross racers. Only.…
Damn! Ryno just called from Chicago's O'Hare Airport and, after sitting on the runway for two hours in San Diego, he and Josh Grant missed ALL of the connections to Pittsburgh tonight. Now he's trying to decide whether they should drive the 11 or 12 hours here tonight or grab a flight in the morning (though that will make him too late for practice, as everything is booked up). My suggestion was to try to fly to a closer town like Columbus, Cleveland, or even Washington D.C. or Baltimore, all of which are about three hours from Morgantown. Oh, the glamorous life of traveling stars!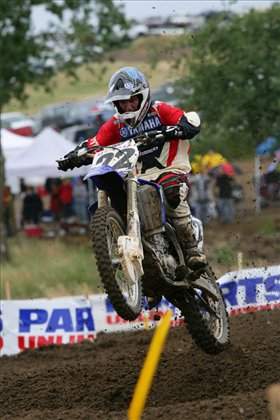 Without his goggles, Reed struggled at the end of the first moto
photo: Simon Cudby
Anyway, back to H-Town: Only
Chad Reed
seemed like he would avoid getting caught by these two, as he had taken the lead from surprising front runner
Robbie Reynard
and then flat-out left the pack behind. (And a happy 29th to Reynard tomorrow!) But it turned out that it wasn't enough, and Reed started making mistakes, as he later admitted:
"I just started missing my lines a little bit. I couldn't really see because I ran out of tear-offs and stuff and just took my goggles off and started putting my head down and I think I rode better then, and they just kind of goggled James just kind of put a supercross move on me inside the berm there and there was nothing I could. I tried turning back underneath and it was too late. But I was happy with a second. I felt like I rode strong all the way to the end, and second moto was the same. Me and James actually got terrible starts, and we were trying to weave through all the crowd, and rocks were flying, and one guy fell in front of me and I had nowhere to go but off the track, so that was the end of that, so I just got third.…"
"It was good fun leading for a few laps," Reed added. "It's not really my deal out here in the nationals, but I had fun today, so we're just kind of working on it and having fun this year."
Reed's last overall national win, by the way, will have its fourth birthday this weekend: He last won a national in 2002—his one and only outdoor win in the 125cc class—right here at High Point, as Weege explains in this week's Great Races.
Stewart and Carmichael, by the way, are both now fully committed to AMA Team USA for the 2006 Motocross des Nations in England. Start booking your tickets now, because it might be the one and only time you see these two superstars team up together.
And how about Brett Metcalfe? He didn't even qualify at Hangtown last year on that YZ125 (remember those?) and then he won the Asterisk Mobile Medics' Card at the '06 Las Vegas. To come back and run a career-best second shows that this guy has a lot of heart and determination.
And how strange is it that there were more Australians on the Hangtown podium (three) than Floridians (two) or Californians (one)?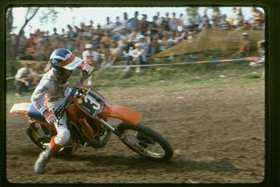 That's Magoo, in the greatest Team USA leadership role of all time
We mentioned Team USA earlier. After
Andy Bowyer
's
Number Cruncher
went up this week with #3 getting the treatment, we got a note from the past:
"Excuse me, but you left out my favorite Number Three. Magoo (Danny Chandler) wore #3, in 1982, while becoming the first and only rider to win every moto of the Motocross and Trophee des Nations." That's from Warren Price, Old-Timer moto-journalist!
Our best wishes go out to pro racer-turned-promoter Chad Lough, whose dad was in a severe ATV accident last weekend. He is in a hospital in Kingsport, TN. He was in critical condition most of this past week, according to a report we got, but he is stable now. Please keep Chad and his family in your prayers.
On a brighter note, check out this photo we got from Scott Saylor. He snapped it of his son Jacob and Ricky Carmichael at Ponca City in 1993. Jacob was 8 and RC was 13. Check out those John Ayers Gear Racewear shorts!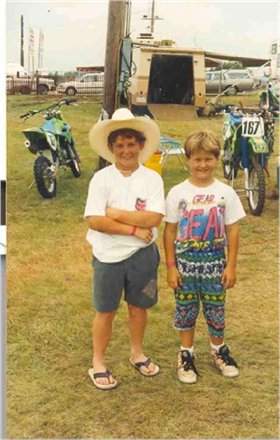 Young pros in the making RC and Jacob Saylor
Courtesy of Scott Saylor
Back to Weege, this time for some GNCC:
Well, it turns out Juha Salminen was beatable. After laying a whooping on the GNCC boys in the first four races, the pack started closing back in a few weeks ago at Loretta Lynn's. That could have been a fluke, but then the Am Pro Yamaha crew of Barry Hawk and Charlie Mullins stuck with him again in Missouri and nearly pulled off the win again. At this point, Juha looked a little more vulnerable, and Barry and Charlie had to like their chances at last weekend's Wiseco John Penton GNCC.
But it was supposed to be Juha's day there, since this was the race he first came to as a test run in the U.S. back in 2004 (and with no preparation he crossed the finish line in a solid second, which rightfully scared everyone). Also, the John Penton race is named after the man who built KTM in the U.S., so a bunch of the top KTM brass heads down from their Ohio headquarters to race (and watch), including John Penton himself, who was on hand. And when Juha immediately overtook Hawk on the motocross track (Hawk took the Racer X Holeshot Award) and pulled a 30-second gap, it looked like a done deal.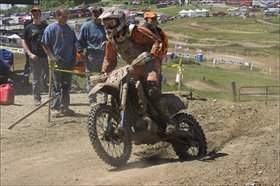 J-Sal was undefeated up until last weekend's John Penton GNCC
Photo: Raymond Gundy
But not this time. This GNCC track was really tough, with lots of deep mud bogs and plenty of tight trail. Juha missed a turn on the first lap and lost the lead, and then he got stuck bad trying to mount a comeback. But he charged back again and passed Hawk for second. Mullins was in the lead and crashed really hard – he went absolutely flying off of a fourth-gear downhill and tumbled, according to witnesses, for at least 80 feet! Somehow the rookie managed third, but he admitted he basically didn't remember anything about the crash or the race. Oh boy.
So it was left to Hawk and Juha out front on the last lap. Hawk stayed close, and when Juha got stuck in a mud hole again on the last lap, Hawk blitzed past him and took the win. The nine-race win streak (dating back to last year) for Salminen, which may be the longest in the long, long history of GNCC racing, is over.
By the way, even Salminen admitted fault for picking bad lines in the mud holes throughout the day. This is a big part of GNCC racing, so if you beat a guy when he's stuck in the mud, it qualifies as a well-earned win, and not just luck.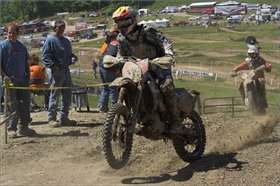 Barry Hawk put a stop to Juha's winning ways
Photo: Raymond Gundy
Hawk is pumped up now. So pumped that he's coming to race Moto-X-Country this weekend at
High Point
. As for Juha, he headed back home to Finland for a few weeks since the series has two weekends off. No doubt the champ is going to come back swinging hard in Sparta, Kentucky on June 11. By the way, GNCC Racing airs on OLN every Saturday and Wednesday at 3 pm EST. Go watch it!
A number of readers sent us e-mails with this link to a story that ran in USA Today on Tuesday called "Military Recruiters Lure Extreme Sports Thrill Seekers." It's a pretty cool story that explains why the Air Force has such a strong presence in the supercross pits. Let's put it this way: If you thought the only way you could get paid to ride a dirt bike is by racing, think again. Check it out, it's a good read.
Allen Ferrill was an enthusiast who was tragically killed while riding in Dallas, Texas. He left behind his wife, Sondra, and two sons, Drake (3 1/2 yrs old) and Dirk (3 months) and did not have any life insurance. Some friends of his are having a charity golf tournament on June 6 and their goal is to raise $100,000 for the family. All money goes directly to the Allen Ferrill Memorial Fund. To make a pledge, please visit Robert Barner's homepage. (Donations are not tax-deductible at this time.)
Finally, after this national racing weekend is over on Monday, slow down for just a second and remember what Memorial Day is about, and think about the sacrifices so many soldiers and their families have made for us, both then and now.
Okay, sorry this was all over the road map. Working three jobs in one week is not easy, as some of you may know (I hope my kid didn't grow up while I was gone). Watch Hangtown on OLN, check out Racerxfilms.com tomorrow night, and thanks for reading. See you at the races.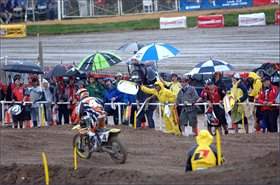 photo: Carl Stone