Great Races: The 2002 High Point National
Compared to some of the huge, monumental, earth-shattering races we've reported on here for Renthal's Great Races, the 2002 High Point 125 National is just a blip on the radar. And that's just the point here: In the grand scheme of things, it probably didn't seem like a huge deal or a major event at the time. You might not even remember who won the race.


But it's that race win that makes all the difference. Australian import
Chad Reed
notched the 125-class overall that day at
High Point
four years ago. It was no surprise, since Reed was the odds-on favorite to win the AMA 125cc National Championship that season. He had finished second in the 250 World MX Championship the year before. He dominated the 125 East Region Supercross Series a few months earlier. And he was armed with the potent Yamaha YZ250F – the only 250F available at the time.
With those credentials, it wasn't like Reed's
High Point
win was a huge shock. But it's become a much bigger blip on the radar because of this: Reed has never won another AMA Motocross National. Not one. This is amazing, considering Reed has won 25 AMA Supercross races, which places him fifth on the all-time list, with legends like Bob "Hurricane" Hannah (27 SX wins) and Ricky Johnson (28) right in front of him. But while Reed has been able to get stadium wins against competition like
Ricky Carmichael
,
Kevin Windham
, and
James Stewart
, he has been unable to turn the trick against them outdoors – witness his near-miss first moto at
Hangtown
last weekend.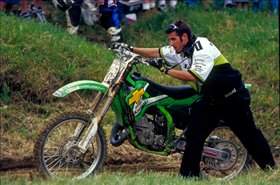 Jeremy Albrecht pushes James Stewart's bike after a second-moto DNF
So how did Reed get his one and only outdoor national win? Read on.
The 2002 125 Nationals were supposed to feature a fantastic four-man duel for the title. The rivals from 2001, KTM's
Grant Langston
and Pro Circuit Kawasaki's
Mike Brown
, had plenty left in the tank. The newcomers were the 16-year-old Stewart, fresh out of the amateur ranks, and Reed, imported from Down Under by way of Europe. But by the time
High Point
was finished, things looked a lot different.
"By the end of the last moto on Sunday, three of the four contenders sustained knee injuries, and a new rider was in command of the points," wrote
Cycle News
scribe Bryan Stealey, who is actually our managing editor, just making the most of a weekend gig.
First, Langston had to undergo knee surgery the Friday before the race and was unable to compete. Then, Stewart tweaked his knee in practice and was expected to have to drop from the race as well. But a few well-placed ice packs—and Stewart's competitive spirit—kept the injury in check and allowed him to race. He rode cautiously (for him) and notched a solid fourth in the first moto despite the injury.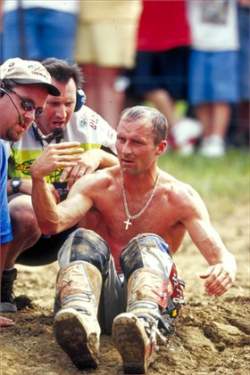 After tearing up his knee in the second moto, Mike Brown signals for paramedics
So the fight was left to Reed and Brown. And Brown led most of the way in the first moto, with Reed stalking him all the way. Finally, on the 10th of 15 laps, Reed made a pass on the defending AMA 125 National Champion and grabbed the lead, then slowly pulled away toward the end of the moto. It was Reed's best ride of the season.
In moto two, Reed blasted to the holeshot on his Boost Mobile/Yamaha of Troy YZ250F. Brown was left scrapping for second with his Pro Circuit Kawasaki teammate Eric Sorby. Brown finally got around Sorby late in the moto and made a push for Reed. But then he was met by a hard-charging local, Fombell, PA's Branden Jesseman of what was then the Blimpie Suzuki team.
Jesseman hadn't notched many solid results after his amazing top-five national debut at
High Point
four years earlier, but he was finally healthy this time and managed to battle with Brown. He even managed to close in on Reed near the finish on his RM125.
But Brown wouldn't finish at all. In a six-pack of jumps after High Point's second tunnel jump, Brown mistimed the section and crashed hard, tweaking his knee in the process. The injury was enough to knock Brownie from the race and, like Langston, contention for the title.
And Stewart didn't fare much better. He rode well, but insult was added to injury when he suffered a cracked radiator after making contact with someone in the first turn. Eventually, his Chevy Trucks Kawasaki KX125 seized.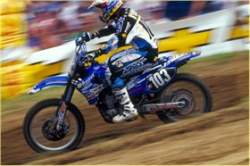 Who would have thought that, four years later, Chad Reed would not have won another AMA National?
Reed, meanwhile, was out front of it all in every way. He notched both High Point moto wins to take the overall and left the race with a 10-point lead in the series point standings. With knee injuries haunting his rivals, the championship seemed to be a lock for Reed.
Instead, Stewart would come roaring back, win a bunch of races, and notch the title with ease. Reed found things much more difficult, except for that one day at
High Point
—he even popped his shoulder out at the next race at
Southwick
to join the walking wounded.
"Outdoors doesn't come so naturally to me," Reed said after his lone triumph. "I have to work a little bit harder at it. But I just did the best I could."
Can he win his second national at the very same track he won his first—albeit four years later? Guess we'll find out come Sunday afternoon at
High Point
Raceway.