Thursday Rev-Up: Morgantown Mayhem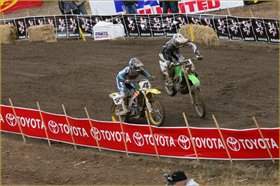 Last week's Rev-Up mentioned something about this happening
Hello, everyone, and welcome to the Rev-Up. The 2006 Toyota AMA Outdoor Nationals are heading
my
way this weekend—guess I'm not in Kansas anymore! Wow, just writing that sentence gets me all fired up. You see, it's been my experience that attending an outdoor national means I will be traveling and most likely
flying
a great distance. Well, not this time.
When I pulled myself out of bed this morning and planted my feet on the ground, my first steps of the day were made on Mountaineer soil. That's right, as in the WVU Mountaineers who hail from Morgantown, West By God Virginia. And coincidentally, the High Point track lies a little over 11 miles from the front door of The Weege and mine's house!
It's going down this weekend, folks. It's the first round of the Monster Energy/Kawasaki Triple Crown of Motocross, and it's been a long time since I have been this psyched up to let my keyboard roar. I made my first visit to this area of the country a little over 12 years ago. The memories and scars I earned from said visit captivated me so much that I made it a personal goal to someday live here—and I hadn't even visited the Racer X office at that point because it was still just a newspaper DC was printing down at Kinkos.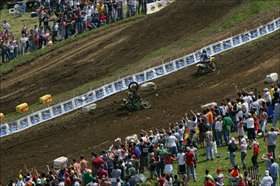 The KX450 should prevent a repeat of this
Now this is "Moto-Town USA," as the local chamber of commerce declared last week. It's the home of the Coombs family, Parts Unlimited's
Hylton Beatty
, race announcers Weege and
Tim Cotter
, KTM rig driver
Loren Lowery
, Motosport Outlet wrench
Scotty Adkins,
Racer X, Road Racer X
,
The Racing Paper
, and
High Point
Raceway (plus
Mario's Fishbowl
, I might end). And on top of that, GNCC legend
Barry Hawk
lives right across the state line, as does Factory Connection's
Chad Sanner
. Orange County it ain't, but everyone's just fine with that—we've got more room to ride and play and just live. Seriously. I've lived all over the country, and I have to say that this little community I now call home is one of the coolest, most beautiful places I have ever been. And nestled back in the nearby rolling, green grass-covered mountains is one of our sport's most historic tracks.
There have been some great moments at Mt. Morris: Take one of Bob Hannah's crushing wins, or Jeff Emig's charges from the back of the pack, or one of Damon Bradshaw's points of authority, or – you know what? Forget all of that.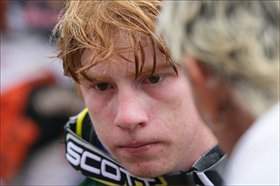 "Gotta beat Mikey."
How about last year's race? How about that great moment in motocross history that saw
Ricky Carmichael
and
James Stewart
lock horns for the very first time? You remember that action? Well, allow me to retort. But I need your help; I need your permission to get you Revved up. Can I have the honor? Thank you.
250F Class
The future is now! A little over three years ago I was standing on the sidelines at Lake Whitney watching two guys battle on 85cc machines. One kid had #800 on his bike, while the other wore #615. The two little warriors were carrying the mail while seemingly riding with a vendetta for one another. The moms were nervously pacing in the infield, and the dads were studying every move. I said to myself, "Won't be too long before those two will be racing at the front of a national."
Well, here Mike Alessi and Ryan Villopoto are, running first and second in the first moto of the 250F class in 2006—different gear, different mechanics, bigger bikes, same vendetta. The writing may have been on the wall at Hangtown—these two might be the future. And I believe we are likely to see these two teenagers at the front again. Heck, Alessi is already in town, getting ready to ride amateur day tomorrow—he's that dedicated!
Josh Grant should be faster this weekend. He quietly had the fastest lap time of anyone—including the 450 guys, as it was raining harder and harder—and certainly would have challenged Alessi without so many falls (which also is what hurt Villopoto second moto). Also look for Andrew Short to make something happen, and don't forget about the veteran, Mike Brown. He bad-started his way out of contention at Hangtown, but he was fast enough all right. Brownie is one of High Point's favorite sons and hopefully he can harness some of the crowd's energy for some of that old school speed we all know he has.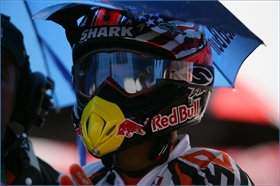 "Gotta beat Ryan."
And how about that
Andrew McFarlane
? The import proved his performance at the Prequel was no fluke and he is a very solid dark horse contender for the win this memorial day. His teammate,
Brett Metcalfe
, was no slouch either. It's good to see a little sunshine beam on the YOT guys.
Getting a start is vital at High Point, and nobody bangs holeshots like Mikey Boy. The best way to stop him is to beat him to the first corner. The guys will have to do just if they have aspirations of escaping another orange crush.
450 Class
Can it possibly get any better than last weekend's first-moto slugfest? Sure it can. When you have two animals like Ricky Carmichael and James Stewart on the track, there is absolutely no telling what can and will happen. Although, I will tell you one thing that I know for certain is not going to happen. I told you last week and I'm going to tell you again: Neither one of them is going to shut off the throttle.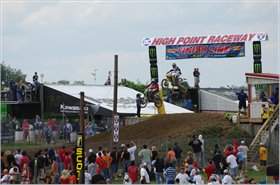 The Pass
photo: TFS
Football has the Immaculate Reception, the NBA has The Drive. Well, ladies and gentlemen, we have The Pass. How did The Pass come to be one of the most incredible feats in
High Point
history? It's simple: James and Ricky were going wide open toward the finish line. As they approached the face of the short tabletop, James mashed the binders and threw a scrub. RC just didn't let off the throttle. Nope. He left her pinned and hucked it about 30 feet up and 100 feet out into the flats landing about two inches from Stewart's front fender. Then he put up the sails and rode away. The crowd cheered for ten minutes!
It will not be so easy this time. Stewart has got a bigger boat this time around. That green machine of his has some serious muscle, and #7 is going to be very, very tough to beat. On the other hand, the GOAT went ahead and kicked it up to ludicrous speed last weekend.
My goodness, what are we going to see this time? We're going to see mayhem, that's what.
Chad Reed is going to have to pick it up a little if he wants to join the fight. Same goes for Kevin Windham. And I have a hunch we might see the real Davi Millsaps show up this weekend (if he's not too beat-up from last week's crashfest). I think Maverick has more to show than the dismal performance of Hangtown.
If you are coming out to watch this Memorial Day, you have a treat waiting for you. I'm going to cut this one short. There really isn't much to elaborate on about this race. This is the 30th anniversary of the High Point National. The weather is going to be in the high 80s, the track will be groomed to perfection, and the boys are going to be straight crushing it.
So thanks for reading the Rev-Up. I'll either see you at Gibbie's this Friday night or talk to you next week!