Welcome to moto three of the Racer X Number Cruncher, brought to you by Shift MX. So far, the feedback on this new feature has been tremendous! We had a hunch that our readers would be into this—after all, your number is more than just a piece of adhesive on your bike. It's more like your code of arms. Your number is a symbol of who you are.
This week, we decided to go with one of the biggest numbers of all time. This is a number that has been worn by some of the greatest racers in the history of motorized sports. The number 3 is synonymous with greatness. Many of the fastest motocross riders of all time have raced and won with #3 on their machines, but the most obvious connection to this number stems from a different sport: NASCAR's Dale Earnhardt. This man forever changed the way people look at this number. Since his death, legions of loyal fans remember and honor him by holding up a certain number of fingers on their hands after the race has completed a certain number of laps, or run #3 stickers on their cars just to let others know that they know all about #3.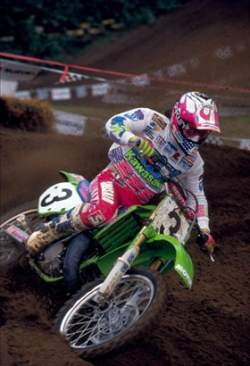 Jeff Ward

photo: Paul Buckley
Be that as it may, my first and most intelligible memories of the #3 are of
Jeff Ward
wearing it during the 1987 season. He had the coolest green-blue-and-white open-faced helmet that had a big fat 3 on the side of it. He would take the number to the AMA supercross championship after he took advantage of
Rick Johnson
getting TKO'd at the Anaheim season opener. He also showed up at Ponca City that year and put on a demonstration of the brand-new 1988 bikes. In said demo ride, Wardy climbed aboard a cherry new KX500 and threw down some hot laps. I was 10 years old, and back then, guys like Wardy seemed like gods.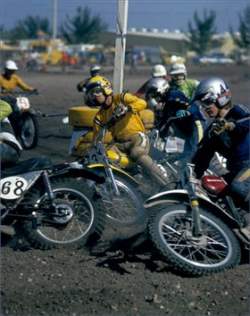 Pierre Karsmakers

photo: Dick Miller Archives
The number three is very rich in history.
Pierre Karsmakers
took the number to the very first supercross championship in 1974. He wore #3x in the once-mighty Florida Winter-AMA Series that year, then stuck around the Sunshi long enough to win the Daytona SX for the second year in a row (he won in '73 in the 500cc class). Karsmakers was already the AMA 500cc National Champion from '73, but in '74 he was not allowed to count in the 250 AMA National MX class standings due to a rule that barred all but Americans from competing for the title—how weird is that, in light of today's immigration issues? As a result, Gary Jones won his third straight 250cc outdoor title without winning a single race. Fortunately, Karsmakers did count in supercross, and as a result, #3x is in the record books as an AMA Supercross Champion.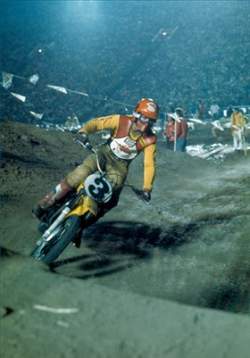 Tony DiStefano
photo: Dick Miller Archives

Tony DiStefano was one of the first great American motocross riders, which is saying a mouthful, as some of the founding fathers of our sport took to the track during Tony D's tenure: Weinert, Hannah, Smith, DeCoster.… Man, those guys were tough. That kitchen apron Tony D. has on here at the 1975 Superbowl of Motocross at the L.A. Coliseum was no match for those handlebars or that hard-pack track surface.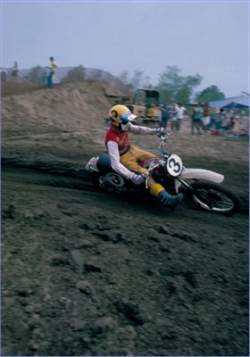 Kent Howerton
photo: Dick Miller Archives
Check out this picture of
Kent Howerton
at the '76 "Battle Of New Orleans" national! Howerton lost this race to Gary Semics, but he won the 500cc National title nonetheless.
You know, the old-school guys might not have had the "scrub-ability" of today's stars, but one thing they did incredibly well was cornering. It doesn't matter how far back you go in the video or picture archives - you will never find a shortage of killer berm shots and corner railing abandon. The "Rhinestone Cowboy" shows perfect style here with his leg out and his body English leaning back into the meaty power band of that old Husky. (Howerton, by the way, basically invented "fanning the clutch" in motocross.)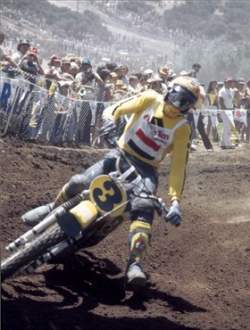 Gerrit Wolsink
photo: Dick Miller Archives
But in the summer of 1976, the #3 was given for one weekend to Gerrit Wolsink, the third-ranked 500cc Grand Prix rider in the world. He wore the digit on his way to one of five overall wins (between 1974 and '79) at the Carlsbad Hang Ten United States Grand Prix of motocross. The "Flying Dutchman" was the teammate of five-time world champion Roger DeCoster, who, coincidentally, never won Carlsbad!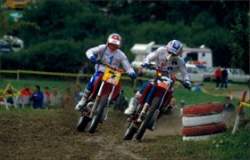 Ron Lechien
photo: Jack Burnicle
While
Ron Lechien
had some dark days, his bright ones shone like a diamond. Ron's performance in the 1985 Motocross des Nations was one of his finest of his colorful career—and he wore #3 for Team USA as our 125 rider that year, leaving #2 to Jeff Ward and #1 to David Bailey. Wow, what a lineup that was!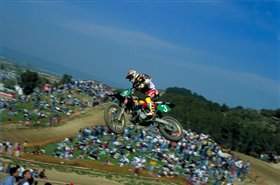 Donny Schmit
photo: Racer X Archives

Donny Schmit was the rider that the factory teams forgot about. After completing a brief but successful 125cc outdoor career, American Suzuki left Donny looking for a ride in 1989. After a year on the privateer tour, he was at the end of his options, and the only thing left for Donny was to pack his bags and head for Europe. While growing accustomed to the food and language barrier, Donny quickly took a liking to European culture and, before he knew it, he was racing his way to the 1990 125cc World Championship, wearing #65 on his Bieffe Suzuki much of the season. Then he won the 250cc title in 1992, wearing #75 on his Chesterfield Yamaha. Schmit lost the title the following year, finishing third. But in his last season in Europe, he wore #3 in 1994.
Donny would then return to America to teach motocross school but sadly lost his life to the rare blood disease aplastic anemia.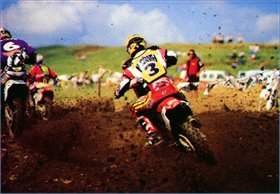 Jeremy McGrath
photo: Racer X Archives

Jeremy McGrath is probably most remembered for racing with the #1 that he carried on eight different occasions (seven times in AMA supercross), or the #2 he wore in the rare times he either lost to Jeff Emig or Ricky Carmichael—or for his comeback rides now. But, in my opinion, the number that gained him the most respect was the #3 that he wore in the 1995 AMA 250cc National MX Championships. Up to that point, one of the only things holding Jeremy back from being considered one of the best riders in the world was his lack of an outdoor national title. Well, it all came together in '95 for Showtime as he dominated the summer. Check out this rare picture of him wearing a Roost 2 chest protector with the John Fox-designed name and number! His lone outdoor title gave him the recognition as one of the fastest and most versatile riders in the history of the sport, and it also more or less made it okay for him to be a "supercross-only" guy—he had the wins and the title to make that decision, just like another one-time #3, Mike LaRocco.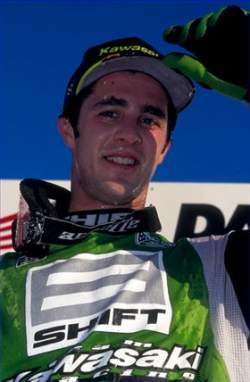 Jeff Emig
photo: Paul Buckley
Next to 47 (his amateur number),
Jeff Emig's
favorite number has to be the #3. Fro finally broke out form behind McGrath's supercross shadow with the '97 AMA Supercross Series title wearing #3. Jeff had won the '96 outdoor title from MC, but the 1997 indoor crown was what made him a superstar, and along with the #3 came a new sponsor for and a new image. Shift MX (ahem, our sponsor here) burst on to the motocross scene like a champagne cork. The bold and brash new company meshed impeccably with the charismatic Emig, and the duo quickly became one of the most recognized entities in SX. Later on, after two big crashes ended Emig's career, he had aspirations of continuing his involvement with the sport by founding a new race team called Strategic 3. Sadly, it all fell apart for the likable (and real) people's champion. Through what
Racer X
described as a "string of bad luck that rivaled the Kennedy family's," the wheels fell of his race team.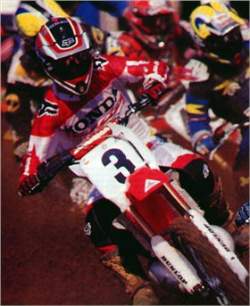 Ezra Lusk
photo: Racer X Archives

Ezra Lusk went into retirement as one of the only riders to hold a factory ride for each member of what used to be the "big four" during his career. He was factory Suzuki in 1994 and 95, factory Yamaha in '96 and '97, and factory Kawasaki to close out his career. Some of his best years, though, were while he was at Team Honda from '98-2000. Ezra started out on fire in '98 SX season just as McGrath had moved to Team Chaparral Yamaha and was taking his time getting up to speed. The ultra-quick Yogi was reeling off supercross wins on his wicked aluminum-framed CR250R, but it was not meant to be for the Georgia Bulldog, as he suffered a collision with John Dowd at Daytona. That was just the beginning of a long string of concussions. All the same, the #3 gave Yogi the some of his most memorable wins.
Currently, the #3 resides on the Rockstar Suzuki of
Mike Brown
. Since taking over the number from Jeff Emig, Mike has enjoyed some success outdoors—including his win at
Budds Creek
last summer and what turned out to be a premature run at the '05 AMA 125cc title. Ever since claiming the number, Brownie has used it on the side panels of all kinds of bikes: Pro Circuit KX125, a YOT 250F, a privateer CRF250R, and so far in 2006, on an RM250, the RM-Z450, and now and a RM-Z250, which he is currently riding in the outdoor series. Brown also rides well at
High Point
. Keep that in mind as you listen to the Racer X Webcast of this weekend's Toyota AMA Motocross Series!
Those are some of the highlights for #3. This number has so much history and has been worn by so many great motocross champions is hard to fit them all into one column. Who could forget Johnny O'Mara at Maggioria in 1986? Or the almond farmer George Holland in 1988, when he won the AMA 125cc National Championship? Mike Kiedrowski was another top man with #3, as did Shayne King and Joel Smets over in Europe…. Sometimes there is just not enough room. So we'll leave you with some more old-school guys here at the bottom.
Which number do you want broken down next in the Shift MX Number Cruncher? Just drop us a line at: letters@racerxill.com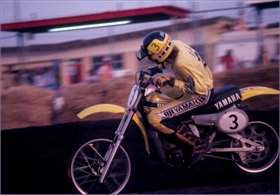 Mike Bell
photo: Dick Miller Archives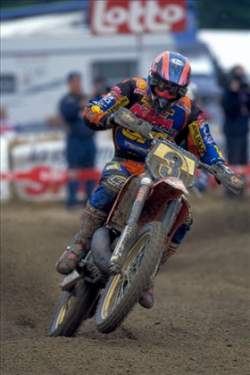 Shayne King
photo: Chris Batteux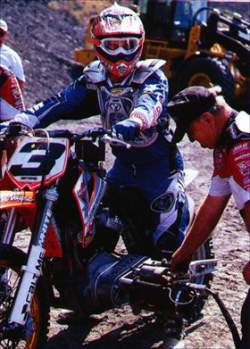 Jeremy McGrath
photo: Racer X Archives