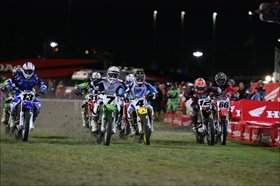 Stewart led Carmichael in his heat race (here) and the main at Daytona before crashing
Hello, everyone, and welcome to the Rev-Up.
Ricky Carmichael
has said "The real season starts after Daytona." And if you read Bad Billy's
Bench Racing Ammo
,
you can see why he might enjoy that thought process! On the other hand, the GOAT hasn't typically enjoyed success in the second half of the season since the arrival of
Chad Reed
, who, in return, always kicks it up a notch. In fact, Reed handed Carmichael six losses in a row to close out the 2003 season. In addition, Carmichael did not enjoy victory for the entire second half of his 2005 SX championship tenure.
As we reach the second half of the most incredible supercross season we have maybe ever seen, it's a long way from being over. Yes, Chad has a wounded wing and Bubba still has to be sore from that horrific slam he took on lap three at Daytona, but as we have seen so far this year, anything can happen. The weather across the country has been downright strange, and we could see another mudder in the weeks to come. We could also see another machine break like RC's did in St. Louis, or a first-turn crash as James has so often found out.
Ricky has the reins (albeit by just two points) as the boys head to Orlando—a race Chad Reed won last year. Let's shake up the typical Rev-Up formula and do a little synopsis of that incredible delayed-live show we took in last Friday night, but still make sure we are Revved Up for Orlando!
The Show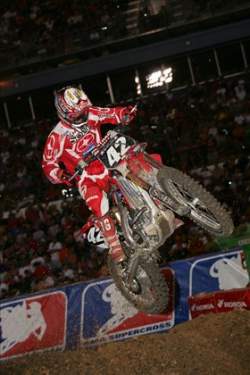 Thomas Hahn won his first 250F heat race at Daytona
We hit one out of the park last Friday night. This might be a bold statement, but I believe Speed Channel's broadcast of the Daytona SX might have been among the sport's finest two hours ever. They made us look like a professional sport, chock full of history, passion, and drama. The David Bailey and Ricky James segments were heartwarming and inspiring, yet served as a bold reminder of the danger supercross entails. The Jeremy McGrath segment was also really cool in my opinion; it showed how our sport actually does have some depth to it after retirement. Coupled with having the original Bad Boy of Supercross, Ricky Johnson, in the booth with Dave Despain, I just thought the entire broadcast gave supercross a much-deserved glow and shine. I was saying to myself, Man, look at Bailey riding again with his elbows up! Check out Super Mac still kicking ass out there! And listen to RJ tell it like it is!
And how about the camera work? The first time I saw the "Rhino Cam" capture a shot of Travis Pastrana straight flattening out those hip-high whoops, my eyes about shot out of my head! That awesomeness could only be topped by the helmet-cam shot of said maniac hucking his ill-fated backflip. Then came the showstopper: I seriously flinched off the couch when I saw and heard TP's RM-Z450 throw him off and punish him—any old pro knows that sight and sound. Although, thankfully, very few have ever carted in the whoops that hard. For the love of Pete, Travis, stop doing that.
As the main events drew close, I was revved to the moon! I knew Reed was busted up, but I kept a keen eye out for a rope-a-dope attack (and after two laps, I thought I was on to something). And there was an outside chance Ricky and James could have taken each other out.
Then came the only blunder of the telecast: the made-for-TV (I hope) shot of Stewart claiming, with his arms held out, "I'm the new king of Daytona." In light of James' "New Beginning"
efforts, that one just seemed way too "
Bubba
" for me. It made for great television but, well, it just didn't seem like the grown-up James we've been seeing out there. What
did
look like championship material was him getting up from that ridiculous crash and passing his way back into a title-chance-salvaging sixth. Did you see that crash, folks? Just getting back to his feet took some serious willpower, but climbing back on the horse that threw you and putting in 16 laps of Daytona pain and riding to sixth? That spells determination. He had to be in some incredible pain, but he knew if he wanted a shot at the title, he had to cowboy up. That was impressive. And the show rolls on.
Orlando
The boys in the 250F pack have their backs against the wall for their championship hopes as they chase the incredible Davi Millsaps. Chris Gosselaar, Thomas Hahn, Branden Jesseman, Josh Hansen, Martin Davalos, and especially Josh Grant have the juice to maybe knock down a win, but it's going to take a holeshot and 15 solid laps to hold the Maverick back.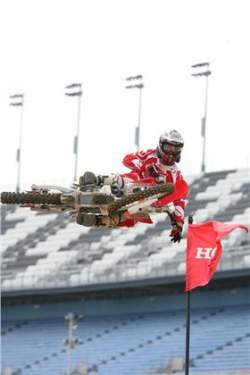 Davi Millsaps has gone 1-2-1-1 in the four 250F East races so far
Meanwhile, it's crunch time for the big boys. After 10 rounds we have a two-point spread between the '04 and '05 SX champions, and the chosen one is just 26 behind. That may seem like an insurmountable distance to overcome, but if you take a quick look back at the history of the 2006 series, anyone can see that James is still very much in this fight—if he's not more battered than we know after that big bounce at DIS. James has proven he wants this title very, very badly. I get the shivers as I think forward to what might be Mr. Stewart's rampage on the track this weekend. Look out, because James will be coming on the train for his hometown race. I want 20 laps out of him with the rubber side down. And you know what? Ricky wants the same.
What will Reed have in store for us? I can foresee the battle between him and Ivan the Terrible showing back up, but wait a tick - what's that? Hold the phone, the Ragin' Cajun is back, ladies and gentlemen! That's right, that dude with the nonchalant, inside-knee-bent, smooth-as-a-baby's-backside style marked #14. How fast will he be? Shoot, with Kevin, he could be mid-pack with arm pump or making it look easy in the lead. Be that as it may, it's a blessing to have one of our all-time greats back in action. With that, I will leave you with a quote from the late, great Chris Farley: "It's go time!"
Thanks for reading, see you next week!