5 Minutes with ... Kevin Windham
"I want to race sometime around the Orlando Supercross," said Team SoBe/No Fear/Samsung Honda rider Kevin Windham at Anaheim 2. He was sitting out with a broken arm, but he wanted to get back out there in time to compete in the last six rounds of the 2006 Amp'd Mobile AMA Supercross Series.
True to his prediction/mental blueprint, Windham confirmed this afternoon that he will be back to racing this weekend in Orlando's Citrus Bowl. Healed up, in shape, and on the backside of a nasty cold that almost delayed his comeback another week, K-Dub will be lined up behind the starting gate with Ricky, Chad, James, and company come Saturday night. How's he doing? How's he feeling? We'll let him tell you.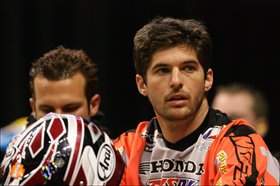 Kevin Windham makes his return to supercross this weekend in Orlando


Racer X: Kevin, we heard you were sick. How are you feeling?
Kevin Windham: I'm feeling good, thanks. I had a cold, a flu—I'm not sure what I had. Whatever it was only lasted 24 hours, though. I feel a lot better today. I felt really bad yesterday and was getting nervous about not being able to race on Saturday.

Have you been able to put in a lot of time on the bike?
I've been on the bike for three weeks, and I've been practicing a lot. As you know, a race is a lot different, though. It's kind of nerve-racking for me because I don't really know what to expect. I don't really have a goal for Saturday, and I think that might be kind of a plus or an advantage for me. I won't be as nervous because I don't really have anything to prove. I just want to go out there, ride well, and stay off the ground.

How is your arm doing?
Right now, if I rode three days in a row, my arm will start hurting and fatiguing. However, I've planned my week out appropriately and I'm ready to go into Orlando strong. When the gate drops, I know I won't even notice how my arm feels. It won't be a problem.

Have you been watching all the races on television?
A little bit. To be honest, though, I haven't been watching as much now that I'm back to riding. I was watching a lot more before. I guess you could say I've been in my own little shell.

I assume you've heard about Carmichael's gas situation and some of the misfortune James Stewart has experienced.
Well, yeah, I know about James' run of bad luck and also know that Ricky got his points back. I've been following things pretty closely.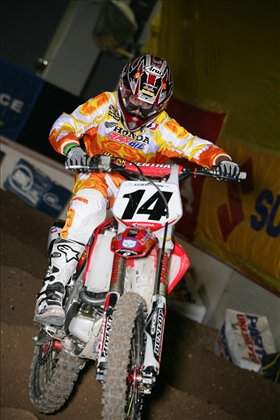 After fighting off a 24-hour bug this week- and that broken arm - K-Dub is ready to get back to racing


There's quite a battle for the points lead going on. If you end up in the mix right away, you could end up taking points away from Ricky, Chad, or James. Have you thought about that?
Well, first off, I think I'd be exceeding my goals if I thought I was going to be right up front with those guys. I've missed almost an entire series. From the day I got hurt, those guys have 10 races up on me. It would be crazy for me to be up there immediately. As the season goes on further, I expect to be up there, though. My goal is to be capable of running with them and beating them, so I can see them wanting me to stay out of the way. When the gate drops, my responsibility is to be racing up front and to be true to SoBe/No Fear/Samsung Honda and all my sponsors.

As far as results and performance in the remainder of the '06 supercross season go, what would make you happy?
To be competitive. I want to work towards being strong at the end of the series, going into the outdoors. I'm optimistic and want to achieve my long-range goal of dong well in the outdoor series. You know, you can spend a lot of time in the gym or on the practice track, but until the race, you just don't know. When it comes to starts or being in a battle during the race, you have to be out there doing it. I just want to do what it takes to be competitive. If I can ride strong and get on the podium, then that will all be icing on the cake.

You've been on the sidelines for quite a while now. Are you excited to be back?
Yeah, it's been long overdue. I mean, I had some time off before I hurt my arm, but then when I did, I had too much time off.

Well, we're excited to have you back racing.
Yeah, thanks, Eric. You know, I also want to say, I heard all about Ernesto Fonseca's crash. I did two days of soul searching after I found out. I was around when Jimmy Button got hurt [in 2000]. I was pretty young and innocent then, so it didn't stick with me. I kind of brushed it off. So I did some soul searching after Ernesto got hurt. Now that I'm riding and back to racing, I feel better.

You and Ernesto are close, aren't you?
Oh, yeah. When he got hurt, it really hit close to home.

Good luck this weekend, and ride safe.
Thanks, Eric.