How cool is it that, on what's effectively the 20
th
anniversary of the epic Anaheim '86 battle between
Rick Johnson
and
David Bailey
, fans at Angel Stadium would get another epic race—one of the best battles in years—from
Ricky Carmichael
and
James Stewart
. RC and James went at it every bit as hard as the men did two decades ago, and though there were fewer passes between them for the lead—a grand total of one—there was nearly as much drama and excitement watching it all go down.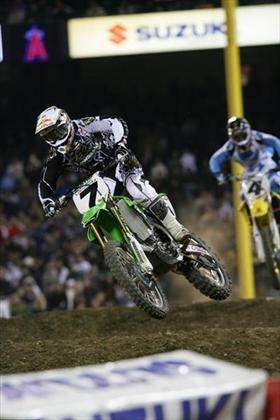 Anaheim '06 compares nicely to Anaheim '86
photo: Simon Cudby
But did Carmichael's win allow him to take over all of the momentum of the series? That won't be known until sometime tomorrow night, as the Amp'd Mobile Supercross Series heads to San Francisco for what everyone surely hopes is a repeat of last Saturday night's battle, only this time without James going down before the white flag—and maybe
Chad Reed
getting up there quicker!
Is this the weekend that one of the Big Three—Carmichael, Stewart and Reed—finally makes a big enough mistake to cost them a spot on the podium? After all, it's been five straight races, going back to the Canadian rounds of Amp'd Mobile Supercross, that this trio has had exclusive use of the podium. Is that a record? Maybe Bad Billy will have to check it out for next week's Bench Racing Ammo, but it sure seems like it!
However, the word on the streets of San Francisco is that this one might be a mudder! The last time I checked the weather, it said there was a 60 percent chance of showers on Saturday in the 415 area code of California. The last time there was a really muddy race, Kevin Windham won and Mike LaRocco got second. RC, Stewart, and Reed must have crashed a dozen times all together. RC salvaged third and James was fifth. Chad got the short end of the stick, finishing all the way back in 16th. It effectively knocked him out of the points chase with 15 rounds to go in the AMA series.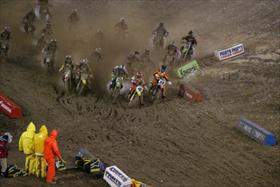 Will we see another one of these tomorrow night?
photo: TFS
But mud is even more unpredictable than the weather in San Fran. One slip might leave a man with muddy gloves, making it tough to hold on, or maybe a mud-caked brake caliper, which was part of Reed's demise back at Anaheim '05. And hey, LaRocco is still out there going fast—the rain might be his best friend, just like it was the now-injured KW's last time.
With all that in mind, I turned to our resident expert—former pro David Pingree—to see what he thought. Ping, who has pretty much zero mud-riding skills, sent his picks in like this:
Supercross class: David Vuillemin wins. France riots over the victory, Compton-style. Nick Wey second (with a Detroit-style riot) and then someone from Ohio or New York will finish third.
Lites: Akira Narita for the win. First Japanese rider to ever win a SX—he was on the podium at Anaheim last year. Nate Ramsey second (he won) and someone from Michigan or France in third.
What's Ping know about mud-riding? "Nothing," he told me. "I grew up in the desert. I ride in the mud like William Hung sings pop music."
As for me? I'm betting it doesn't even rain. I'm a glass-half-full kind of guy. But Simon Cudby just checked in and wondered if the AMA and Live Nation might adjust the schedule some if it does rain, similar to what they did at Anaheim last year. Guess we'll all know in the morning!
While I'm thinking about it, you can catch the SX Lites race from Anaheim last Saturday on Speed tomorrow afternoon. The race airs at 6 p.m. East, 3 p.m. out West.
And once again, CBS will offer next-day coverage of the San Francisco SX (and hopefully every local affiliate picks it up, because if Seattle skips it again, I'm afraid Reese Dengler is going to go all Michael Douglas in Falling Down on the station manager). Check your local CBS listings, as the race is slated to air at 12 noon Sunday (EST) and 9 in the morning out West.
Here's the San Fran track for wallpaper usage!
If you can't wait until Sunday in the a.m. to see who wins on TV, you can listen to the race on www.supercross.cc.com, beginning at 10 p.m. EST Saturday night. Also, the AMA website, www.amamotocross.com, will be showing you the laps all day long and well into the night. And again, we've got the cool wallpaper for you to watch the track too and run some laps in your mind.
And speaking of the tracks, both Stewart and Reed said that they thought they were too easy, more or less. In his recent online newsletter, James called the Anaheim 2 track "really easy and fast," and in an interview yesterday with TFS here on Racer X Online, Chad said, "I don't think they put in the effort that they could and should."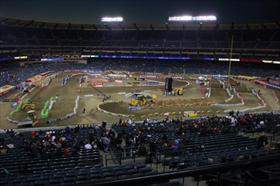 James thinks the tracks need to be tougher, and so does Chad
photo: TFS
Carmichael, on the other hand, says he understands why the tracks are the way they are.
"
No one wants to watch a race where you know who is going to win," he told TFS in our
Monday Conversation
. "You want it to be a five-way battle. Unfortunately, it does suck for some of the top guys and take some of the advantages that you may have had away. But in the end, the best guy is always going to win. If the track is easy, then go faster."
Once again, I turned to our resident expert—former factory rider Ping—to get his take. He sent this back:
Again, much of the buzz in the pits revolved around the rudimentary racetrack design. Not one of the riders I talked to liked the track, and everyone agreed that passing was extremely difficult at best. Lap times dropped to as low as 45 seconds for RC, James, and Reed, and if it weren't for the battle out front (which might have been better if the track had more passing options), the race would have been a snoozer because nobody could pass. But rather than piss and moan about it and then not offer a suggestion, here is my two cents. The tracks need more 180-degree bowl turns. More and more tracks are skirting the baselines of the ballparks with 90-degree turns and have only one or two tight turns. In a sweeping turn (90 degrees or less), riders will always choose the inside line, especially with the torque of a four stroke. Going outside will only cost you time. However, in 180-degree bowl turn, riders can dive inside and make a block pass, square up and cut out of the corner early, or roll around the inside. Several riders can get involved in an open-bowl tur
By the way, with great racing—plus a great NFL lead-in—Sunday's CBS broadcast of the Anaheim 2 SX did a 1.4 rating with a 3 share in final Nielsen Ratings. That's the highest ratings for a supercross race in years.
Hey, the Weege (Jason Weigandt) just checked in from San Francisco (5:45 p.m. EST Friday), where the weather is actually quite nice. Everyone in the area is predicting a mudder, but since the skies cleared this morning, there has been nothing but sunshine. All the Durt Wurx guys need is a time window to get the dirt in and build a track, otherwise they can just leave the place covered. The same thing happened last year and the track turned out fine. So hopefully, we'll have a good race tomorrow and not a survival-fest (with the inevitable points shakeup).
Weigandt also wanted to plug his blog. This week he wrote a comprehensive history of motocross and supercross announcers on TV, since this was a hot topic on the message boards this week. But then again, when isn't it? And also, if you haven't checked the GNCC Racing website lately, Weigandt has launched a Racerhead-style wrap-up every Thursday called Quick Fill. Quick Fill #4 went up yesterday, and it contains lots of info on Jason Raines' latest injury, Mike Lafferty's training schedule in California, and the latest news and gossip from the off-road world. Check it out this week, and every Thursday, at GNCCRacing.com.
And now more from Ping:
The big news from A2, in case you hadn't heard, was that Cindy Crawford was in the pits! Holy moley! And I mean moley. Aside from that, the racing was pretty respectable as well. Reed called Ivan Tedesco a chump after an early battle they had. I thought that was interesting but uncalled for, since Ivan was just racing him. Reed probably thought Ivan was blocking for Ricky, but the truth is that Ivan was racing RC just as hard. In fact, Ricky also put a fairly aggressive stuff on Ivan at the end of the whoops. I think when Chad watches the video and sees that Ivan was fighting with Ricky just as hard, he'll chill out and those two will bury the hatchet. It would be a bad idea for any of those guys to get on Ivan's bad side, because that little enchilada-eating New Mexican is getting faster every weekend and it's going to get more and more difficult to pass him. Just a thought, guys. I know the internet dorks were bashing Chad for what he said, but Reedy is a good guy; he just hates losing.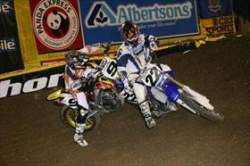 In case you missed, here's that pass
photo: Simon Cudby

James Stewart displayed his newfound maturity after the race last weekend. Two years ago he would have rolled out a laundry list of excuses and explanations for why he crashed and why RC beat him. Last Saturday night, although clearly disappointed, James tipped his hat to Ricky and remained classy and humble during all of his interviews. James still hates me from the last time I busted him for snubbing Roncada after Las Vegas two years ago, but, maybe he will see the difference between the two post-race interviews and understand where I was coming from back then. He's all grown up now, and I am as impressed as anyone.
There was also a little drama in the factory Honda pits after the main event. From what I understand, Ernesto Fonseca was a little upset that Jeremy McGrath wasn't letting him by. Isn't he supposed to be the team coach and help the riders? It's got to sting a little when your coach/mentor can pull out of retirement and beat every rider on his team for two weeks in a row. It might piss Ernie off, but it's great to see Showtime out there every weekend.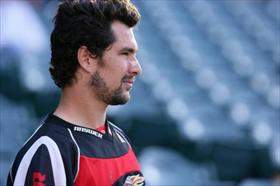 Apparently, this student wasn't happy about losing to his mentor
photo: Simon Cudby
While some riders are bowing out with injuries (
Townley
,
Sipes
,
Adams
, etc.) others are just getting back on the bike. Red Bull KTM rider
Jay Marmont
is back in the States and just about ready to start riding. According to his mechanic,
Jeremy Deegan
, Jay is in the final stages of his therapy and should be back on the bike next week sometime. Marmont broke his femur while riding at home in Australia.
Another rider that's back on track is SoBe/Samsung Wireless Honda rider Josh Grant. Josh is feeling good and getting stronger—he's got Ryno in his corner. With a year of experience under his belt, Josh should be one of the title favorites.
Bad Billy did a 5 Minutes with Nate Ramsey earlier, but this part got lopped off in editing by accident, so I offer it up here: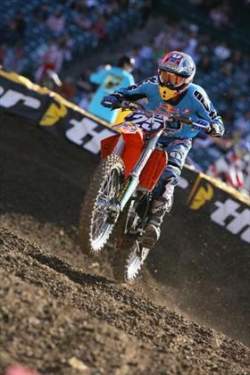 Nate has won San Fran before, but on a Honda
photo: Simon Cudby

Racer X: On another note, what's up with your teammate Mike Alessi? It seems he's having some difficulty adapting to supercross.
Nathan Ramsey: Yeah, if you look over the course of the years, riders tend to usually be more comfortable with either supercross or motocross, and usually the great riders can adapt and ride both, eventually, but one always comes easier. Obviously motocross comes easier for him. He's a great rider and he'll figure it out. He's not willing to have that intensity level that is required with supercross, but I'm sure he'll figure it out.
Is he coming to you for any advice, or are you offering any up?
Ramsey: Yeah, I try to help out as much as I can, along with everyone else on the team.
Andy Bowyer wrote another very cool preview on the site with his weekly Rev-Up this week. If you missed it, here's a link.
The One Industries guys have been blown away by the response to the new Bailey '86 lid, and so is David himself. He called me on his way to the airport and told me about all of the amazing e-mails he's been getting from friends, fans, and even fellow racers who just wanted to tell him how stoked they were to see the new products that bear his signature. If you want to send a note, here's the address: davidbailey-1986@oneindustries.com.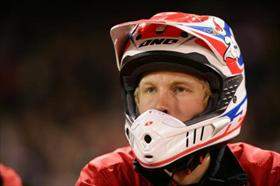 Andrew Short was running that very cool Bailey lid last week
photo: Simon Cudby
So, what other kinds of retro gear would you like to someday see? Remember the very cool JT Racing "Grand Prix" outfits that
Danny LaPorte
wore in '82 and '83, red-white-and-blue with the striped turtleneck? Or what about
Johnny O
's boot gatorz—another JT product?
Fox Racing
brought their barbed wire and spider-web stuff back a couple of years ago to excellent reviews, and their original orange-and-yellow gear to celebrate their 20
th
anniversary back in 1994.
So what do you want to see? Tell us here and we will post a feature next week with photos of some of the best suggestions! (Letters@racerxill.com) Write "Retro Gear" in the subject header, okay?
One last piece of SX news: Check out Farber Asks over on www.supercross.cc.com Good stuff!
Now, want to hear more about a very cool adventure someone is undertaking? www.pierrickpaget.com
Off the track, there was big news this week, and a lot of people are still trying to figure out just what went down with AMA Pro Racing and former CEO Scott Hollingsworth, who was announced as being "no longer there" on www.roadracingworld.com There was no official press release to go out from the organization, but there was a post on Dean Adams' site, www.superbikeplanet.com with a statement from the AMA proper.
"The American Motorcyclist Association (AMA) confirms that Scott Hollingsworth left the employment of the AMA on January 24, 2006. He had been Chief Executive Officer of AMA Pro Racing, the AMA's professional-competition subsidiary, since 1999. The AMA and AMA Pro Racing thank Mr. Hollingsworth for his contributions, and wish him well in his future endeavors."
With that, I will turn this over to Eric Johnson, who put together a Winter X Games preview with none other than Brian Deegan.
Buy a pizza, buy a tray of cold cuts, make some popcorn, or throw down for a case of beer, but whatever you do, gather 'round your friends and tune in to ESPN this Saturday and Sunday night at 9:00 P.M. (EST) for Winter X 10 Moto X Big Trick. Set to shake out on the big rock-candy mountain better known as "Buttermilk" at Aspen/Snowmass, 10 of the world's best and bravest freestyle motocrossers will be going for gold 7,870 feet above the Pacific Ocean. For a candid preview on the event, we turned to FMX elder statesman and Metal Mulisha Commander in Chief Brian Deegan. A nine-time X Games medal winner, Deegan will be making his return to competition in Colorado after experiencing a gnarly crash last spring which cost him his liver, and nearly his life. Talk about a pound of flesh.
Immediately after today's first practice session up in Aspen, Deegan rang in to give us the skinny on Winter X 10 and its start attraction: Moto X Big Trick.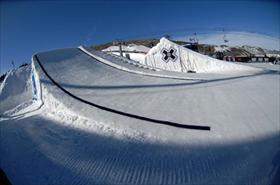 photo: Tony Scavo

Brian, what's your story for Winter X 10 this weekend?
I guess the scope of the story for me is that this will be my first event back after the bad crash I had at the MTV deal. I feel good, but I'm going to try and be safe. I just want to have a good event and get home and get to work on a bunch of big things I have going on.
How do the jumps look?
Well, we practiced today. There's a 75-foot jump that's really mellow and nobody even bothered hitting it. Then there is a 90-foot jump. It's a good jump, but the landing is flat and hard. I'm a little worried about the face of the jump, though, as it's already rutted up. It's a narrow rut, and I think it's going to be a problem.
How is the weather up there?
It's sunny and about 30 degrees. In fact, it's a little too sunny. The jump is melting away a little bit. I'm happy we were able to practice during the day today. They wanted our first practice to be at night, which is bullshit. It's hard enough to see things. We'll have another practice tonight, but at least we have a feel for the jump.
We haven't heard much in the way of any one rider having a spectacular trick for Winter X. Do you think it's going to be an up-for-grabs free-for-all kind of deal?
It's way up for grabs. Nobody knows who is going to win. Twitch [Jeremy Stenberg] and [Nate] Adams have a no-handed flip to no-hander-lander trick, but that may be impossible to pull now with the way the landing of the jump is. I think it would be too easy for the bars to swap upon landing with no hands.
You guys will ride both Saturday and Sunday at 9 at night. Now, we both know that's good for TV, but is it hard to jump at night?
Yes, it is harder to jump at night—everything is white! And if it's snowing, it can really be crazy. I don't know.… This whole deal is for TV anyway. If you can accept that, it's all right. I mean, it's not about our safety or the prize money they put up.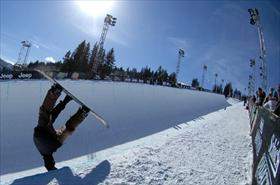 photo: Tony Scavo

You'll get two jumps, one on Saturday night and one on Sunday night. Do you have a strategy in mind?
I have a trick. It's pretty good. I'm going to inch my way slowly into this thing. I have a three-trick combo trick that I'll do.
Will you flip?
Yeah.
Can you win a medal?
To tell you the truth, my main objective this weekend is to go home safe. It's not like it used to be where you do anything it takes to win. I'm not going to blow it.
I'm going to ask you about each rider of the 10 riders that will be competing in Winter X Moto X Big Trick and if you can give me a brief lowdown on each.…
No problem.
Nate Adams?
Nate will be hard to beat. He's always real consistent. He doesn't want to mess up. Nate's also known for not taking big chances. I don't think he has a big trick. He has the no-handed backflip, but that trick won three years ago.
Kenny Bartram?
His arm is hurt. There's all these stitches in it, and it's pretty messed up. Kenny didn't even ride practice. If he doesn't compete, Dayne Kinnaird will be in [as first alternate]. That would mean we have five Mulisha guys in the show.
Mike Mason?
He's one of those Reno guys. He rides really good. He didn't practice today, so I'm not sure where he stands.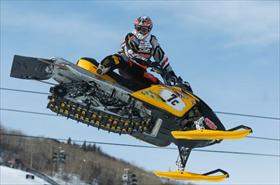 Blair Morgan is racing Sno-X at Winter X
photo: Danya Plontz

Ronnie Faisst?
Ronnie is riding really, really good. He should be a top guy—a guy to beat. He'll definitely make the top five and most likely win a medal. I think he's going to do a one-handed backflip can-can. He may even try and land one-handed.
Jeff Kargola?
We'll see. I know he'll flip. I think he'll do some sort of flip whip. He'll be in the top five, I think.
Jim McNeil?
I'm not too worried about him. He's a ramp kid.
Mike Metzger?
I don't know. You never know with Metz. He's the wildcard. I know he hasn't been practicing too much, but like I said, you never know what he'll pull. If he has something good, he can pull off a medal.
Mat Rebeaud?
He's real good. He was already flipping today. He has a lot of combination tricks. His tricks are fast, though. You never know. He's one of those guys who might go out and try something crazy.
Jeremy Stenberg?
I think Twitch is the guy to beat. He wants to win real bad. He'll do what it takes to win. He'll flip anything. You can count on him being one of the toughest guys to beat.
Good luck, Brian.
Thanks, EJ
Now this from Tony Scavo, who shot the very cool photos you see here on Racerhead from the X Games in Aspen.
"Blair Morgan practiced in the first Sno-X practice of the day, he looked pretty good considering the amount of injuries he has been plagued with the last few seasons, the course didn't have as big of jumps as last year but it more than makes up for it with sled swallowing whoops and berms the size of icebergs—it's gonna be good!"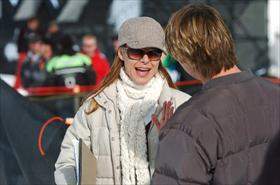 Look for Jamie Little on the Winter X coverage this weekend!
photo: Danya Plontz
"And Miss
Jamie Little
was all smiles to be at Winter X again, she said she misses Supercross and will be at San Diego and probably Vegas. She has a busy upcoming season with NASCAR next year and even though she really misses SX, she says change is good and she is looking forward to her new opportunities."
Oops. Last little blip here: Track View footage of Ryan Clark, presented by Twenty20 Helmet Cameras, Leo Vince X3 Exhaust, and Team Solitaire is up now from Anaheim II. Enjoy and spread the word.
That's it. Thanks for reading Racerhead, and thanks to the crew for helping me out, as we're on deadline with another great issue of Racer X Illustrated. See you at the races.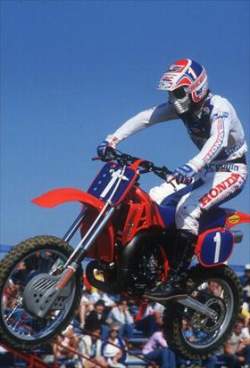 David Bailey
photo: Paul Buckley