Monday Conversation: Ricky Carmichael
Ricky Carmichael happily celebrated his second victory in a row in the new 2006 Amp'd Mobile AMA Supercross Series at Anaheim 2 Saturday. It was a thrilling main event and RC's strongest showing, with James Stewart in a full-on battle for the lead to date.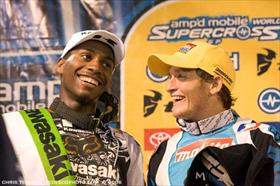 RC and James could both smile proudly after their epic Anaheim II race
photo: Chris Tedesco

Carmichael had his section of the slippery Anaheim 2 track where he made up time on Stewart; Stewart had his sections, too. RC chased Stewart and made repeated attempts to take the lead, none sticking until Stewart got into trouble jumping into a blind turn with a lapped Mike Brown nearby, and he lost his front end and went down, dropping him to third. Carmichael left Anaheim this time with the AMA series points lead, and at least for know, he knows he can go the distance with Stewart, one on one.
Part of the buzz about tracks this year brings up the topic of leveling the playing field and reducing injuries and bringing about "parity." Carmichael spoke in the post race press conference about this and commented further for us.

Racer X: Ricky, you are really smiling right now. What's up?
Ricky Carmichael: Well, first of all, I would like to say that was a great ride to James. It's unfortunate what happened. That is definitely not the way I like to win a race. I will take it any way I can get it—I know any of us would. Regardless of the outcome, whether I won or not, it was a big feather in my cap. It was just fun. That was an awesome race. I had a blast. It was just epic.

This was a year everyone talked about James's speed, and you have said that you and Chad have had to change things yourself to match it. Did it click in your mind tonight that, yeah, I did match it?
I don't think the speed was such a thing tonight; I think that the track conditions were the thing. The speed wasn't the issue because you couldn't go fast. You had to take your time. That is what I did, and I think that it just slowly worked out for me.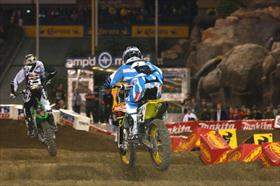 Carmichael chases Stewart through the whoops
photo: TFS

Do you mean the track got rough?
It just got really slick and rough. You just have to have a lot of patience. The dew is rising out of the dirt and it was getting wet.

You made some comments that tracks are not as hard, but they level the playing field a little bit to make better TV and all that. Can you elaborate?
Well, first of all, I'm at a different stage in my career than they are, so I think I see things differently. If they want it to be where NASCAR is, NASCAR is good because there are 10 guys that can win. No one wants to watch a race where you know who is going to win. You want it to be a five-way battle. Unfortunately, it does suck for some of the top guys and take some of the advantages that you may have had away. But in the end, the best guy is always going to win. If the track is easy, then go faster.

Are you going to go back home and watch the race on CBS the next day?
Oh absolutely, absolutely! I think people are going to be glued to the TV because it was a race. That is what we do. I wouldn't watch it probably, number one, if I didn't win or, number two, if it was a blowout. Would you watch it? We need better racing and, in the end, then it's going to be better for everybody.

What's up with everyone's starts this year?
You know, I need to thank my team for that. We had some problems with the bike in the last two races, and we found out what it was. We got some things wrong, but we ended up fixing it this week. My bike is good. That was simply me on the start [this time, as RC once again came into the first turn near the back but snuck around a bunch of guys on the inside –ed.]. I have to get used to running what I had. It's kind of weird the "big three" didn't get good starts.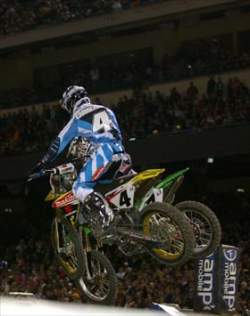 RC had a few chances to try a pass but waited
photo: TFS

Things sure have changed since Canada and round 1, when James had three in a row. What was going through your mind then compared to right now?
I knew that my bike wasn't feeling right. I was trying to peak right now. I'm training for this. I was in the middle of my training at that stage of the game. I'm all healed now and taking my time. I'm all ready to go.

It seemed like every lap, right after the finish-line double, you really were putting the pressure on James.
I think he had a bad line through the whoops. He was using so much energy. I think he would try and rest a little bit on that section after the finish and I would just eat him up right there. Then he would pull away from me after that.

In the second practice it looked like you did a one-footed superman or something right there and saved it. What was up with that?
I was just warming up and grabbed a handful and … I don't know. I wasn't ready for it!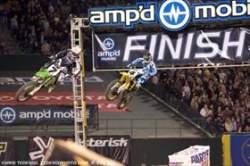 Carmichael was gaining on Stewart each lap on the finish-line double
photo: Chris Tedesco

In Las Vegas, the night of the finals of the season you sat out because of your knee, you mentioned that if Stewart did things faster when he moved up to your class, that you could adapt if you had to. Do you think this is where you are now?
Yeah, I think I've changed, definitely. This is what's cool—I was watching a video from when I used to race McGrath and my riding style has changed so much since then. I carried so much more momentum and there is no hesitation anymore.

So if he keeps going faster, you're going to keep going faster?
I'm going to ride within my limit. I'm not going to put myself in danger. I think there's only a certain speed you can go before taco-ing yourself. I think we're good right now.

So are you going to make sure this is not James' 2001?
Yeah, I'd like to think so. It's going to be fun. I think the main thing is not getting caught up in points and just go race to race. The best guy is going to win.

Thanks for your time, RC, see you in San Francisco next weekend.
No problem, Steve.