Thursday Rev-Up: Ride the Lightning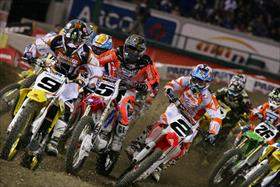 Tedesco and McGrath are the leaders in the chase of the Big Three
Hello, everyone, and welcome to the Rev-Up! We're already three races deep into the 2006 Amp'd Mobile AMA Supercross Series, and so far, so great. Round 4 is marching toward the beautiful San Francisco Bay as you read this, and this event is one of my personal favorites. The Bay Area is a magnificent buffet of American landmarks, culture, and history. Between the Golden Gate Bridge, the Piers, the old Presidio base and Alcatraz prison, the place gives off a very noticeable vibe of nostalgia. It's also the home of Metallica, hence the handle for this week's column.
I have seen a lot of places in the world, but none holds as many profound memories for me as this special area in Northern California. Between seeing a 15-year-old
Travis Pastrana
launch off Pier 32 at the X Games in 1999, making out with a girl on a boat under the Bay Bridge in 2002, and seeing
Ricky Carmichael
battle with
Chad Reed
last year, I'm torn as to which one I hold dearest!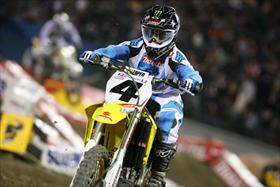 What happened to the "lucky" orange gear?
Ah, but this isn't about me. This is about you and your feelings of excitement and anticipation for more madness. Hey, I've got your back. The boys are heading up the coast this weekend for Round 4. So far, it's been nothing short of astonishing action. Are you all ready to do this? I certainly am!
Last weekend was a special race. It was the 20th anniversary of Bailey vs. Johnson, and so many things mirrored that epic moment in U.S. supercross—the track included. Last week's track was old-school. We had fast straightaways, sweeping turns, and obstacles that Bailey himself could have jumped on his 1986 CR250R. But we also had one of the best races for the lead we've seen in years. I think the track was a genius effort in creating the more four-stroke-friendly courses of the future. This isn't BMX, and this isn't freestyle motocross. In my opinion, we do not need "courses" for better action; we need "racetracks." Spice up last week's track just a little bit more and I think the Dirt Wurx crew will have it dialed. Moving right along, let's get to the racing action that leads us to the Bay.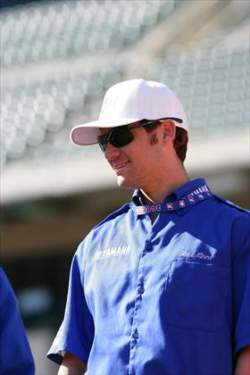 Chad's 2-2-2 means he's ready to be dealt a 3 ... or an ace!
Houston, we have a problem!
"Competition to mission control … mission control, come in."
"Competition, we have you, what's going on out there?"
"There's a bright yellow comet bearing down on us and we can't shake it!"
"Competition, we have that comet on radar … it's gaining strength and magnitude. If you do not gain velocity it may overcome you. Increase velocity immediately! We've seen this comet before … if you fail to pick it up, it may be too late!"
Ricky Carmichael
may not be a comet, but he sure as hell is a house on fire, ladies and gentlemen! Do you remember last year when RC was the underdog?
Chad Reed
was the defending champion and had him covered on SX speed. San Francisco was the race that really saw the momentum switch back to the GOAT when he came from behind to pass #22—in the whoops, of all places. As we head back to SF, Ricky appears to have gained the upper hand already, as the exact same race took place, only this time it was with
James Stewart
at Anaheim. With two wins in a row, mother momentum is riding strong behind his RM-Z450. The boys had better put him in check quick, or else Armageddon is in their immediate future.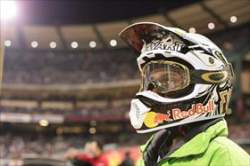 James, like Ricky, is going to want to win in front of the Fox boys
RC did two things last weekend that really caught my eye. For starters, he gained ground on
James Stewart
. He reeled him in and was close enough to capitalize on James' eventual mistake. But the kicker is, I've never seen anybody gain ground on Stewart on a supercross track. He also won wearing something other than orange! That's right, not his familiar lucky color like a lot of people thought he would wear after he won in Phoenix; he won wearing blue gear. He never wins wearing blue! So he has squashed just about all of the urban legends. At this point, I think he could win after running over a black cat in the pits, breaking a mirror in his Team Hauler, and opening up an umbrella inside his motor home!
But boy oh boy, do we have a treat waiting for us.
James Stewart
will be on a mission this Saturday night! Hey, he is doing it right. He has led the most laps, finished on the steps all three times, and is two small mishaps from possibly being undefeated. And with rain in the forecast for the next three days, I am predicting we will have a soft, rutted track waiting for us. Remember Seattle last year? JBS can lay wood in the ruts, folks.
This is the time of year that is very important for James' title hopes. He just has to keep placing on the podium and riding smart. His amazing talent and determination will get him to the promised land of supercross if he keeps it calm long enough to rebuild the confidence he carried into Canada. But now, with the race right up the road from RC and James' shared clothing sponsor, Morgan Hill-based
Fox Racing
, I think Stewart will really be focused on winning this race. Even with Ricky taking those two wins in a row, I feel its going to be all eyes on #7 this time around.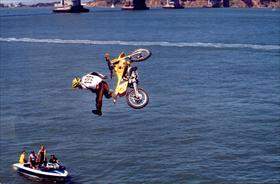 Ride the lightning - right into the bay!

What about the rest—including
Chad Reed
? Oh, they're there and they're ready. Bad Billy pointed out in his always-insightful Bench Racing Ammo this week that "The Thunder" has tallied up a quiet score of 2-2-2 in the series so far. Consistency spells championships; anger spells speed! I have made mention of Reed's fury in the previous three weeks, so I will not cease to do so now. The man's persona heading into this weekend has to rival that of a stubbed-toed Jack Nicholson! He's furious. He's hungry. And #22 will be going all bare-knuckles on us, I promise you.
Ah, but as I touched on above, rain is in the forecast. The Cobra could be ready to strike!
Ivan Tedesco
is gaining speed, and Jeremy McGrath just keeps us believing. And
Mike LaRocco
is still lurking out there somewhere.
I'll be there in the flesh this weekend to watch it all go down. I cannot wait to walk on the Embarcadero. I can already smell the salt air drifting in off the cold Bay waters. I can close my eyes and see the glow of Pac-Bell Stadium shimmering in the moonlight of the surrounding sea. The race forecasters were a year off on their prediction of the Perfect Storm. What we felt last year was mere shockwaves of the eye of the real Perfect Storm, which seems to have actually arrived in 2006. The storm is here, and it is not for the timid. Run and take shelter … or ride the lightning out across the bay like good old #199! Round 4 is here, guys! Let it roll!
Thanks for reading, see you next week!