5 Minutes with … Chad Reed
No, Chad Reed's not a chump—he's just super competitive, and isn't that what you have to be in supercross? Chad was second at Anaheim 2, and he's second in Amp'd Mobile AMA Supercross points, but he wasn't smiling about it last time fans saw him on TV or listened live on the internet. Reed went to the podium and told TV that Tedesco was a "chump." The internet was on his case after that, with fans going as far as calling Reed a "crybaby."
It was Team Yamaha's day to do press day for Amp'd Mobile Supercross, so we sat down with Chad to find out how his season is going and what he thought about the fuss on the internet.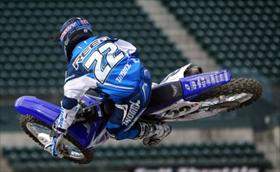 Who says you can't whip a 450? Reed says they are still learning what the 450s can do.
photo: TFS

Racer X: Hey, chump!
Chad Reed: Chump! No, crybaby [laughs]!

So did you read the internet during the week?
Yeah, it was a good time, I thought.

Let's talk about how the season is going. With two Canadian rounds and three in the U.S. and no wins, do you feel any pressure to get that first win of 2006?
No more than normal, I don't think so. The way I started out in Canada was disappointing. But there were reasons why I was disappointed and why I didn't perform the way I wanted to. Some health issues played a role in that. That was it. It is what it is, and that's the reality of it. Not everyone needs to know that, but at the end of the day I was confident. I felt good, the bike was good…. There was nothing that we did in the month off that turned me into something else by Anaheim; it was just a matter of getting over the hump and moving forward.
At Anaheim 1, I felt good. I felt like I was in a position to win but just didn't put it together. The same with Phoenix: I felt like I was in a good rhythm. I went to the lead right away, I was going away, and just made one mistake. I just didn't get over it. I was so mad at myself for not switching to the right side of the start. I just made a mistake and Ricky put a good end of the race together to beat me.
Anaheim 2 was good. I had good speed. I had to push all the way to the last lap. I just didn't make passes when I needed to make passes.

How is the speed at the front of the pack compared to like, one year ago? Ricky has mentioned that he's made changes because of Stewart's speed. Have you, too?
I think for sure. Every lap, every inch on the track, we're looking for it, we're pushing it. That's what we do now. That's probably the biggest difference. It's not about the guy that gets a start and puts it together—you have to do that—but you also have to be able to handle the pressure and not make mistakes. You could make mistakes before, but it seems like you could cover them up. Now they seem like they're magnified with the speed that we're going and the heavier bikes, and the competition is right there. You just have to be on your game.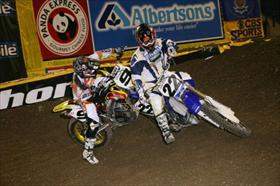 Reed and Ivan are friends off the track, but last Saturday night was all business for both.
photo: Simon Cudby

How has the 450 changed things for you on the track? Does it do some things faster, or let you clear things you wouldn't have?
I don't know…. It's hard to say if we would be doing the same things or not. I personally think that everything we had done this year, we could have done on two-strokes. I think Jeremy proved that in Phoenix, getting holeshots and riding up front. I think the bike is at a level that we are [just now] getting to. I don't think we're there yet. We're not riding them to their full potential, I think. I think they're a little ahead of us.

So as this season evolves, we're going to see some new tricks?
I think so. Every weekend you see us getting more aggressive and faster and more comfortable. I think in Canada I was comfortable going in, but in a race situation, I felt horrible on the bike. I didn't feel good at all. That was just racing the bike in a tight area. You start grabbing handfuls of that thing and it wants to go, whether you're ready or not.
Every weekend we're getting more aggressive. We're scrubbing jumps more. We're learning the bikes. As the year goes on, we're only going to get better and faster. I think it's exciting.

So did Stewart somehow get a head start on you or Ricky or both, considering those wins in Canada and Anaheim 1? Did he have some 450 tricks that you had to pick up on?
It's possible. James rode a lot in the off-season. I think he spent a lot of time on his bike. I think what was neat for the three of us was that for a lot of the time we had not made up our minds what we were racing. We were all somewhat going back and forth between 250s and 450s. I don't think it's that he had a head start; it's that he rode really well.
To say the least, he had a horrible 2005 season and he needed to come out swinging. He changed his number, he had the "New Beginning," and he had to live up to it. He did. He rode great. He killed us both weekends. He just had a little more fire for those two races than Ricky and I did. He put a lot of effort into it.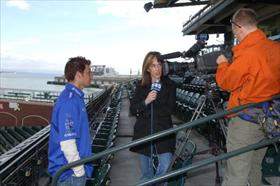 Each Thursday, one of the supercross teams appears at the stadium for TV interviews and a riding demo. San Francisco was covered by Reed.
photo: TFS

You mentioned health issues around December. Did you mean you were sick, or was there an injury you didn't want to mention or something?
Small things. I was a little under the weather, and that didn't help. The second weekend [in December] I felt a lot better. I changed some things on the bike during that week and made it a lot better, then I had that crash in the whoops that put me in a position to get third, and not to win. I had a golf ball on the side of my knee. I had to put my knee brace on and it was like I had a vise on my knee. I couldn't push like I wanted to. There are no excuses. I'm not being a crybaby. It's just reality, the facts, that's the way it is.

As far as the track fuss this year, you have been critical of tracks, then you said about a year ago you didn't want to be the "bad track" question guy. Now there's a lot of fuss, starting with Anaheim 1. Did you stay out of it this time?
I thought it was hilarious. It's funny that over the couple of years I have been complaining that the tracks don't have enough effort put into them. I don't think they put in the effort that they could and should. Maybe they weren't allowed, maybe they didn't know how. Maybe we had Friday practice and they didn't have enough time. It's just maybes, but I just know the tracks were not very good. That was my complaint. It wasn't that I couldn't win on them. I was winning on those bad tracks or getting second on those bad tracks. It didn't matter.
It just seemed like the first race of 2006 was no different than any other year. The whoops were long and they were tough, but I think that's what our sport is. Supercross is a gnarly sport—you take risks. Just because everyone crashes in them, it doesn't mean they should take them away or take them down, but that's my opinion.

Are far as the tracks not being that good, are you talking about the shapes of the takeoffs or what?
Yeah, the shapes and the transitions. Anaheim 1, what everyone was complaining about is there was no backside to the jumps. They just hit square instead of rounded jumps. The dirt was a little softer, which was unusual for Anaheim, and it got a little notchy and tough. Everyone is on a four-stroke, so everyone has a lot of horsepower and we're chewing the whoops out more than normal. So when they build the whoops peaky, add 1,000 guys wearing them out with 450s and 250Fs, then they just become really tough to handle.

I think the only difference with Anaheim 1 was that the whoops were long. I think when they're long, people have to think about it. When they're short, you can maybe close your eyes and hope for the best, and by the time you get sideways or out of shape, you're out of the whoops. That's what I think is funny. I love a good set of long whoops. That's what I think separates the men from the boys. I would like to see a long set of whoops every weekend.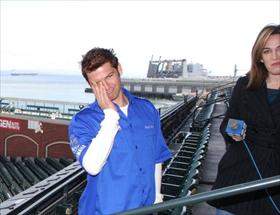 Chad said to run this one!
photo: TFS

As far as the internet, and people giving you a hard time about what was said at Anaheim 2, do you have like an internet brick to throw at the screen?
No, no brick. I just think it's hilarious. I really do. One minute they say one thing, and the next minute they say another. To go and jokingly call someone a chump, I guess I found out the meaning is a little bit different than what I was used to in Australia. There I would call my best friends when I am joking around a chump. That's what I said about Ivan. I was coming through, and I need to be a little more aggressive. I need to move people out of the way and stop being a nice guy. Maybe I need to be that whiner or crybaby that they say I am and move people out of the way. That's the only way to get it done, I think. I jokingly said, "Man, that chump," but I was more mad at myself that I didn't make good passes and didn't give myself a shot at the win. I had the speed to go with those guys, and I could hear the crowd cheering and yelling for them because they were having a great battle, and I wanted to be in that battle. I wanted a shot at the win, and I didn't get a chance for that. I'm not mad at the internet. If they want to call me a whiner or crybaby, that's their opinion.

It seems if you show a reaction to a race or speak like you're disappointed, the fans react in a bad way. Do you ever think people just want you to act or something, and act happy about it?
I think they're torn. They have their guy that they choose, and he can do whatever he wants. Then there is a guy that, if he says something, they jump all over him. I think James and I are in that position right now. Someone can win, throw their helmet across the track, swear and cuss on TV, and nothing is said about it. If that were to happen two years ago, he would have been ripped apart and booed by 40,000 people. Two years later, he can do no wrong and we can. That's part of it. That's out sport. You're only as good as your last race, so now I am the second-best guy, I guess.
It's tough when you invest so much emotion in something and you know you can do better, and then to be ripped apart for it because you show your emotions as part of it…. I guess we're all meant to be robots and all meant to be just corporate-speaking athletes. And that's what you get. But then don't complain about it when you get it. There's the part about naming this sponsor or that, but that's in my contract—it has to be done. To be honest, I don't necessarily like getting up there and being that corporate guy either, but you have to do it.

Good luck this weekend, Chad.
Thanks, Steve.