5 Minutes with ... Nathan Ramsey
At 31 years of age, Nathan Ramsey is definitely a veteran of the Amp'd Mobile Supercross Lites division. Going into this third season with Team Red Bull KTM, Nathan has already racked up SX Lites win number 14 and is hoping to guide KTM to their first American supercross championship. We caught up with Nate Dawg as he and wife Monica were on their way to San Francisco.

Racer X: Nathan, what's going on?
Nathan Ramsey: Oh, we're just dropping the kids off at my mother and father-in-law's house and heading out to San Francisco.

Well, let's talk supercross. First of all, congratulations on Lites career win number 14 two weeks ago in Phoenix.
Oh, thank you!

You're currently sitting in fourth place in points, which isn't too bad considering your 12th place at A1. What happened there?
Basically, I just got knocked around and went down on the start and just wanted to salvage some points and ended up coming back up through the pack. And then someone came up short on a double and I jumped into the back of them and crashed again, so I had to start all over again and only made it back up to 12th.

I saw that on TV! You've been in the Lites class for several years, and every year it seems to get more and more competitive. How are you able to stay so competitive with those younger riders?
Well, I have a lot of good people around me. I have a good trainer, Jeff Spencer, and I also hired Buddy Antunez to be my riding coach, and I just look at it as if I'm not willing to make changes and adapt to the new style that the young guys bring in, I'm just going to fade out. Every year I'm just trying to study the other riders and see what they do. I didn't start racing until I was 14, so I don't feel like I'm 31. I feel I'm still where I should be. I feel I'm a veteran in the Lites class, but at the same time I don't feel like some old guy just trying to hang on to his career. I still feel very motivated and really into what I'm doing. I'm blessed to still have a shot at making something happen. The sport has become a science with hiring a riding coach and trainer, and if you put a lot into it it'll make your career last a lot longer.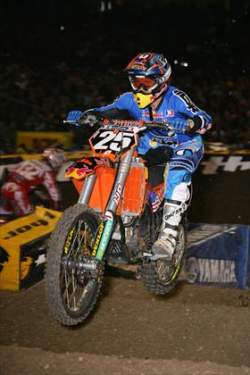 Nathan hammers the A2 whoops

Your first Lites win was back in 1999 at Phoenix when it was still called the 125cc class. Since then a lot has changed, so besides the whole two-stroke/four-stroke thing, what's the biggest difference you notice in supercross racing?
I just think that young riders come up and they have something new that they're doing, and that's why they're fast. You see a lot of new techniques and a more aggressive style. The evolution of the sport just keeps getting elevated. You go to some amateur national and you see kids on 50s that look like pros. They're using the same style, jumping huge jumps and doing the Bubba Scrub. It's amazing how much the sport has evolved and there's no telling where it's going to end up.

It seems like you're really a good fit on the Red Bull KTM team. How much longer is your contract with them?
This is my last year there, but I really, really like it there. Everyone works super hard and I get along with everybody really good. I think Larry Brooks is an awesome team manager, and I have a really good mechanic. I'm super happy, and I hope we can work something out and redo a contract for another two or three years. I have no complaints and couldn't be happier.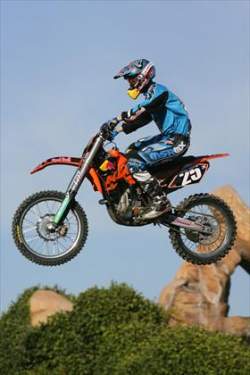 Ramsey's first Lites victory came in 1999

In the past you've rode for two of the most powerful Lites teams out there—Pro Circuit Kawasaki and Yamaha of Troy. Compare KTM to those teams.
I learned a lot at both of those places. I was at Pro Circuit for the longest and they taught me so much and how hard they work. KTM has a strong program and they want to win. They're hungry, just like Pro Circuit and the other teams, and they're willing to do whatever it takes. I've been with pretty much every company and they're all good, but I really believe in KTM and would love to be a part of them taking steps forward and winning a supercross championship.

It may be wet this weekend in San Francisco. Are you hoping it is?
Everybody thinks that I do because I won a mud race, but there are just too many risks when you have rain. If it does rain and it is muddy, obviously I'm going to make the best of it. But ideally, I like good conditions and I like racing heads-up with the rest of the guys for the win.

Thanks, Nathan, and good luck this weekend.
Thank you, Billy.