Thursday Rev-up: In With The New
Hello, everyone, welcome to the Rev-Up. What an interesting time of year this is for motocross fans. Back when I was a full-time racer, I used to love this time of year. The new bikes are hitting the showroom floors, and in their wake lay all the new toys that come along with them. You know, the latest and greatest bike modifications, new gear—Boot Gatorz were so rad!—and all the up-to-the-minute coolness that signifies a new season.
When I was growing up, I used to get insanely jealous of the kids who had the new-model bikes. As a 60 rider in the mid-'80s, the only changes the mighty KX60 received each year were Bold New Graphics (which sometimes were not even so bold). They might change the seat cover, or the font on the "Uni-Trak" swing-arm sticker, but to a 10-year-old, that means a kid could go at least two seconds a lap faster. After a couple weeks racing against your pals on their shiny new steeds, you really appreciate the glory of a fresh dirt bike.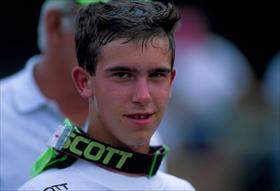 Robbie Skaggs, circa 1992
photo: Fran Kuhn
I remember lining up on the gate and warming up my clapped-out 1985 KX60, listening to the embarrassing rattle of my head-stem o-ring and clutch perch. Suddenly the shine of a brand-new fender catches your eye and you look over to see your bitter rival's bike, which still has the prickly rubber studs on the front tire. You listen and melt as you hear the super-tight whine of his cherry new cylinder combusting fuel and oil a thousand times a second.
Anyway, I remember getting beat by that kid that day. He got the holeshot, and try as I might, I couldn't catch him on the long, dusty, high-speed track in Chapman, Kansas. It was a long ride home in the truck with Pops that day. The following Friday he picked me up from school in the tow truck (I used to think that was the coolest) and drove me to the shop. As we pulled into the gravel driveway, I looked to the back of the shop where my bikes were always lined up by the trailer, and as I peeked through the windshield of Dad's tow truck, I saw sterling silver spokes twinkling in the distance. I jumped out while the truck was still rolling and sprinted to the back of the shop. I could smell the bike 10 steps before I made it to it. Maybe it's the crappy Japanese grease they come in the crates with, or maybe dealerships have some magical perfume they use—all I know is that I still get chicken skin every time I step foot on a motocross dealer's floor and find myself in the presence of a virgin motocross bike. But this virgin was mine! It was springtime, 4 p.m., and I had a little over three hours to spend thrashing my practice track on my new bike. And of course, I was instantly faster. Or at least I thought I was.
The next weekend we returned to the same track for revenge. Surely, now that I was armed with the same potent 1986 model that my rival had, I could beat him. It was not to be. Once again, Robbie Skaggs—that hated rival (though really a great guy)—got the holeshot and beat me by a wide margin. With my head hung in shame, I drove past his trailer and noticed something was different on his new bike: His pipe didn't have any black paint on it. It was a perfect color of bronze and had an aluminum silencer barely poking its head out from the side panel. Upon seeing this, I grabbed a gear and throttled back to my pits. I put my bike on the stand and ran to my dad, near tears, screaming, "He's cheatin' Daddy, he's cheatin'!" Pops just crossed his arms and looked at me from above his glasses and mumbled, "Tell you what: You jump that double on the back straight and use your front brake before the corners and I MIGHT get you one of those pipes."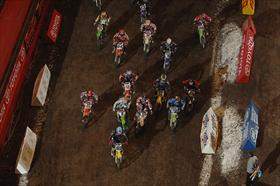 BooKoo Arenacross made its debut in Ft. Worth last weekend
photo: Tony Scavo
But that's a different story, folks—one I hope you will hear in the winter weeks to come. That's just a little sprinkle of magic dust that motocross dreams are made of. I would bet about every one of you reading this can close your eyes and remember moments just like this, whether it was a new bike, a new part, a new sticker, running out to the mailbox to see if
Cycle News
came, or a new
Terra Firma
video. Ah, but for now, we have some racing to get Revved Up for….
The Arenacross brigade has stormed the mountain, and the race to the top has just begun. Both AX tours are off to strong starts. The AMA series is already two rounds young and has delivered great racing action and respectable crowd turnouts (especially in Iowa). Chad Johnson looks to be the man at this point, but as that series goes into a bye week, rest assured that Brock Sellards and Jeff Northrop will be grinding the edges of their axes in preparation for round 3.
The BooKoo Arenacross Series rolled out in Texas last weekend. While most of the spectators rolled out to Texas Motor Speedway, the production and racing action of the event was spectacular. I was at the event and just kind of roamed around and took it all in. I walked though the pits and stopped to find Keith Johnson, of New Mexico, chillin' beside his brand-new 2006 CRF450R. I reached up and gave the clutch a pull and relished in its silky smoothness. But I glanced back and noticed the stickers from the factory were still on the rear fender. I slowly glanced over and said, "Did you read this here? It says do not ride with passengers, man." Keith sloughed me off and said, "Yeah, whatever, man. I just picked her up last week. But she's perfect."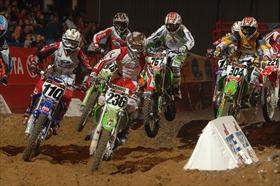 Dennis Jonon (#236) leads the pack in Texas
photo: Tony Scavo
Arenacross racing in either series is an amazing way to spend a Friday or Saturday night with the family. Round 2 for BooKoo is this weekend in St. Charles, Missouri, and we have a three-way tie for first in points. Shane Bess,
Josh Demuth
, and Josh Woods are at the point and looking strong. But keep an eye out for #236 this weekend.
Dennis Jonon
is a stud, ladies and gentlemen. In his first professional event, he won heat races and battled at the front both nights. Out of respect for Dennis, I will not explain why this is such an awesome achievement. Just do me a favor the next time you watch him ride and watch his left boot as he skims through the whoops, 4
th
gear wide-open. You're my boy, Jonon! Go get it done.
That's it for this week's edition of the One Industries Thursday Rev-Up. It's new-bike time, friends. Go read all of the magazines, check out all of the bike tests online, and enjoy the torture of choosing which bike to ride. Go scope out all the new gear selections and helmets that are packing the dealer floors as we speak. Get the hell off of Ebay for a change and get your hands on a virgin machine! Support our sport, take care of each other, and thank you for reading.
See you next week.