5 Minutes with … Dennis Jonon
Dennis Jonon, a fast amateur from Spring Hill, Kansas, is ready to turn pro and wants to prove it. He spent the last two weekends on the arenacross circuit, first in Canada and then in Ft. Worth, Texas, as part of the new BooKoo Arenacross Championship Series.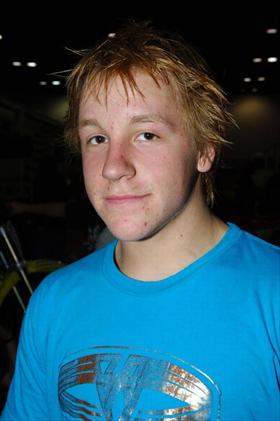 Dennis Jonon

Dennis wants to use the AX series to show the professional world what he can do. So far, so good! On the first night he finished ahead of Shane Bess in his heat race, and on the second he won a hard-fought battle with Josh Demuth in a heat. His main-event results were 14-6 in 250 and 450 Pro on Friday, and then 7-9 on Saturday. Not bad for a first-timer.

We stopped Dennis after the second night of racing to see what he thought about the weekend.
Racer X: Dennis, tell us about your weekend. Wasn't this your first arenacross?
Dennis Jonon: Yeah, I decided to come out and try to find a ride. I don't have any rides that are looking good for amateurs, so I want to try and make a name for myself in the pro ranks and see how I do. It was pretty rough this weekend, but for my first pro race, it ended up pretty good.
So this was you very first professional race? You've been doing the amateur circuit, like Loretta's and all that?
Yeah, I do the amateur races. I started out on 50s. I went to Canada last weekend. I did pretty good. I caused a little ruckus up there, and I don't think they want me back there. So I decided net to do something in the States. I think I did pretty good.
Where are you from?
Spring Hill, Kansas.
What's you team situation? Are you, like, a total privateer or what?
Yeah, right now I'm just riding out of Pro Circuit. They have been a lot of help. They said whatever I do, they want to be a part of it, so that's pretty cool. Right now we're going to talk to a couple of teams on the arenacross scene and see if they're interested. There are a couple spots available, so we'll see what happens.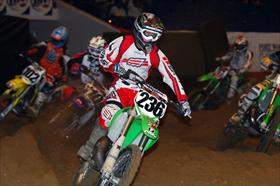 On Friday, his first night in American areancross, Dennis got the holeshot in a 450 Pro heat race and won it!

This weekend you made a nice impact out there.
Yeah, I won a couple of heat races this weekend. The biggest one was beating Demuth. I don't even remember who else was in there. I was so excited. My mind just went blank. I was so happy.
Was that the highlight of your racing career?
Oh, yeah! Demuth is an incredible rider, so beating him was just awesome.
What was the track like, compared to what you expected?
I knew that it was going to be real peaked. I never rode supercross or arenacross. I knew it was going to be tough, and actually it wasn't as tough as I expected it to be. I just followed a couple of riders in practice and got the lines down and took it from there. It wasn't as bad as I thought at all.
So you don't have any experience at all on tight tracks like this?
No. I just have been riding motocross—that's pretty much it. The only arenacross I did was on a KX60 for the invitationals and Canada last weekend.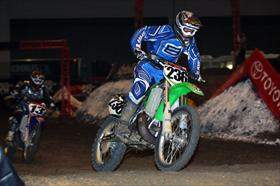 Jonon finished the weekend ninth in points

You spend some time on the internet too, don't you?
[
Laughs
] Yeah, I go on Motonews, my favorite website. Plus I do the instant-messaging thing.
Are you surprised with yourself this weekend? Did you do more than you expected?
I definitely thought I was capable of a top-five. Then when I came in here and saw all the big names, it was like, Okay, I can run with these guys, but do I have exactly everything that it takes? I did pretty good. I'm pretty happy, but I don't think my dad is [laughs].
Where do you want to be in a year?
I want to be riding Pro Circuit Kawasakis for East or West Coast supercross.
Good for you. You're off to a good start.
Thank you, Steve.