Phoenix, AZ
Phoenix
Monster Energy AMA Supercross Championship
And we're back! After an off-season filled with long walks with bassets, watching hockey (go Leafs go!) and recharging the batteries, the Observations column sponsored by BTOSports.com is back and ready to cover 2012 Monster Energy Supercross in the only way we know how:
By talking about what we had for lunch at the different team trucks! And, oh yeah, by covering some racing as well.
Let's dive right into the dirt battleground that the racers had to ride on. And it wasn't very good if you asked any racer not named Andrew Short (I asked him about the track and he said he's "just happy to be out there." Which is incredibly cheesy and ridiculous except for the fact that he is really being honest). I asked Kevin Windham what was good about the track on the Pulpmx Show and he replied, "I'm not sure there was anything good there."
Just one thing about that though. You couldn't get ten riders to agree on which direction the sun comes up. They live in this isolated world of people telling them that they're great and that the reason they sucked in the race was because the track was "impossible" to pass on. It's an age-old thing and although I do tend to lean toward the sides of the riders in most cases, I thought the track was all right and had some passing lanes. It was something different, something unique and maybe some of it didn't work but certainly some of it did work.
Having said all that, I look forward to tracks that have long whoop sections because those really separate the field and make for some exciting viewing. That section in Jacksonville last year was great for everyone not named Mike Alessi and Jason Thomas.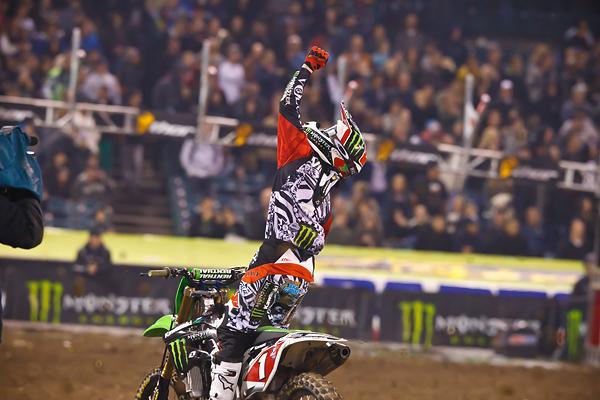 RV dominated the field en route to the A1 win.
Photo: Simon Cudby
Before the season, we talked about how deep the field was. We talked about how competitive it was, and how anyone could win. We were back to the days of the champion winning five, maybe six races. We all shouted from the rooftops that the days of Jeremy McGrath and Ricky Carmichael dominating the series (and when they weren't, it was Chad Reed and James Stewart being head and shoulders better than anyone) are over!
Well, maybe not, as Kawasaki's Ryan Villopoto waxed the field on Saturday night in a stunning display of domination. I heard some people talk about how he had it easy because he holeshot on an easy track. Well I'm here to tell you guys that it wouldn't have mattered where RV started, even if it was in the 45th spot, he was probably going to win the race.
As stated in the Racer X Sign of the Lap Times column HERE you can see that RV was almost a second faster on his best lap to everyone else's best lap. This is pretty remarkable to do when you're lining up against Chad Reed, James Stewart and Ryan Dungey and shows just how fast he was. RV is strong and he just put a whipping on the whole field at the opening race. And that can deflate the competition.
The flip side if you're his competition is that each and every round is a new race, a new opportunity and a new chance to grab the brass ring. The advantage for RV is that confidence is such a big thing in this sport and even though these guys are super talented, super fast and many of them are millionaires, a lot of them have the emotional makeup of a 14-year old girl just discovering boys. By that, I mean they're all over the place and Villopoto's win could be ruining them inside. If RV dominates again in Phoenix, he's just going to get stronger like the alien in Super 8 when he was sucking in metal.
In the Lites class, TLD Honda's Cole Seely not only won the opening round but served notice that he's a championship factor. Much like RV, it was a statement win by Cole who passed Tyla Rattray and Dean Wilson in the opening laps and sprinted away. I don't want to say Seely's two wins in 2011 came easy (they never do) but he did holeshot and take off to claim those races. This one was more impressive than the other two with the riders he passed, the lead he opened up and the skill he showed. Last week I asked David Pingree if Seely can really, really, really win the Lites West Championship and he was firmly in the, "Yes he can" camp. And now we are all believers. Sort of like Oprah Winfrey if she was a skinny white kid from the 805.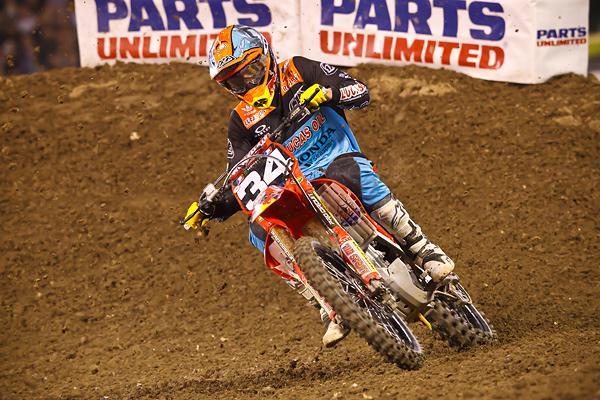 Cole Seely won his third career Lites race at A1.
Photo: Simon Cudby
I don't have anything against the Pro Circuit Kawasaki or GEICO Honda guys, they are fully staffed with a bunch of great guys and awesome riders. Having said that, I do love the fact that a smaller team like TLD won a race and looks to have a very real shot to win the title. We need to give these other teams hope! I was talking to ex-Star Racing team manager Alan Brown (now running Ti-Lube Kawasaki) about his time in the Lites class and he was telling me (in a special Pulpmx App Podcast only available to people with the app- $1.99 on iTunes, bro.) that the budgets in the Lites class are insane and out of control. It costs a lot of money to make horsepower in a little bike and the whole idea of the class as a feeder series for the big bikes is not happening and hasn't been happening for a few years.
We have to give these smaller teams a chance to do well so they stick around. And to say just go to the Supercross class isn't exactly right either because that's a much more expensive 17-race series. Yeah the budget of TLD Honda isn't exactly small potatoes but it's nice to see another team get a win here and there. That's all. Rant over.
And faster than you can say "Roger Decoster," KTM's 40-plus year drought of never making the podium in the premier class in supercross is over. In his very first AMA Supercross race for the team, Ryan Dungey rode strong to get the final spot on the box. And Dungey did something in his first race on orange that I don't believe he did all year last year: catch and pass James Stewart. That had to make him feel good about signing with the Austrian OEM. The all-new 450 looked pretty good out on the track, and in the pits. In my mind, it's the coolest looking bike out there.
Do I and his fans (and also Ricky Carmichael, going off his comments on the SPEED TV broadcast of the race) wish that Dungey was more aggressive and sometimes stuck a wheel in there? Yes, but at this point, he is what he is. It's just not in his make-up, which I think hurts him at times, but the good part of that is no one is out there looking to plow him into row 5 either. Jeremy McGrath was like that also.
James Stewart had a rough Anaheim 1 and it's got to be a little worrisome for him and his team. Now granted, the track had nothing to separate anyone and therefore, "crazy balls" Stewart couldn't make an appearance.  James didn't get the start and looked content to get fourth (yes, I just said that). He got into third when Dungey crashed and almost into second when Chad Reed tipped over and at that point, Stewart seemed to push it a bit harder but in the end, he went down and had to salvage a sixth. It's not the start that he wanted to the year, and he looked like he was settled into a fourth, but that's not the James Stewart we know and love.
So why was he like that? Well, it's possible that James simply wasn't happy with his Pirelli tires out there on the California, dew-comes-up-at-night-and-makes-the-track-real-slippery-dirt and he was just going for the points. We know he wasn't happy with the tires because he showed up in the first practice with a Bridgestone front and Pirelli rear. Second practice he ran a Pirelli front and rear and the last practice he ran a Dunlop rear and a Pirelli front. He also had the fastest time out of everyone in that last practice, by the way. Of course, the numerous people that work for Dunlop saw it and realized that it was indeed a special works tire. They were not happy.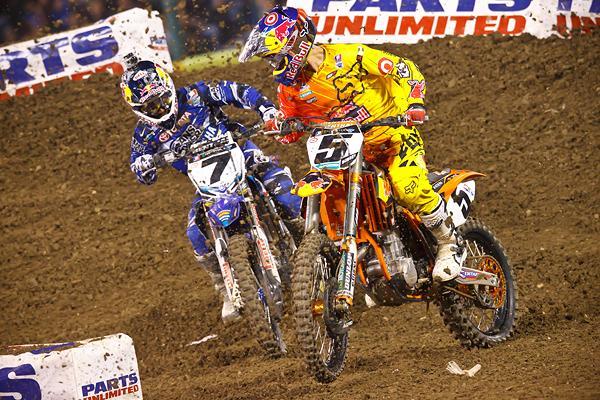 Dungey battled back from a late crash to overtake Stewart for third.
Photo: Simon Cudby
Maybe they should've realized something was up because Patrick, Stewart's mechanic, was huddled into a corner before the third practice and wouldn't roll his bike out onto the track until James was right there. The guys at Dunlop definitely didn't take to kindly to James using the tire and because the JGR team is a Yamaha sponsored program, Yamaha head honcho Keith McCarty got involved by asking for the tire back and making sure it was delivered back to the Dunlop guys (minus the raised lettering on the side that was scraped off to hide the brand name).
The JGR guys were trying to make their rider happy and see if the other tire would make a difference. There's no doubt that the Pirelli guys (of which there looked to be about 30 of them at Anaheim) knew about the Bridgestone (you may be thinking, "But Matthes, why didn't the Bridgestone guys care about Stewart using their tire in the first practice?" and the answer to that would be that Bridgestone is out of pro moto racing and therefore, there aren't any Bridgestone guys. If it was a stock Dunlop, the Dunlop guys would not have done anything about it, because anyone can go and buy a tire and run it. But the R&D that goes into a works tire is owned by Dunlop and they didn't want their technology falling into Pirelli's hands. Dunlop then explained to the teams that they do sponsor (pretty much everyone but JGR and BBMX) that Stewart would not be running the works Dunlop after practice-- which the JGR guys say would not have happened, anyway.
From what I know the Pirelli guys had not tested with Stewart and JGR out in California at any point and like I said above, the California dirt is a unique beast. I don't know whose decision it was to not head to California to test tires but it was a curious one. When I took an informal poll of really fast riders in my phone, none of them could believe that JS hadn't tested Pirelli's in California before agreeing to race with them.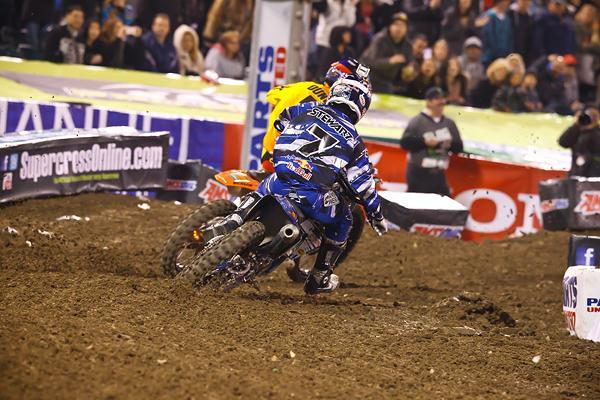 Tire-gate has begun.
Photo: Simon Cudby
In the end, this isn't that big of a deal (says the man who just devoted 500 words to it) and it will blow over. The Dunlop guys will act all mad, but in the end they'll be whispering that their tire set the fastest time of the day in practice and look what happened to James when he went full-Pirelli (sixth in the main). And the Pirelli guys have a great product that has won a butt-load of World Championships in the MX GP's and just about every other Motorsports. They have the technology to make a great tire and will make Stewart happy here real soon or Stewart will be on Dunlops (even though at Bercy, I heard that Stewart and JGR were told once the decision was made, there was no going back. I don't believe that for a second. If Stewart and JGR go to Dunlop with a plea for help, Dunlop will support them). It's a competitive tire world out there and all the teams and riders will look for any edge. It's been going on for years and will keep going on as long as there's a start and a checkered flag thrown.
Let's take a look at the results from Anaheim:
Supercross Overall
1. Ryan Villopoto Kaw
2. Chad Reed Hon- Reed was very solid, he had nothing for RV but he had more than enough for the rest of the field. He rode away from Dungey and Stewart after a tip-over let them catch up. Good start for the two-two in every way—including the hot red pants the team was wearing.
3. Ryan Dungey KTM
4. Justin Brayton Hon- Brayton himself admitted he got a little lucky when Stewart and Tedesco fell late in the race to hand him fourth. But for a guy who had to ride the LCQ, he'll take a fourth. First AMA SX on a factory Honda was pretty good.
5. Jake Weimer Kaw- Weimer was impressive. He came from the back to get fifth and although Broc Tickle and Kyle Chisholm won't be sending him any Christmas cards for his unintentional take-out of both of them while he was pulling back onto the track, it was a sold ride for the Idaho kid. Weimer needs to have a good season.
6. James Stewart Yam
7. Andrew Short Hon- Andrew is back on a Honda and although he ended up seventh, he's not 100 percent due to his off-season injury. He did lead the heat race for a while which had to put a smile on his face. In the main, he had a titanic battle with Brayton for a few laps before he got tight. And again, maybe it's the heat race lead, but to me he looked better on his Honda than he ever did last year.
8. Kevin Windham Hon- Track was too easy and didn't require throttle control and that ladies and gentlemen, is why Kevin Windham wasn't a factor in the race. An eighth is a good start for KW though.
9. Mike Alessi Suz- I thought Alessi was much improved and in his JT gear, looked sharp out there on his Suzuki…err…Motoconcepts 450. Ivan Tedesco wasn't very pleased with him after the race for what he felt was a dirty pass, but all in all, a good night for the 800.
10. Josh Hansen Kaw- Hansen was 16th after the first lap and worked his way up from there. He wasn't flashy but he was solid in his first ride for the H&H team. Considering he said he was sick before the race, this result was more than decent. I think the team should definitely  stop him from doing any interviews from now on judging by the bus he backed up on his team and Kawasaki on Friday before the race.
11. Brett Metcalfe Suz- Metcalfe wasn't good by any means, he went backwards in both the heat and the main and this is after logging the worst practice times in seeded practice during the day. I checked in with Metty to see when the aliens that rode for him on Saturday were planning on giving him his bike back, and he let me know that he should be back this weekend in Phoenix. Whew!
12. Broc Tickle Kaw
13. Ivan Tedesco Kaw- Ivan's 2012 A1 looked a lot like his 2011 A1. He rode strong, was aggressive, crashed and seemed like he could be a factor if he can just keep from auguring himself.
14. Kyle Chisholm Kaw- Chisholm looks a little weird on a Kawasaki after three years on a Yamaha, but he looked to be charging hard for the entire race before his crash (courtesy Weimer) hurt him.
15. Ryan Morais Yam
16. Davi Millsaps Yam- Davi was up there in the beginning but obviously something happened to him.
17. Jimmy Albertson Yam- Top Jimmy was in his first ever 450 main event on the BTOSports.com BBMX Suzuki team.
18. Chris Blose Kaw
19. Josh Grant Kaw- Grant crashed a couple of times out there on his new Kawasaki and considering I don't think he's 100 percent, his fans might have to wait a while before he's up to speed.
20. Tommy Hahn Hon- A true privateer, I'm already hearing about a team that may pick him up as a fill-in as soon as they know more about their current rider. Which is just the way he planned it.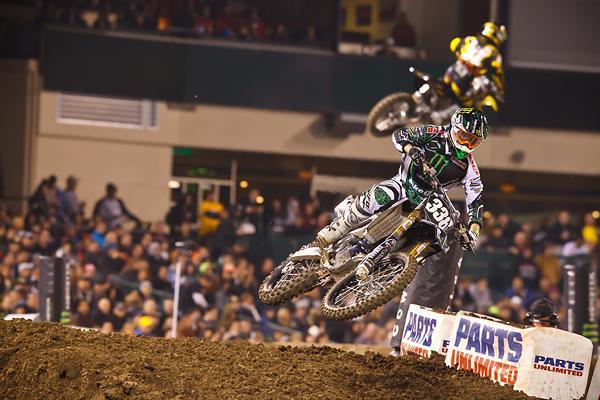 Zach Osborne was solid in his return to the States.
Photo: Simon Cudby
Lites West Overall
1. Cole Seely Hon
2. Tyla Rattray Kaw- At one point in the main event I tweeted that Wilson would pass Rattray any moment. Clearly, I'm an idiot. Rattray rode great to get the runner-up spot.
3. Eli Tomac Hon- Seely gets the gold, money and chicks but Tomac showed some serious speed coming from the back to get third late in the race. He had to ride the LCQ so his season went from "Ohhhhhhhh" to "Yeahhhhhh" in the span of about an hour.
4. Marvin Musquin KTM- Moving Marv looked pretty good in his first SX race in the USA but then again, we all knew he would. He was the first (and best) guy I saw go three onto a table in practice. He had that section on lock-down.
5. Ryan Sipes Yam- Stop me if you heard this before. Sipes was fast but he crashed. I know, strange huh?
6. Dean Wilson Kaw- In the words of Shaggy, "Ruh Ro." Wilson was in third, which would have been an okay finish for someone whom many consider the favorite for the west coast title, but then a sort-of dorky crash after Tomac passed him cost Dean two spots. Wilson will pull it together here soon enough but make no mistake about it, this wasn't a good race for the #15.
7. Jason Anderson Suz- Anderson got caught up when the 30-second girl ran off the track early (I get conflicting stories on whether it was the AMA guy who signaled her to move or if it was the girl herself who is supposed to somehow look up at the board and run off when the timer goes to zero) but Jason was on it coming from the back to get seventh.
8. Wil Hahn Hon- Better than last year when he left A1 on a stretcher. Hahn crashed but I'm betting eighth will be his worst race of the year.
9. Zach Osborne Yam- Osborne was, for me, a real surprise. Third overall in practice, the American GP hero didn't get a great start but he made the most of it in his first supercross in years. His bike sounds very fast out there as well.
10. Travis Baker Hon- Baker's looking to get back on track this year. And he'd better do it as well, it's a contract year!
11. Matt Moss KTM
12. Nico Izzi Yam
13. Teddy Maier Hon
14. Billy Laninovich Hon- Good story here and I can't believe he's only 27 years old. Welcome back to supercross Billy!
15. Vince Friese Hon
16. Max Anstie Hon- Musquin! Osborne! Anstie! What is this, Anaheim 1 or Lommel 2008?
17. Ryan Marmont KTM
18. Jackson Richardson Hon
19. Martin Davalos Suz
20. Christian Craig Hon- Craig's battling a wrist injury and it's going to be a long West Coast season for him methinks.
We knew before Anaheim even started that we'd see some heavy hitters miss the main event and that is indeed exactly what happened. Main event stalwarts like Nick Wey, Austin Stroupe and Jason Thomas missed out and so did half of the Hart & Huntington team of Kyle Partridge and Josh Hill. Partridge had some bad luck when he crashed in qualifying position in the LCQ while Hill appears to be injured again with some sort of leg problem. It's a terrible blow to Hill who had worked so hard to come back from some serious injuries and was racing his first supercross in a year and a half.
And with Anaheim 1 comes all the new bikes and all the new gear. Everyone looks great and has the highest of hopes going forward. I have to say, as stated above, I love the look of the KTM's and the JT Racing gear on the Motoconcepts riders as well as privateer Michael Leib looked really sweet. I liked Reed's team running the red pants and shoes, it's not that it looked awesome, it's that it was a different look. The trickest bike might be Stewart's YZ450F with it's revised seat and tank shrouds. Looks like the JGR guys spent some serious time on this.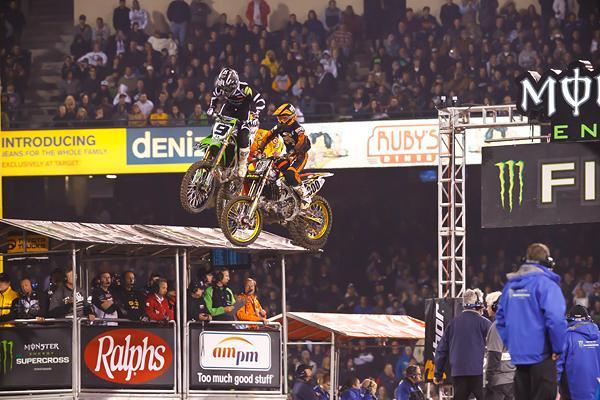 Alessi was sporting the new JT Gear at A1.
Photo: Simon Cudby
Well, I hope the riders are happy. If you're a reader of this column you know that I've been critical of the top riders for their complete lack of joy when going out for the hot lap after opening ceremonies. It's a special honor to select three or four guys to go out there and get nuts for the fans but in the last little while, it's been like a visit to the proctologist for the riders. The days of MC nac-nacing and RC going upside down are long gone, folks. We were getting dead sailors, butt whips and the guys that just didn't seem to care (except for Trey Canard who would do nac-nacs in honor of the King).  And now it appears that Feld has done them in for good as they also recognize the guys just don't care anymore. There was no hot lap in Anaheim. And the riders only have themselves to blame.
Thanks for going down this road with me, we'll have a fun time this year covering the races. Same time, same place next week. Email me at matthes@racerxonline.com if you want to chat.