2024 FCA Motocross Summer Camp, Supercross VIP Experience Dates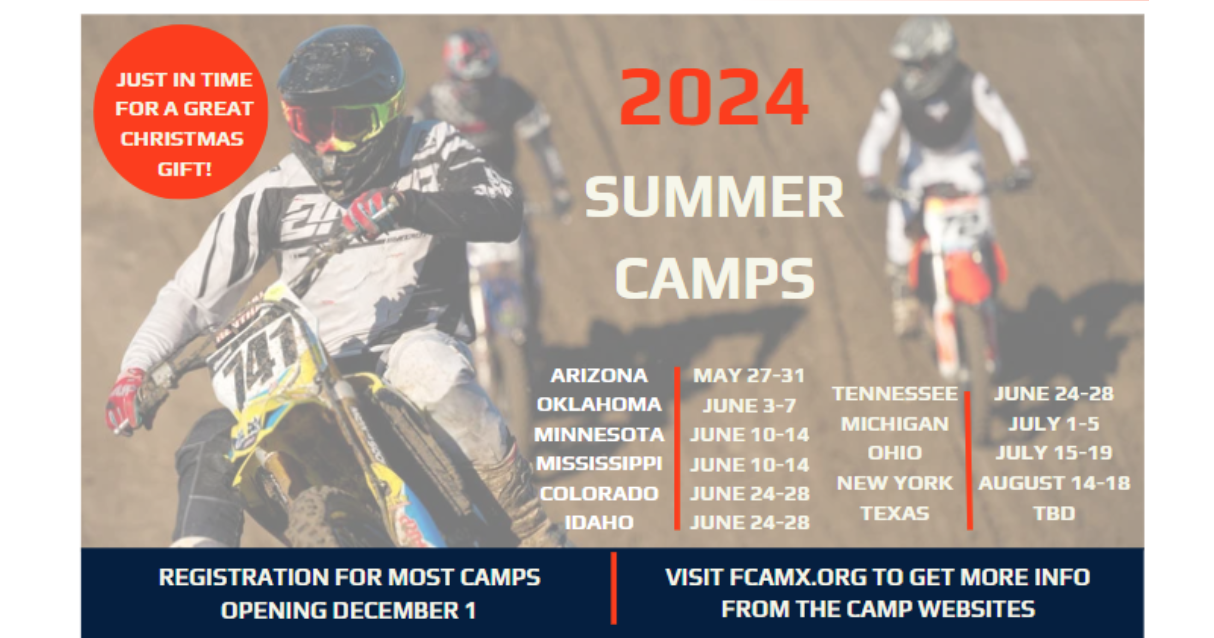 Denver, CO
Denver
Monster Energy AMA Supercross Championship
The Fellowship of Christian Athletes Motorsports has announced its 2024 summer camp dates and AMA Supercross VIP experience dates. View the full release with dates and info below.
2024 Summer Camps
Location | Dates
Arizona | May 27-31
Oklahoma | June 3-7
Minnesota | June 10-14
Mississippi | June 10-14
Colorado | June 24-28
Idaho | June 24-28
Tennessee | June 24-28
Michigan | July 1-5
Ohio |July 15-19
New York | August 14-18
Texas | TBD
Registration for Most Camps Opening December 1
Just In Time for a Great Christmas Gift!
Visit FCAMX.org to get more info from the camp websites.
2024 FCA AMA Supercross VIP Experience
Joins us the morning of an SX event in the following cities!
Watch rider's meeting, track, walk, and chapel service.
Hear from Jake Vanada, SX series chaplain.
**Note: You must have a personal SX ticket to attend.**
FCA VIP Registration opening in January.
Location | Dates
February 3 - Detroit, MI
February 10 - Glendale, AZ
February 24 - Arlington, TX
March 9 - Birmingham, LA
March 16 - Indianapolis, IN
April 20 - Nashville, TN
May 4 - Denver, CO