Indianapolis, IN
Indianapolis
Monster Energy AMA Supercross Championship
He did it. Ken Roczen's return to Suzuki, a bike brand that hasn't won a supercross race since 2016 (and it was Roczen who did it back then), was certainly met with raised eye brows. Not only has the RM-Z450 not had any major changes since 2018, but the team that races the bike today, HEP motorsports, had never been a contender for race wins prior to this season. This put Roczen, who departed team Honda HRC after six seasons, in need of some major work to get the Suzuki, the new team, and himself, up to a race-winning level.
Saturday night in Indy, he did it, holeshotting the race and holding off pressure from Justin Barcia to snag the victory. The fans and even his competitors absolutely loved it. Roczen spoke about the work it took to get there, and the emotions of it all, in the post-race press conference.
Ken, there's so many ways to go with this.
Ken Roczen: I don't know what to say!
We know you were testing a lot. Last few weeks, Wil Christien (TV broadcast) said you've been able to settle down with the testing and get your usual riding and training in. Was that a big factor in the result tonight?
Absolutely. That was a huge part of it. As much as I gelled with the bike as soon as I got on it, I still feel like we had a lot of stuff thrown at us in the beginning of the season. I was on so many different setups and it was definitely tough for us, and we had some bad races there. Most importantly, we never gave up. The team and I, we were at the track some times until 7 pm sometimes, especially the week before Tampa. We just weren't letting off until I felt like we could. This night tonight, I've dreamed about it for many, many months, and it seemed so far away, especially after these last few races. My starts were not good, and I wasn't anywhere even near the podium, honestly. To pull this off tonight, and the way this track was, I just have to let it settle in. I don't want to let it get to my head or think this is going to happen every weekend. It's tough out there. But tonight we're going to enjoy this one, no doubt about it. The top ten out there, everyone is going so fast and if you don't get a good start it's so hard to make it happen. This race felt long and short at the same time. I was just trying to hit my mark, and obviously lappers came into play. This was definitely one of the ruttiest tracks I've ever ridden. This is just such an accomplishment that I have to let it settle in.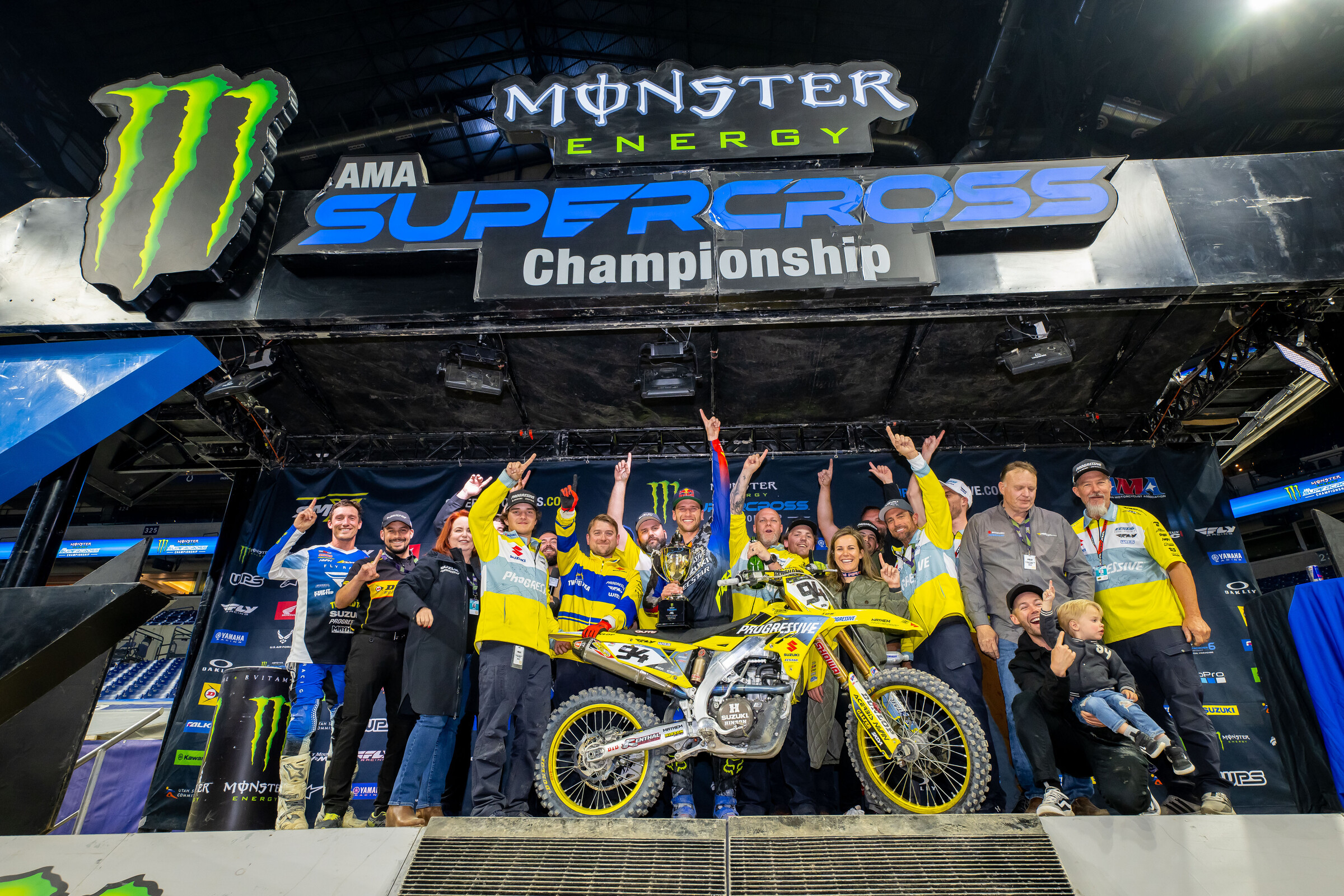 You knew the track was tough. But was there a point yesterday or today where you saw the track and said "I can do this"? Or was that something that happened, maybe mid-way through the main event? Where you said "I can do win this"?
I tried to control what I could, I and was just focused in the moment. First was focus on the start, we did that. Then finding my groove. Chase was there on me, pretty close, but he went down, unfortunately. So we had a little bit of a gap. We had a shorter lap and with how soft the track was, that comes into play with the track being like an enduro track. I was just clicking off corner after corner. Once we had 7 minutes to go, I was like, just click off a little more, then it was 5, then it was 3, then it was four laps to got. I charged all the way to the end. Justin was obviously coming, I think I got a little unlucky with lappers. I was able to pull out just a tiny cushion there at the end, just enough for me to bring it home.
Ken, you've had some milestone comeback wins. Where did this rank for your career?
At the top. I didn't win for three years after the injuries, which was huge. But this one, there were a lot of critics out there, but I believed I can win on this bike. But to make it happen…that's a whole 'nother story. This was unreal. Especially after the last couple of weekends. It ranks at the very top. Same for my team. I've been able to do this a couple of times, with RCH as well. This is this team's first win ever. That's a huge accomplishment. This one is at the top, for sure.
With those long days and all the work you were putting in, was it getting to a point where doubt was starting to creep in? Where you worried it was not going to work out? Or, tell me what it took to not let those thoughts creep in.
I don't know if doubt is the right word, but we had so many long weeks and so many long days. Before Tampa I rode until 7 pm on Thursday and 5 pm on Friday and then I raced on Saturday with the hands pretty much bleeding! (Laughs) But it's days like that that I felt like I had to go through. And we didn't even really find anything special, but sometimes you just have to check through the list. I've been on the bike since the beginning of December, which realistically isn't that much time, sometimes it takes a year to figure it out. So we tested during the week and we tested on weekends. I couldn't just settle down with something that wasn't ridable to my max. So we just kept going kept going and kept going. I feel like in the last week and a half, going into Daytona, I felt like we really had something that I liked, but we really couldn't show it in Daytona yet, but I was confident that if I just kept putting in my laps and believing in myself that it would work out. So, I wouldn't say I had doubts, but I needed to take a deep breath, let some things go, and maybe change my outlook on things a little bit. For a rider, once you find something where you're like "Holy crap, this is it." Compared to where I was at round one, it feels like a completely different motorcycle. That's just what I was looking for so I can actually ride the bike and not the bike ride me.
Kenny so it sounds like you've been able to return to a normal schedule or riding and training. That was a gnarly track, so how much did that help with how taxing this main event was?
Yeah for a few weeks there, my motos, it was just neglected. You can't just pound out motos while you're working on the bike. It's one or the other. So, just having a couple of weeks or normal schedule, and I've been doings some really strong work. My training and fitness has been good, I mean, every race is tough, but I was able to charge all the way to the end. I had enough in the tank to make it happen. Races like that are so much fun compared to suffering and dropping off the pace because you have to. So getting back in a good routine helped me big time.
When you see Eli, Cooper and Chase on the podium three weeks in a row, does that get frustrating or are you just completely focused on your own performance?
I think it's hard not to be [frustrated]. When you're nowhere near the podium, it's hard not to look [at who is on] the podium, if that makes sense. But at the same time, it's important to just focus on yourself. For me personally I know I can make it happen if I just check somethings off the box. And when the top guys get good starts and you're in the back, it's just so hard to make it happen.
You had so many competitors come up to you after you crossed the finish line jump. What did some of them say, and what's your reaction when you see literally half the field come up to you like that.
Actually, good thing you brought that up, because that was super freaking cool. Just riders who you wouldn't think they would, but they did. Most of the top guys. It's just a great feeling. I think everyone appreciates when you win, it's just so hard to do. And I think everyone knows, with the move to my team, that it was going to be tough and they some of them probably thought that it wasn't going to happen. It was such a rad moment and so full of emotion. It was such a rad experience and I've never had that happen before, actually.
Kenny we know what the win means to you and your team, but what does it mean to have your family there, and your son?
It really is a next level feeling. I mean, he's two and a half so he definitely knows what's going on. I have this phrase I tell him in German that means "Daddy number 1." So he kept saying it on the podium, so he knows what's going on. He loves anything with wheels so freaking bad it's actually kind of scary. But I wouldn't have it any other way. Just to have my family there. They've skipped a couple of rounds this year and they're going to skip some other rounds so to have them here for this one, and I was able to make it happen with them here.