Tomac Now "50/50" on SMX Playoffs, Jett Lawrence Racing on 450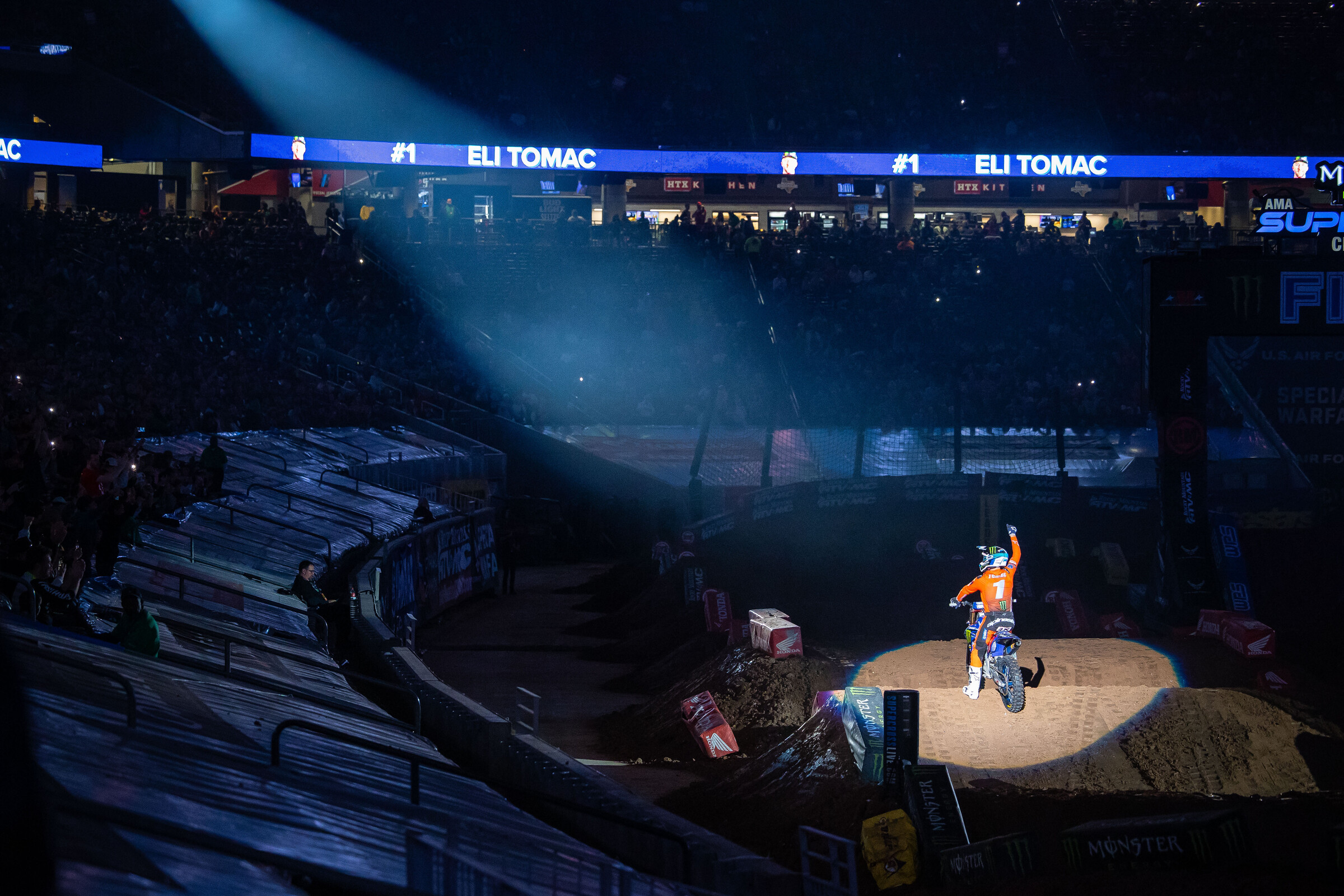 Some updates for the new SuperMotocross (SMX) Playoffs and World Championship coming up in September. For the last few months, Eli Tomac has been pretty consistent in saying his deal with Monster Energy Yamaha Star Racing is for supercross only, but on Monday night's PulpMX Show he said he's now up to 50/50 on competing in the three SMX races, which run in Chicago, Charlotte and Los Angeles.
"I'll say right now there's maybe a 50/50 chance," says Tomac. "The odds are getting better. At the start of the season I would say I was 98, 99 (percent) done, but the odds are getting better now."
If Tomac wants to keep racing, be it SuperMotocross, Pro Motocross this summer or even another run in Monster Energy Supercross next year, his team will accommodate, of course. This is all Eli's call.
Tomac is automatically seeded into the SMX races because he has a 2023 AMA Supercross win under his belt, and that at least earns him a birth into the LCQ at those races. He likely end up better than that, even if he doesn't compete in Pro Motocross this summer. Last year, Cooper Webb and Marvin Musquin didn't compete in any 450 rounds in motocross but still ended up 10th and 11th in combined 450 points for the year, anyway. So, if Tomac continues his good run in supercross, he'll likely be well inside the top 20 in combined points even if he doesn't race outdoors. If he's in the top 20, he won't need to use the LCQ to get in.
In other news, Jett Lawrence has pretty much confirmed he will be racing the 450 class for the SMX races. That was in question because Jett is racing a 250 in supercross but will switch to a 450 outdoors. He'll likely, then, score enough points to be SMX eligible in either class. After Oakland, Jett said he will begin testing a 450 because he will be racing it in SMX.
"So next week I start on the 450, I am doing some actual supercross testing," said Jett. "Doing some testing while I still have my supercross legs underneath me, but mainly getting ready for that SuperMotocross [playoffs] thing at the end of the year. And to kind of get a rough setting because I think I have said it multiple times now, no one really knows what the SuperMotocross layout is exactly going to be and how it's going to be built."
The SuperMotocross races create the first "post season" in the sport's history. After the traditional Pro Motocross Championship concludes, three races will take place on September 9, 16 and 23rd, with tracks designed to be a hybrid of both supercross and motocross, and big prize money on the line for individual finishing positions and final point standings in the three races.