Tampa, FL
Tampa
Monster Energy AMA Supercross Championship
Minor controversy here. The Tampa track for Monster Energy AMA Supercross featured a long whoop section, but it ended up being slightly shorter than it started. On Friday, I was overlooking the track while rehearsing for television, standing alongside the legendary James Stewart. Stew took one look at the whoops and asked aloud if the section ended unusually close to the corner.
I walked over to this section during track walk on Saturday, and I talked to a few Monster Energy Kawasaki staffers as we looked at the whoops. Not only did they end very close to the turn, the 90-degree turn was flat, without a berm to aid in cornering. If a rider made a mistake in the whoops, there wasn't much room to recover for the turn before going off the track and straight toward the stadium wall.
Turns out Stew was right—by Saturday's race, two whoops were removed.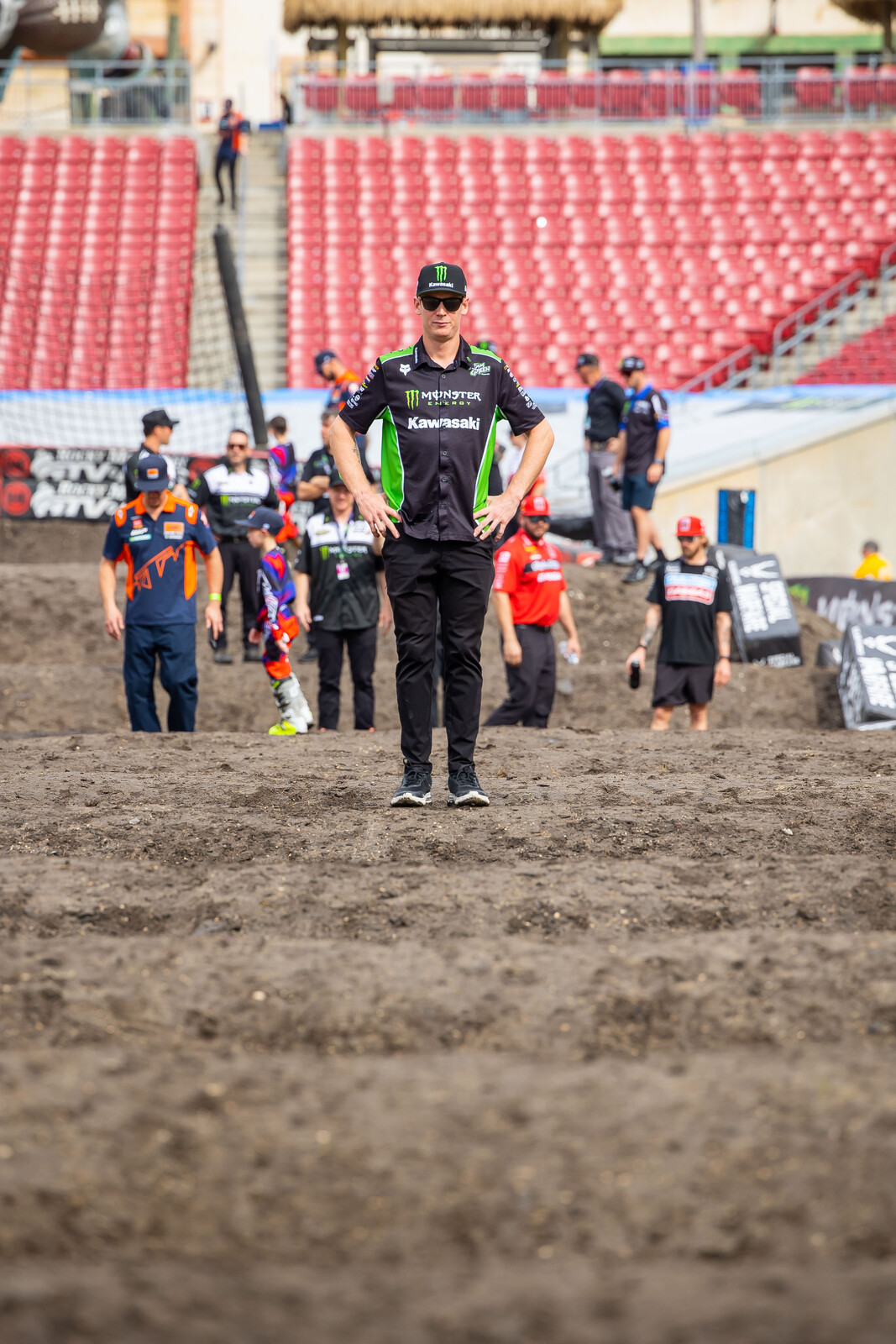 We've heard this decision didn't go over well with every team. Our Steve Matthes heard that one team, in fact, felt like removing those two whoops made it easier on the competition and neutralized an advantage. Now we can dig deeper. There's always this rumor that Roger De Coster holds extra power or sway over track builders, and they'll take his word over others. From De Coster's days at Suzuki with Ricky Carmichael, who usually wasn't as strong in whoops as competitors like Chad Reed and James Stewart, to today, where De Coster's KTM riders like Cooper Webb or Marvin Musquin have not been the best in whoops, there's always a specter that De Coster tries to get tracks changed to help his guys.
This week, Feld Motor Sports' Mike Muye explained to us how decisions get made on track changes, hoping to put some of these rumors to rest. Here's how the process worked in Tampa:
"Prior to the start of practice, some riders mentioned the need to remove one whoop at the end of the lane to provide more time for the bike to settle before making the turn leading up to the triple," said Muye. "So, we did. After watching practice, our team (both Feld and AMA) felt it to still be unsafe as several riders we witnessed had near issues. So, we (Feld and AMA) decided removing an additional whoop was the best and safest option. It should be noted that we never take a single team or rider's advice on track adjustments. If approached with a concern by a team or rider, we'll immediately ask other teams and riders for their input. This provides us with a collective decision for the better, rather than one individual's preference."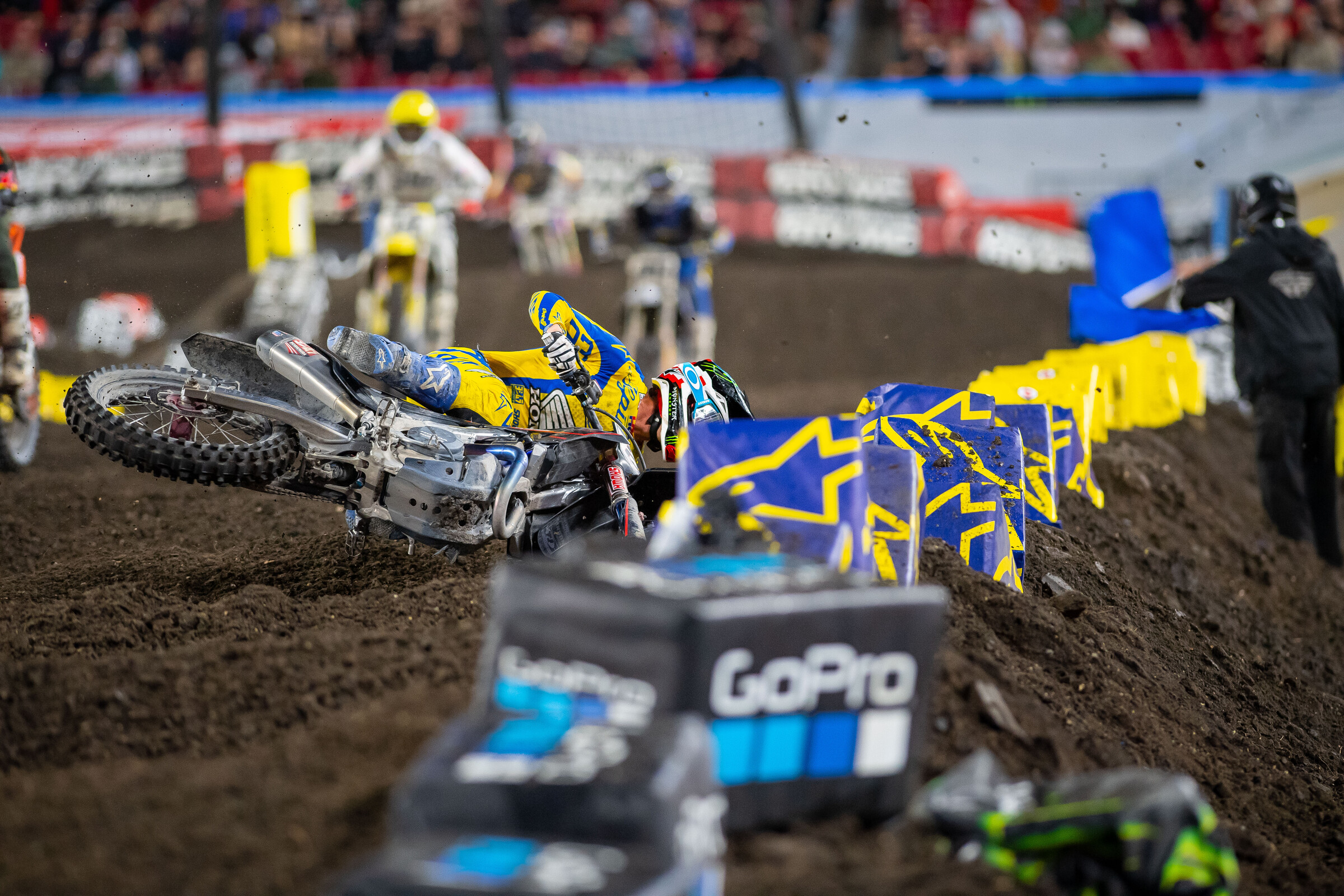 Muye says there's a group text going to address these concerns, but they will also meet in person or over the phone if time allows.
"For example, in Houston we had a quad," Muye explains. "We consulted four teams about how best to approach it. The options were to lower the take-off making it unobtainable to even reach landing, removing the landing all together, or mellowing the landing to make it safe as possible for those that do hit it. The collective decision was to make it a safer landing but still leave the quad as an option."
There's a fine line between safety and challenging when it comes to obstacles on a racetrack, and Feld and the AMA are out there each weekend trying to straddle that. Then you have the fine line between teams and riders truly expressive safety concerns, without crossing the line into suggesting changes that could alleviate a rider's weaknesses or play up a strength. All of these answers seem easy and obvious to one, but it takes multiple opinions to make that right call, and that's never easy to do.