And now we have three winners in Monster Energy Supercross for 2023, with Cooper Webb doing Cooper Webb things to emerge with a victory in Tampa. Just a week ago, Webb wasn't on the leader's pace and Eli Tomac and Chase Sexton were threatening to break away from the supercross field like they did last summer in Pro Motocross. Webb went to work and figured it out, logging the type of ride in Tampa that is his trademark: starting up front, staying in the hunt, applying pressure, changing lines. Then when Sexton crashed from the lead, Webb had victory in hand.
The Red Bull KTM rider talked about this in the post race media conference.
You certainly didn't give up, especially in that main event. In particular, in that whoops section where Chase went down. You had made a pass for that, I think the lap before, and you got sideways. It looked like on that second pass the next lap, you corrected and went to the right and were able to get through clean. I want you to take me through that main event, and also that whoops section, how it broke down and how you were able to adapt to get this big win.
They were tough, like you said. I had a big moment. I had to change my line. I was doing the line that Chase did and it had a really big V and it would just kick you left to right. I don't know how I saved it, but I did. Kind of just tunnel vision. Me and Chase were going back and forth. Maybe one lap I would be a bit better, he'd be a bit better. It was tough to judge with the lappers tonight in that sand section. One time he'd get through clean and then the next, vice versa. It was a hard-fought race, for sure. Obviously, the mistake helped me, but it was definitely going to be a really fun last five laps. I'm just stoked. It's been a long time. Like you said, the day didn't go exceptionally well. Especially the heat race was pretty dang bad. Just feels great not only to pull myself out of that, but also just to establish myself at the front again is truly amazing.
First time in 21 races, is that right?
Yeah, that sounds like a long time.
Cooper, you said yesterday you really wanted to win, and you delivered on that, but how much were you on the edge trying to stay with Chase there? Or were you pacing yourself to be able to attack in the last couple of minutes?
Yeah. I didn't feel like our pace was anything crazy. I thought it was just consistent laps. I felt good. Like I said, one lap he'd maybe pull a little bit and then I'd catch back up. I didn't think we were on the edge. The track was really tricky, slippery. It'd get edgy. We kept cutting down lower and lower and lower. The biggest thing was just getting clean, consistent laps. But I felt really good. Well within the comfort zone. Was feeling really good to go to the end, for sure.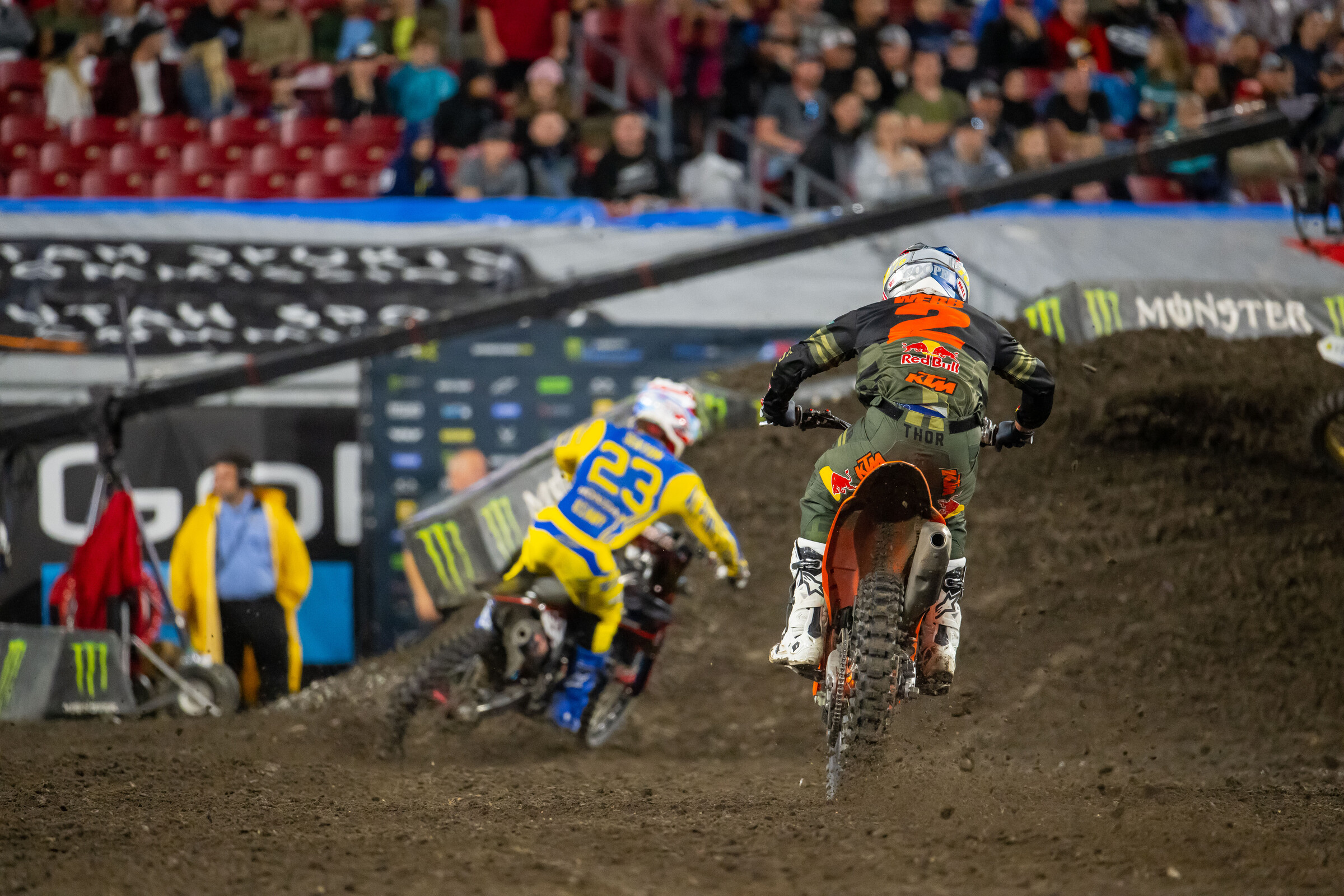 I think from this week, I knew this race was big. I was starting to kind of slip back a little bit in points, so I was saying all week I need to come out and execute a good result. Like I said, the way the day went, it wasn't really feeling anything special. I felt like I could do well, but wasn't really clicking. Then in the main event, I just kind of turned my brain off and went to work and got a good start, which always helps. I rode some really solid laps and put myself in a good position. From the championship standpoint, it's definitely a great spot to be. We're in a really good spot. I think for me, confidence is key. I got that first win and I got that feeling back. I'm excited for the future.
Hi Cooper, I'm Ben Bridges, stat man. You have 96 starts, this is your 20th win. You're now 10th on the all-time supercross win list. Thanks to you, KTM has won a supercross for 12 consecutive seasons. Moving forward, what does this do for your confidence?
It's cool. I think for me, once I get that first one, I just know what it feels like to win again and what it takes. I'm excited. Like everyone keeps saying, I think '21 was the last time I won. It's been over a year. So, to get that confidence and know you can do it again, you have the equipment, the fitness, the speed, it's super encouraging. I'm excited and hopefully we can keep the ball rolling.
Cooper, last week you had made a mention that for you, you weren't comfortable with the track and how fast it was. So, was it more the track tonight was better for you, or was it stuff that you worked on in the week that helped?
It's funny. I worked on all the things I struggled with at Houston. Then tonight, it started off kind of weird. With the rain it was super slick and stuff, so you had to kind of really still carry good momentum, but it's a weird dirt. We ended up cutting down a little bit more than I think I was anticipating, but we made it work and it felt really nice. Basically worked on the opposite this week. I saw how I needed to work on roll speed and just carrying maybe some higher gears and really riding the tops of the berms. That's really what we focused on this week. You kind of have to read the track and know what you're going to get. Tonight, like I said, I didn't feel super great all day, but I think the sand was maybe a lot of that. If you didn't get that right, it really showed. So, the main event, I felt like I got the sand really clean, and then had some really good laps and some good whoops passes and was able to ride well.
You mentioned today you didn't feel it in qualifying and practice. Once you got in position tonight in the main though, how much of it was your race craft, your bike, your training and whatever, and how much was just being pissed off for being beaten so many times?
Yeah, it's weird. I feel like you kind of just wake up and you do track walk and you have a good feeling about the day, at least for me, and I did. Qualifying actually went pretty well, but the heat was awful. It's something that you just kind of sit back and you're like, man, I don't know if you can turn it around. You kind of doubt yourself. You really have no choice not tot turn around. Our dart fish guru, Seth [Rarick], yelled at me and said I should just pack it up and go home, and I had to prove him wrong.
Cooper, on the broadcast, you sort of stated you watched Chase get flustered towards the end of that main. Is that sort of a game plan tactic you can have, sort of pressuring these riders into mistakes? Or is it just a part of the sport?
I think it's tough when you're leading, especially tonight in the sand late. Inside and outside were, depending on how you got them, could be really good and really bad. At the end, I got a little bit closer to where the lappers play a part. You want to go one way, but then maybe they go that way. I could just tell we were getting late. The pressure starts to rise, as far as getting a win. You really want to win bad. I saw some kicks in the whoops throughout the main, but at the end when we could honestly barely get that triple, it was hard to carry that speed into the whoops which then was making some mistakes. I feel like I'm always really strong. Tonight I was stoked with how I actually rode in the beginning of the race. I had some good intensity. We worked on that this week. So, you never know what's going to happen, but it's really hard when you've got someone on you and you're getting late in the race. Like you said, you want to change lines but you're sticking to the plan. It's tough.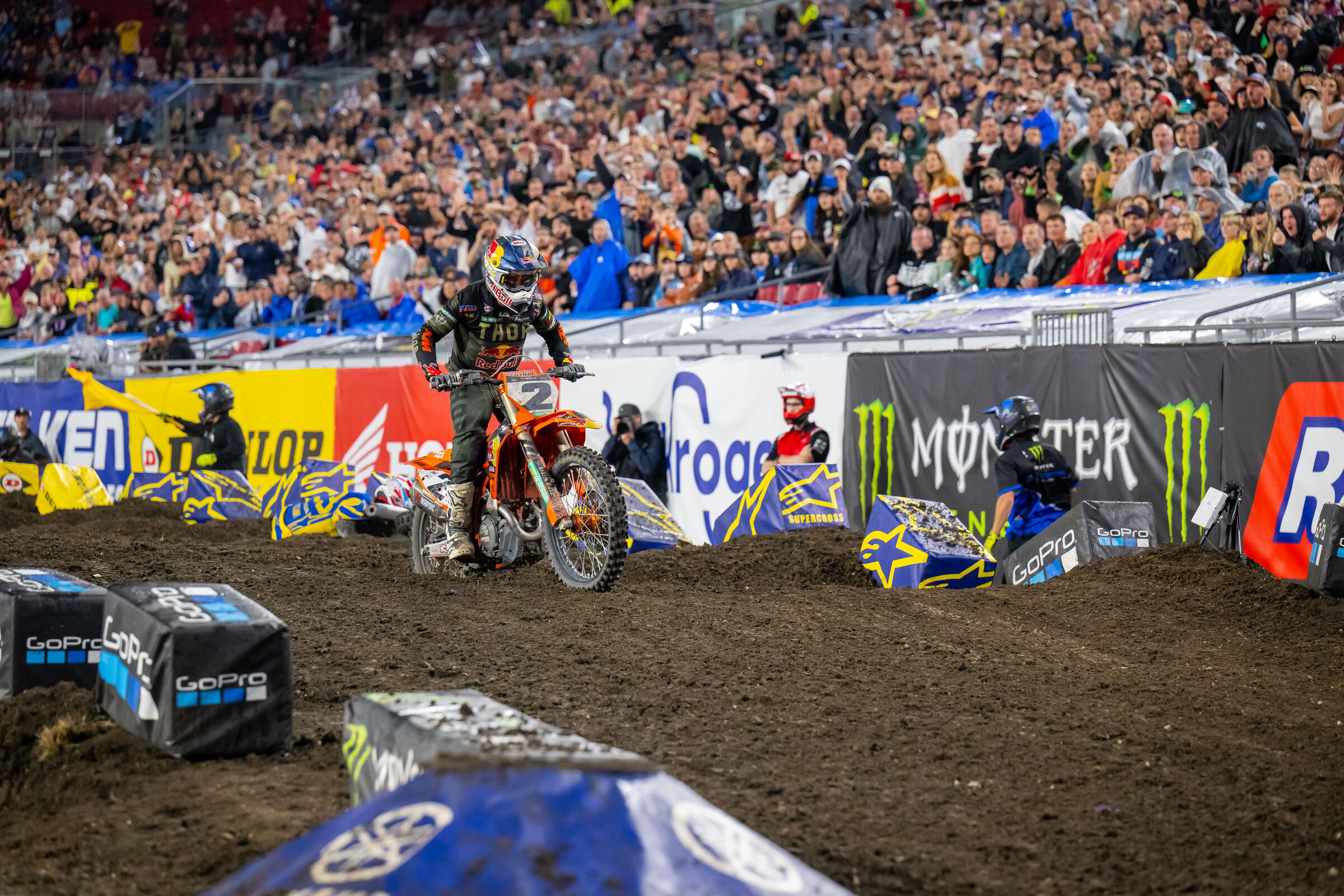 Cooper, when you almost went down in the whoops a little less than three minutes to go on the clock, realistically as you kind of gathered yourself back up, did you think there was a chance with Sexton?
No. I made the mistake because the lapper was kind of in the line I had been all day. I changed lines at the last minute and I just knew how that V was. So, I just held on. I felt really good and I felt like the pace we were going was good. I felt in a good spot. So, once that happened, it was more just like, "Yeah, I made that mistake because of maybe a little bit coming in slower and a different line." So I knew it wasn't really a big deal. I could just feel like there were certain spots where I could catch back up when needed. I was able to do that. Then obviously he made the mistake, but I was still well within range, for sure.
Prior to the mistake, honestly, Chase has been fantastic in the whoops all year this year. To see you blitz along lap after lap and sort of keep in there with Chase, you're known of course more of a jumper in a big, long whoops section. Would it be an accurate assessment to say this is some of the best we've seen from you, in terms of skimming and bike control in the whoops?
Yeah, I think so. It's been good so far. Obviously, they're tough. We all get kind of sketchy, but we definitely put an emphasis on that in the off-season, knowing how important they are. So, it honestly does. It feels great to hit them whatever we did tonight, over 20 laps. I think we're in a good spot, especially last weekend's were really tough and Chase was crushing those. To be able to run with him and not lose any time tonight was encouraging.
Cooper, I believe in 2019 you finished 5th and 10th in the first two rounds, then you won one race, and I think you won four of the next five. In 2021, another odd year. You packed a bunch of those wins together. Is it fair to say that now that the dam is broken that this is a characteristic of your career, that the floodgates open?
Yeah, I sure hope so. Like you said, I think once you get the first one, at least for me, for the season, it kind of changes everything. Hopefully we can keep that ball rolling. Big odd year guy, for sure!