Tampa, FL
Tampa
Monster Energy AMA Supercross Championship
Too often the same story for Honda HRC's Chase Sexton: the speed and ingredients to win, but a mistake stops it from happening. In Tampa, Florida's round of Monster Energy Supercross, Sexton was again the fastest rider in qualifying and dominated his heat race, but in the main, Cooper Webb hung tough and applied pressure, and Sexton threw the lead away via a late-race crash in the whoops.
In the moments after the main, Sexton looked devastated. Later, he was able to gather his thoughts and put a more positive spin on the season. Was this a devastating loss, or just another learning lesson? Plus, Sexton made up points on series' leader Eli Tomac. Was this a good night or bad night? Chase made it sound pretty good in the post-race press conference.
Chase, you gained good points in the chase for the championship. Do you feel better today with the motorcycle than the past race? What took you to this almost win and the second place today?
Overall, I feel like my riding and racing keeps getting better. Tonight was some of the best main event riding I've had, aside from Anaheim 2. Cooper and I were kind of going back and forth on who can go faster each lap. The lappers were definitely getting both of us, especially in the sand section. So, it was really just trying to be able to focus. I didn't know he had a sketchy moment in the whoops the lap before. That main line just kept getting worse and worse. I was trying to make it work, and obviously it bit me. But overall, my riding was good. I'm having fun. Obviously, I would have loved to have closed that one out. It was going to be a battle down to the wire, obviously, with him, and I was looking forward to that. But took myself out of that one. Just go back to work. I went and kind of checked the whoops out a little bit and probably need to move around a little bit more in the future.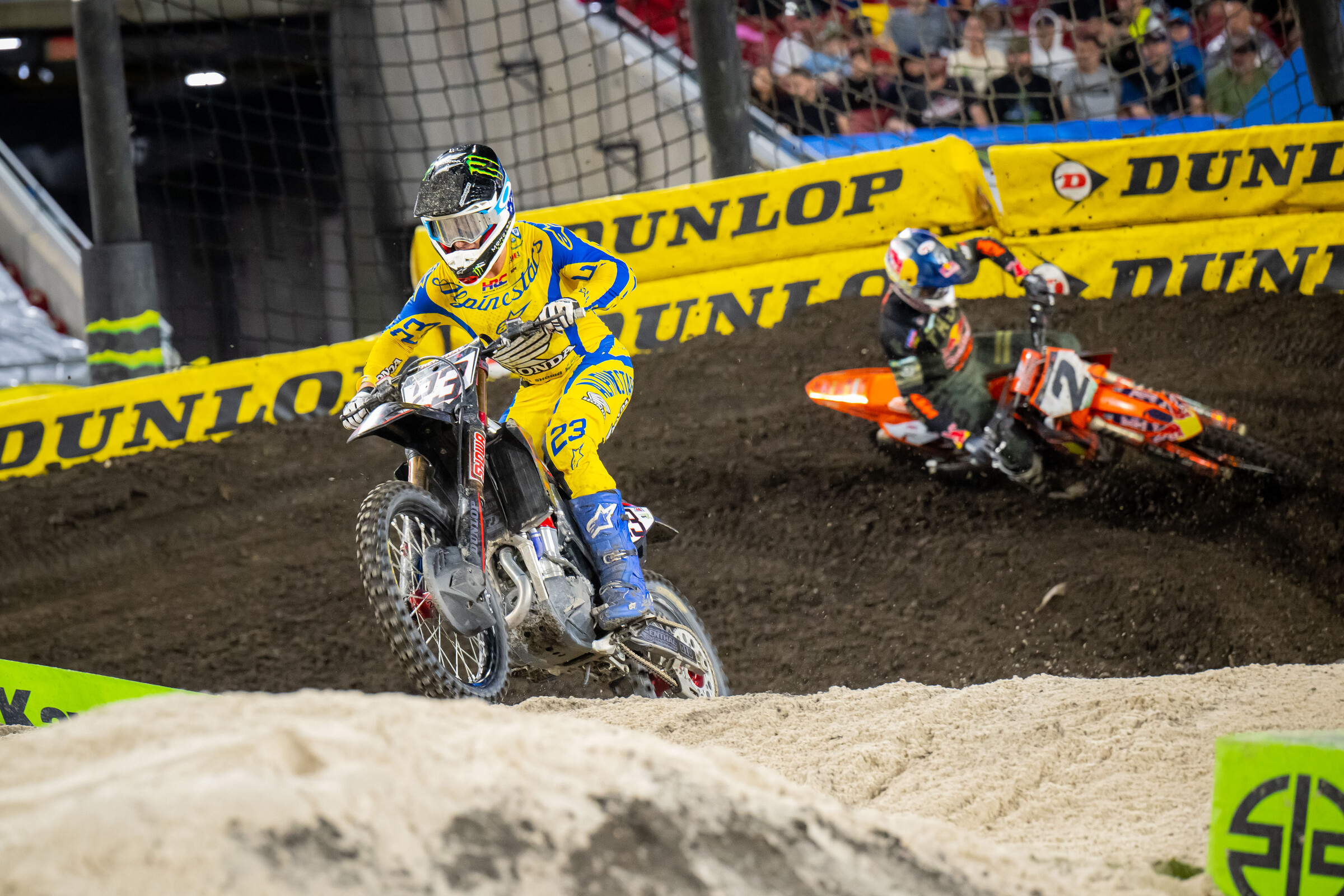 Can you talk about what it's like to start closing that gap in points?
A guy like Eli, he doesn't make a lot of mistakes. Tonight fifth is probably not where he expected to be and that's not normal for him. So, definitely need to make up points when I can. Tonight I felt really good in the main event, like I said, and was riding well. Obviously made up points, but definitely could have made it up even more. But, it's racing. Like I said, I'm going to do whatever it takes to win, and if that's crashing late in the race trying my best, then that's what's going to happen. I got to fix those mistakes obviously, but for me I'm just going to put myself out there every time and do my best. Overall, I'm glad we made up some points. Three of us are within four. So, it's going to be fun. I don't feel like it's a three-man race, but we've definitely separated ourselves a little bit from the rest of the field. So, looking forward to going onto Oakland and keeping this thing rolling.
Chase, you've just been unreal in qualifying lately. In regards to getting into a rhythm on race day and having confidence going into the night show, what kind of mental importance does qualifying have for you?
Honestly, it doesn't really matter just because you don't get anything for qualifying first, but every time I go out there that's just my goal. I don't know why. My speed is definitely not an issue. I think everyone kind of realizes that. It's more the main events. Tonight, like I said, was some of the best main event riding I've done, especially on the long ones. Triple crown is different. It's more of a sprint. Tonight, I feel like I had a good flow and was piecing the track together good, especially when we started cutting down more. Usually I'm late to that kind of thing, and I feel like I was hitting the turns good and staying low and gaining in the obstacles. As far as qualifying, I think one of my strengths is my speed. It's always nice to qualify first, but at the end of the day, it doesn't really matter. I'm going to keep trying my best and hopefully we can turn one of these things into a win. I wanted to have the perfect day today with the heat race win and qualifying. That's my goal. But got another weekend next weekend to try and do that. Positive with my riding and like I said, I'm feeling good with the bike. That's all that really matters.
Chase, you've been in this position before, late races and had crashes similar to this. Do those old moments creep into your mind during races now as it comes to the five-minute mark when you're leading?
No, not really. It's definitely unfortunately been a little bit of an ongoing thing. Like I said, I'm going to put my best self out there throughout the whole main event. I'm not going to just let him go by me. I had a few close calls in the whoops prior to that. That one obviously bit me. So, I was giving my all and that's all I can do. I was really locked in and focused on what I had going in front of me. Had a few bad runs in the sand. I think he did too. Other than that, I was really hitting my marks. I was doing the dragons back really well, jumping over the top one, linking corners together. So overall, just wasn't meant to be. Like I said, we have I don't know how many more races, twelve or so? So, we've got a lot more tries at it and we're in a good spot. So, I'm going to put myself out there and give it everything I have every time.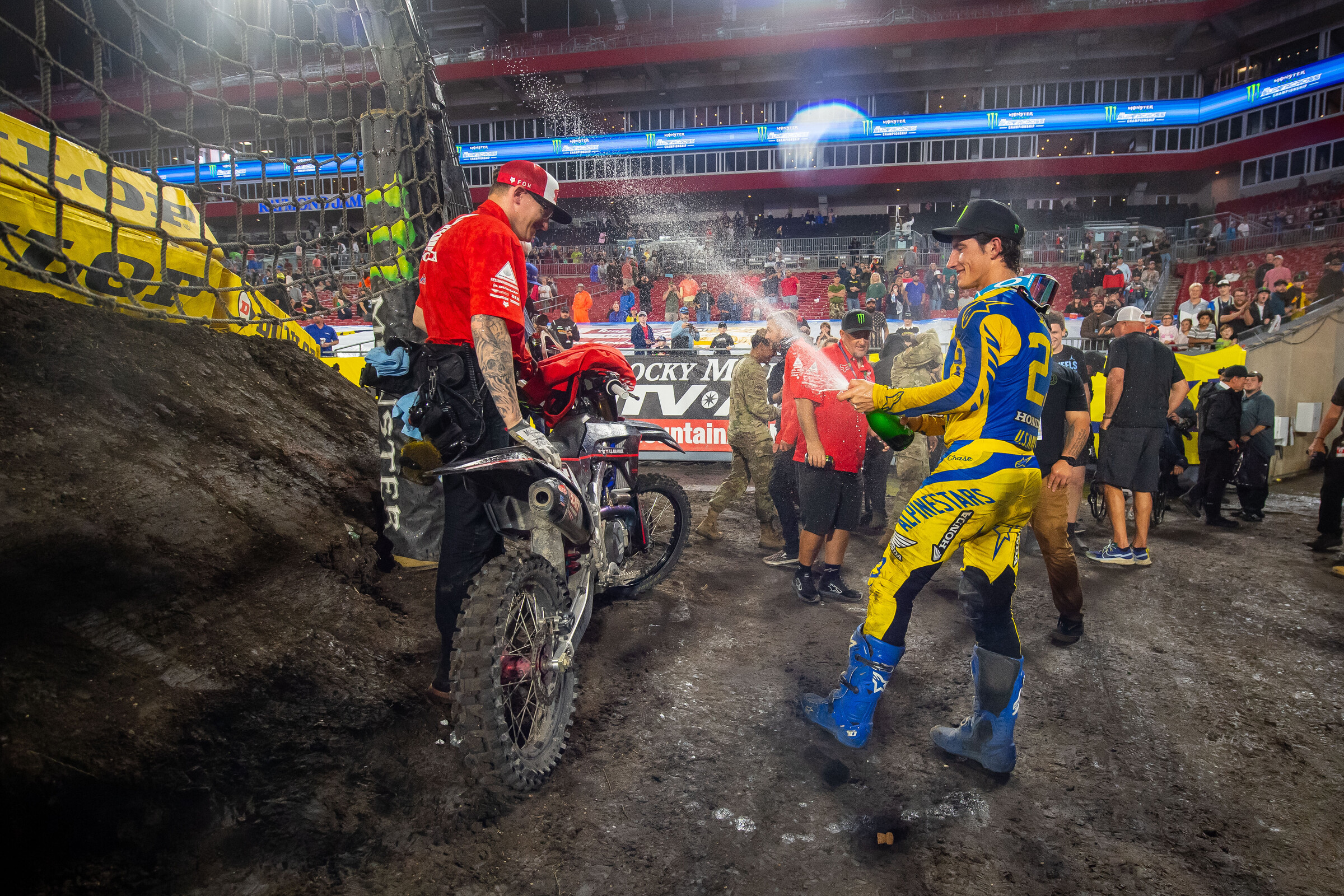 Chase, with the late race mistakes, that's something that you have garnished criticism for in the past. Do you really feel like it's a fair assessment anymore? Do you feel like they've toned down, or do you think it's fair that people sort of still call you out on it?
I guess it's fair until I can close these out consistently. Like I said, for me, I'm going to give it everything I have. It wasn't like that was the only time I got sketchy. It was kind of all main event I was getting a little bit sideways. I've been working during the week a little bit with the bike and honestly on Thursday at home, I was having some really hard times in the whoops, and today I was better. So, other than that, I guess it's a fair assessment, but for me, I feel like I'm getting better and improving. Mentally I'm in a good spot.
Chase, a follow-up to the actual mistake itself. In our sport compared to other motorsports, there's very little communication between rider and team, compared to others. If you would have been given the information that Webb had had an issue and then fallen back on that lap, would you have changed your line? Would you have gone to jumping? Would you still ran the same line?
I got off the track and my dad was ripping me because I didn't go to the left side. That's where Hunter was going. But, I went over there after I fell and I got sideways again. The whoops were slick, and when we lose traction that's where I feel like I still struggle a little bit. I honestly thought he was jumping them. I didn't know he was skimming them the whole time. So, I was just trying to get down that main line and be consistent. I had some really good passes, and some really bad ones, obviously. But they were tough whoops. Now going back and looking at the track after the main event, I went and walked over there, I probably should have moved to the left. They were a little bit more even. They were bigger, but they were even and didn't have a rut in them. Like I said, it's a learning game. It's over and done with now, so all we can do is focus on the future.