Tampa, FL
Tampa
Monster Energy AMA Supercross Championship
Main image by Mitch Kendra
Ahead of today's Tampa Supercross, Feld Entertainment hosted a media day yesterday where riders and teams had a chance to spin a few laps on specific parts of the track at Raymond James Stadium. The plan has been to host media days at each event this season, but weather impacted the first three press day events so the Houston Supercross—in an NFL dome stadium—debuted the media day last week.
During press day, Mitch Kendra and Tom Journet caught up to a few riders in each class to preview tomorrow's race. The duo caught up to Talon Hawkins (coming off his first pro supercross race), Cullin Park (Florida native), and Jeremy Martin (podiumed the 250SX main event here in 2020).
Racer X Online: Talon Hawkins, give us a little recap of the first pro supercross race last weekend.
Talon Hawkins: It was honestly insane. It was a gnarly experience being under the lights like that with all of the fans. But I just tried to kind of block it out and ride a fun race. So yeah, had a lot of fun out there.
Taking a quick look at the track before you guys ride here today, what are you expecting? Long sand section and long whoops section, what are you looking forward to most?
I'm looking forward to the whole track. The dirt, honestly, looks super good. I've never been out here for this race—I didn't come for the [supercross] futures last year. So honestly, first look at the track, it looks super sick. That sand section looks pretty brutal. It's gonna get super rough, I know, but I'm looking forward to it.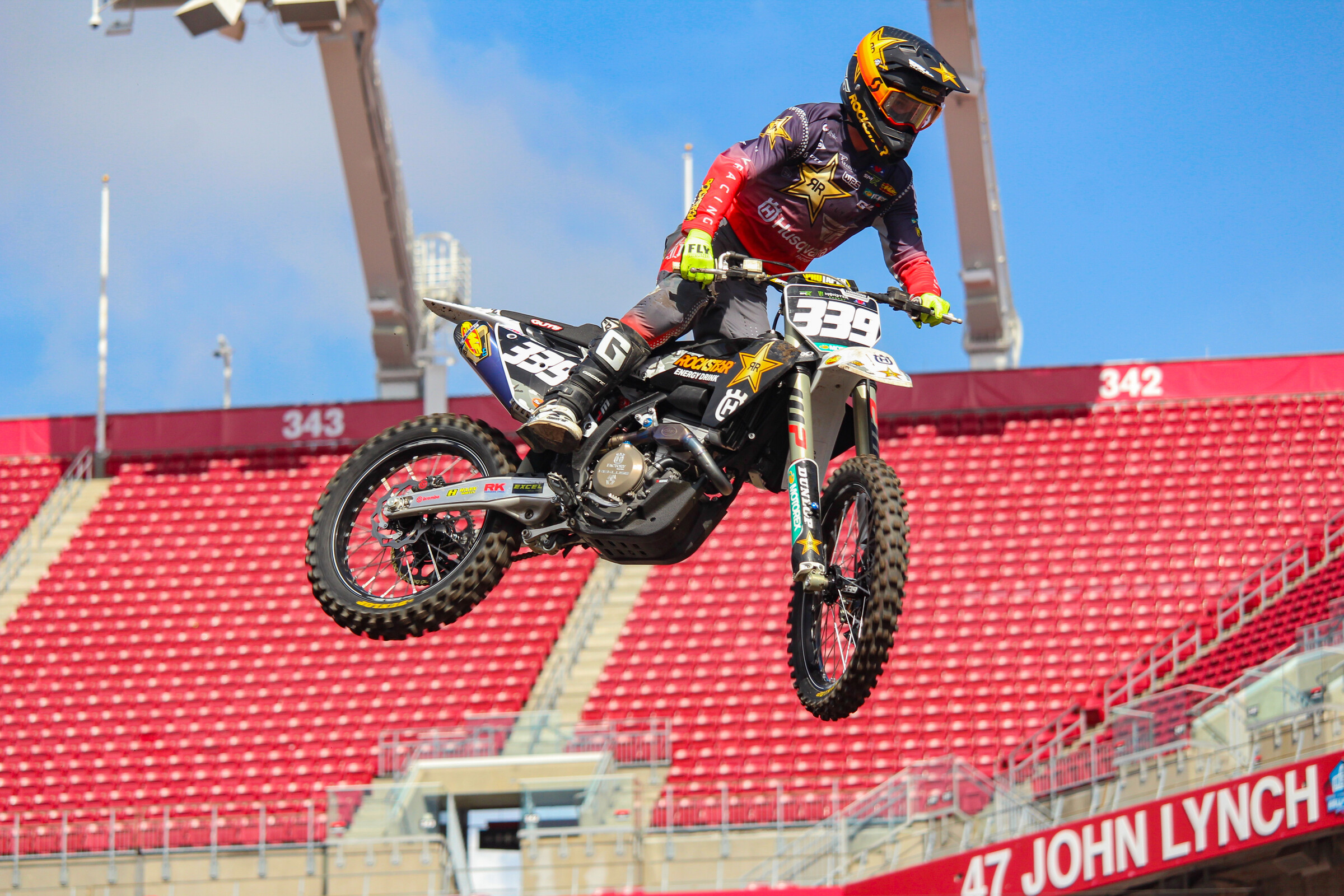 Racer X Online: Give us a little recap of last weekend's first race of the year for you.
Cullin Park: Yeah, I was pretty happy with it. I ended up P9 on the night. I honestly had a really good day going. My heat race was a little rough. Luckily, I was able to turn it around for the main. I got ninth and I actually matched my career best from last year and I left there pretty unsatisfied and I'm not sure why. Obviously ninth, you're always there to go win. But got my own goals.
Just being my home race, I got a lot of family and friends coming here so I am really excited for Tampa. This is my first time racing here so I'm looking to have a really good night tomorrow.
Not to rehash it too much, but your contact with your teammate Coty [Schock]. What was happening there between it being your teammate as well and everything.
To be honest, I locked up after that happened. Like in the race. It was scary, man. We hit in the air and then I saw his whole crash and then when I came back around I saw him standing I was like, 'Holy crap.' Like I'm glad he's okay. That was bad. It was a racing thing. In the heat of the moment, everyone's fired up. But I'm just glad Coty's okay in the end because that was a brutal one. And I'm glad okay, too, because that could have been bad for both of us.
Like you mentioned, your home race tomorrow, when you look at the track, what are you expecting out of this track tomorrow? Big sand section, maybe some long, tough whoops.
Dude, the whoops are really long, but the hardest part is they are into a flat corner, like right into one. So I think that is going to be tricky. The track looks pretty basic for the most part, besides the sand. The sand is going to be deep and it's going to be gnarly. But I'm kinda here for it. I'm from Florida, I like the sand, so these long legs should be digging in the sand.
Racer X Online: Give us your preview of expectations for this weekend.
Jeremy Martin: Yeah, the thoughts on last weekend in Houston, it was solid. I had fourth locked up there then that last lap I landed on that Tuff Block. Probably that one time I wish I maybe had my finger on the clutch. [Laughs] But no, it was solid. We're here in Tampa and looking to have another solid night.
You got a podium here in 2020. The sand section is going to be long and brutal but have options for passing. What are you expecting out of the track tomorrow?
I'm stoked on the sand. It's always something different. Supercross is always rhythms and whoops and this and that, but I'm an outdoors guy so I don't mind getting a little dirty. [Laughs]
Watch more from yesterday's press day in the video below.