Austin Forkner (Knee) Out for Remainder of Supercross [Update]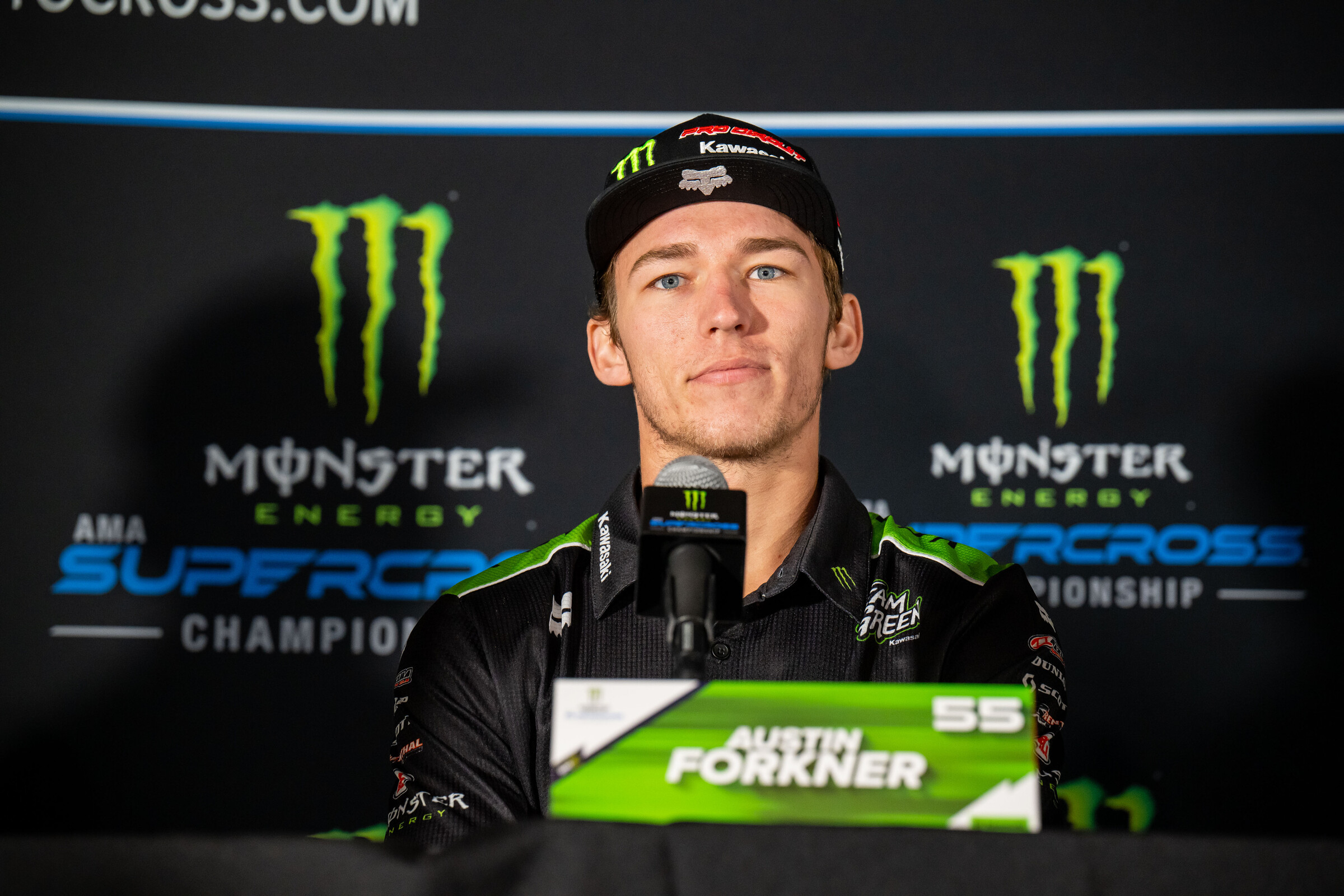 Oakland, CA
Oakland
Monster Energy AMA Supercross Championship
The toughest of tough breaks for 250SX West contender Austin Forkner, who carried the fastest overall qualifying time in the 250SX class into the night show at Anaheim 1, only to suffer a huge crash just out of the gate in the main event. The violent wreck started when when Forkner bounced off of RJ Hampshire in the typical out-of-the-gate elbowing, but then glanced off the back of his teammate Cameron McAdoo's bike. It was all incidental contact, but within a second Forkner's bike knifed and he went flying. He never even made it into the first turn.
This evening, Forkner's Monster Energy/Pro Circuit Kawasaki team confirmed the news that is feared: Austin is out for the supercross season with a knee injury. It's the latest in a series of setbacks for Forkner, who has now had an injury take him out of the last three supercross seasons early in the campaign.
The team's press release is below:
Austin Forkner Sidelined for Remainder of the Monster Energy AMA Supercross Championship
Foothill Ranch, California – Monster Energy/Pro Circuit/Kawasaki rider Austin Forkner will be sidelined for the remainder of the Monster Energy AMA Supercross Championship following a collision at Anaheim 1 on January 7th. Forkner was on track to battle for the 250SX Western Regional Championship when a collision during the start of the Main Event at Anaheim 1, resulted in an injury to his right knee. After consultation with medical professionals, it was determined that the injury will force an early conclusion to Forkner's 2023 Monster Energy Supercross efforts.
Forkner was off to an impressive start in the 2023 Monster Energy AMA Supercross Championship with the fastest 250SX qualification time and a come-from-behind podium performance in his heat race. After a full off-season of preparation with his team, Forkner was equipped to contend for the 250SX Western Regional Championship in 2023.
"I felt great going into this year and was ready to challenge for the championship," said Forkner. "I think my qualifying and heat race speed proved that the preparation from the whole team was on par to win races. Unfortunately, I was involved in a racing incident during the start of the Main Event and injured my knee. This is definitely a frustrating situation, but I'm extremely motivated to focus on my recovery and I will get back to work with the team."
"As we've seen from Austin throughout his career, he has the speed and mindset to compete at the highest level," said Monster Energy/Pro Circuit/Kawasaki Team Owner, Mitch Payton. "Austin came into the season with the ultimate goal of winning a championship and we feel he had done the right work to make that a reality. This injury will delay that goal until Austin is healed up and ready to return to competition, but he has our continued support through this time and we look forward to going racing with him in the future."
Further updates on Forkner's expected return to racing will be announced when available
Update, Jan 11: Austin has now put together a video on his Instagram, explaining he has a torn ACL and more damage to his knee, as well as a small break to his hand. He's very emotional in the piece, saying he's "embarrassed" to have exited supercross early for the third-straight season, and thanks his team for supporting him even though, as he says, he hasn't given them a reason to, since he hasn't gotten results.
Austin explains all of the damage below.