Anaheim, CA
Anaheim 1 (A1)
Monster Energy AMA Supercross Championship
After battling with Eli Tomac in the 2022 AMA Pro Motocross Championship last summer, Chase Sexton was slated to be a pre-season title favorite for the 2023 Monster Energy AMA Supercross Championship. Sexton earned his maiden 450SX main event in 2022 but had some mistakes throughout the year that he is hoping to clean up this season as he enters year three in the 450SX Class.
At the 2023 season opener, Sexton was the fastest overall qualifier, won his heat race, and then led five laps in the main event before finishing third behind Eli Tomac and Cooper Webb. After the race, Sexton spoke to the media during the post-race press conference.
Racer X: Chase, when you made the mistake in the rhythm lane and allowed Eli to catch you and then get by you, it seemed like it took you a lap or two to get back in rhythm. Was there anything wrong with the bike? Anything going on in your head? It definitely didn't seem like you were riding the same until the end.
Chase Sexton: The track, like Eli said, was just really gnarly. When you make a mistake like that… What happened was I actually over-jumped the quad into the corner and landed in a rut and it shifted to third, and I didn't realize. I came out of the corner in third and just had no lift. I tried to go up to the next one and just kept casing the whole rhythm section basically and lost what felt like forever. After that, it was really hard to get back into a flow, until honestly the last lap when Cooper passed me. The last lap felt good. I found some different lines. It really was just being able to move around. I didn't move around enough to see what other lines were doing. I kind of was just narrow-minding on what I was riding. That's something I have to adjust to and these guys are no slouch at that, for sure. They know how to ride rough tracks, and that's something that I'm still learning. But overall, it was a solid day for me. I wish I would have rode a lot better the last ten minutes of that main event, but we go back to work and work on it for next week.
Chase, what's your mindset going into next weekend? You rode awesome today. You had so many amazing laps, but obviously it wasn't the result that you wanted. A lot of people can learn from you and from your racing. It's challenging to have a mistake and then to fight back. What are you going to do this week and what's your mindset going to be on?
For me, really just working on my motos and just doing more and more laps. I'm pretty comfortable on my bike. Really it was just being at a race setting, being back on a supercross track. Anaheim 1, for me that was probably one of the gnarliest supercross tracks I've ridden other than Daytona. So, that was really hard to jump into and be consistent and perfect throughout the whole main event. That's something I struggled with. So, being back in a race setting was good for me to get through this race, and now just turn my focus to next weekend. It's going to be I think probably wet again and gnarly. So, just try and focus on clicking off better laps. During the week, it's so hard to really make it the same kind of race day conditions. So for me, just focusing, getting my mind in a better spot later in the races is going to be my biggest thing. I felt better once Cooper passed me. It got a little fire lit underneath me, but it was obviously the last lap. So for me, just focusing on doing my thing during the week and c coming back out and having another 20-minute main event.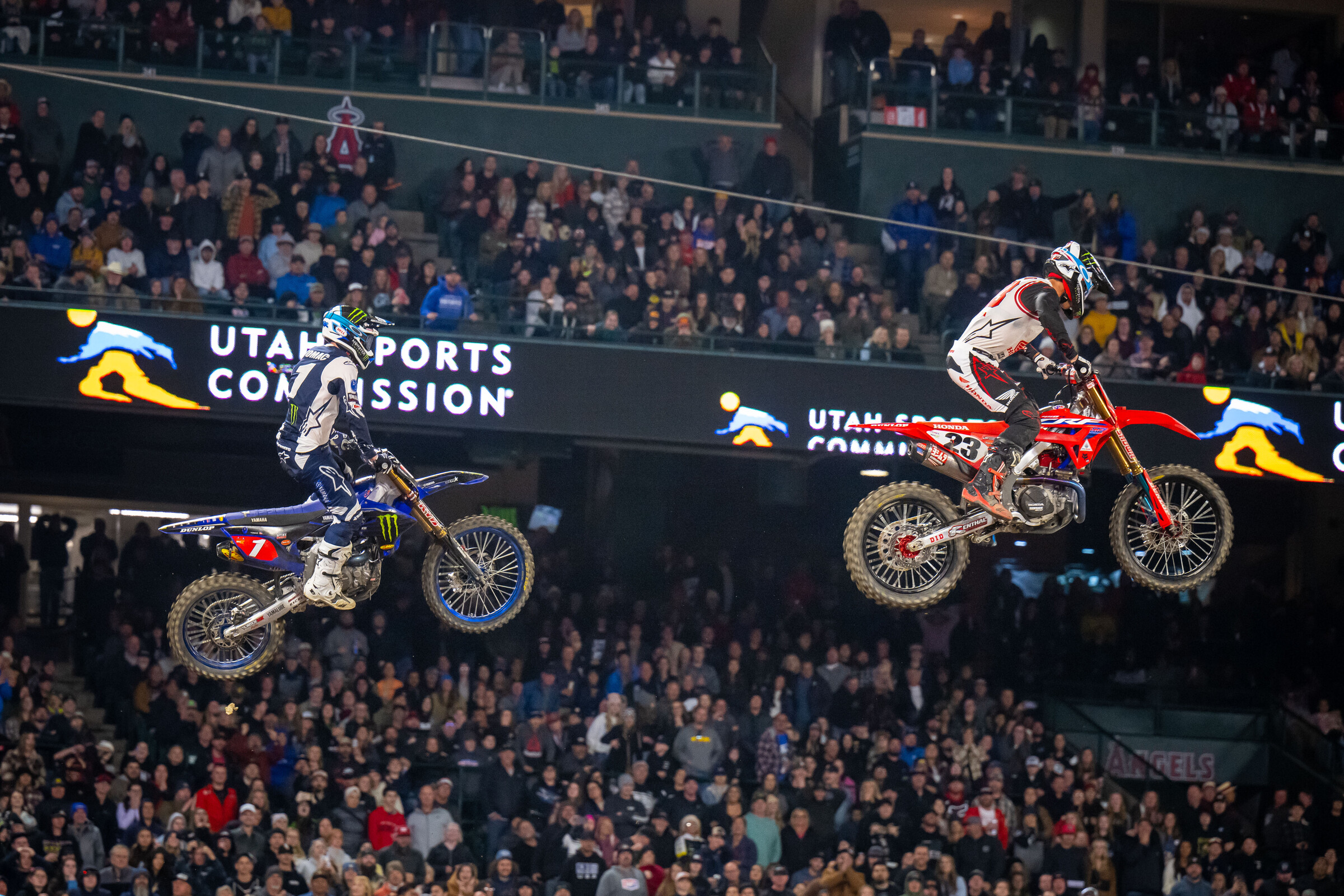 Chase, you looked really patient on the way up to the front to catch Malcolm. I know you talked a lot about that over the off-season. Can you take us through that pass? Did yo know that you put him off the track, or was that on purpose or accident?
Yeah, I was super patient early. I knew that the track was going to get super ate up. So, I wasn't in a big hurry, I should say. Eli got up to the front, and once he got up there, I was like, okay, well, I kind of really need to start making passes. Kenny ended up missing the finish line, so I got him. Then Eli went down and I'm like, okay, if I'm going to make a charge to try and put a gap, because I knew Eli was still somewhat close, I just wanted to get by Malcolm. He missed that rhythm section and I quadded into that corner. Honestly, he kind of just stayed on the gas. I didn't even mean to hit him. I just was running the corner and I couldn't really stop. I hit that bump going into the corner and he was there. So, I didn't mean to hit him by any means. Didn't mean to put him off the track. I wanted to make the pass, and I got it done there.
Chase, we know that you had quite a different setting coming into this season. How was it for you tonight? Was it difficult to evaluate it, considering the conditions, moving forward?
Definitely tough. Didn't expect the conditions we had today. After the rain I kind of did. Tonight it was a good test for the bike. I was really happy with the front. It was definitely a lot more stable than it has been in years prior. Last year, had a really weird kind of twitch coming into the corner here, which caused me to go down. Tonight was even gnarlier than that. So, I think that was a good step in the right direction. I wasn't scared every lap going through the whoops tonight, so that was super good. I felt safe and stable in those. They weren't long, but I felt solid. So, that was nice to kind of be able to focus on the rest of the track and not be worrying about the whoops 24/7.
For all three of you guys, what's your confidence on your bikes going into next week?
Yeah, pretty stoked on the off-season and what we got with the bike. Like Coop said, we didn't change as much as he did, but it's quite a bit different than what I raced last year. We're always going to be tweaking and looking to be better, but overall, I'm happy with the package I'm on right now.
Chase, you've had so many strong runs in supercross and it seems like fairly often, things went wrong. How much did the dominant performance that you had in outdoors last year change what happened today?
Definitely put me in a better mindset. I think last year, even prior to that, I was just really happy. I'm happy to be on the podium, and I was happy to get that race win last year, but I was looking to be in a championship hunt but I wasn't able to experience that. So, last year in outdoors I was able to battle with Eli and it really taught me a lot more than I could have ever asked for. Now, I feel like I've matured a lot over the last summer, and then going into the off-season. It's put me in just a good head space. Confidence-wise I'm good. It changes your riding when you're confident and know what you're capable of doing. So, that's really all. It's just a mindset thing. Everyone knows sports is a lot in the mind, and it's been showing.