Anaheim, CA
Anaheim 1 (A1)
Monster Energy AMA Supercross Championship
Here. We. Go. Anaheim 1 is almost here and with that, the beginning of the 2023 racing season. The SuperMotocross World Championship (SMX) is the brand new, year-long championship series and will bring a learning curve for everyone involved. It will combine points from supercross, motocross and the three-round playoffs this fall to determine a third champion for the year. For now, though, Monster Energy AMA Supercross is the concern and all eyes will be on Orange County, California. Anaheim 1 is an event where I always have more questions than answers. Team switches, career resurgences, off-season injuries, and motorcycle updates all play a big role as to why the opening rounds are a guessing game. Forming hard opinions at the opener has proven to be a bad idea historically. There is simply too much noise and variance to assume what we all see in January will hold true in April. Keep that in mind when we have some weird results on Saturday night. One race does not a trend make.
Dirty Little Secrets
The A1 track is often a bit simple. I believe the approach is to provide a "warm up" to the series and hopefully keep everyone healthy through week one. Not so much for 2023. This is one of the busiest opening round layouts I can remember.
The start is a rare "split start" with half of the field on each side of a bridge tabletop. The outside group appears to be at a severe disadvantage. They have a slightly longer distance to cover and will also be extremely vulnerable as they enter a flat corner from the outside. Any issues from the inside will inevitably push wide and domino effect a mess to those on the outside. If you find yourself on the outside this weekend, you will need an elite level jump off the grid and then nerves of steel to push deep in an effort to beat the inside crew to the apex. Godspeed.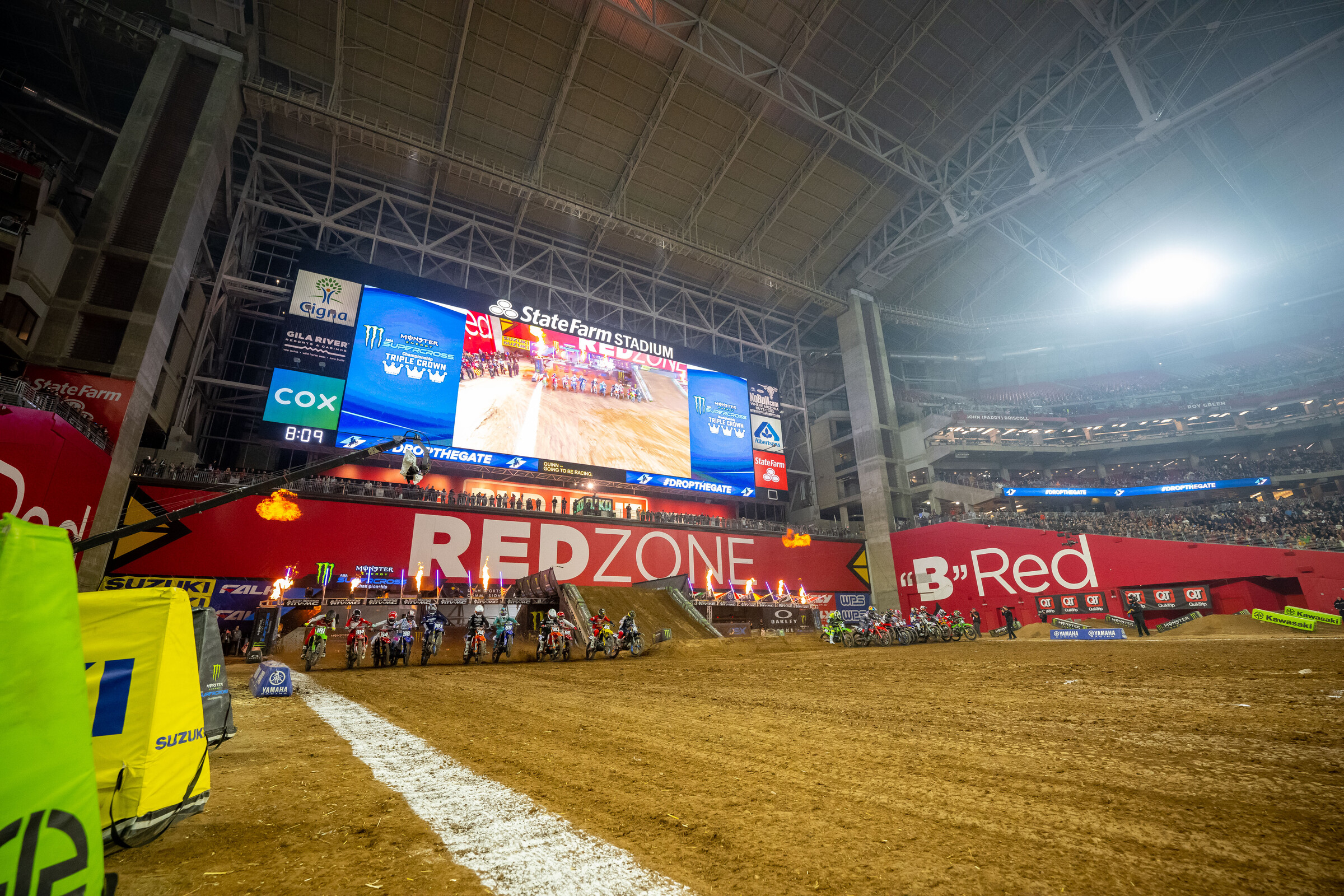 The first rhythm section will be approached differently on the start versus the remaining laps. On normal laps, riders will triple onto the tabletop, step off and then double into the corner. The elite could go for a quad over the tabletop, given the downside is reasonably forgiving. That would then allow them to triple into the next left. Someone will try this and then everyone will wait and watch to see if it's sustainable. This is the way.
Out of the next left 180 (nearest the entry tunnel), riders will likely go two-three here. Depending on the angles of the build, it's conceivable that someone goes three-two which would be quicker but it looks like it's setup for the standard two-three. A quick 180 leads to the lone standard supercross triple for the opening round and into a 90 along the Angels' right field warning track.
This short section will likely be a two-three as riders protect the inside through the prior corner. Up next is a tight left and immediately into the Monster Energy finish line jump. Upon landing, a hard 180 right sends riders into the main whoops section of this track and without much room to build speed. Watch for these to be jumped by most as a flat, tight corner entry doesn't allow for most to blitz at speed. Notorious jumpers like Marvin Musquin and Cooper Webb will be smiling at this setup while the blitzkrieg of Eli Tomac, Jason Anderson, Malcolm Stewart, Christian Craig, Chase Sexton, etc., will have to wait for another round to show their skillset.
A long, sweeping left leads to the aforementioned bridge tabletop and a short set of whoops that will either be easily blitzed or jumped all in one swoop. Exiting the short set of whoops sends riders diagonally across the start straight and mechanics' area.
A 180 right is up next and into two long, back-to-back rhythm sections. The first section has a few different possible approaches, but I think the most likely is as follows: triple, triple, jump over the next tabletop and double into the corner. It's nearly impossible to know exactly how this shapes up with a section like this but watch for several different options exploited.
The next left 180 leads riders down the length of the third base line. This next section will be one to watch, too. There are several opportunities to triple and even quad here. The main question is when and where. I believe the absolute fastest possible line will be 3-3-4-2. Is it going to be the race line for the elite? Time will tell. This quad is one that riders can often put together at the test track, going from a five footer, over two individual three-footers and down siding another five footer. It's typically the biggest jump combo on any standard SX track and not for the meek. Check Chase Sexton's IG for examples of this. It's also the same combo that James Stewart was doing on his KX250 years ago with that infamous bog.
The final corner before re-entry to corner one is a 90 left with an inside/outside option. The inside has a small step up before accelerating towards the first corner exit while the outside sets up for a double across the entire span of the first corner. The outside line will be the preference for those wanting to make that big quad over the tabletop (mentioned in the third paragraph of DLS).
Who's Hot
Eli Tomac went on a serious run in 2022. He is your defending champ in this series and my only real question is how well he gels with the all new 2023 YZ450F.
Jason Anderson won seven rounds of this series last season and that will usually get you a title. Unfortunately, he ran into a white-hot Tomac and made a few unforced errors of his own. Still, he is my pick to win the opener.
Chase Sexton arrived last summer and will come into 2023 with more confidence than ever before. Is that enough to become champ?
Ken Roczen has been the story of the off-season and all eyes will be on his Suzuki return. I think he gets a podium (could be the winner but I am going to stick with JA21).
Jett Lawrence is the brightest star our sport has to offer. At only 19 years old, there is nothing out of reach for this one.
Who's Not
This is always a tough part of the column because nothing has happened for 2023 just yet. Assuming the same struggles that riders faced in 2022 will remain can make you look foolish. Further, riders don't like criticism so much.
My eyes will be mostly focused on the Red Bull KTM riders. They underperformed their own expectations in 2022 and will be looking to bounce back early to set the tone.
Bold Predictions
Steve Matthes arrives at A1 in head-to-toe blue body paint with news that he has joined Vegas' famed Blu(e) Man Group.
Ken Roczen holeshots the main event, reaches 88 MPH and transports all of us back in time to 2018 when that motorcycle was last updated.
After 73 rounds of voting, Sam Bankman-Fried is elected Speaker of the House.
Jettson Donuts goes public on the NYSE at a 9-billion-dollar valuation. Jett's business agent, Lucas Mirtl, buys a space shuttle to celebrate.
Honda HRC brass officially challenges the KTM group to a high-noon duel for the hand of Chase Sexton in 2024.
My Picks
450
Jason Anderson
Chase Sexton
Ken Roczen
250