Los Angeles, CA
SuperMotocross World Championship Finale
SuperMotocross World Championship
After getting hurt in Monster Energy AMA Supercross in 2022, Max Vohland is ready for redemption in 2023 aboard his Red Bull KTM. A strong outdoor season and plenty of testing in the off season has the 19-year-old feeling confident. Vohland, who will be racing the West Coast, sat down with us to share his expectations for this coming year, and his excitement for the new SuperMotocross World Championship (SMX).
Racer X: Two thousand twenty-three is coming up. It's going to be your third year, kind of getting your feet wet racing pro. Last year maybe didn't go exactly how you wanted in supercross, but I think outdoors you felt like maybe you turned it around a little bit. How are you kind of building from that into '23?
Max Vohland: Yeah, of course getting hurt again at supercross… I wanted to get those gate drops, but definitely feel like we matured a little bit and put it back together. Even coming off another supercross injury, because I was trying to come back, I only had a few weeks going into outdoors. So, I was still trying to build even from there. But I feel like we definitely picked it up quick and built some strength back and got to 100 percent. I feel like I made some good results. I was close to that podium a few times. Just try to build off that and get into 2023 and hopefully leave where I left off in outdoors and be a top-five guy.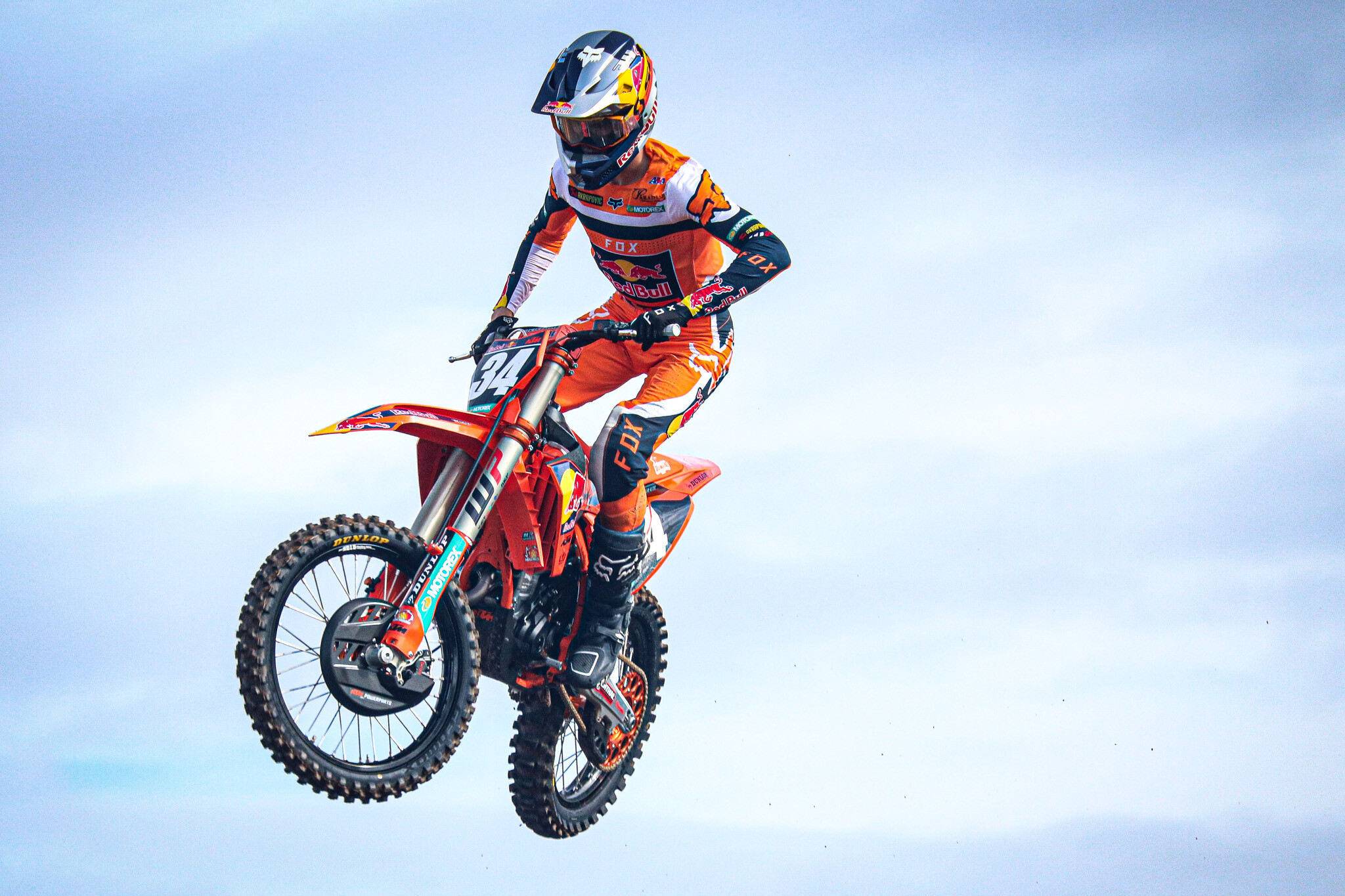 Now that you've got a year on this bike under your belt too, how much have you learned and do you feel like you can carry that into next year?
Yeah, absolutely. I feel a lot more comfortable on the bike. We did a big two weeks of testing when we first came back to supercross. So, we definitely made some good improvements I feel like, with the chassis, and even motor-wise, for sure. Now this year, I really haven't touched my suspension yet. Still riding the same suspension, I feel comfortable on. I don't feel like it does anything weird on me. So, I've been riding the same stuff every day, so I'm just learning the bike and pretty much know what it's going to do, which is a huge confidence boost, especially for the whoops.
So, at this stage, if you're not really changing too much, is it kind of like frustrating that it's still a month away that you have to wait to race, or are you just kind of excited to just kick back and not focus too much on the next month?
Also I feel like I'm in a good spot with the bike, so now it kind of just leaves the focus on making myself better, stronger, being able to push hard for fifteen minutes and just really building my strength and everything like that. It definitely takes the focus off the bike. I don't have to worry about the bike. I just have to worry about myself. So, that's perfect.
In terms of building, what kind of expectations are you putting on yourself for this coming year?
So, I pretty much feel like I can be a top-five guy supercross. I feel like that's a realistic goal for me, considering I've pretty much done four main events still, which is hard to believe but that's how the sport goes. It happens. So, I feel confident and ready to be a top-five guy in supercross. I want to get some podiums in outdoors this year and some moto wins, for sure. Then I want to try and want that SuperMotocross Championship at the end of the year. Just try and keep that steady building all the way to the end.
Are you doing west?
Yes, west for sure.
Is it kind of nice in that sense that it's a little bit more like home? You're staying in California, on the west coast a little bit more often?
Yeah, absolutely. I've got a house 15 minutes from here, so you pretty much do the first four rounds out of your house. You don't even have to stay at a hotel. So, that definitely makes it easier for your routines and just having your program as strong as possible. I've always wanted to do A1.
Off-season testing right now, are you going back and forth between Florida and California a lot, or is it more one than the other?
I went back to Florida for all of this last month, and we came back here just at the beginning of December, of course to do this ride day. I'm not sure yet. We're still deciding. I might go back to Florida for a couple weeks and train, or I might just stay out here for the rest of the time. Kind of feeling it out here because it definitely is good training in Florida and pretty much racing every day with some of the best guys. So, it's kind of hard to want to throw that away.
Like you said, the SuperMotocross thing is coming. How much focus are you putting on consistent points in a way and not necessarily going for a hail Mary win and stuff just to make sure you get in the top twenty?
Outdoors I'm confident to be up front and pretty much just trying to score some good points and at least be a front runner in supercross. So, I feel like I'm confident. I've always been a really consistent guy. I don't feel like my results have ever been just back and forth. It's always been like I'm steady sixth, or fifth, or fourth. Kind of that range. So, I feel like I'll be able to make it in for sure. Once you're there, it's definitely a different format, but my goal is just to try and win as much as possible.
Is it going to be cool to race in the Colosseum?
Yeah. My dad and my uncle when they had the ultra-cross one in the Colosseum and hit the finish line at the same time. So, it will be cool to actually go to an old venue that I've never been to. I've always wanted to race there, watching the old videos of my dad and uncle. So, it will be cool.
---
Main image by Kellen Brauer