Cardiff, United Kingdom
British GP (WSX Rd 1)
FIM World Supercross Championship
The world got its first introduction to the new FIM World Supercross Championship format on Saturday via the 250 class. Each class in this new series runs three main events, but unlike a Triple Crown race in Monster Energy AMA Supercross, each class in WSX runs three mains back-to-back-to-back! There's literally only a few minutes between the end of one race and the start of another, and not much time to calculate the overall finishes, either.
What was it like? Steve Matthes interviewed the top three in the 250 class after the night was complete.
Shane McElrath, man, one for one, your interesting year continues, now you are in Cardiff riding for Rick Ware. But you grabbed the win, I couldn't do the math, I thought Oldenburg won, but congratulations, you went 3-4-5?
Shane McElrath: I think 4-3-5.
Thank you, good job!
Honestly, I didn't know where I was sitting, like there's literally no time to think. And even on the start, my mechanic he was like "you need to beat the – I think the Kawasaki guy was leading at the time." It's just trying to recover, get a drink of water, get fresh goggles, set the holeshot button. Like you literally have a minute outside that. It was pretty chaotic, but honestly it was kind of good though, with my starts it was just move forward.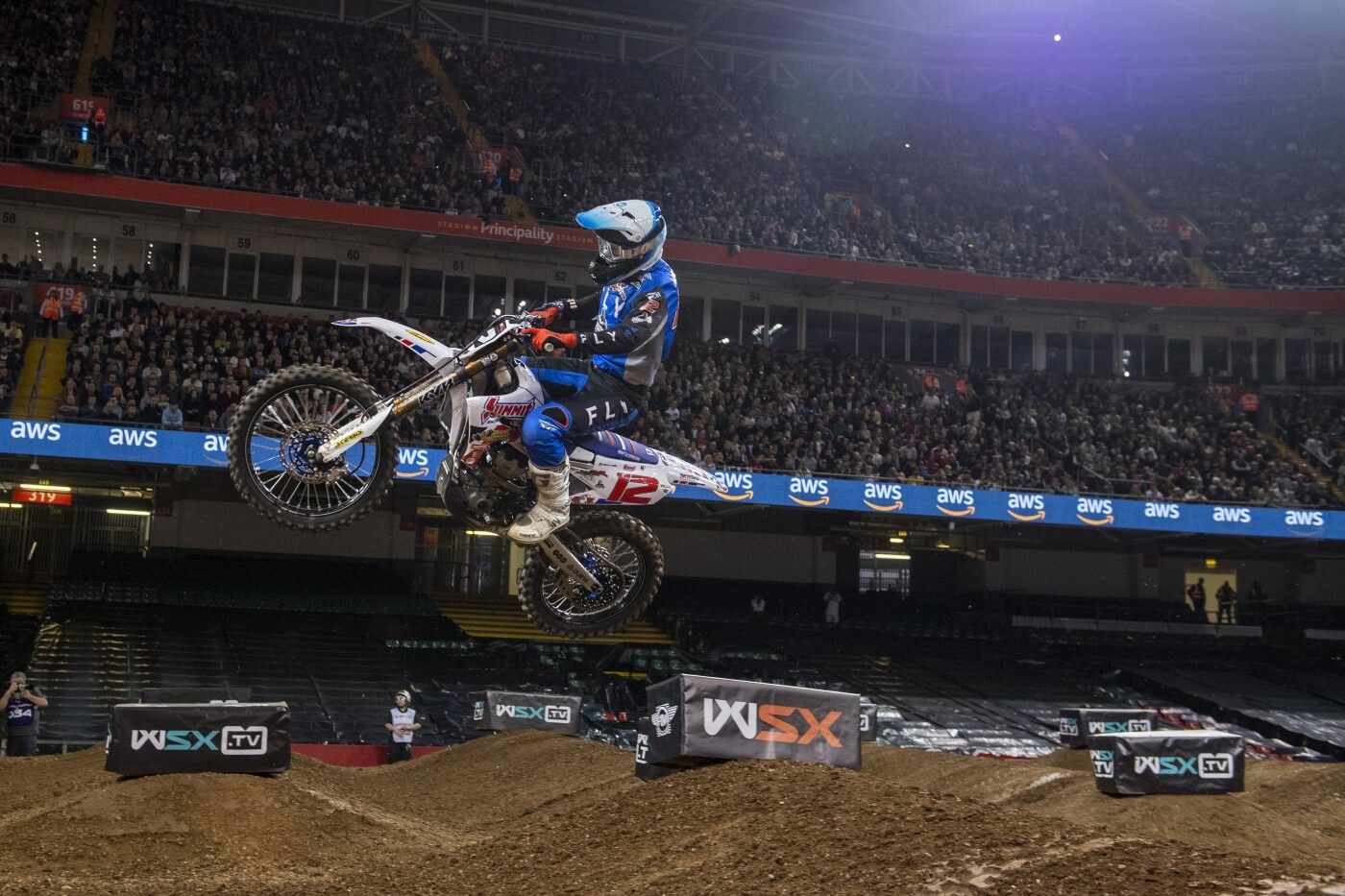 Yeah, your starts were the one thing that wasn't great. Every main. I think you got the most passing points tonight though.
Literally, I think I was between Cole Seely and Matt Moss, it was literally the same thing every single start. They got the jump on me, and I was trying different stuff, start map, no start map. They both squeezed me out all three times. And I'm like "alright I just need some more time and I'll fix those." It's been a blast, the racing was very intense, three races back-to-back. It was not a time where you could like settle in. It was like, dude, either you're chasing someone down or someone is chasing you down. So it was awesome.
Alright "Freckle" Mitchell Oldenburg, 1-15-1 for almost the win, didn't quite do it. Bummer, you went down in the second one.
Mitchell Oldenburg: Yeah, I don't know it was chaos man, I knew starts were going to be the most important thing coming into these races. I did the Australian series so I kind of knew what I was getting myself into. I did ten starts every day I rode, so 30-40 starts a week for the last month. For that second one I just, they flinched, and I got caught up in it. Then crashed and picked myself up and just rode it home. Try to save some energy, save the bike, the clutch was going to be very important for that last main. Tried to keep that thing as cool as possible so, executed that last start perfect, raced forward which is something that I have struggled with in the past is settling and focusing on the guy behind me so it was a fun night.
You qualified, I think, third, oh fifth, so how did you get that far inside gate?
Oh, ok so I had fifth in qualifying but I had third gate pick form the heat race.
Okay so you were third that's what I was thinking, so third pick but you still had the far inside gate, so how did they let you have that.
Uhh [Max] Anstie took three and [Justin] Bogle took two and it was either one or four and I didn't want to go that far outside. Bogle is obviously really good at starts and Anstie's heat race start was really good so I wanted to control it. And I like the inside gate too, you only got to beat one guy, right next to you.
Right, I was surprised with your qualifying that you had that inside gate but that's good for you for sure. Uh slick track huh?
Yeah it was slippery, I mean we have been riding in California and it's been 100 degrees outside so it really wasn't that slippery compared to what we were riding. The turns are just so long and the height of them are short, it's easy to carry speed but it's also very easy to ask for too much and get wheel spin and spin out so I knew times were going to be super close all weekend. I knew it was going to be the start and I executed two out of the three. So hopefully we can get three out of three in Melbourne.
Yeah [Cole] Seely was just telling me, "I don't know what is up with this format." But you are used to it, it's a little bit of slam bam, a lot of racing in a short time.
Yeah, I did it for the first time in New Zealand and it was a rough night, and I learned a lot. The next weekend we went to Melbourne, and I ended up winning that one. So, with these races, I don't know if watch Ted Lasso, but you've got to be a goldfish because the goldfish has the shortest memory. So, you've got to forget and move forward, so just trying to be a goldfish tonight.
Alright Zombie Blose, second overall. Really consistent, fought hard and yeah you were a factor all night.
Chris Blose: Yeah, you know the three main events, I think anyone will say, are very hard. You know to go and regroup and get everything back ready and go focus. Literally by the time you get new goggles or new gloves or set your holeshot device, or maybe get a drink of water real quick, it's time to start the bikes again. I was timing the 450 guys, once Eli [Tomac] or whoever won, and it was four minutes from when he crossed the finish line to the gate drop. To me I feel like that is a little too short, but yeah, it's crazy it's organized chaos.
How was your bike? It's Bud Racing, they do a lot of their own stuff, motors, suspension. I know you told me you came out and tested. How did you like your bike compared to American supercross teams, and you have ridden for eight million teams, so you know a lot about bikes.
The bike was good. I struggled with my starts a little bit. Actually, we were having some bike issues, I think mapping issues, I was actually starting in first gear, and somehow ended up making it work. Except that last main event, I had my clutch all the way in and the bike was still wanting to go. So that made it tough on that last one, I got a terrible start. Just worked my way back up to eighth but yeah, the bike is really good, they do all of their stuff in house like you said, and they do a good job. And they definitely want to improve and make the bike even better so hopefully we can get it all figured out and ready to go for Australia.