Salt Lake City, UT
Salt Lake City
Monster Energy AMA Supercross Championship
It was just a heat race. You wouldn't know it. In Atlanta, Eli Tomac and Jason Anderson were on another good one, another in a lifetime worth of battles between the two of them. There was no real reason for it, because it was only a heat race and Tomac was holding a massive points lead, so all he had to do was take it easy. But riders don't ride with calculators on the handlebars. They go as hard and as fast as they can. So Tomac set out on catching Anderson for this heat race win. He sat just over a second behind most of the way, before mounting a charge to get closer to Anderson's wheel with about two minutes to go. When Anderson ended up choosing the right-side entrance into the split section in the sand, Tomac went left and powered through, taking the lead. With just two laps left, that should have been the end of it.
Anderson doesn't give up, though. Not this year. In the very next turn, Tomac went to the berm, so Anderson dove inside and somehow found traction in the slippery mud. You'll see Anderson fighting with everything he had to keep that Kawasaki hooked up, using his legs, his hips, his clutch and throttle control to pitch it like a pro flat tracker. He took a huge risk to go inside in the mud to pass back someone who had already caught him in a heat race. He didn't have to do it, but it worked—he passed Tomac back.
Eli wasn't done. He slammed the rut in front of the mechanic's area so hard that he very nearly got thrown off of his Monster Energy/Yamaha Star Racing machine. It was a miraculous save for Eli and many thought this is where he hurt his knee. It actually wasn't. Even after that save, he still wasn't finished charging and set about making up ground for a last-lap pass attempt on Anderson. Again, in a heat race.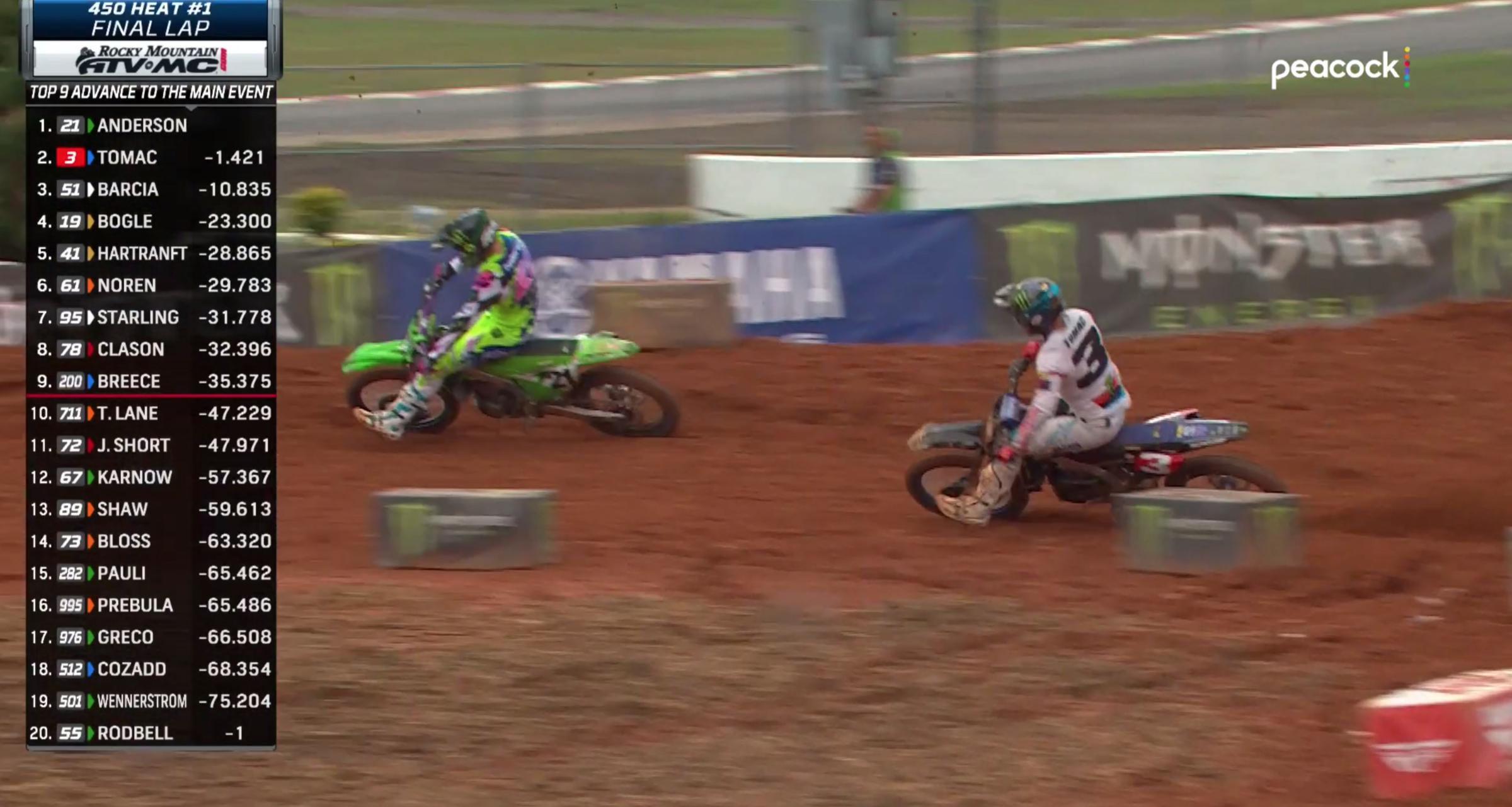 Tomac was going to try the same inside line Anderson used on him to make another pass. Maybe he just wanted to learn from it, too, and see what that inside was all about. But when Tomac went down there, he lost traction with his rear wheel and his bike pitched around too far. His leg got caught on the ground quite awkwardly. It looked terrible, and after that Tomac immediately stood up and dropped off the pace.
We know now that's the moment where the would-be 2022 Monster Energy AMA Supercross Champion tweaked his knee, tearing his MCL. That's why he struggled in Atlanta, Foxborough and Salt Lake City compared to his recent standards (he had won five straight at mid-season). Anderson didn't know this, heck, very few people knew this. Tomac kept it secret and locked up the title, then admitted the real story.
"I was more freaked out at Atlanta and in Boston because my knee was jacked," said Tomac after wrapping the championship. "It still is not great. So, I was pretty stressed out right there. I didn't ride this last week at all. So, today when I woke up it wasn't crazy stressful, but like I said, those past two I had more worries on my mind."
The only way Tomac could have coughed up this title was with an injury and in Atlanta that nearly happened. The MCL injury wasn't quite enough to stop him from racing completely, but it was darned close. The reason why it happened? Because when Tomac caught and passed Anderson for the lead in a heat race, Anderson didn't give up and got him back. The battle ignited from there and Anderson almost ended up getting the biggest prize.
Never giving up. It has its benefits.