If you've been a fan of this sport long enough, then you probably know the name Rich Taylor—from professional racer and Honda HRC test rider, to professional stuntman and owner of EKS Brand Goggles. Rich was and still is a bad dude on a dirt bike. What you may not know is that his son, Richard Taylor, is also a bad dude on a dirt bike. At Anaheim 2 this year he made his first supercross main event and his hunger for more is deep. We talked recently about his journey as he recovers from a broken wrist suffered at Anaheim 3.
Racer X: Richard, you grew up in this industry having a dad with deep roots within it. What are your earliest memories of dirt bikes?
Richard Taylor: Me on a KTM 50 at LACR [Los Angeles County Raceway] at the old Day In The Dirt. Being six or seven years old. My dad obviously raced professionally for a really long time and then tested for years. And now he has EKS Brand. I've always been super involved. When I was little, I wasn't super into racing, I would just ride for fun. I raced BMX until I was 13 or 14. After that I kind of made the switch to race amateur motocross.
Was there a moment as a kid where you realized, "I think my dad might be a big deal?"
I always went to at least one supercross a year when I was little, usually Anaheim. I remember it taking so long to get through the pits. Every couple yards somebody would stop my dad and have a conversation with him. I'd be so annoyed because I'd be like "Dad, practice is starting. Let's go watch." We'd walk another 50 yards and someone would say, "Richhhhh!" and they'd talk for a while. I was little and couldn't just go by myself. Then we'd go a little further and someone else would stop him. That's when I realized he knew every single person in the pits.
Did you start searching out old videos of your dad riding? Or old magazine shoots?
I've seen photos and magazine shoots around the house. He has posters in the garage. I see team posters he was on, Rad-N-Bad stuff, all the old things. But it wasn't until a little later when I started racing and getting more into it, around 13, when you realize how gnarly it is. To have a national number in the 30s, that's gnarly, ya' know. Seeing he led races with [Jeremy] McGrath and all those guys. It took me a while. My whole first half of my life, I knew he raced professionally, but it was when I got into racing myself that I really understood.
Did you get to meet any of your heroes because of your dad?
Yeah, probably at X Games. My hero racing besides my dad was Travis Pastrana. How could you not be a Pastrana fan back then? He was one of the fastest guys in the world racing, then he would do cooler tricks than anybody else in freestyle. He was everything you could be racing. My dad knew him from being at Suzuki. Even the famous video of Travis going over the bars at Castillo Ranch, my dad was in some footage riding with Travis that day. So, at X Games my dad was able to introduce me to him. That was so cool to me. You'd never see Jett Lawrence win Daytona and then next week is winning X Games in Freestyle Moto-X.
When do you make the move from BMX to moto?
I made the transfer around 13 or 14 years old. I started at local races like the Transworld races on 85s. I wasn't very good on minis at all. Then I moved up to the 125 and still wasn't very good. My first year ever to do any amateur nationals, I was 15 out at Mammoth MX and I rode 250 C and 450 C. I got fifth in Open C and I realized I was riding really well. If I put my head down I thought I could do pretty good. I was riding four to five times a week that summer. In 2015 I rode 250 C and won a ton of stuff. I won Mammoth, Freestone, Oak Hill, and pretty much all the amateur nationals I entered. At Loretta's I won some motos, but had a bunch of falls. I decided to move up to B for the next year and realized I wanted to be a pro at this.
Did you start getting help from any sponsors or OEM's?
In 2015 it was on our own. The next year Suzuki was coming back into the amateur scene. Chris Wheeler was in charge of the amateur support program and my first year in B Class I was on the team. It was the Amateur Elite Team and I got bikes and parts. It was helpful. I rode for them most of my amateur career.
Talk about Monster Energy Cup and the Futures race in 2019.
That was really cool! I'd practiced some supercross the weeks before. I was planning on going into real supercross in 2020 so I was already riding it. I did press day and it was my first time doing anything legit in a stadium. Racing in front of all the fans and friends was cool. I got seventh or eighth in the first moto. Then I crashed in the second moto and it wasn't good. Racing Monster Cup at night with the fireworks and the flames and the fans, I could not wait to race supercross.
What happened in 2020 that kept you out of Supercross?
In November I was practicing, and my foot slipped off in the whoop section and I blew my knee out. I had to get my ACL reconstructed. I missed supercross and was getting ready for outdoors on a 450. I got a call from a Kawasaki team up in Canada and decided to go race there that summer. Things did not go as planned so I came home and jumped on a Yamaha 450. I raced the last four outdoor nationals for Rock River Yamaha.
That leads to 2021 where things did not get much better.
[Laughs] The very last moto of 2020 at Pala I blew out the same knee again. I got it fixed again. Then I was getting ready for supercross for '21 and blew the right knee out for the third time.
What was going through your mind at this point?
I was devastated. I ignored it for a minute and tried to race in Arlington on the 450. It went horribly. I had no trust in my knee. I knew I was going to have to get it fixed again. CTI made me some custom knee braces that helped a ton. I've gotten used to riding without an ACL.
How did the 2022 season come together with Manluck/Rock River Yamaha?
My plan was to do 250 West Coast supercross. With COVID[-19] and the bike shortages I could not get a 250 Yamaha anywhere. I figured I'd just ride a 450. All off-season I rode a Yamaha 450 bone stock with just suspension. Then my dad let me know Rock River wanted a 250 guy, but I had to provide my own bike. My dad went on Facebook marketplace and we found a bike that was used by a Wheelie Boy. It was being wheelied down the 101 Freeway in L.A.! So my dad went down into Hollywood. It looked brand new. My dad bought it and I had the motor gone through and some suspension put on. That's what I raced at A1. It was super last minute.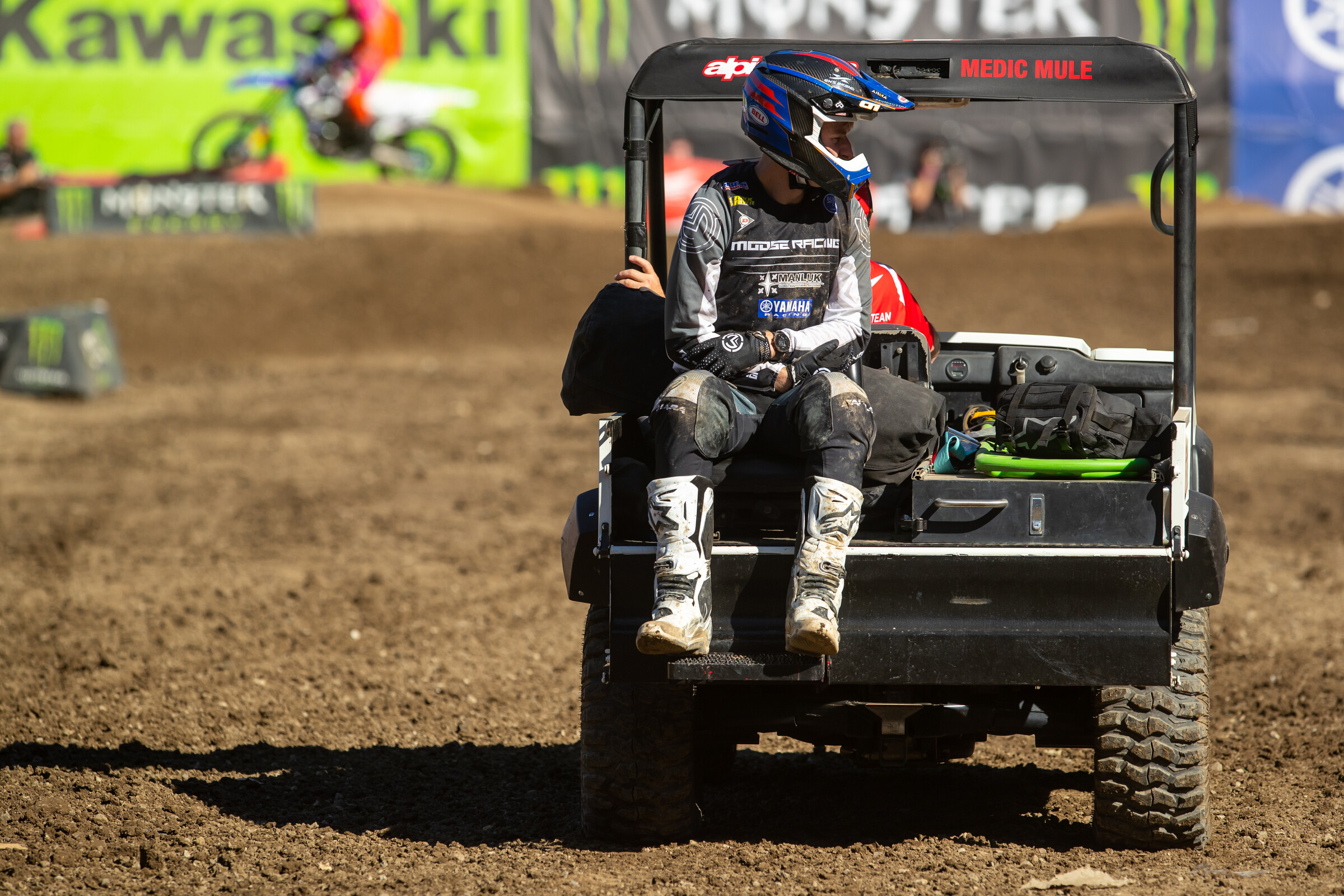 Let's jump forward to A2, your first ever main event. Take us through it.
I had a horrible morning. I really struggled with the whoops. It was not good. It was a night my dad was a little heated. I thought he was gonna go home. I wasn't performing how I should. My trainer, Daniel Loub, and my girlfriend, Bailey, talked me into a good mindset before the night show. I felt like I turned into a different person by the night show. In the he heat race the gate dropped and I hit someone in the second corner. I was dead last. I came back to 10th and almost made the main. In the LCQ I felt I really should be in the main. I got a good jump and came out second behind Derek Kelley. I rode a clean race and got into the main without a lot of pressure. It was one of the best moments of my career. I felt I'd finally gotten to where I belonged. Then my bike blew up. That's why I got 21st.
You're out with an injury now. What are your goals for the rest of the season?
I'll possibly be back by Denver or Salt Lake City. Making the main is the goal now. Anything else is a failure. I'd like to be closer to the top 15.
What does the future hold for you? Your dad has done stunt work for movies and TV. Would you be interested in that?
I already have done some. I did some stuff on the Lethal Weapon TV show on Fox, and I did some stuff on an upcoming Chris Pratt show called, The Terminal List. I did some car driving stuff and some stuff in the ocean at night. That's 100 percent what I want to do after racing. There's not a lot other than racing that brings that feeling. I want to do stunt work full time after my racing.