Anaheim, CA
Anaheim 1 (A1)
Monster Energy AMA Supercross Championship
Main image courtesy of Octopi Media.
---
The 450 class preseason press conference for the 2022 Monster Energy AMA Supercross Championship took place on Tuesday, which means we were able to speak with a bunch of supercross' heaviest hitters. You've already read words from several top riders over the last few days on this site. Below you'll find more, including words on 2022 from Jason Anderson, Marvin Musquin, Adam Cianciarulo, Dylan Ferrandis, Malcolm Stewart, Aaron Plessinger, Dean Wilson, Joey Savatgy, Justin Bogle, and Alex Martin.
New motorcycle, new team, new group of people to work with and get along with. As far as your training program, have there been any changes on that side of things, or has that all been the same? Walk me through the last month or so and how it's been working with the new team.
Jason Anderson: I've been in California with the team. Kawi is based out here, so I moved closer to the shop. I basically just ride at the test track and stuff like that. I've been trying to ride as much as I can with AC [Adam Cianciarulo] and even the Pro Circuit boys. I've been trying to ride a lot of more public tracks and stuff. California right now seems to be pretty good. As far as training and everything, my long-time buddy, Broc Tickle, has been helping me out. I feel like we have a good thing going. But you never really know until you line up for the race. I feel good at our track and stuff like that, but ready to get going to see if we've made any progress.
Sometimes when there's a change in motorcycle it's not too dramatic, but for you and the frame and just the personnel, the way things are run, how was that transition early on, just switching from the Husqvarna team over to Factory Kawasaki?
I was off the whole summer just with injury, so I didn't ride for three months or so. So, just getting back on the bike and riding the motorcycle was kind of weird to me at first. Obviously, switching from the steel frame, I've been on that thing since the end of 2013. So, that's a long time on that frame. It took me a little bit to get used to it, power, everything. I feel like right now we're in a good spot and we've been making progress. I'm excited to just see where I stand and put in a good effort and try to progress every weekend. It was different. Even the personnel and everyone on the team, they're all cool as can be. So, I've been enjoying myself and I'm ready to get this thing going.
You're a free spirit, and in the media, we appreciate that. Unfortunately, this persistent narrative that you don't work as hard as your competition continues to follow you. It's a new year. It's a new team. Can you set the record straight, reality versus perception, with this narrative?
I guess the results will have to speak for themselves. To be honest, to be at a top level like we are, you have to work hard. For me, I feel like sometimes I like to work hard and maybe play harder, but it is what it is, and I enjoy myself and keep it going, keep it rolling.
Marvin, there's been off seasons where you've won every race and you were a contender a year before and you came in with all the pressure of you're one of the guys who everyone knows could win the title. What's the difference now? It was a solid season last year, but I think you were ninth in points. Is it actually better in a way to come in not knowing exactly where the expectations are?
Marvin Musquin: Yeah, that year in 2018, that was when I did Straight Rhythm and Paris Supercross and Geneva and won it all. So, I came into the season, and everybody was expecting me to do well, which I did. I won the opener, so that was amazing. This year it's a lot different. My program was completely different. I decided to stay here in California and have DV [David Vuillemin] with me at the practice track. I tried that in the past in 2019 to have him with me, but it didn't really fit the program with Aldon. So, this year is a lot different. It's good to work with him, especially out on the track. I knew it's going to be different and fun because he made me do different tracks on the actual track, different rhythm sections and working on the whoops and stuff. That's exactly what I wanted, and it worked out great. So, I'm excited about it. Definitely the expectations are I have no idea. Obviously, I want to do good but there's so many good guys. I like it like this. There is actually no pressure, but I'm just glad to be here and go for another year with Red Bull KTM. We'll see how it goes Saturday. Definitely a new program that brings motivation and more fun.
Adam, you made the announcement this week on Instagram that you're banged up but you're going to give it a go. What's the approach like now to the opening round? Are we just getting into the season, going to spin laps and see how it goes? Is there enough there for you to push for a win?
Adam Cianciarulo: That's a good question. I think my approach is always do what I can, do my best. I've kind of taken it day by day. I just got on a supercross track on Monday. It's the first time I hit any jumps or anything since I had the crash. It's going to be one of those things where I get in there and see what I can do. I think I don't need to go too crazy. I've got to take what the shoulder can give me. I think it can be a positive mindset for me, too. Coming in and just getting my feet wet, getting in there. I feel pretty confident in my starts. I think being up there with the guys will kind of progress me along and just do what I can.
How hard is it for you to get through this point being that notoriously in your career, like a lot of guys, the injuries have stacked up? How do you get past that moving into the season and make a positive?
I think I have a pretty simple philosophy when it comes to that. I do my best. I do my best all the time, no matter what. That's what keeps me motivated and keeps me going, doing my best. It's not necessarily like I need to be crushing it all the time. It's really important for myself personally to dedicate myself to something and be the best I can be. It's just one foot in front of the other. Control what you can control. It happened. I had a crash. I was feeling great the whole off-season. It just happened. I can sit and stress about it and be discouraged and hate my life, but ultimately, I'm living the dream. I'm stoked it's not worse. I'm stoked to be able to get out there and race. I rely on the amount of laps I got in on the off-season. I feel like we did a really good job with the bike and with my program.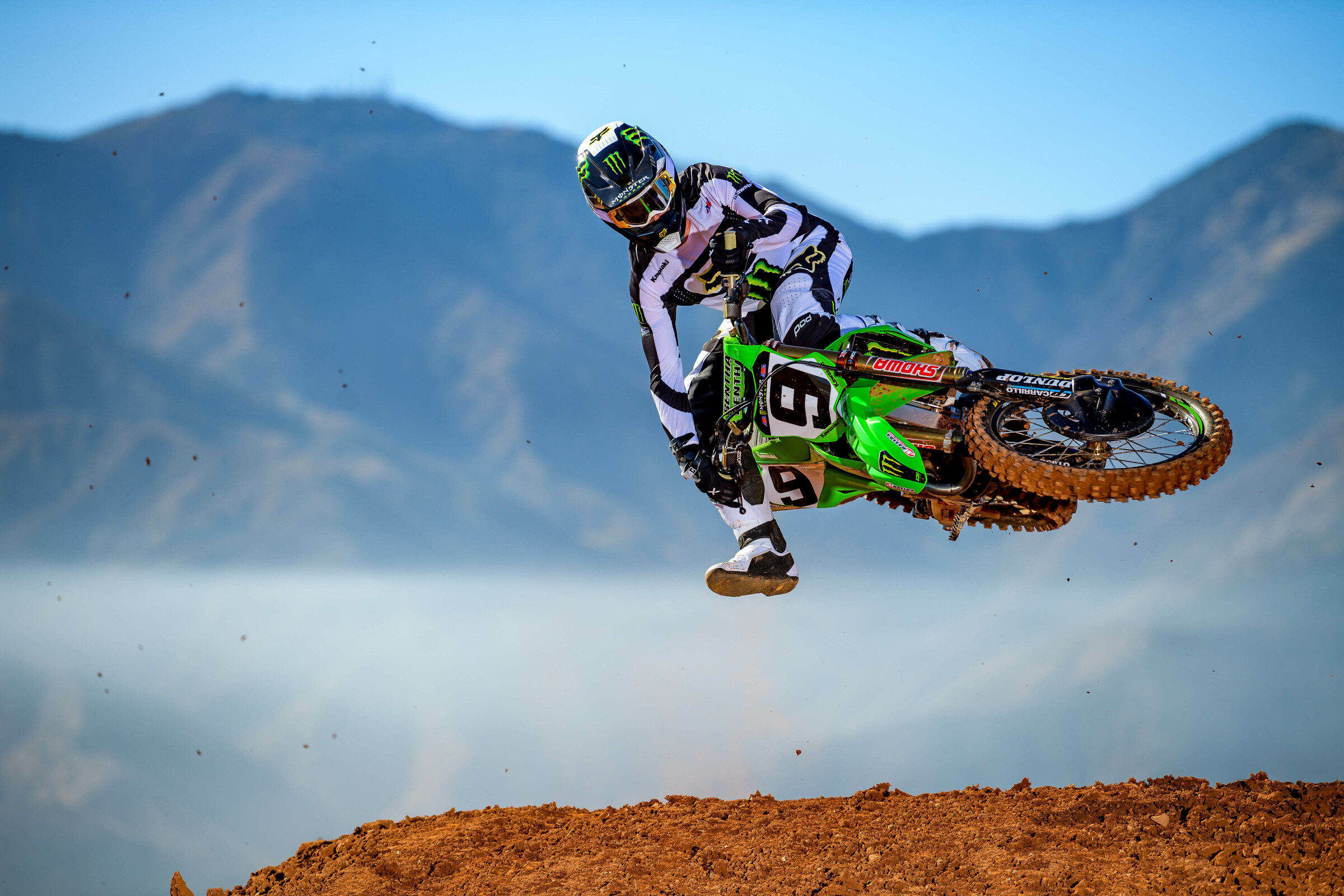 Dylan, you're riding at Ricky Carmichael's old practice track, essentially. How exciting was that for you? I'm sure you followed him when you were in France. Also, to ride with Eli Tomac, a champion of supercross, is that helping you get a good reference point for where your speed and intensity needs to be this season?
Dylan Ferrandis: Yeah, for sure. The place at the Farm is really amazing. When I was a kid, I was watching videos of RC riding there. Everybody always dreams to ride at a place like this. All the team moved over there. The dirt is really good. The facility is on the site, so we have everything. We had a really good winter. Eli was there a few weeks. I really spent my full winter over there, but I just saw Eli maybe two or three weeks over there. We trained a little bit together, so that was really good. He's always like an animal on the track and really fast and strong, so it was good to have him with us and all the 250 riders at Star Racing. We had a great time and a great winter.
Malcolm, the new bike and new team and new training program, how has that been so far? Have you been able to go fishing? What has your off-season been like away from the bike as well?
Malcolm Stewart: Definitely no fishing! We've been pretty much grinding this whole time. It's been a pretty big change for me jumping ship. Definitely going to Aldon's and stuff like that and riding with a whole different group of guys has been great for me. For me it's the same mindset going into the year, to just go out there and do the best that I can, and the results will come. I feel that I have a really good group of people that are supporting me this year. Honestly, all the talking is going to be at the races, to be honest. Definitely no fishing. We're going to put the poles away for a little bit and focus on the racing and just have some fun this year.
Aaron, everybody's jumping around. You're on the KTM squad. You have a pretty heavy squad with you there. How do you feel? At this point right now with just a few days to A1, how do you feel right now where you are on the bike, with training, and everything else?
Aaron Plessinger: I feel pretty dang good, to say the least. I kind of missed the last week, but right now I'm good. I'm going riding this week leading up. So, I'm ready to get this gate dropped. I'm ready to get on the gate with all these guys and ready to show everybody what I got. Yeah, I'm ready.
Dean, did I see that you just turned 30?
Dean Wilson: Yeah, just turned 30. It's pretty crazy that that's the 20s gone. We made it to 30 still racing, so I'm happy with that.
You're still on the team. You're doing a good job. You got the new bike. Scuba [Steve Westfall, team manager] left. You got a really unique look at the sport from a lot of different angles. As a veteran now, talk about the off-season for you, where you're at, what you're thinking about, and maybe a little bit on Scuba Steve leaving the team, too.
For us to lose Scuba is a big upset. He's not only our team manager or whatever, he's a good friend as well. He really looks after the riders, so to lose him is going to be a big loss to the team. We've got him for the first six races, so that will be good. I didn't expect that to happen at all, to see him go. As far as the off-season, I feel like it went really well. I feel like we're in a good spot. I'm sure everyone is kind of saying the same thing. Everyone is feeling good. I like where I'm at mentally. I feel like I'm good. I feel like I'm not really on anyone's radar. I'm just not really part of the talk, which is fine. I feel like I'm kind of low key, which I like it like that. So, I feel like we're in a good spot. I don't really have any pressure or anything. I think we'll be fine.
What's it like being with Aldon? It's a program that you've been around before but never as part of the main group of guys with Malcolm and RJ. What's it been like having direct, hands-on Aldon Baker working with you?
It's really good. To be clear, I'm not fully part of it with RJ and Malcolm, but I'm with Brownie [Mike Brown], who's awesome as well. The good thing that has changed this year is that we all ride together. Me, Malcolm, Plessinger, RJ, Jalek, Stilez. We all do our motos together. So, the motos at the track have been really good and intense. I feel like that's something that maybe I was missing, just having that push. I think that side of things is really good. I do all the gym stuff with Brownie, and we all cycle together. So really all I do different is we do our gym with Brownie. It's been really good. We have a good group around us. Everyone is just doing their best. We'll just come into the season healthy and ready to go.
Joey, I think we're all aware of the potential that you have. So, how important for a rider like you is it to start the season strongly and get that early momentum?
Joey Savatgy: I would agree. I think the potential I have is there and sometimes I think it's easy to get lost. To be honest, last year was tough. It was really good to be back racing, but again, when I go racing, I want to be competitive, and I want to have fun. Between just mental blocks and just fighting demons and just a combination of things, last year was tough. Honestly, it was probably one of the toughest years I've had, trying to just clear everything and reset. As tough as it was, I think everything works out for a reason. Just the whole vibe this year going into the off-season has been really good. I feel mentally really good. Physically I feel really good, and in my head space I feel like I'm in a much better spot than I was last year. Obviously, momentum is going to be important early, but I think at the end of the day, just like everyone else has already talked about, there's going to be a lot of us that have speed and can be really fast. It's just a matter of on the nights that you feel froggy, make those nights count. On the nights that you're struggling, you really got to focus on a few things and put yourself in a good spot and just try to minimize the damage. I think if we can do that early on and build the momentum we'll be in a good place.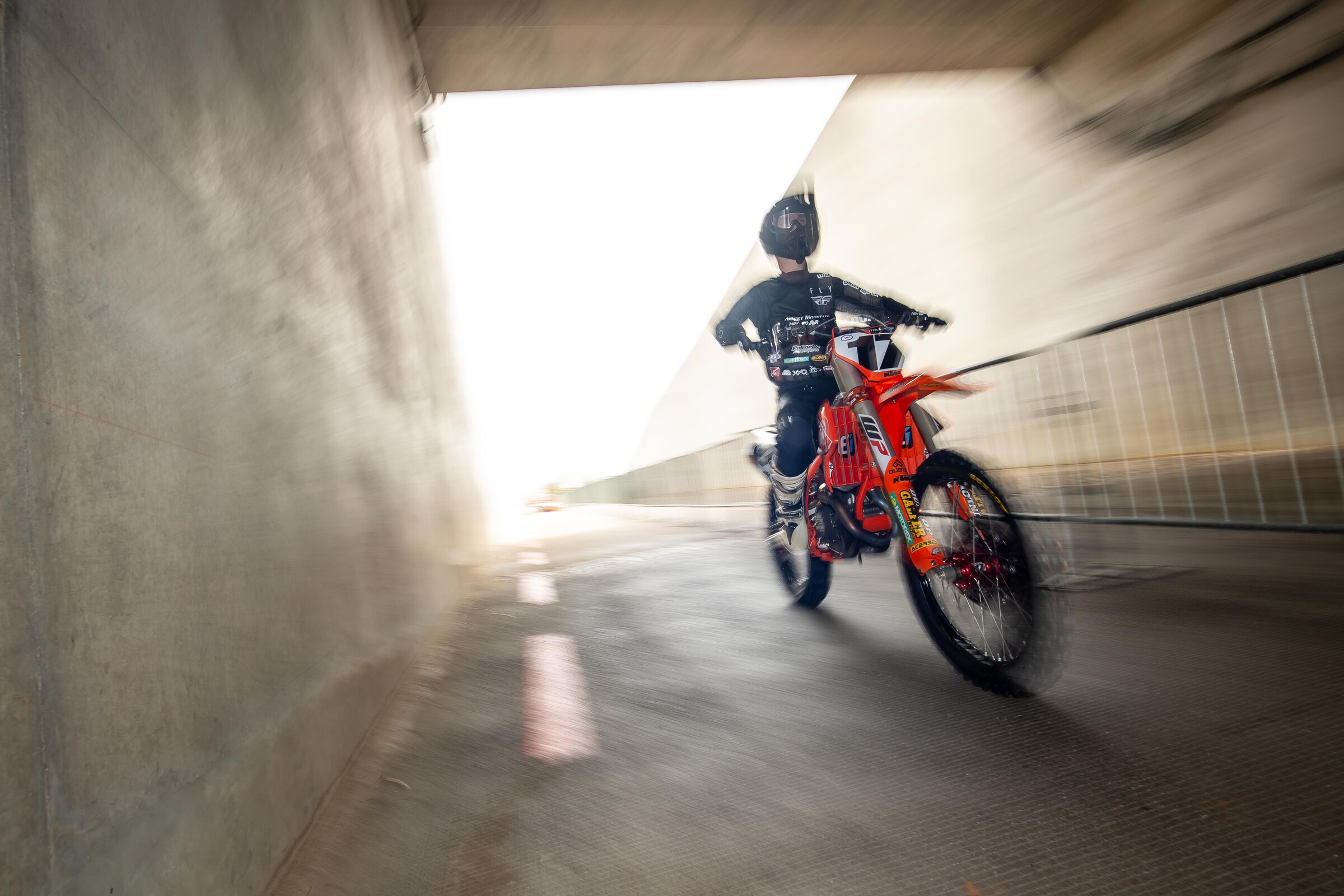 You've raced Anaheim in the 450 class at pretty much every level. You've been a defending 250 supercross champion. You've been a last-minute fill-in guy. You've done it all. How does it feel to come into this year with the HEP team and the group that you have around you, the expectations that they've given you, and the ability to just be yourself this year and know this is your chance to just do you?
Justin Bogle: Super exciting, man. Change is good for the soul sometimes. Everyone is talking about, 'I've had a great off-season.' I honestly really haven't! It's not like I've had an injury or anything, but we kind of got started late and I haven't got thousands of laps under my belt like most people probably do at this point. But, with that being said, I'm doing pretty good. It's really exciting with the group I have. They're so excited to have me on the team. They're doing anything and everything they can do to make sure I'm as good as I can be. It's a lot of fun. It's a really cool place to be for me at this point in my career to have that kind of support. It kind of renews the love and reminds you what you're doing this for. It's exciting trying to build this thing together. At Suzuki we've been a little behind the eight-ball the last couple years, but it's pretty fun to try to make something out of this and grow it.
How has the transition been? Now that we're a week away, how do you feel?
Alex Martin: I really enjoyed the off-season with the Club MX team, riding with [Justin] Brayton and Garrett Marchbanks a lot in the last two months. It's been really fun having Garrett push me day in and day out, that young kid. It's been really, really helpful. Like the other guys said, there's 15 to 20 legit dudes in this class. There's countless championships in this 450 class. I'm just grateful to be here. I really, really just want to see what I'm capable of and what I can do in this 450 class. I think I'd regret it if I never tried 450 before I was done. For me, it's all about just seeing what I'm capable of in this class.
Watch the full 450SX press conference below: