Trentino, Italy
MXGP of Pietramurata (Italy)
FIM Motocross World Championship
Tony Cairoli goes from 28th to 1st in just three days, Jeffrey Herlings tumbles from three wins in a row to the floor, a 24-point lead in the championship standings switches to three riders split by three points after 30 motos of racing. Plus, an Austrian wins a Grand Prix for the first time in the main classes since 1987 in Namur, Belgium: welcome – again – to the wacky but gripping world of 2021 MXGP.
The series stretched its legs at the second of three Grands Prix in a week around the narrow and slick, hardpacked stage of Pietramurata in northern Italy and where MXGP decided to take its latest detour.
Having established a margin of almost a moto in the standings thanks to a commanding performance last Sunday, Jeffrey Herlings seemed to be finally closing his grip on a contest that has seen five different winners narrow down to a three-horse chase. The Dutchman clinched his tenth pole position from fifteen rounds in timed practice Wednesday morning but misjudged the level of grip through the first turn of the first race, crashed and had his 450 SX-F thoroughly mistreated by the pursuing pack. The fact that Herlings' handlebar and billeted aluminum throttle housing was completely mangled gives some indication of how much the bike had been trashed. The incident forced the 27-year-old out of the race before the field had completed half a lap and meant a fourth moto without points this season (the other three coming in the wake of Ivo Monticelli using his left shoulder as a landing pad at the Dutch GP).
This put HRC's Tim Gajser and Monster Energy Kawasaki's Romain Febvre into position to make up the points they desperately needed, and they treated the smattering of spectators and TV viewers dodging work to a fantastic finale. They went back and forth until Febvre was able to prevail, in part due to Gajser's arm-pump that forced the World Champion to slow and give the Frenchman hope. Febvre celebrated his fifth moto success with verve, knowing that half of the job had been done by getting out and away with a start and adrift of Tony Cairoli, who finished third.
The second race was all about Cairoli. The veteran now has three Grands Prix, six motos and exactly two weeks left of an 18-year world championship career but he rode with the skill and conditioning of an athlete far younger than his 36 years and without the withering effects of his smashed ribs, pain from the incidents that forced a double DNF on Sunday and an illness from the weekend where his wheezy voice still made him sound like an exaggerated movie gangster.
He ruled the second moto and his 3-1 produced career win #94. Monster Energy Yamaha's Jeremy Seewer (fourth overall) and Gajser tried to follow but couldn't catch, and Herlings battled arm-pump, tension and a small crash to take fourth ahead of Febvre who hounded the KTM but couldn't pass it. Cairoli is 109 points behind Herlings with a maximum of 150 left, so he's out of the frame for title #10 at the last attempt, but this surge to the front of the most competitive MXGP line-up in recent memory was yet another vindication of his class.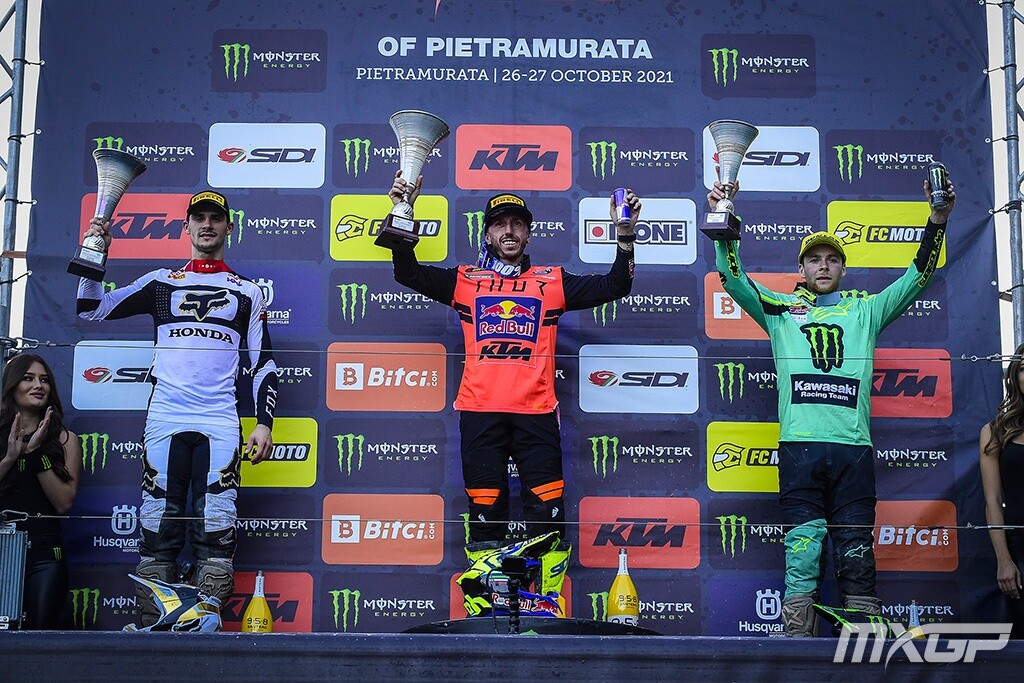 "It's been a struggle for me since the crash I had in Sardinia," he said of the season-altering accident in practice for round ten. "I was really scared after that one and it played on my mind in the next GPs. My ribs were really painful. Coming here I was hoping for a good bounce-back after some tough races. I was very happy with my riding in the second moto I was getting a bit tired but with my experience I could save some energy in parts of the track and could keep Jeremy behind me. I hope now I can feel even better and be on the podium every weekend; that's what I'm here to do and when I ride.
"Before Sardinia I was still in the fight for the championship and if I didn't have that 'zero' in Russia then maybe I would have been leading," he offered. "After that [the crash at Riola Sardo] I was really sad because I had been in great form. Sometimes in the first races – like the Motocross of Nations – I was thinking only about the crash. I really wanted to move on [from it] but I was also not healthy and could not push the way I wanted. I had pain and was not riding safe. It was double-scary. In one way I am a bit disappointed because this championship is very interesting and very close. I'm sad that I missed this opportunity but…it's part of racing. In my career I haven't crashed this much: this year there have been a few."
MXGP
| | Rider | | Motos | Bike |
| --- | --- | --- | --- | --- |
| 1 | Antonio Cairoli | Italy | 3 - 1 | KTM |
| 2 | Tim Gajser | Slovenia | 2 - 3 | Honda |
| 3 | Romain Febvre | France | 1 - 5 | Kawasaki |
| 4 | Jeremy Seewer | Switzerland | 4 - 2 | Yamaha |
| 5 | Glenn Coldenhoff | Netherlands | 7 - 6 | Yamaha |
Full Results
Cairoli's joy, relief and hint of surprise was a contrast to Herlings' demeanor: a man who had been sucker-punched (or at least his motorcycle had). "It is pretty devastating," he lamented. "My front wheel washed out and someone rode over my bike. A lot of things were broken, my handlebar, gas cable. It was a done deal. It hurts to get that points-lead to where it was and in the blink of an eye it was done. I just had to watch from the sidelines.
"I've missed four motos now," he added. "Three because someone jumped on my back and now this one. It's mentally tough but we'll keep working hard because I'm still in a good spot. I came out healthy and with no problems. I'm super-motivated for the last three races. It's going to be man-to-man. There will be some good battles coming up with a lot on the line."
-Proximity. Herlings' misfortune was a small gift for the neutral fan and the spectacle of MXGP. Thirty motos in 11 countries and well-over 500 points brought the game down to three, and with just 150 remaining. It's a dream scenario for a motorsport where the show (and the bench-racing) is routinely undermined by injury. Herlings still has the most wins (7 to Gajser's 4, Cairoli's 2 and Febvre's 1) and motos (12 compared to Gajser's 6 and Febvre's 5) but is paying for his luckless tendency to be in the wrong places at the wrong time. Pietramurata meant that he missed the podium for the fourth time in 2021; in all of those occasions he'd fallen foul due to circumstance.
-The outcome sees the 'def-con' level of MXGP move up another notch with three GPs to go; two of which are in the sandy confines of Mantova and where Herlings schooled the opposition at the Motocross of Nations. The three protagonists acknowledged that the screw was turning and perhaps mentality as much as mettle will decide this thing.
"It's not really a stress because you cannot plan anything!" Herlings said. "Who would have thought this morning that I would go from +24 to +1 and someone would run over my bike? I did not think about that this morning when I woke up. Things come as they come…and God will decide who will win this championship. We'll see what we get."
MXGP
| Position | Rider | | Points |
| --- | --- | --- | --- |
| 1 | Jeffrey Herlings | | 708 |
| 2 | Romain Febvre | | 703 |
| 3 | Tim Gajser | | 688 |
| 4 | Jeremy Seewer | | 566 |
| 5 | Jorge Prado | | 562 |
Full Standings
"I think it is something new for everyone," Gajser said, referencing the riders' predicament. "When we've won titles then it has always been quite comfortably, with maybe a couple of GPs before the end [of the season] so it feels different."
"It is really interesting," smiled Febvre, many people's 'darkhorse' for the crown and one who has avoided physical problems thus far but has been prone to small errors causing points-loss. "It's a long time since I have been in this position so late in the championship. The top three have a gap so that means in some races we can take a bit more risk than usual: at one point we are going to have to do it to win this championship. We are so close to the end…and only one will be champion and the other two will be disappointed."
-Jeremy Seewer almost made the rostrum for the second time in 2021 and his expressive and roaming style was a pleasure to watch, especially as he haunted the ailing Jorge Prado in the first moto for fifth (the Spaniard is struggling with a painful fractured vertebra Process) and ran to second behind Cairoli in the next race. After his ordeal with Epstein-Barr the Swiss is starting to feel fitter and faster.
"Since Sardinia I've been building back," he said to us exclusively. "My physical condition was not too bad but it took time to find that sharpness to be quick, fast for a qualifying lap or in the first few corners after a start. Arco is still a tricky track and many riders feel good here but it's great to finally feel like I'm back and fighting for the first few positions again. Only a few weeks ago I felt that we were quite far away but we've come back to take Pole and be with the guys. I have confidence. The only shame is that for the second time in a row the results have been good but I've missed the podium!"
MXGP
| Position | Rider | | Points |
| --- | --- | --- | --- |
| 1 | Jeffrey Herlings | | 708 |
| 2 | Romain Febvre | | 703 |
| 3 | Tim Gajser | | 688 |
| 4 | Jeremy Seewer | | 566 |
| 5 | Jorge Prado | | 562 |
Full Standings
After finishing as runner-up in 2019 and 2020 through his high-level consistency, Seewer can still break into the top five ("whether I'm fifth or sixth who cares? It's not going to change my life") but is a by-stander for the championship. Who's his tip? "Wow, this is so hard. I would say Herlings but like we saw today [anything can happen]. The only guy who still has a joker to play is Romain because Jeffrey's had his problems and Tim broke his collarbone. If he keeps doing what he is doing then it could be him…but I think it's tough to beat Jeffrey."
-MX2 saw a clash of the two leading Frenchman. In the first moto, Red Bull KTM's Tom Vialle obtained his 16th holeshot of the season and won his third moto in a row to move extremely close to second place in the championship. It flipped in moto two, as he collided with countryman and series leader Maxime Renaux for P1 on the opening lap. This put both in trouble. Vialle hurt his right forearm and the pain of it would cause another crash the following lap levering him out of the GP and a doubt for Sunday. Renaux tangled the rear wheel of his Monster Energy Yamaha YZ250F in the fence and chewed a chunk of red TV camera cable.
"I got taken-out by Tom on the uphill. I don't have much to say about it. It was a racing incident but the bike was buried in the fence and I tried to take it out. A real mess. The cable went into the wheel and I was really worried the whole moto because my leg and ass were being slapped on every jump by this thing. I was so afraid it would go back into the wheel and block it. I pushed to fourth, which was much better than the first race and a good result for the championship."
Despite a 7-4 (he'd been hit off by another rider in the first moto) Renaux missed the podium for the second time in a row and since his win in Spain but still guards an 87-point cushion. Thirteen points more than teammate Jago Geerts on Sunday – and just finishing ahead of Vialle - will give Yamaha their first MX2 title since Cairoli back in 2007. Geerts was able to take his second podium in a week and was joined again by 114 Motorsports Honda's Ruben Fernandez. The Spaniard benefited from the privateer team's continuing development work with the 2021 CRF250R to have an improved engine and with stronger gearing to carry his larger frame to two top-five starts.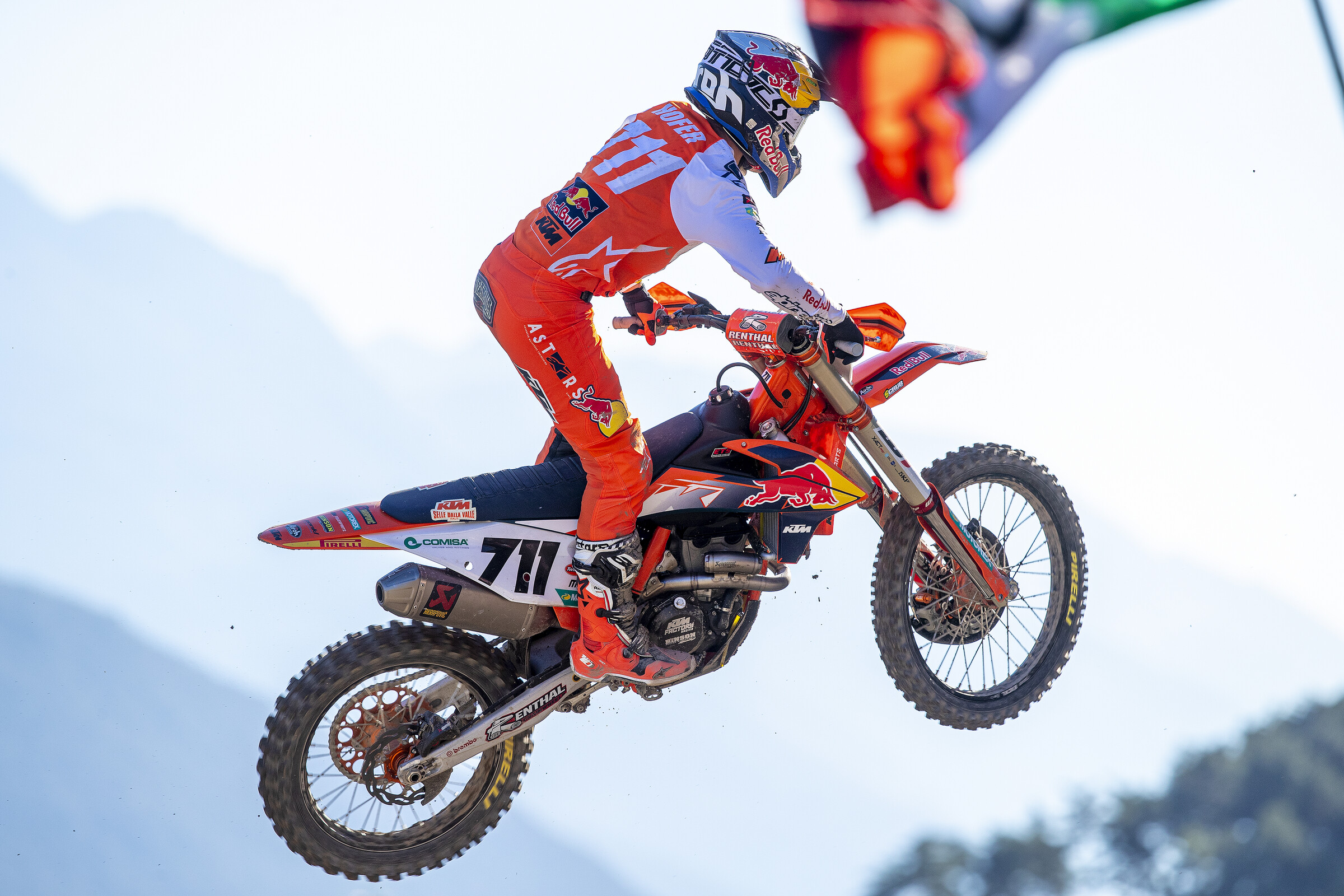 -The real vision of the MX2 class though was Red Bull KTM's Rene Hofer and his endless grin after seizing his maiden overall triumph in his first full season as part of the factory team. The 19-year-old went 4-1 and profited from the break provided by the Renaux/Vialle clash to make history as Austria's first GP victor in the principal categories since Heinz Kinigadner (now a key figure in KTM and Red Bull's motorsport program) won the 500cc Grand Prix around the Citadelle in Namur, Belgium. Hofer's style might not be as electric or as flamboyant as that of Vialle but the youngster has the mindset and work ethic of a winner. His achievement ensured that all six Red Bull KTM riders have stood on top of the MXGP and MX2 podiums in 2021.
MXGP
| | Rider | | Motos | Bike |
| --- | --- | --- | --- | --- |
| 1 | Rene Hofer | Austria | 4 - 1 | KTM |
| 2 | Jago Geerts | Belgium | 2 - 6 | Yamaha |
| 3 | Ruben Fernandez | Spain | 3 - 5 | Honda |
| 4 | Mattia Guadagnini | Italy | 11 - 2 | KTM |
| 5 | Maxime Renaux | France | 7 - 4 | Yamaha |
Full Results
Hofer ruled MX2 at the Motocross of Nations and is wading through the longest campaign of his short pro career because a badly broken shoulder ended his debut season after just four events in 2020. "For sure this is a day I will never forget," he said. "It was such a nice feeling once I crossed the finish line. I really hope the Austrian fans at home enjoyed it, it's been a while! I feel a bit speechless. We put in the work for this season and also during the summer break and since then things have been getting better and better for me. Since Turkey my confidence has grown every GP. It's also really nice to give KTM that win, I think they've waited long enough for an Austrian to be here. It's a happy day for all of us."
-Pietramurata is unlikely to offer much variation for the third and final episode on Sunday. The track was softer and had more flow for the first event (some riders even used a scoop tire profile) but was harder with harsher bumps on Wednesday. One curveball could be the climate. Rainfall is predicted late in the weekend. With the way the sport is twisting and turning this year it wouldn't be a total surprise to find nearby Lake Garda washing up to the start gate. Who would possibly win then?