Trentino, Italy
MXGP of Trentino (Italy)
FIM Motocross World Championship
There are four rounds and eight motos left in the 2021 FIM Motocross World Championship (MXGP) season but last Sunday's Grand Prix of Trentino might be the time when Red Bull KTM's Jeffrey Herlings first laid a hand on the title, and his second crown from five seasons in the premier class. Herlings went 1-1 across the hard-pack for his second 'sweep' of the campaign but it was the manner of his victory that will resonate through the 60-odd hours before MXGP does it all again at the same venue.
The 27-year-old didn't come close to a holeshot at a track where overtaking is as tough as any rival. Despite the handicap, the Dutchman worked his way to the front with attacking vigor. His combination of strength, line changes, resilience, and dogged determination was the difference in two tight motos: the first that saw the top four split by just four seconds (Herlings' move to take the lead from Jeremy Seewer the only significant change) and the second from a fluffed getaway where he somehow found a route forwards from a first lap berth of 12th position.
On his trawl Herlings passed principal title rivals HRC's Tim Gajser (third overall) and Monster Energy Kawasaki's Romain Febvre (fourth on the day and should have done better after leading the second moto but drifting back to fourth). From a slender 12-point lead he now has built a significant 24-point gap over Febvre and 27 over Gajser.
"It wasn't an easy one, it's not an easy track to pass," said Herlings in the wake of his 97th career triumph, the seventh this year and now just four from equaling the all-time record. "It was a big fight at the start of the second moto. I feel like I am in very good shape but we never underestimate the competition. It can be anyone's race—any time—and you just need to charge to the end. A lot can happen in four races."
MXGP
| | Rider | | Motos | Bike |
| --- | --- | --- | --- | --- |
| 1 | Jeffrey Herlings | Netherlands | 1 - 1 | KTM |
| 2 | Glenn Coldenhoff | Netherlands | 5 - 2 | Yamaha |
| 3 | Tim Gajser | Slovenia | 4 - 3 | Honda |
| 4 | Romain Febvre | France | 3 - 4 | Kawasaki |
| 5 | Jeremy Seewer | Switzerland | 2 - 5 | Yamaha |
Full Results
Herlings might not be underestimating his rivals, but this was a comprehensive beating in several respects. He was able to overtake both Gajser and Febvre without much resistance, even though both he and the HRC man lined up next to each other in the gate for the second moto and predictably clashed bars (the cause for both having to work from outside the top ten). The display also revealed just how much Herlings is in sync with the 450 SX-F and how strong his confidence is after six wins from the last seven.
- Until very recently the 2021 MXGP title dispute was a five-rider affair. That contest has now narrowed to three as Trentino proved to be a tough experience for two of its favorite sons: Jorge Prado and Tony Cairoli. Prado, who celebrated his very first GP win at Arco in 2017 as a 16-year-old was extremely positive about his 13th place overall; only a few days previously the Spaniard had crashed while training and claimed to have a fractured bone in his lower back.
"The pain is intense and it's hard to turn," said the 20-year-old. "I crashed by losing the front on the take-off to a jump and fell on my back from over three meters."
He would not have helped matters by tumbling and landing on his back during the first moto and a run to eighth. Prado sits fourth and 98 points behind Herlings with 200 remaining.
MXGP
| Position | Rider | | Points |
| --- | --- | --- | --- |
| 1 | Jeffrey Herlings | | 708 |
| 2 | Romain Febvre | | 703 |
| 3 | Tim Gajser | | 688 |
| 4 | Jeremy Seewer | | 566 |
| 5 | Jorge Prado | | 562 |
Full Standings
As for the Italian side, 200 miles south of Trentino, Valentino Rossi was competing in his last home MotoGP event after 26 years in Grand Prix racing. The Yamaha man started last on the grid at Misano and rode to 10th place; just his third top-ten result in a dismal final year. Back at Pietramurata, Tony Cairoli (also wading through his final home fixtures) was third fastest in timed practice but, unlike Rossi, went the other way down the ranking. He was landed on in the first moto and retired with a painful upper leg. He collided with another rider while trying to avoid the fallen Jeremy Van Horebeek in the second race and that completed the rare double DNF for the athlete who has previously won four times at the circuit. Tony's poor luck places him fifth and 136 points behind Herlings and all but ends the dream of a farewell tenth title.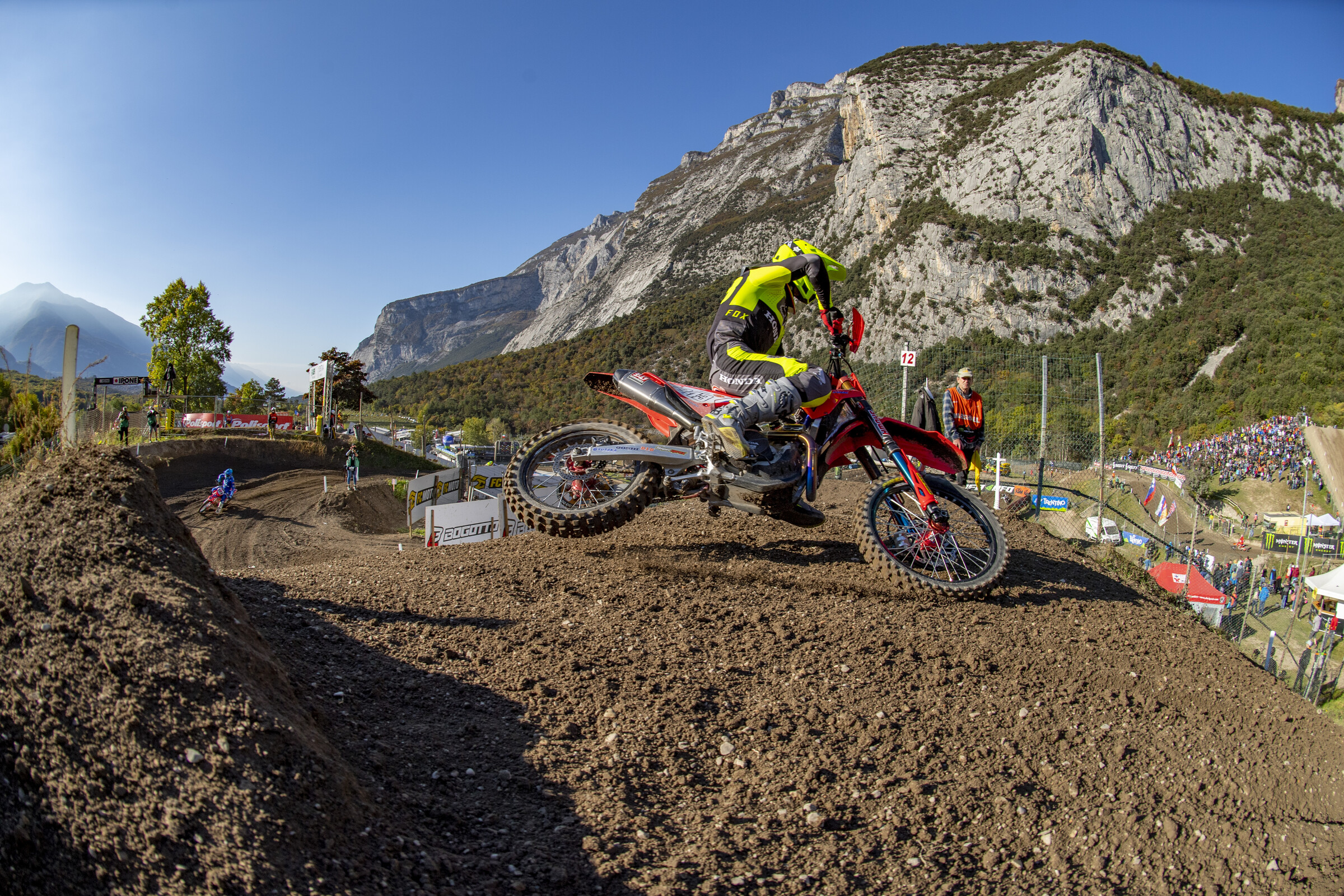 -Cairoli's points position might be under threat from Monster Energy Yamaha's Jeremy Seewer. The fit-again Swiss rode to pole position at the Arco di Trento venue, took the first moto holeshot and finished second behind Herlings. Only his slight malaise to fifth in the second moto kept him away from the podium as teammate Glenn Coldenhoff duly provided the factory team's third trophy of the season and showed the kind of form that is expected of him with a 5-2. It's been a trying year for the Yamaha squad, but the runner-up moto finishes from Coldenhoff and Seewer provided some sort of relief. "It's been a very a long road and very hard one," Coldenhoff said. "A great feeling. I'm just glad to be back here and with a few rounds here we started with a positive." Seewer, for his part, needs just nine points to bump Cairoli out of the top five.
-Pietramurata is the hands-down winner when it comes scenery and a compact atmosphere. Located north of Lake Garda and in the first throes of the imposing Dolomite Mountain range, it's the prettiest racetrack on the calendar. The small spectator enclosures mean the pockets of fans create noise and color and they were sorely missed for the repeat Grands Prix at the site last year. The GP is well backed by the Trentino area that is loaded with routes for outdoor pursuits and activities but the track itself is tight and restrictive and probably one of the least flexible when it comes to variation for a triple header. Riders and teams will no doubt be practicing their starts this week for the complicated dash to the left/right bottleneck opening turns: a section that is brutally narrow. Getting away from the line is absolute key for decent results (Isak Gifting fifth in MX2 on the GasGas and Stephen Rubini and Tom Guyon in the top ten) and explains some of the misery felt by the likes of Cairoli and MX2 world championship leader Maxime Renaux (eighth overall). Close action is likely and almost guaranteed in this vintage year for MXGP, but position-swapping is relatively rare. In this first dose of Pietramurata the second MXGP moto was the pick of the bunch, and the fans were gripped by both Herlings and Gajser's progress through to the front. "You had to be really aggressive," said Gajser.
Full MXGP of Trentino MXGP moto two highlights, where Febrve, Herlings, Gajser, and Coldenhoff battle for the race win.
-Tom Vialle is the rider to watch in MX2. The defending world champion has been ablaze since the five-week hiatus in the middle of the calendar. Pietramurata brought his 14th and 15th holeshots of the season which underwrote his fourth 1-1 of the year. Vialle had dropped as low as 11th in the standings after fracturing his right hand after round one but is now just six points from second place as he leapt over teammate and rookie Mattia Guadagnini (a subdued 12th overall). The 96-point gap to Renaux is perhaps too much to bridge but the Frenchman's Monster Energy Yamaha teammate Jago Geerts is now feeling the heat in second. Ironically Geerts was the only one who could live with Vialle's pace on Sunday and applied pressure on the leader towards the end of the second moto. Geerts ended-up second on the podium for his first trophy for seven rounds. The Belgian has injured his knee, had arm-pump surgery and also dealt with illness in his plight to stay as the next best challenger to Renaux and gained some overdue form and good fortune in Italy.
MXGP
| Position | Rider | | Points |
| --- | --- | --- | --- |
| 1 | Maxime Renaux | | 734 |
| 2 | Jago Geerts | | 610 |
| 3 | Tom Vialle | | 570 |
| 4 | Mattia Guadagnini | | 548 |
| 5 | Jed Beaton | | 540 |
Full Standings
-Ruben Fernandez made a welcome return to the MX2 box in third overall, at the expense of perennial fourth place finisher Rockstar Energy Husqvarna's Jed Beaton. The Spaniard was an early leader of the MX2 championship and admitted that the pressure of the red plate had led to mistakes in judgment and pushing too hard, too soon in several Grands Prix. He rode his usual 2021 version of the 114 Motorsports Honda CRF250R after claiming that the team needed more time to test the base of the recently acquired model Jett Lawrence used to claim the U.S. AMA Motocross 250 Class crown this summer.
Full MXGP of Trentino Highlights:
-Mathys Boisrame's surprising and controversial switch from the fractured F&H Kawasaki MX2 team to Monster Energy Kawasaki to make his MXGP debut in a five-race stint ended with a lively sixth overall. The Frenchman and former EMX250 champion was drafted into a team that will cease operations in three weeks. He's the replacement for the injured Ivo Monticelli and wants to make a bid for the second official Kawasaki saddle in 2022 next to Romain Febvre, as the green brand moves to the confines of the IceOne squad that will move away from Husqvarna. It's a risky move by Boisrame who even skipped his home Grand Prix and the fixture in Spain to test and get acclimatized to the KX450. It seemed to pay off as he rode back from a bad starts to a 9-9 and increased his chances of keeping the mount. Yes, his 9-9 created a sixth overall.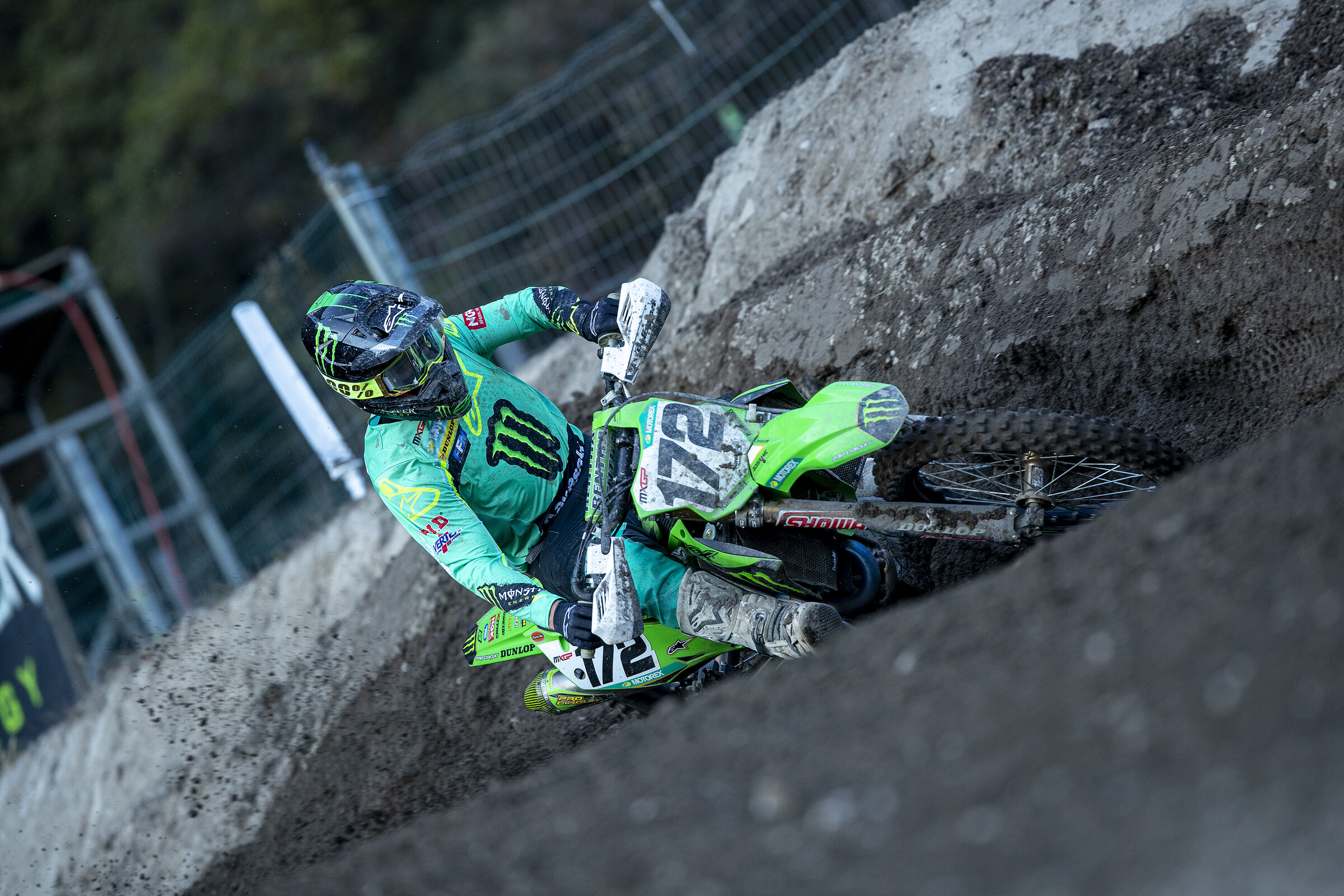 -WMX finished on Saturday with local hope Kiara Fontanesi crashing in both motos and Courtney Duncan claiming second place overall behind Larissa Papenmeier. Duncan secured enough points to claim her third-consecutive FIM Women's World Championship on the Bike it DRT Kawasaki and equal German Stephanie Laier in terms of titles. She still needs two more crowns to eclipse Fontanesi's haul of five, but the series was typically tight this year and, if Duncan returns again in 2022, then there are a number of strong competitors to face. In particular the much-hyped Dutch teenager Lotte Van Drunen is the next name bubbling up on the international scene.
---
Main Image Courtesy of KTM Images/Ray Archer