Millville, MN
Spring Creek
Lucas Oil AMA Pro Motocross Championship
The day started out strong for Honda HRC's Chase Sexton at Saturday's Spring Creek National when he qualified second behind teammate Ken Roczen. Unfortunately, both riders would be collected in a first turn crash in the first moto that left Sexton charging from nearly dead last to get seventh. He was able to turn things around in the second moto and get a third but not without some accidental contact with Cooper Webb that sent the Red Bull KTM man to the ground. After the race, Sexton spoke with the media via Zoom to discuss his wild day and the recovery ride in that first moto.
Chase, you've also had kind of a tough year. You've had the speed. You've been there. It's been kind of a mixed bag for you all in all. But as you mentioned on the podium, you're ready to kind of start turning things around and this may be that kind of boost you needed to do so. What was the key to today to getting you up there? And what's it going to take for you to be able to sustain this for the second half?
Chase Sexton: Yeah. It's been a little bit of a rough start to the season. First moto of the year came out and had a really good run, and then from there it's been going downhill a little bit. I felt really comfortable today. I made a bike change after the first practice, which I haven't been really feeling too comfortable on the weekends. Just the race bike feeling way different from the practice bike. So, I made a change after the first practice and automatically when I went on the track, I felt a lot better. That's probably the best qualifying speed I've had all year so far. Then going into the first moto, I was going over Ken out of the first corner and kind of started behind the eight-ball from the corner on for today. So, I got up to seventh. That felt really good. It was kind of a bummer to waste the whole moto with how I was feeling. I felt like I had what it takes to run up there with the guys. It was a bummer to be laying on the ground. Second moto I didn't get that great of a start, but I got up to third probably ten minutes in and had Eli behind me. We had a pretty good battle the whole moto, but by that point, Justin and Ken were really far gone. They all rode well. It's been a battle so far. This class is really tough compared to last year. It's fun. I'm looking forward to the last six races. Hopefully, we're trending the right direction and we can keep this going.
That second moto you came together with Cooper [Webb] there over the finish line and Coop unfortunately went down. Did you even notice that that happened at the time when your wheels connected there? Or did you sort of look over and see him going down?
It was really close. I kind of thought I had the pass made. We came off the face of the jump and I kind of expected him to whip or scrub to the right side. I don't know. I feel like he was pretty close to the side of the jump for him to scrub the other way. So, I went and just tried to get as low as possible because he was so close enough where he could have ran it in on the next corner. So, I scrubbed the jump, and I felt our tires kind of connect in the air, but for me, it didn't obviously upset my bike at all but it kind of threw him into… After watching it, it was crazy that he actually saved it as good as he did. I didn't intend on getting that close. I was watching the video. It looks like it's pretty much my fault from the full-speed video, but if you do slow it down, you can see him kind of go right. Not saying it was his fault either, but I think it was more a racing incident. I think he was pretty upset because I came around, obviously he crashed, and he was revving his bike at me and stuff like that. Obviously, he wasn't happy with the situation. But again, I didn't mean to do any harm to him or make him crash. It was just he got close. I'm just grateful that it wasn't worse. He got out of it pretty good. It was just a racing incident, and I meant no harm by it.
You've had a bit of a rough year. I know you've been a little frustrated at times. Can you tell me about the struggles and where you're at? Was there anything that led you to kind of a better day today?
It's not a little bit of a rough year. Supercross, I had a few get-offs, and overall, just trying to learn the 450s. I had to kind of take a step back in supercross and regain my confidence. Finished off the year decent. Got on the podium a few times. Then coming into outdoors, I felt like I was in a pretty good spot with the bike. Then you go to the first race and change everything. The first moto of the year went really good for me, and then I feel like after that they all kind of snowballed and went a little bit downhill. It's just hard. I haven't really been feeling comfortable on race day just with my bike, like I said, feeling a lot different. I couldn't put a finger on what it was. The bike felt really unstable and not anything like I rode. It kind of felt the opposite of my practice bike. So, when you go to the race and you're still on first practice and you're frustrated, you feel like you're in a hole and it's hard to dig yourself out. For me, today I finally felt comfortable from second practice on. Obviously, the first moto result didn't show it, but I feel like I made a big step. We have six races left, so we're only halfway through. Hopefully, we can just start doing good results and be where I'm supposed to be. It's been a little bit of a rough so far, but hopefully we're on the upward swing and like I said can start battling with these guys and being up front.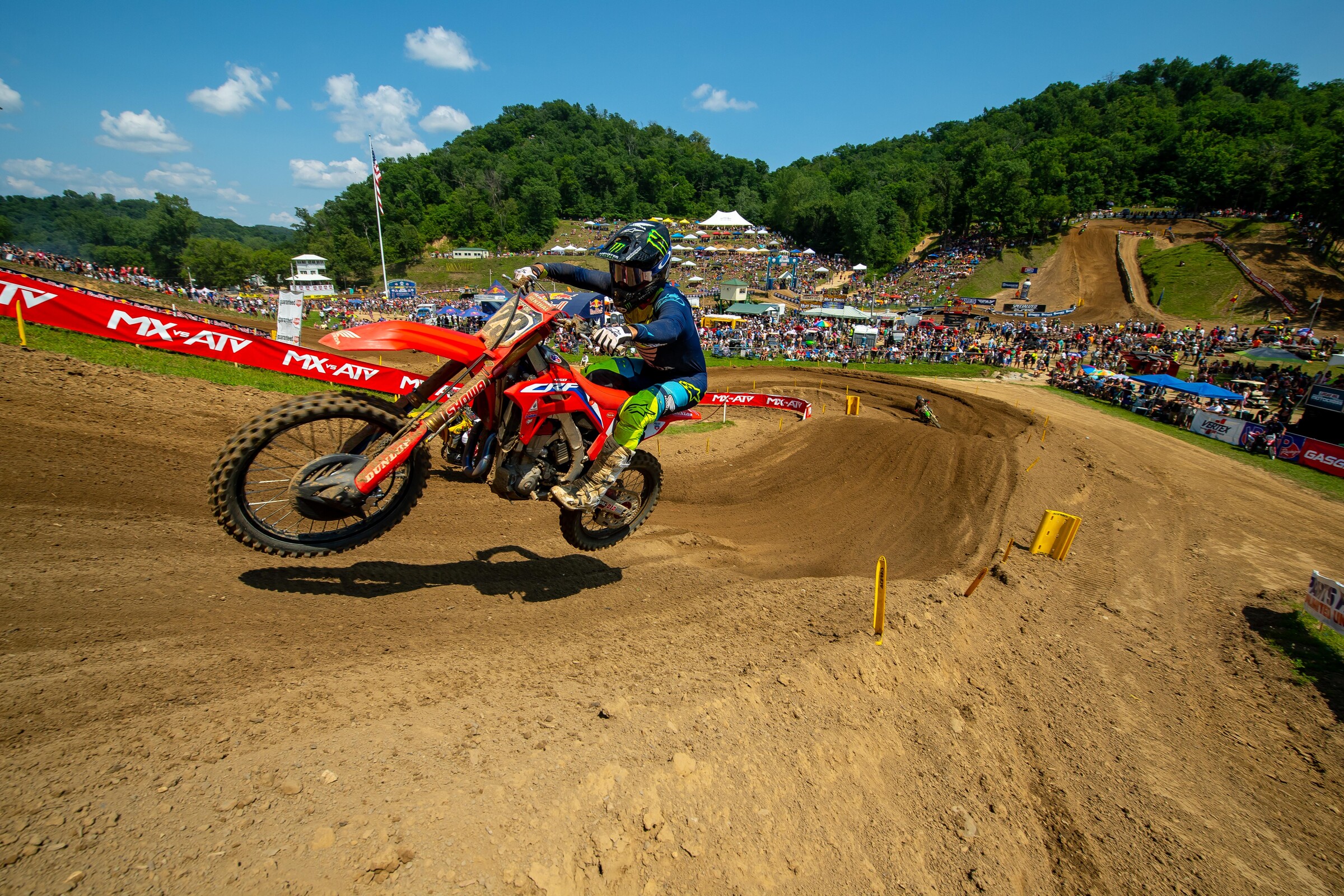 If I remember correctly, during a supercross post-race interview, you said something about that you're still preparing for or getting ready for the 2022 season. Do you still feel that way, that you're still getting used to the team and the 450? Or do you feel that in motocross you're focused on the races at hand, or are you still thinking about next year being a top competitor in supercross and motocross?
Yeah, supercross is more of a learning curve obviously because I didn't race it the year before, but coming into outdoors, I definitely had higher expectations than I did in supercross because I did race last year. I feel like I had a pretty good outdoor season. So, coming into this year, I felt like I was in a better spot. Obviously, we're on a new bike so it's kind of like starting over again. I wasn't really looking to just get ready for next year. I feel like I have what it takes to be good in outdoors, and that's kind of where my focus is at right now. Supercross, like I said, it was my first year and I took a lot of bumps and bruises, and I learned a lot. I'm still learning. I'm still getting used to the team. Being on a factory team, it's a little bit different than being on GEICO. It's been a year now, but I'm still getting used to it every day by going from the race reports to talking to the team. It's a little bit different than being on GEICO. I'm still learning, and it's been fun. So, I'm looking forward to the rest of these six races and having a really good off-season. But no, my focus is right now doing the best I possibly can outdoors, and I feel like I'm capable of doing much better. So, that's the focus and until I get there, I'll keep working my butt off.
You mentioned earlier that this year you felt as though it's probably more difficult than last year. Is that in terms of the depth or the outright pace of the guys at the front?
I would say the depth. We have Dylan now, and obviously I feel like Justin has taken another step up and Ken wasn't with us last year racing outdoors. I feel like Eli is now getting better and better. I think everyone just kind of stepped up a little bit and having a few more guys in there to already a stacked field, it just makes it even better racing. Like Justin said, it really comes down to starts and putting yourself in a good position. I haven't been doing the best job of that this year, which has made my life difficult. The first corner situation today, I put myself at mercy of other people being at the back of the pack, and you kind of saw the outcome. So, you really have to focus on getting out front early. But I would say just the depth and I think everyone has kind of taken a step up this year. The field has kind of stayed the same, too. We lost a few guys, but overall, it's still really stacked. The pace is higher for longer, too. It doesn't seem like anyone gets tired. So, you've got to put two really solid motos in. That's the deal this year. You can't afford to slack off at all. You've got to be on your toes.