Mt. Morris, PA
High Point
AMA Pro Motocross Championship
At the High Point National, Dylan Ferrandis did not claim a moto win, despite showing speed throughout the day. However, after great battles in both motos, Ferrandis' 2-2 moto finishes were able to land him the overall at the third round. Ferrandis (133 points) also reclaimed the 450 Class points lead with the win, gaining a three-point advantage over Ken Roczen (130 points) through three rounds. Ferrandis came out on top of a tremendous second-moto battle with Roczen and Adam Cianciarulo to take second in the race, and that tilted the overall and the series' lead in his direction. (Eli Tomac took the moto win but was sixth in moto 1.)
Following the race, Ferrandis, of Monster Energy/Star Racing Yamaha, joined the media via Zoom for the post-race press conference.
Dylan, you mentioned that it's been kind of surreal battling the guys at the front and you went toe-to-toe with Kenny today. Is it getting more real? Do you feel like you're part of that group now? How was that battle with Kenny today?
Dylan Ferrandis: Yeah, I guess I'm part of the group now, for sure. Like I explained before, it takes time to realize you're riding with such high competition. It was a little hard to figure it out in supercross, but now I feel like I am in the group. The battle with Kenny [Roczen] was really intense. He was on me both motos. I've kind of known Kenny for a long time. Before in Europe I was watching him in MX2 when I was riding the European championship. I've kind of known him for a long time. I know what he's capable of. There's no room for mistakes and you have to be ready. It was a good day, for sure.
Did that second moto just come down to digging deep, because at one point it looked like Kenny was maybe going a little quicker, then he actually passed you and you ramped it back up. What did it take to get that done and get back ahead of him?
He passed me because I had a bad line around the start, and he was really good there. He passed me and I found a new line on the jump and re-passed him. Just tried to put the hammer down and tried to put in some strong laps. Then we came back on Adam [Cianciarulo] and he tried again when I passed Adam, he pretty much passed me, but I kind of closed the door on the next turn. It was pretty intense. Honestly, fighting with Ken is no joke. Big, big battle.
In that second moto you got connected with that lapper coming up over the top there and nearly went down. Just run us through that moment. That was like a scary point in time going over that and collecting that lapped rider.
Yeah, that was really scary. I don't know. The lapper...I was expecting him to let me by and he didn't. At the last moment I tried to get out of the rut, but I couldn't, so I hit him. Then my visor hit my handlebar, so I kind of lost the vision for half a second and that's where I made a tsunami or a superman or whatever. Then I regrouped. I kind of just sat on the bike and I was like, okay, I didn't crash. Just grabbed the throttle and back to the race. So, that was really scary. We're used to it. It's happening every time I get close to lappers, but it's part of the racing.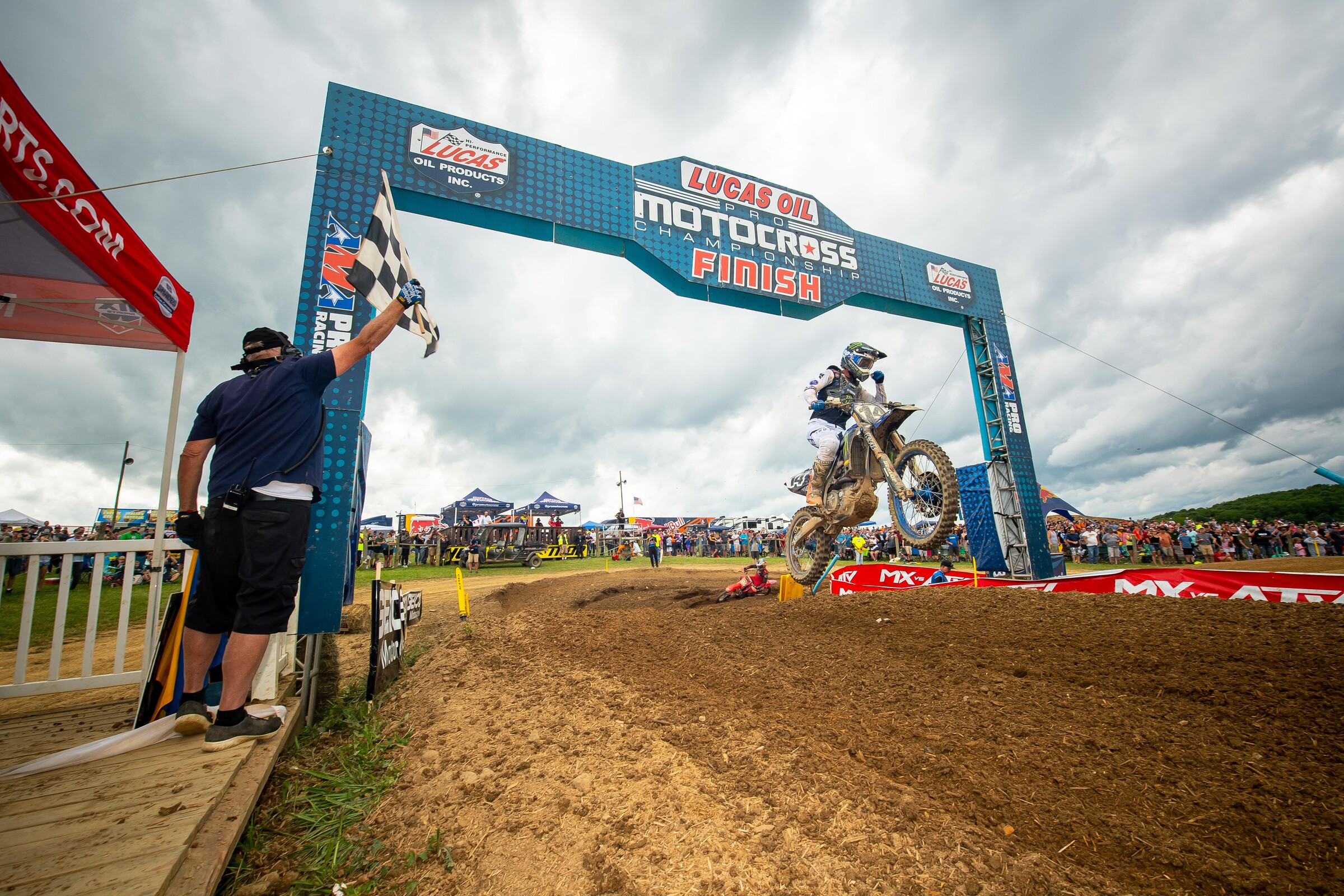 I'm curious to know how you feel about the two-week break. Does that hurt your momentum, or does that give you time to work on settings or prep? At your level, what do you work on for two weeks?
It doesn't really matter for me if there's a weekend off or not. You can always improve, that's for sure, physically or on the bike. I think for us as a team, when we have some time like this, we use this time to try new parts on the bike because we're still at a point where we're trying to improve the bike and learning the bike. So, there is still room to be better on that. For me, physically I'm feeling great, so right now it's just to stay fit but nothing too much, but also stay in shape. We miss a little bit of this and also trying to ride on the condition we will have on the next race. I know the next race is RedBud and then Southwick, so maybe we're going to start training a little bit in the sand. So, doing that and trying some stuff on the bike in the sand, that's what I think every pro rider does during the weekend off. Maybe some do more fun stuff, but for me now, I'm in a position where I'm chasing this championship so a weekend off is going to be all about either workout or recovery, so nothing really fun.
Watch the full High Point post-race press conference: