Mt. Morris, PA
High Point
Lucas Oil AMA Pro Motocross Championship
Monster Energy Kawasaki's Adam Cianciarulo has been steadily improving through each round of the 2021 Lucas Oil Pro Motocross Championship. Despite taking off with the lead in the first moto of the year, a crash and subsequent arm pump pushed Cianciarulo out of the top 10 on the day. He found his way to the podium at the second round in Colorado and now claimed his first moto win of the year at High Point on Saturday. Though he wasn't able to win the overall with a fourth-place finish in the second moto, he still feels confident that his level is constantly increasing.
He spoke with the media via Zoom following Saturday's action.
Adam, last year you had great 450 success. On the podium heaps of times, but you didn't really get to have the fans. Today they were on the podium chanting "AC." What's that like to experience that? That's got to feel pretty cool. I think that's going to be what RedBud is going to be like.
Adam Cianciarulo: Yeah. Definitely looking forward to RedBud. You have those moments, it's like I worked my whole life to be a dirt bike racer and that's a moment you just try to soak in – all the fans, the crowd. I grew up watching all The Great Outdoors DVDs and obviously going to the races and watching, and then now to kind of be on the other side of the fence and be a part of it, really cool. COVID obviously was terrible, horrible for everybody, but it does give you some perspective. I'm probably more grateful for the fans than before. You tend to take stuff for granted when you always have it, so definitely kind of just enjoying it a little bit more. Definitely looking forward to RedBud, too.
Could you just take us through the five to ten seconds inside your head when you hit the lapper in the first moto on the last turn?
[Laughs] My mindset was just immediately to get back on the bike as quick as I can. It's funny. I was going up the face of that jump, the triple into that left-hand turn and I was thinking, I saw the guy in front of me. He looked like he was just kind of chilling. It didn't look like he was doing anything crazy. So, I figured I was fine and just rolled the turn behind him and just a nice little finish line jump, you just roll it. My guy just dumped the clutch in the middle of the rut and lost it so bad! I carried more speed through the turn than him and I kind of had nowhere to go, so I just made a quick decision to hop out to the right. I figured that I was going to clip his bike and I figured I was probably going to crash. Immediately when I made the decision I kind of braced for impact and just tried to prepare myself to get back on the bike as quick as I can. What a little fire drill there. It's funny though now. Now that it happened and it's over, I wouldn't want to do it again, but now that it's over it's one of those moments where it's just a cool memory. It's kind of off-the-wall, doesn't happen often. I was a little bit bummed at first because I had such a good moto. The whole moto was good. Barely any mistakes at all. Just hitting my marks solid. And then the last turn like that. In your mind, especially with a basic section like that, just a little triple step-up, in your mind it's already like, "I've got this thing in the bag. This is cool." Kind of starting to enjoy it a little bit right there and at the end just a little fire drill to get back up. It was kind of funny.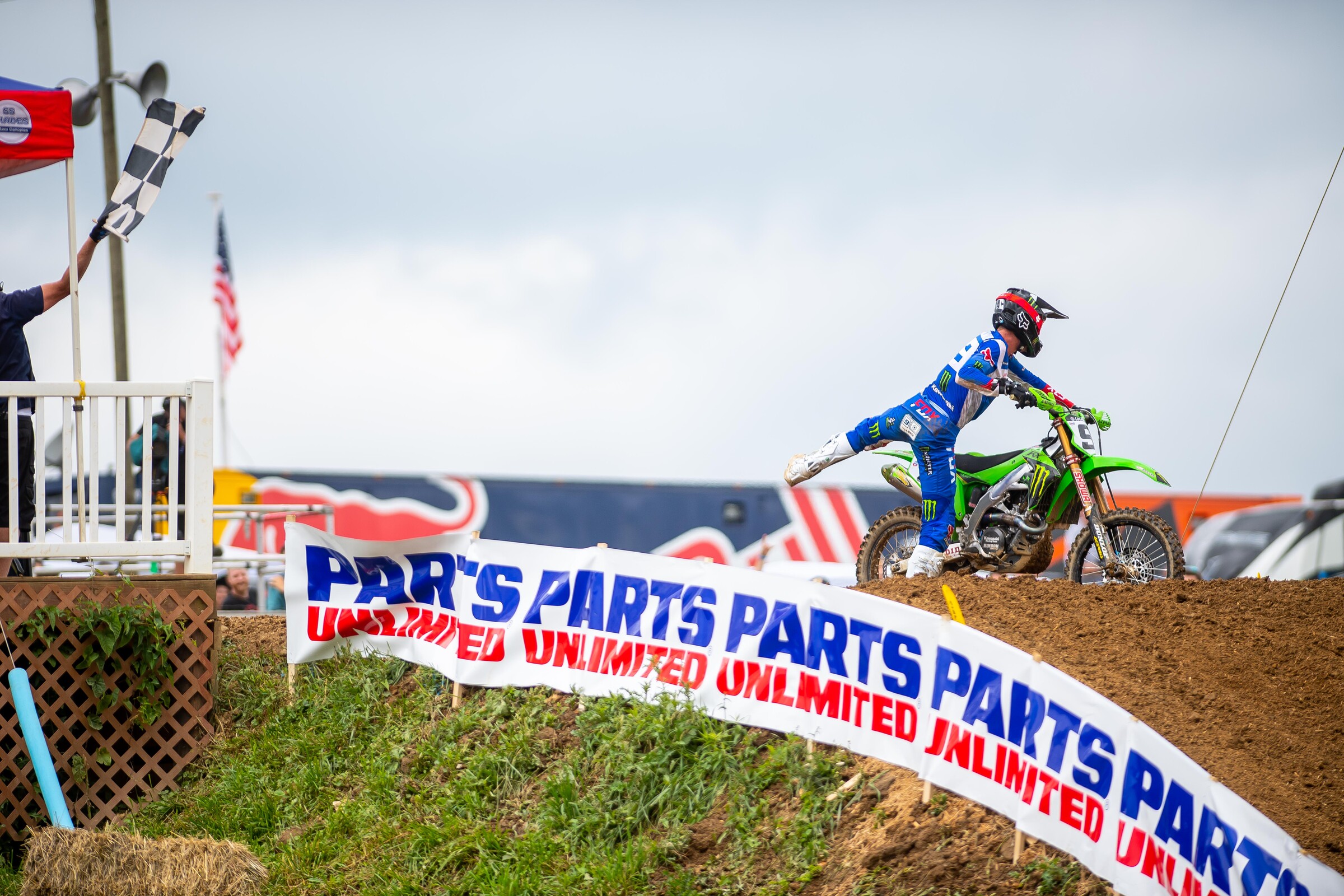 You were super positive after the race. It seemed like you were feeling good. You mentioned after the second round that you needed a bit more strength late in the race. Did you find that in the week off? How are you feeling physically today versus the last two rounds?
I feel physically better. I just haven't really been able to put… Obviously, since I got back on the bike from my collarbone, I've been able to put in a good amount of time, but I just don't have that off-season base. So, definitely feeling stronger every week. I felt stronger at Colorado. I felt stronger today than I did at Colorado, so just about getting more time, getting more motos in. Also, the pace is really high. Some people, I think, don't understand that. No disrespect to anybody at all – obviously, I got 10th, 11th at the first round. But today if I wanted to be a fifth-place guy and I was happy with that, then I wouldn't have got tired at all, but these guys are ripping, and I want to win. So, I'm hanging it out and doing what I can. I think it was eight minutes to go. I kind of just had tongue in the spokes a little bit but tried my best. Felt stronger. I believe in my program and all that good stuff. The racing was intense. It was fun, really fun battling with those guys. The pace was high. So, it's coming around, for sure. Definitely feel better, stronger on the bike, technique-wise, everything is starting to kind of come around. Kind of the same thing that happened to me last year a little bit during outdoors. So, I feel like we're going to keep the trend moving forward.
A good day. Maybe throw on the headset, kick triple J's butt at some games?
Oh, yeah. We're big Warzone players. I tell people all the time, as a dirt bike racer, I don't know how everybody else is, but endurance sports in general, if you're not doing something to get better, especially during the season with whether it be gym, bicycle, riding, most of the time you're better off chilling and not doing much. I'm super ADHD. I love doing stuff. Got to keep the mind moving. I play a lot of video games. It is what it is.
Watch the full High Point post-race press conference: