Lakewood, CO
Thunder Valley
Lucas Oil AMA Pro Motocross Championship
ClubMX Yamaha's Garrett Marchbanks was strong in both motos at the Thunder Valley National. Despite being at elevation, where both bike and rider struggle more—and the fact that Marchbanks has asthma that also hinders him—he was able to put together charges into the top ten in both motos. His 7-7 moto finishes landed him sixth overall, a new career best for the 19-year-old. Our Aaron Hansel caught up with Marchbanks following the second moto to get a first-hand take on the #48's day.
Garrett Marchbanks: I think I qualified 13th on the day, which is not how I want it to be but you know, that's decent for me. I'm not much of a qualifying guy, I'm more of a racer. I got a mediocre start, 15th I think, and came through the pack, got into seventh, and just kind of chilled there and took it. It wasn't my best moto. Second moto, came out and got pinched. I always struggle here on starts, being a bigger guy at elevation. I had to make my way from I think, 24th, and on the last five laps made a push and got into seventh I think. It was a good day, a career best—I think sixth overall. It's been great, the bike has been great, and everything is really good.
Racer X: How was the track? It didn't seem to rut up like it usually does here. On Friday it looked like it was ripped really deep but not so much today.
Marchbanks: Yeah, I was bummed. I'm more of a deep, loamy dude. I love it when the tracks get rutted and rough, so I was bummed to see it kind of dry and greasy. I didn't expect it to be like that. I thought the track today was more cupped out with square edges instead of being brutal and rutted, like it normally is.
Riding a 250 at elevation is tough, like you said, but what else does the elevation do?
Well I don't like to use it as an excuse, but I have asthma and that really affects me here. People say, "Well you're from Utah, you should be used to it," but no, not really. It still takes me a couple days to get used to it. I try to fly out Thursday before to get acclimated. It wears me out a little bit more, and the bikes too, it slows them down and it's more work with me being a bigger dude. It's just more work in general.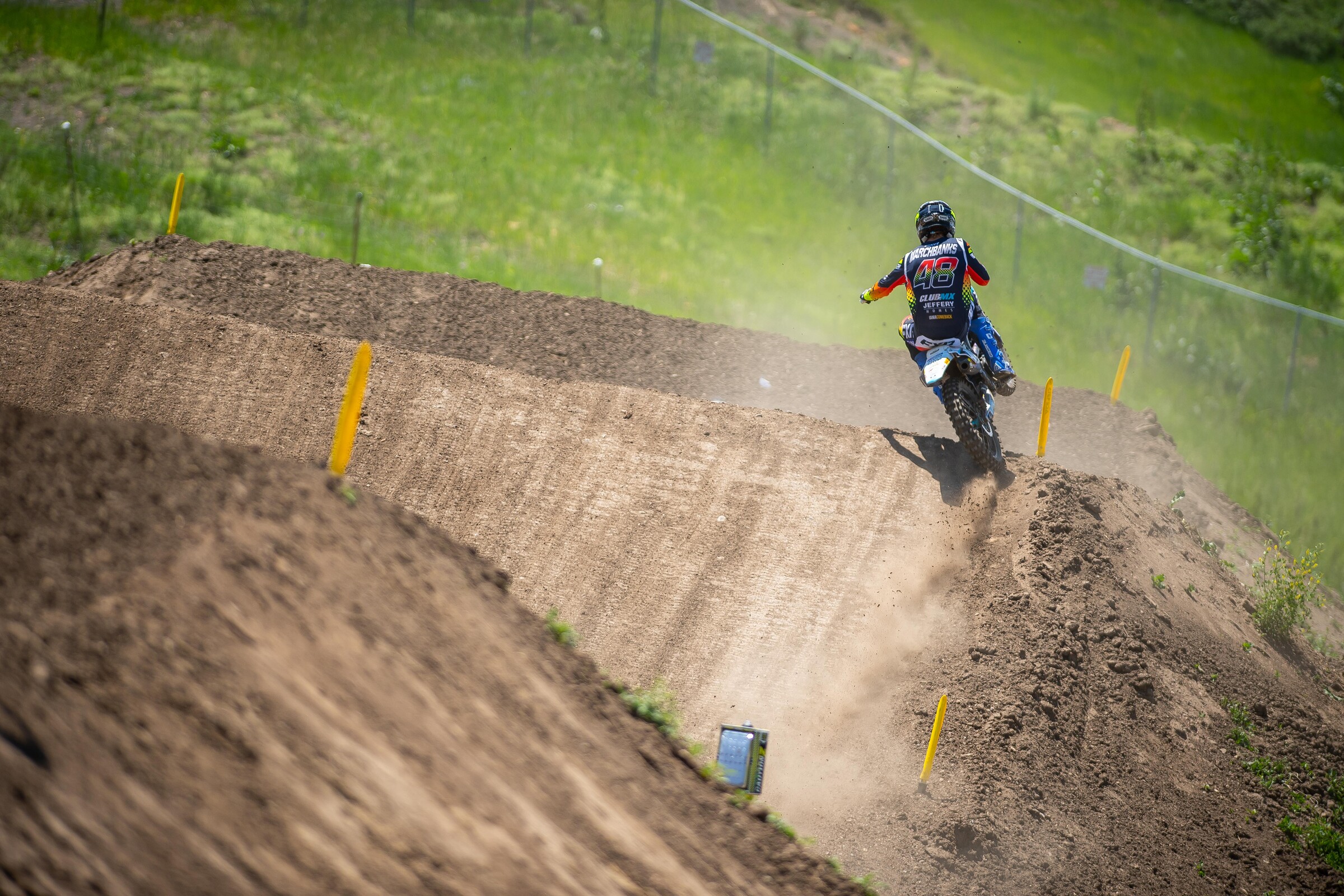 Not to get into it too much, but the story line is out there that you've got a bit of a chip on your shoulder after not getting retained by Pro Circuit, and that you've got motivation to prove them wrong. How much of that is just a storyline, and how much of it is real? You know we in the media like to pick up on stories!
Yeah, I totally get that. The chip on the shoulder thing was at round one [of supercross] at Orlando. I got the podium and showed everyone I'm still a podium. It was like, "You guys messed up, this is what you missed out on." And that was it. I don't have a chip on my shoulder anymore. I'm more here to just prove myself on race days. I know the whole Atlanta thing happened, but that was nothing toward PC. It was a dumb move by me. Me and Cameron [McAdoo] never got along, I guess you could say, but I have no issues with Cameron. It's racing, it happens, and we all make dumb decisions in our careers. But the chip on the shoulder, that's all over. It's nothing.
Yeah, and it doesn't sound like you're not pumped on your current team anyway. You're happy to be there.
After Daytona of this year I signed a two-year deal with them. I'm pumped with the crew. To be there living at the track, with the gym, the tracks, the nutritionist, it's all there, it's one big package. It fits my style better and it's what I need, a structured program.
Business as usual during the break, or do you have something different planned?
I think it'll be business as usual. Maybe on the weekend off I'll go kayaking or fishing, and hopefully I'll catch some big bass!