Lakewood, CO
Thunder Valley
Lucas Oil AMA Pro Motocross Championship
In his second full year of racing AMA Supercross and Motocross professionally, the pieces of the puzzle are starting to fall into place for Jalek Swoll. The Rockstar Energy Husqvarna rider showed significant improvement in the 2021 Monster Energy AMA Supercross Championship compared to his debut season, as he picked up his first professional podium finish at the Arlington 2 Supercross before finishing fifth in the 250SX West Region—gaining over 45 more points than he did in 2020.
After completing only five rounds of Pro Motocross in 2020 due to a shoulder injury, Swoll is eyeing up his first full season in the Lucas Oil AMA Pro Motocross Championship. He finished 12-13 for 11th overall at the opening round and then finished 10-6 for 7th overall at the Thunder Valley National. Our man on the ground, Aaron Hansel, caught up to Swoll following the second moto.
Jalek Swoll: Practice was not so good, to say the least. I struggle with getting the tracks down really fast and just putting it out there, but I felt really good in the race. It just takes getting in the mix. The first moto was pretty good, it was P10. Not the best, could have been better, but I feel like we really changed it around in the second moto. I was battling around fifth for a while.
Racer X: Yeah, the second moto looked strong.
Swoll: Yeah, we finished P6 and had some good battles with some people who've podiumed. I know the speed is there, I just have to put it together with solid starts and hanging it out there in the beginning. The intensity is high and it's hard to replicate. The more races, the better.
You raced here last year, right?
No, I've actually only done about three or four nationals.
Oh, why'd I think you raced here last year? Sorry about that.
I started the year but had a shoulder injury from supercross and was barely finishing one moto a day.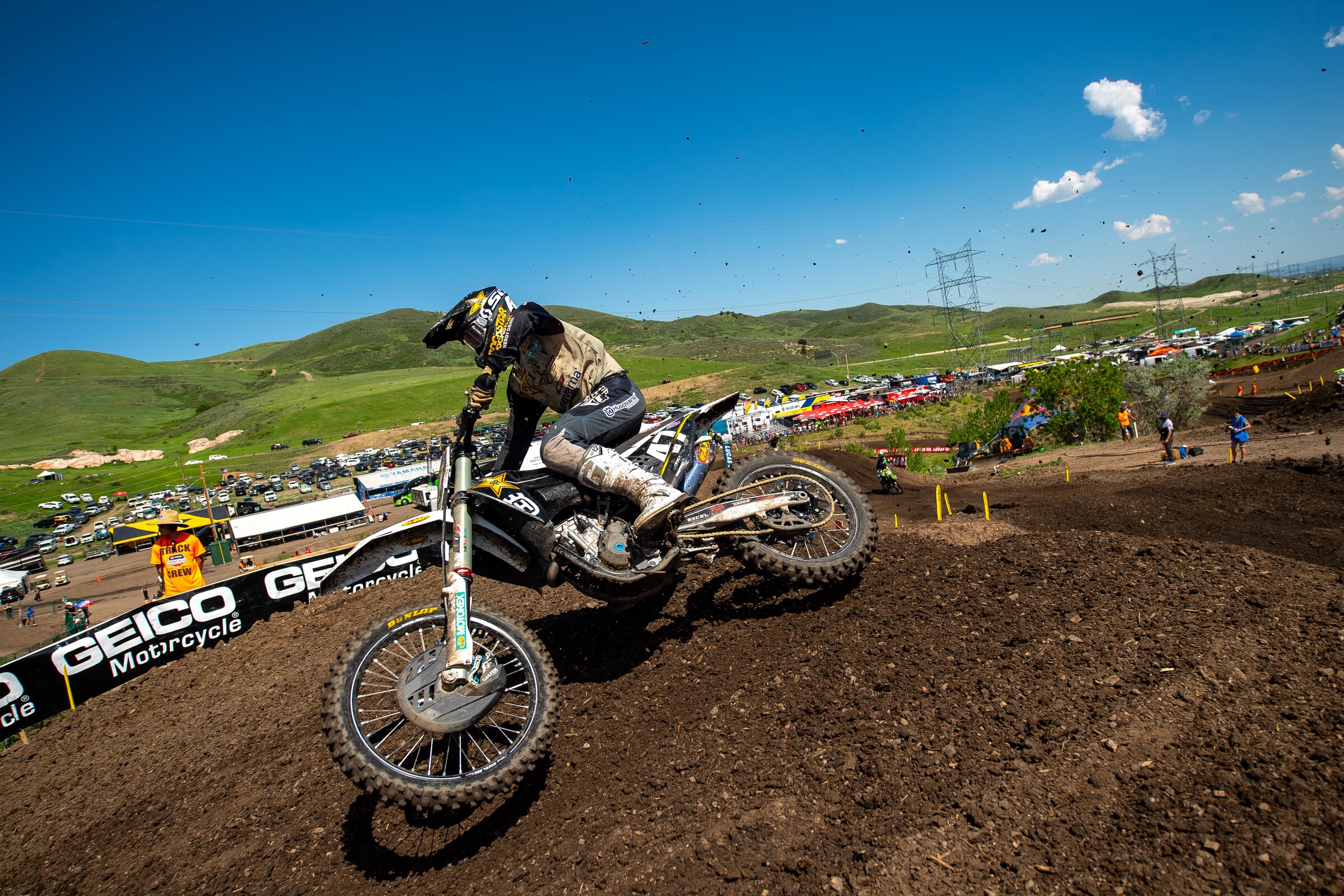 I don't want to use the word turnaround, because I think that's too strong a word, but you've been better in 2021. Anything you can point to as the reason why?
Man, it's so many things that changed over the off-season. It's hard to pinpoint anything. I switched over to Aldon's [Baker's Factory] and those guys over there, it forces you to ride fast every day, which is something that I needed. That was a big change. And honestly, just being healthy. I stayed good throughout my amateur career, but as soon as I turned pro I had some injuries sneak up on me. I never really felt like I was up to my full potential, but this year I feel like it's just a product of hard work and having fun. I know that sounds so clichéd but it's true. Every race, good or bad, I've had fun and taken positives from it. That's something I never did in the first year. As a rookie I felt like I dwelled on all the races I did bad on instead of just moving forward. Those are changes that helped me and I'm going to continue to strive to get better and better.
What do you have planned over the break between now and High Point?
Probably a lot of golf. [Laughs] We're all racers, we don't really take time off, it's always back to work. I'll probably take tomorrow off as I fly back home, but then be back to business on Monday. I'm going to take advantage of the off-week though, I'm going to get rested up and be ready for High Point. You have to find that balance between fun, work, and rest. We'll be ready for High Point for sure.
Swoll also joined the Best-Post-Race Show ever to discuss his day, the beef between him and Steve Matthes, and more. Check it out below.