Lakewood, CO
Thunder Valley
Lucas Oil AMA Pro Motocross Championship
The results sheet says Justin Cooper has won the Toyota Thunder Valley National for the second-straight year, but the Monster Energy/Star Racing Yamaha rider was fully realistic about his performance at round two of the Lucas Oil AMA Pro Motocross Championship. He was edged by his teammate Jeremy Martin in moto one and by Honda HRC's Jett Lawrence after a big battle in moto two. His 2-2 scores carried him to the overall win. Justin was definitely better than last week's opener at Fox Raceway, where he went 5-3, but he still feels he has room to improve in the early season outdoors. With Martin now out with an injury (the extent of his injury is not yet known) it might be up to Cooper to win this championship for his squad. He plans on getting better as the season rolls forward.
Cooper talked to the media after the race.
Racer X: You won! What is it about this track that seems to work for you? You also won the race last year and you were fast in qualifying. Have you surprised yourself, or is there something you can explain as to why this track works for you?
Justin Cooper: I really can't. I really just gel with the track and I feel comfortable out there. It's really fun for me and I enjoy being in this state. I think the altitude definitely plays a lot in it. I just felt really good on the bike all day. Definitely got a little bit tired. We were pushing really hard in both motos. It was a fun day battling these guys. It's really where we want to be and where we strive to be. It was a slow start but we're going to get kicked into gear here. Really good day for me. Bummer to see Jeremy [Martin] go out. That's not really what I was hoping for. But all in all, it was a really good day for the team. We can definitely build from here. We've got a weekend off. Just going to keep working on the stuff that we need to.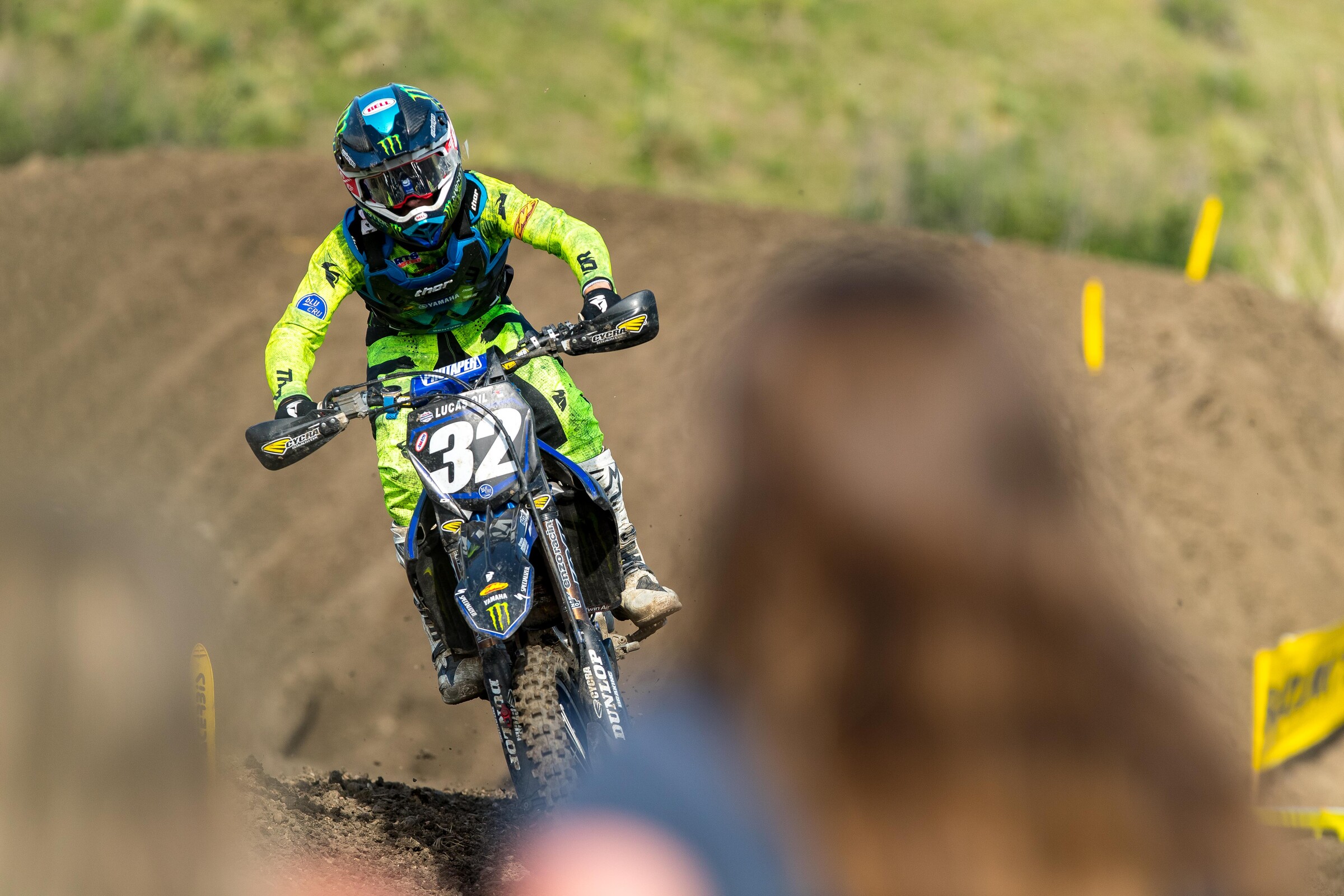 You have two weeks off. How do you prepare and maintain yourself mentally and physically?
Honestly, we're just getting started in this championship, so we're not really burnt out or anything like that. Really haven't had a break like this early on in a Pro Motocross championship before so it's a little bit different, but it gives us more time to work on stuff that we need to work on. I definitely don't think we're where we need to be yet, but we're definitely taking steps there because doing a lot better than last weekend. It was a good day overall and I think going into this two-week break we're just going to work on our weaknesses. I think that goes for everyone else, too. Really excited to keep racing. I wish we didn't have a weekend off, but it opens it up for some people to do something with the bike and testing and all that. We didn't really get too much time to prep coming off the supercross championship. So, we did what we could, and we showed up and we're in a really good spot. So, we're going to keep this momentum rolling and just get more into the outdoor flow.
Take us through those passes that you applied to the Jett early in that second moto, and then the one that he got you at that looked like it almost took you down. What did you think of that? Are you fine with it?
Yeah. To be honest, I forgot all about it. It was fun. I wanted to make it interesting. No one wants a boring race. I definitely want to get on it early on lap one. I don't like doing that [giving up the lead]. So, I made it hard for him. I felt him get closer a couple times in that turn. I really felt like I was taking the right line there. I was kind of missing the big braking bumps and the big holes. I didn't think he would be able to get that close, so I've got to watch it back and see how he did it. I heard him get on it early, and I knew he was going to come to the outside to try to block me. It took pretty much everything I had to keep the bike up. He came across pretty hot. It's all good. It's racing and I would do the same thing. All in all, it was a fun battle. I just wished I could have put a little bit more of a fight up at the end. Just was pretty drained from both motos. I had pretty good battles in both motos, and it was a dog fight. Definitely was a little bit winded towards the end there, but I think everyone was. Just got to push through that stuff. It was a fun day overall. A lot of battles.
Let's just talk about obviously with that race, you're going to go from defending to attacking pretty much instantly. Does the track work better in your favor to be attacking sitting behind, seeing what they're doing? Or does the track work better being out front and just trying to run it high?
For me, I got both holeshots, so I was doing a lot of defending. I had a lot of heat from behind. It was definitely tough. With the altitude it just makes it that much harder to get these motos. I would say there's pros and cons to both. If you're leading, you can't pick up on any lines of where the guy behind you is going. You can try to listen, but it's definitely hard to do that. But if you're behind, you're eating a lot of roost so that sucks too. If you're in a battle, it really doesn't matter if you're in second or first. I think the track raced pretty well today. It was obviously a little bit one-lined, and a little bit not dug deep enough, but no complaints. It got pretty rough throughout the day and made for a good racetrack. All in all, it was a fun day.
You were happy to win the overall, but it seemed like you weren't totally satisfied not winning motos. That's what it sounded like on the podium. Is that kind of where you are right now?
Yeah, dude. It sucks. Going two-two for first, it doesn't feel like a win. I got beat both motos, but we'll take it. We won and we got good points today, but that's not the way you want to do it. You want to at least win a moto. It doesn't feel good to go two-two for the overall. It doesn't feel bad to win, but that's not the way you want to do it. Definitely had my work cut out for me both motos. Had a tough time with guys coming up on me, but we gave it our all and we made I think huge steps in the right direction from last weekend. I don't think we were even close last weekend. So, we're going to keep digging and try to get those moto wins.
Below is the full Thunder Valley National post-race press conference: