Pala, CA
Fox Raceway 1
Lucas Oil AMA Pro Motocross Championship
Justin Rodbell was without a doubt one of last summer's feel-good/breakout stories. In just his first season as a pro, the SGB Racing/Maxxis/Babbitt's Kawasaki rider scored points in all but three motos and even ended the season 16 overall. And in the 450 Class! His debut AMA Supercross season wasn't quite as sensational, as you're about to read, but the gate is about to drop on the 2021 season of Lucas Oil AMA Pro Motocross Championship, placing Rodbell squarely back in his wheelhouse. We caught up with the "Rod Father" to ask chat a bit about his first foray into supercross, and how the sequel to the Summer of Rodbell is shaping up.
Racer X: What's up? What have you been doing to keep you busy since the end of supercross?
Justin Rodbell: Actually I've been riding outdoors since like mid-supercross. Basically after Orlando I started riding outdoors. I was in Florida, then I went up to Maryland right after the end of supercross. I've been riding different tracks and getting variety. I've been in North Carolina the last couple days. Yesterday I put a hole in my ignition cover so I'm driving back up to SGB to get a new one right now.
What made you decide to start riding outdoors so soon?
I actually got hurt right before the second Orlando on a Thursday. I had an AC separation on my shoulder pretty bad and I hurt my knee when I came back. I really wasn't feeling like riding supercross, to be honest. I wasn't having too much fun so I started riding outdoors. I think it helped me too, I started riding supercross better. I'd been riding supercross since November and I just wanted a change.
What'd you think of supercross in your first go?
I think I learned a lot and improved quite a bit, but not enough. Not to where I needed to be. I didn't get a confidence boost! That class is tough, and I think you need to come into it with a bit of experience, and I came into it with none. I struggled, big time. But next year I'll be racing the 250 Class.
Plus you'll have experience, too.
Yeah, it should be better for me all around. It's tough. Supercross is a whole different sport, almost. Like a professional swimmer and a professional cyclist. You have to do six months of one and six months of the other. I've never done it so I'm still learning.
In what ways do you mean it's like a completely different sport?
Okay, so it'd be like being a professional road biker for six months, then you go and race downhill for six months. Outdoors are wide open and you're on the gas a lot. Supercross is tight, technical, and you're in the air a lot. The guys go big in supercross nowadays. The tracks are really steep and technical, it's tough. It's a whole different realm of racing. Next year I'll be on a 250 and I think that will be really fun.
The April 2021 Issue of Racer X Illustrated
Moto Outliers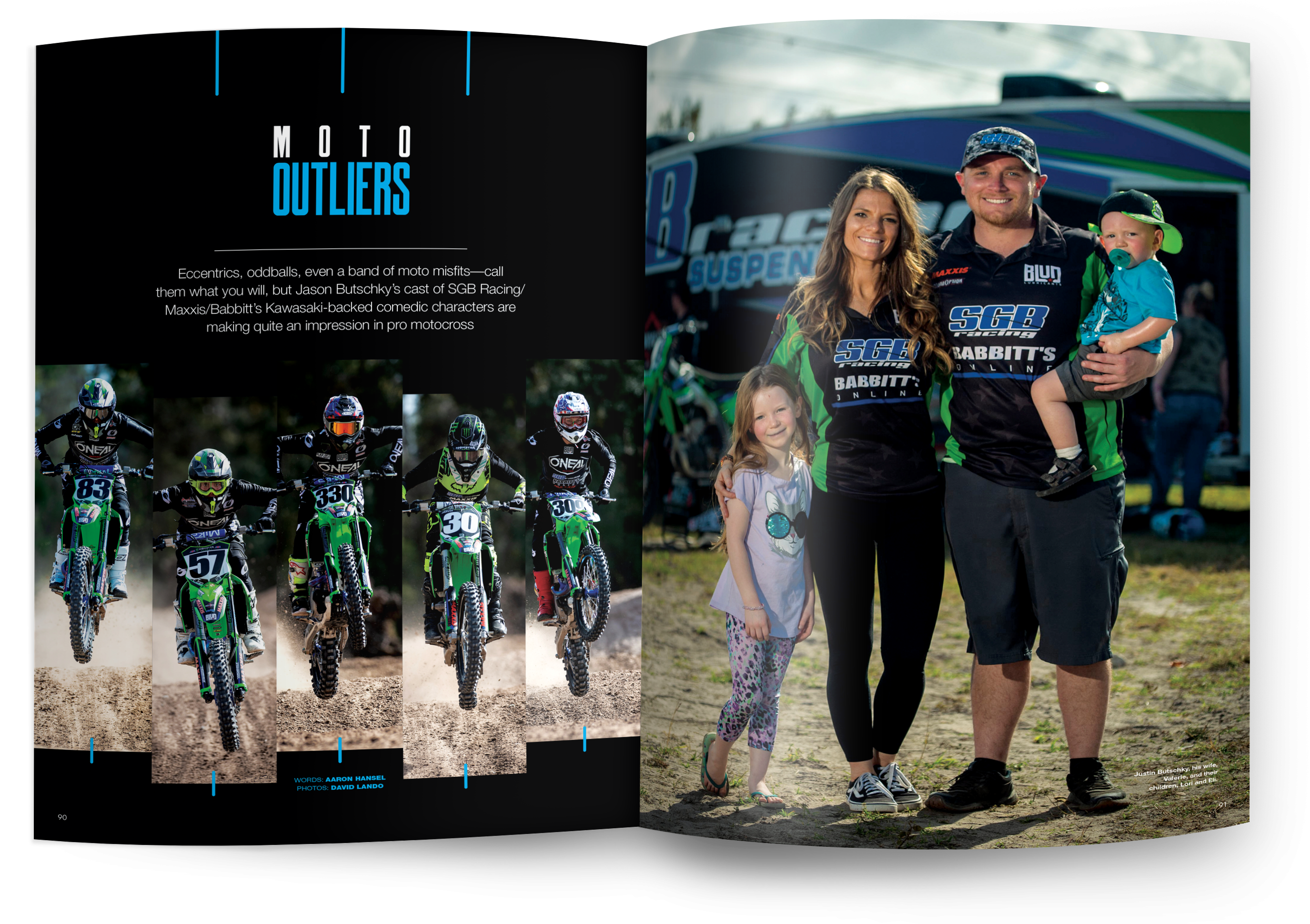 Eccentrics, oddballs, even a band of moto misfits—call them what you will, but Jason Butschky's cast of SGB Racing/Maxxis/Babbitt's Kawasaki-backed comedic characters are making quite an impression in pro motocross.
Read Now
Preview Now
Do you have any moments that stick out in your mind?
Yeah, Atlanta. My heat race I pulled like a third place start and I think I ended up 11th, which for me, was great. I hadn't done that all year. Then I holeshotted the LCQ and led it but then I wrecked to lose. I pulled the holeshot, nobody passed me, and I wrecked. If I can keep it on two wheels and figure it out I'll be fine.
Well, motocross is a week away. You have to be excited to get back racing outdoors.
Oh yeah, I'm pumped. I've never raced a full season. Last year was my first season but that wasn't a full season [nine rounds] because of COVID[-19]. This year will be the first year doing everything and starting in California. Budds Creek will be on the schedule, which is my home race, and that's really cool. I'm pumped for outdoors.
You're with the same team and everything, but is there anything major you can point to as being a big difference this summer?
Yeah, I made a big change with suspension. I'm still on SGB suspension, but I switched to KYB. I like that more as a personal preference. It's tough because we're a small budget team and we can't really do a lot, but we're trying to do the best with what we have.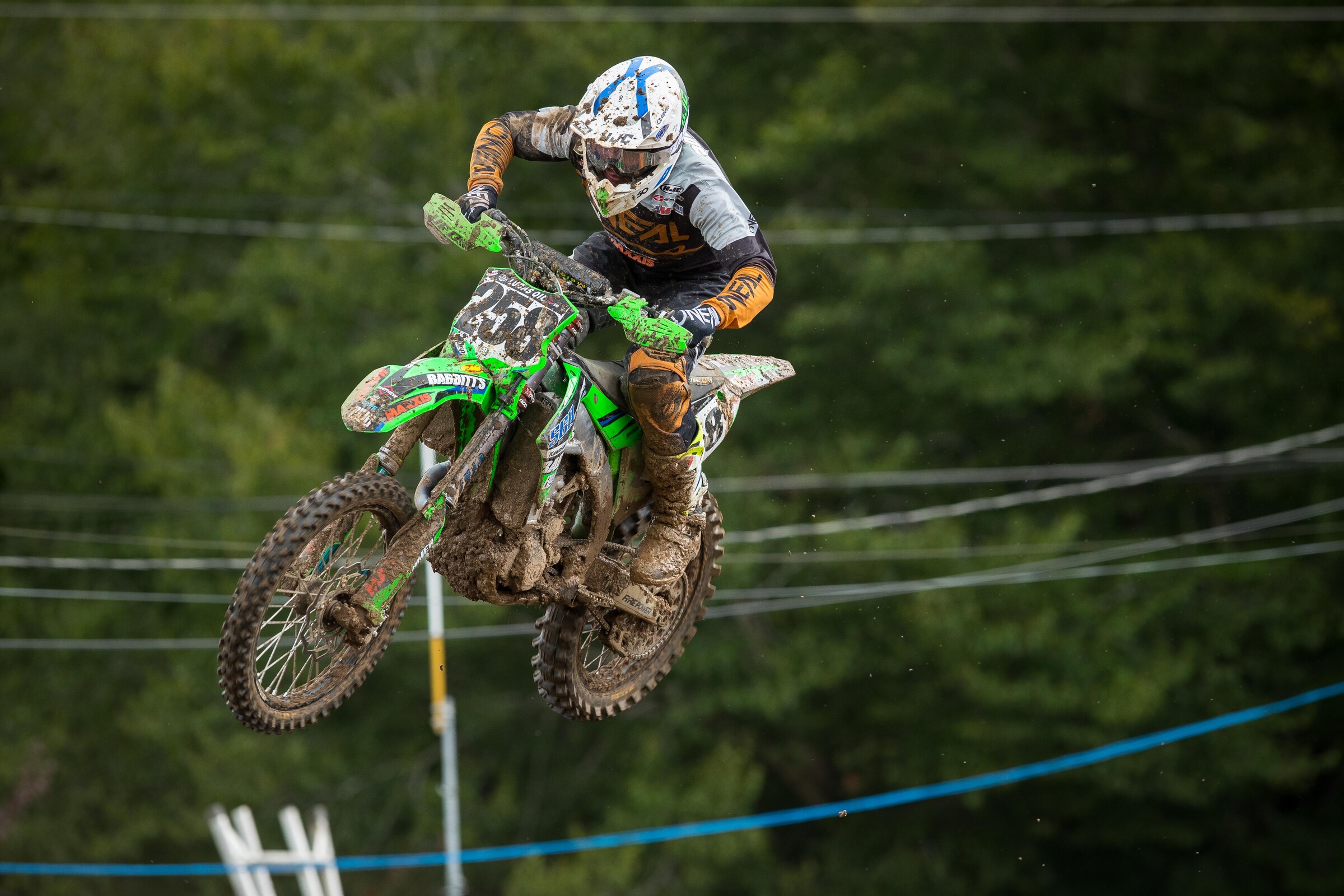 Well you did pretty well last year. It was definitely one of the nice surprises of the summer.
Yeah but this year is going to be tough. I think there will be more guys racing, so we'll see. I'm pumped to race though. We'll see.
So with last season under your belt, what kinds of goals and expectations do you have for this summer?
I want to score points at every round. I want to be consistently inside the top 20. There are 20 good dudes who you can name, who will be fast. And next week there will be a lot of dudes who are from California who will be fast. It's going to be tough right off the bat! But then we go to Colorado, then High Point, and the tracks are way different. It'll be good, I can't wait.
Will you still be working your HVAC job this summer?
No. I might start that back up in a few months, we'll see how outdoors go. I'll probably go back to it because it does help. But not at the moment.
What does it help with, finances?
Just everything.
But it can't help with riding, right? Or does it?
I mean, I don't think it hurts you. Everyone has their different beliefs, right?
Well it's your situation, you'd know better than I would.
Well, sitting in a sauna will help you, as long as you're hydrated. [Laughs]
Yeah, you might as well get paid for it!
[Laughs] Yeah! It's all good. I'm pumped to be racing this summer.